Welcome to the Skull Session.
Did you know Binjimen Victor scored 18 touchdowns in his Ohio State career? I didn't before Tuesday when I watched all of them packaged in a tweet from Ohio State on BTN. Have a look at some of these catches:
Truth: @BinjimenVictor's TD reel is the stuff of legends.

Watch each of his 18 career @OhioStateFB TD grabs .#TouchdownTuesday pic.twitter.com/cIlt3x81cL

— Ohio State on BTN (@OhioStateOnBTN) March 28, 2023
That's great stuff.
Let's have a good Wednesday, shall we?
 JSN TO THE BIG APPLE? With the 2023 NFL draft a little under a month away, Joel Klatt of Fox Sports offered his take on where some of college football's most talented players fit in the NFL and which teams are best suited to utilize their strengths.
In his most recent episode, Klatt revealed where he believes Jaxon Smith-Njigba should land in the draft. And let me tell you, it's a destination that will undoubtedly pique the interest of Ohio State fans.
"I think that 13 pick could be in play for Jackson Smith-Njigba right there with the New York Jets. Think about it for a moment now. You could pair him back up with Garrett Wilson. When those two were on the field together, that was just gangbusters already at Ohio State. The Jets got a second-round pick when they traded Elijah Moore to Cleveland, so they now have back-to-back picks at the 42-43 range, so they've got ammunition and compensation if they need to give that up for Aaron Rodgers. I don't think this pick is gonna be the compensation. They're likely gonna make a selection there. And while I understand they probably need some defensive help, look, if you're going all in for Rodgers, go all in for Aaron Rodgers. Give him what he never got with the Green Bay Packers. What did he always want, but never got with the Green Bay Packers? A first-round wide receiver.

"This guy worked really hard, he's very smart, and with a guy who is aging in Aaron Rodgers, what do you give him? The ability to get the ball out of his hand quickly. This is what I think lengthened the career of Tom Brady for so long is that he always had, whether it was running backs or slot receivers, where he could act as his own protection... Give him somebody who can create space and get open quickly and boom he can protect himself.

"It makes a lot of sense for me to give Jaxon Smith-Njigba to the New York Jets. You go all in. You've got this small championship window, and we've seen it work before. So for my money this makes a lot of sense. I get excited about it because you don't draft him to be a true number one – you've got a true number one potentially in Garrett Wilson – but you do draft him to be a guy that could potentially lead the league in receptions, own the middle of the field, create one-on-ones for Garrett Wilson, particularly when you get in the red zone. I love this pick for Jaxon Smith-Njigba at 13 to the New York Jets."
So, to make sure I have this straight, there's a chance both JSN and Wilson could reap the benefits of having a future Hall of Fame quarterback throwing them the football this early in their professional careers?
Uhhhhhh, yes, please, I would like to see that very much.
Wilson won the NFL Offensive Rookie of the Year with the trio of Zach Wilson, Joe Flacco and Mike White at quarterback for the green and white. There's no telling how good he could be with a talent like Rodgers as his lead signal-caller.
As for JSN, what a fantastic 1-2-3 combo of quarterbacks he would have in his career, moving from Justin Fields to C.J. Stroud to Rodgers. Consider him blessed. And consider and a frontrunner for the same award Wilson won in his first season in the league because Rodgers will find him time and time again when he needs a security blanket. I, for one, would love to see it happen.
 BOURBON WITH THE BUCKEYES. Do you love bourbon? Do you love the Buckeyes? If you do, I would like to share the perfect chance for you to experience both simultaneously. You don't even need Ramzy Nasrallah-level affection for either to have a wonderful experience.
On April 24, Ryan Day personally invites you to an event called "Coaches and Cocktails" at The Power Plant in downtown Columbus, where the fifth-year head coach, Brian Hartline and James Laurinaitis will participate in a Q&A with those in attendance as the coaches and attendees consume copious amounts of barrel-aged American whiskey made with the finest corn this country has to offer.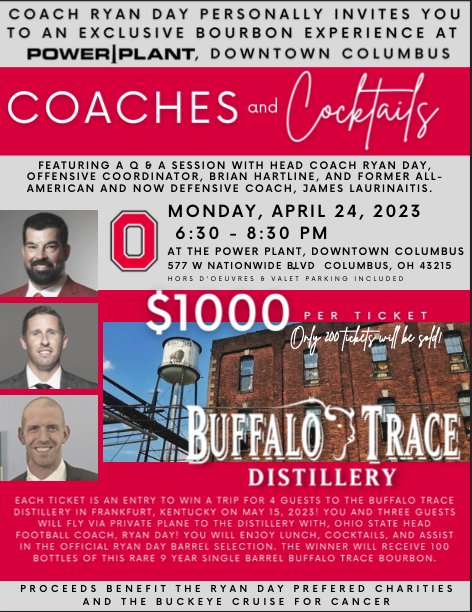 Each ticket purchased is an entry for attendees to win a trip for themselves and four guests to visit The Buffalo Trace Distillery in Frankfurt, Kentucky.
If you won the raffle, you would fly in a private plane to Buffalo Trace with Coach Day, have lunch and a few cocktails with him and help him pick an Official Ryan Day Barrel at the distillery. The winner will also receive 100 (one-hundred, one-hundo, 1-0-0) bottles of the nine-year, single-barrel Buffalo Trace Bourbon, which is currently worth approximately $45 a bottle, with the whole sum of bottles worth over $4,500.
I know $1,000 a ticket is quite a lot of money, but for what is available in terms of the experience and the prizes, it could be worth the expense, for those with that kind of income, of course. So take a gander at the details and assess how much you want to consume bourbon with the Buckeyes. The event is approaching fast, so make sure to act quickly on whatever decision you may make.
 FORMER BUCKEYE → WWE? Former Ohio State offensive lineman Kevin Feder, a 6-foot-9 tackle in the class of 2015 who battled multiple ailments over the next three years and eventually transferred to Kansas, could earn a spot in the WWE this week.
Yes, you read that correctly.
Feder, a former three-star recruit from Don Bosco Prep in New Jersey, will travel to the WWE Performance Center in Orlando, Florida, with a collection of 50 college athletes, including former Clemson quarterback Kelly Bryant and Baylor basketball standout Mark Vital, to compete for a spot in the professional wrestling organization before WrestleMania 39 this weekend.
26 women and 24 men will all compete in a series of performance drills and whoever — if any — WWE officials feel is worthy of a contract will get one and report to the WWE Performance Center in Orlando for official training.

...

WWE has a laundry list of current and former talent that were notable at the collegiate level. Brock Lesnar, a former Division I heavyweight wrestling champion, has been a star with the company for the better part of two decades with multiple WWE Championship runs, aside from his UFC stint. His past accomplishments are well-known, but the list doesn't stop with Lesnar.

Current Undisputed WWE Universal Champion Roman Reigns was a star defensive end at Georgia Tech. Raw Women's Champion Bianca Belair was a standout track star at Tennessee. Former NXT and World Heavyweight Champion Dolph Ziggler was a star wrestler and is second all-time in Kent State career victories.

The group of names goes on, but the point remains the same. WWE loves their trainees having a prominent collegiate background, which is why Bryant and Vital are the headlining names for this week's tryout.
I'm not a huge WWE person. I played the WWE video games back in the day because it was bonkers, and I could play with user-created wrestlers like Captain America, Shrek and Barney the Dinosaur in custom modes. But as far as watching WWE Raw or Friday Night Smackdown, I'm not sure I've ever viewed more than a few seconds of a broadcast.
Still, it would be cool to hear about a former Buckeye accomplishing similar feats to that of Lesnar or Reigns in the organization. That said, I wish Feder the best at his tryout this week, as the WWE will be another sport where Ohio State has representation, which sounds pretty darn good to me.
 A CHIP ON THEIR SHOULDERS. Ohio State football is King of All in Columbus, a fact understood by people in Central Ohio, the state and perhaps even the nation writ large. Ask Jakub Dobeš of the Ohio State men's hockey team, and he would say nobody – not Buckeye fans, Ohio residents or alums spread across the world – understands that more than athletes from the university's Olympic sports.
Before the Buckeye icers' dominant 8-1 win over Harvard and 4-1 loss to Quinnipiac at the NCAA Tournament, Dobeš told Colin Gay of The Columbus Dispatch that the competitors and players from Ohio State's non-revenue programs know full well that the football team is priority No. 1 in the school's athletic department.
And to be clear, Dobeš, a former Big Ten Goaltender of the Year and co-Freshman of the Year, doesn't feel slighted by that. The football team deserves it, he would say. But that doesn't mean he can't use his team being seen as a less-important program than football by the athletic department, the fans and everyone else who knows about Ohio State as motivation every time he takes on the ice.
"I think there is a lot of disrespect to Ohio State," Dobeš said [on March 23]. "A lot of teams think we are just a football school. A lot of people think we are just a football school, basketball school. I feel like we have a moment to show what we are all about and just show the world what we are." 
I feel that if every non-football and men's basketball athlete read Dobeš quote and were asked to comment, they would have a similar outlook on how they view Buckeye football. I believe that outlook may look something similar to this:
While Ohio State's Olympic sports, their players, coaches and staffers undoubtedly have an appreciation for Ohio State football, its players, coaches and staffers because of the team's historic success and its ability to foot the bill for the non-revenue programs' expenses, the people that make up the former collective also hate that they must live in the shadow of the latter. And, quite frankly, I love that.
As Ohio State football chases the greatness of Alabama, Georgia, Clemson and other top football programs in recent history, the Buckeyes' Olympic sports experience that same chase of and for football. That will lead to success – to accolades, banners, trophies and, perhaps most importantly, recognition from the Ohio State faithful.
I hope those coaches and players keep chasing, I hope they achieve greatness and I hope that the scarlet and gray Ohio State logo is worn proudly across the 36 varsity programs at the university. Knowing the talent each of those teams recruits and brings to Columbus, that doesn't seem like it will be too difficult a task to accomplish, now and in the future.
 SONG OF THE DAY. "The Search" by NF.
 CUT TO THE CHASE. Trillions of pounds of water may be strewn across the moon... Marketing code bans college betting partnerships... Barstool Sports founder Dave Portnoy reviews Hounddogs Pizza, located north of Ohio State's campus... Twitter Blue relaunched has made just $11M on mobile in its first 3 months... Elephant in the dining room: Startup makes mammoth meatball.