Folks, it's been more than 48 hours since The Game, and I am still puzzled about Ohio State's performance on Saturday.
I'm not sure I will ever understand it with certainty, but perhaps more time will do the trick. Time heals all wounds, after all.
Let's have a good Tuesday, shall we?
 OVERREACTION MONDAY. I'm ready to admit that I overreacted in Monday's Skull Session, especially in the headline and social media write-ups that Michigan dominated Ohio State in "every possible way" on Saturday.
The truth is, only five plays made the difference between the Buckeyes and Wolverines in The Game this year. Care to guess which ones?
You would be correct if you picked the five plays where Michigan scored touchdowns of 45 yards or more.
According to Parker Flemming (not the Ohio State special teams coach) of CFBGraphs, the Buckeyes allowed 360 yards on those five plays – three of which were passes and two were runs. The Wolverines averaged just over 3 yards per play on the rest of the ballgame. Because of that, Ohio State didn't get beat that badly, Flemming's statistics show.
Did We Really Get Beat that Bad?

Net Success Rates Week 13

Colorado, Rutgers, Miami, Wyoming, Washington State, Northern Illinois, Baylor, Coastal Carolina, Arkansas State, Hawai'i, Texas State, Stanford, Bowling Green, and Auburn: y'all really did get beat that bad. pic.twitter.com/VkVSuf6ZNq

— parker, u n v e r i f i e d (@statsowar) November 28, 2022
The Power Rank's Ed Fang and later ESPN's Bill Connelly verified Flemming's data with their own work, explaining that Michigan's 37.9% offensive success rate – a metric that measures a team's efficiency with down and distance – was almost 10 percentage points lower than Ohio State's 47.4% offensive success rate.
In other words, the Buckeyes outperformed the Wolverines on Saturday, but Michigan repeatedly capitalized on the big play.
Still, that's a part of football. The Buckeyes failed to execute, and the Wolverines made them pay. While it's not the butt-kicking I thought it was – and maybe blame that on my Monday Skull Session being written within 24 hours of The Game on Sunday – Michigan still won, and Ohio State fans have to live with that reality for another year.
Hurt me.
 TOUGH LOOK. More than 17 million people tuned in to watch Ohio State lose to Michigan on Saturday, according to FOX, the station that broadcasted The Game via its Big Noon production.
Hurt me even more.
The Game made H I S T O R Y this year with 17 million viewers @UMichFootball x @OhioStateFB | @FOXSportsPR pic.twitter.com/KDxV487u6s

— FOX College Football (@CFBONFOX) November 28, 2022
FOX Sports' public relations team later provided context to the number of 17 million, adding that the viewership for the Buckeyes' battle with the Wolverines attracted a peak viewership of nearly 20 million. Overall, The Game reeled in about 3% more eyeballs than the year before.
.@FOXSports' record-breaking weekend continues!

Michigan-Ohio State was the most-watched regular season CFB game EVER on FOX with 17 million viewers

- Most-watched regular season CFB game on any net since 2011
- Peaked at 19.6 million viewers
- Up +3% over 2021's matchup on FOX pic.twitter.com/DdZglhNJqP

— FOX Sports PR (@FOXSportsPR) November 27, 2022
 SO YOU'RE SAYIN' THERE'S A CHANCE. A few times this season, I included ESPN's Allstate Playoff Predictor in the Skull Session to show what the computers over at the worldwide leader in sports thought about Ohio State's chances to win the remaining games on its schedule in addition to the Buckeyes' odds to reach the CFP.
Today, I include the predictor to show everyone the numbers that the computers spewed out this week after the regular season ended.
Despite Ohio State not playing for a Big Ten title because it lost to Michigan only days before these same percentages were released, the Allstate Playoff Predictor has the Buckeyes' chances to make the CFP at 88%.
I know. It's insane. But it's what the graphic says:
Things are about to get interesting after a wild Rivalry Week pic.twitter.com/yyjT5PQvme

— ESPN College Football (@ESPNCFB) November 27, 2022
The only explanation for Ohio State being more likely to reach the playoff than TCU and USC is that the Horned Frogs and Trojans can lose this weekend in their respective title games while the Buckeyes remain idle. I'm not sure how else to reason, with Ohio State at 88% while Texas Christian sits at 83% and Southern California at 12%.
Considering those numbers, it looks like the computers have the Frogs beating No. 13 Kansas State and the Trojans losing to No. 12 Utah this weekend. And even if Texas Christian loses, it would likely still make it, while Southern California would be kicked to the curb after suffering its second loss of the season.
If you're an Ohio State fan who wants the team to make the playoff – which, quite frankly, I don't know why you wouldn't because you should always, always, always take the bid – then you should be massive Wildcat and Utes fans come Friday and Saturday. One or both teams losing means the Buckeyes could become a top-four team in the final rankings and make the CFP. From there, anything can happen!
 TRESSEL FOR PRESIDENT? On Monday night, Ohio State President Kristina M. Johnson announced that she will resign from her position at the end of the academic year. A news release from the university later stated that the Board of Trustees will commence a search for the school's 17th president immediately.
In my estimation, the Board of Trustees will need to look no further than a man who will soon step down from his position as president at Youngstown State University. He's pretty familiar with Columbus and Ohio State. He even won a national championship for the Buckeyes.
Yes. It's Jim Tressel. Bring him home.
Ohio State University President James P. Tressel has a nice ring to it, right?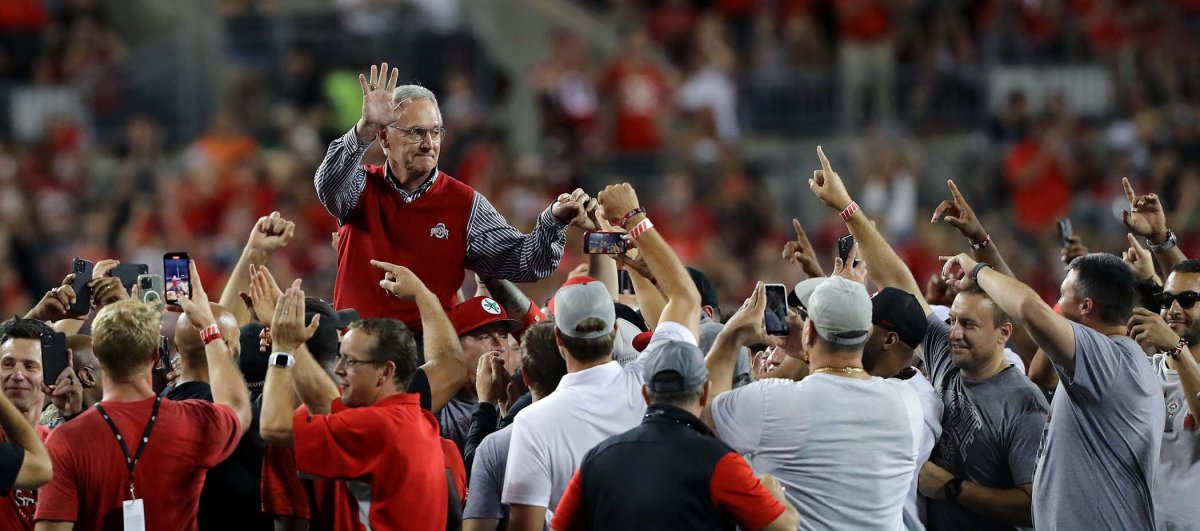 No, but in all seriousness, after eight years as Youngstown State's president, Tressel is stepping down for all the right reasons – to spend more time with his wife, Ellen, and their children and grandchildren. He also turns 70 in December and deserves to live a nice, long retirement that doesn't involve caring and providing for the future of one of the largest and most well-renowned universities in the United States.
Hopefully, Ohio State finds the right person to do that. As a student of Ohio State for two years while Johnson was president, I always thought of her highly and believed she did an excellent job in her role. I expect the next president of the university to do the same.
Maybe it will be Tressel after all. Or maybe it won't (It probably won't).
But only time will tell.
 SONG OF THE DAY. "There Will Be Another" by Bronze Radio Return.
 CUT TO THE CHASE. 'Gaslighting' is Merriam-Webster's word of the year for 2022... World's "oldest meal" discovered in 550-million-year-old fossil... Metallica announces 12th studio album and upcoming world tour... Rare antelope calf born at Pennsylvania zoo... USPS asks for volunteers to read letters to Santa from kids across the United States.