This is the smile of a kid who has Mossed too many of his classmates to count:
Same high school, different roads to the show. Brett Baty and Garrett Wilson are now both pros in New York.

Thanks for the gem of a photo @baty_brett. pic.twitter.com/dOVlIdXFPR

— Mets Farm Report (@MetsFarmReport) May 1, 2022
Word of the Day: Disgorge.
 THE LIGHT SIDE OF NIL. I think it's pretty fair to say that the rollout and implementation of the name image and likeness changes to college sports has been chaotic at best.
We've had a high schooler inking $8 million deals that definitely aren't tied to one specific school (*wink* *wink*), multiple players simply signing with the highest bidder, and a player threatening a transfer unless his NIL compensation is increased.
It's enough to make even the most progressive college football fans want to put the toothpaste back in the tube.
But here's a reminder that despite *gestures vaguely towards all of college football*, NIL can still be extremely good – as evidenced by Clemson star receiver Justyn Ross not even getting selected in the 2022 NFL Draft after looking like a sure first-round pick just a few years ago.
Ross' fall is a direct result of learning in the spring of 2020 that he had a congenital fusion in his spine, something that previously had gone undetected. He underwent surgery in June 2020 to treat a bulging disk, missed the entire 2020 season as he recovered and returned to football in 2021 after fearing he never would play again. Because he will have the fusion for the rest of his life, NFL teams were leery of taking a chance on him. How his NFL career unfolds remains to be seen. But one thing is certain: Regardless of what happens at the next level, Ross not being drafted provides a reminder we all need in college football.

This is why NIL was — and is — championed.

It's a shame Ross' life-changing diagnosis came before his big payday, but this is the type of change lawyers and members of Congress set out to bring when they first backed the idea of NIL.

...

Even if NIL were around in 2018 when Ross was at the peak of his college career, he likely wouldn't have come close to making the type of money that comes with being a first-round draft pick.

But imagine the endorsements Ross would have raked in as a true freshman after leading Clemson with 1,000 receiving yards despite never starting a game. Imagine all of the local businesses in Clemson and Alabama that would have wanted to work with him, in addition to the bigger national brands reserved for the sport's best stars, especially after Rice tweeted about him.
I'll call your Justyn Ross and raise you a Braxton Miller. Dude was the undeniable face of Ohio State football for a solid four years and got no compensation for it while the game destroyed his body.
He was able to cash in a little bit with his position switch after he became physically unable to throw a football due to his shredded shoulder, but it was nowhere near what he would have made in four or five years on the open NIL market at Ohio State.
I don't have a ton of real answers or solutions here. But I can see that for every high profile disaster and misuse of the NIL rules, there's a player that genuinely and honestly benefits, and a whole collection of past players who wish they could have.
 JOHNNIE FOOTBALL. I respect the hell out of Johnnie Dixon for a thousand reasons, but one of them is that he's never stopped busting his ass in an attempt to make all of his football dreams a reality – even when his body didn't cooperate for most of his college career.
But I'll tell you what, he's out there in the USFL looking every bit like that south Florida speedster Ohio State recruited out of high school – and then some.
Johnnie Dixon (@YoungKing_JD5) had a big game last night.

Rec: 7
Yds: 86
TD: 2 pic.twitter.com/i6WLy97lIn

— Ohio State on BTN (@OhioStateOnBTN) May 1, 2022
And with a few votes, he has a chance to be the league's offensive player of the week.
The Offensive Player of the Week nominees are in and we need fans to help pick the official winner!

Vote below to help decide the winner from Week 3 pic.twitter.com/qtq1OL4OVn

— USFL (@USFL) May 2, 2022
I will never, ever stop rooting for Johnnie Dixon – not just on the football field, but I sure wouldn't object to seeing him carve out a nice little pro career. He deserves a shot.
 ROOKIE PROPS. Speaking of former Buckeye receivers trying to carve out some pro careers, Ithere are a couple of first-round rookies who are looking to make an instant impact in the NFL this season, and both are among the preseason NFL Offensive Rookie of the Year contenders.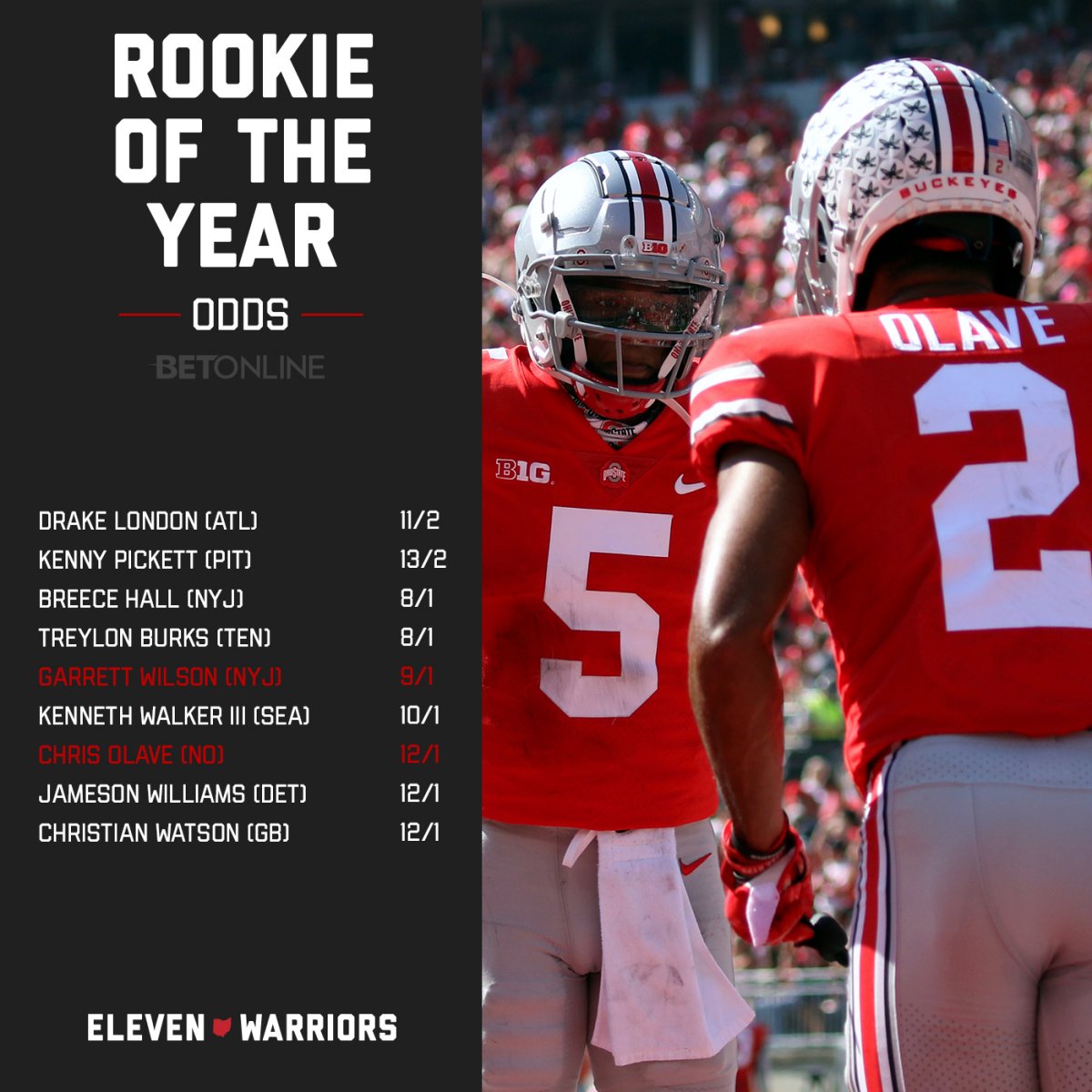 Personally, give me Chris Olave at 12/1. I'm not going to pretend that Jameis Winston is a Pro Bowl quarterback or anything, but the dude loves nothing more than to air it out. And with Michael Thomas also existing to take some of the pressure off of him, I could easily see Olave having himself a breakout season in year one.
That said, I'm taking the over on both of these Olave props, too.
Chris Olave
Receiving Yards: Over/Under 750.5
Receiving Touchdowns: Over/Under 4
Garrett Wilson
Receiving Yards: Over/Under 725.5
Receiving Touchdowns: Over/Under 3.5
With Garrett Wilson, I'm quite a bit less confident. But it has absolutely nothing to do with him and everything to do with the uniform he'll be wearing and the quarterback throwing him the ball.
But maybe it's a new era!
 NEVER GETS OLD. Despite my feelings about the Jets, I know one Buckeye that could not be more excited to put on that uniform for the first time.
Dreams to reality #TakeFlight pic.twitter.com/pI6IYR30pJ

— Jeremy Ruckert (@Jeremy_Ruckert1) May 2, 2022
I think my dream of playing for the Bengals is officially dead now that they've turned into a real football team. But the good news is, the odds of me magically becoming a Cincinnati Reds keep increasing by the day!
 SONG OF THE DAY. "Sweet Creature" by Harry Styles.
 NOT STICKING TO SPORTS. Why pilots sometimes deliberately delay flights... The fascinating story of how the Jeep became America's favorite military vehicle...  My penis fell off but it regrew on my arm... A phone-addicted gorilla is having to cut down on his screen time... A senior citizen stole a jacket artwork on display at the Musée Picasso and had it altered to fit her... A 100-year-old man breaks Guinness World Record for working at the same company for 84 years...