Just in case y'all needed a reason to be angry on this fine Wednesday...
My 2022 Draft WR Rankings. Might be some surprises but I explained everything here:https://t.co/LWywYU4OcO pic.twitter.com/nKaRhvZvH1

— Chris Simms (@CSimmsQB) March 29, 2022
Word of the Day: Facile.
 ALMOST LIKE A COACH. Ohio State hasn't really drawn from the transfer portal all that often under Ryan Day, but when they have, it's usually worked out pretty well!
Let's recap some of the highlights:
Justin Fields: Heisman Trophy finalist, No. 11 overall pick in the NFL Draft
Jonah Jackson: First-team All-Big Ten, third-round pick, 2021 Pro Bowler
Trey Sermon: Broke Ohio State's single-game rushing record, third-round pick in the NFL Draft
Noah Ruggles: Lou Groza Award finalist.
Tanner McCalister is looking to be this year's instant-impact transfer, and from the sound of it, the whole "instant impact" thing has already been very much accomplished even just in spring practice. 
On Tanner McCalister losing his black stripe, Day says "he's almost like a coach out there. His experience really shows up on the field. His feels comfortable in this style of defense."

— Griffin Strom (@GriffinStrom3) March 29, 2022
Describing a dude that just showed up on your campus less than three months ago as "almost like a coach out there" would seem to indicate good things about his future in a Buckeye uniform. I'm not sure how likely it is that a guy who parachutes onto the roster for his final season is to be named a captain by his teammates, but I'm not sure I'd rule it out.
Chip Trayanum is another transfer who could very well make an instant impact himself, but I'm withholding expectations there given that he's switching from running back to linebacker (although it's not like that's been a problem before).
 CHAMPIONSHIP SALUTE. The Ohio State women's hockey team brought the first hockey championship to Columbus this year – and as a result, Columbus' NHL team gave them the kind of celebration they deserve.
NATIONAL CHAMPS!

Catch the 2022 NCAA champions ,@OhioStateWHKY, tonight on the ice for a special pregame celebration pic.twitter.com/9U0P1fWcZs

— Columbus Blue Jackets (@BlueJacketsNHL) March 29, 2022
A well deserved victory lap for @OhioStateWHKY before tonights #CBJ game pic.twitter.com/bq2KzYePvZ

— Jeff Svoboda (@JacketsInsider) March 29, 2022
Unfortunately, the Blue Jackets lost 4-3. I guess they should have let Nadine Muzerall coach 'em up.
 IT'S THE LITTLE THINGS. Anyone with eyes and a television can see that Jaxon Smith-Njigba does all the things right on the field. Turns out, he's pretty good off of it, too.
He got to meet one of his biggest fans this week, and I think it's safe to say he absolutely made the kid's day.
Here's what the kid's father had to say, from the Instagram post:
My son, Kolton, is a 4th grader at Tuscarawas Valley Intermediate School. He has had some challenges this year with behavior in the classroom and the Guys With Ties program has helped tremendously with a lot of it. Without getting into great detail about some of the things he has to deal with and making this a 4 page email, the program has lead him into mentoring a couple of 2nd graders in the school. I notice him opening doors for people, thanking people for helping him, and we get notes from teachers about him helping other students with their work.

He is a HUGE Jaxon Smith-Njigba fan and was able to give him his tie and wristband. As a father, watching your child meet his hero is one of the greatest feelings you could ever have. Kolton was physically shaking with excitement after a photo with Mr. Smith-Njigba! He said " dad, every time he puts that tie on he will think of me!". If you could thank him for me I would greatly appreciate it.

The ride home was 2 hours of reliving the details of the greatest day of his life, and I can't thank you enough for this experience, not only the practice but the Guys With Ties program. We are big Buckeye fans in this house and the way we were treated by everyone in the building on Saturday makes rooting for all of you even better! What a great group of players you have.
Talking to a fourth-grader after practice is a relatively small thing, but taking the time to make someone else smile should always be celebrated.
 LEADERS OF MADNESS. With just one weekend of March Madness remaining, here's what our leaderboard looks like in the Eleven Warriors Bracket Challenge.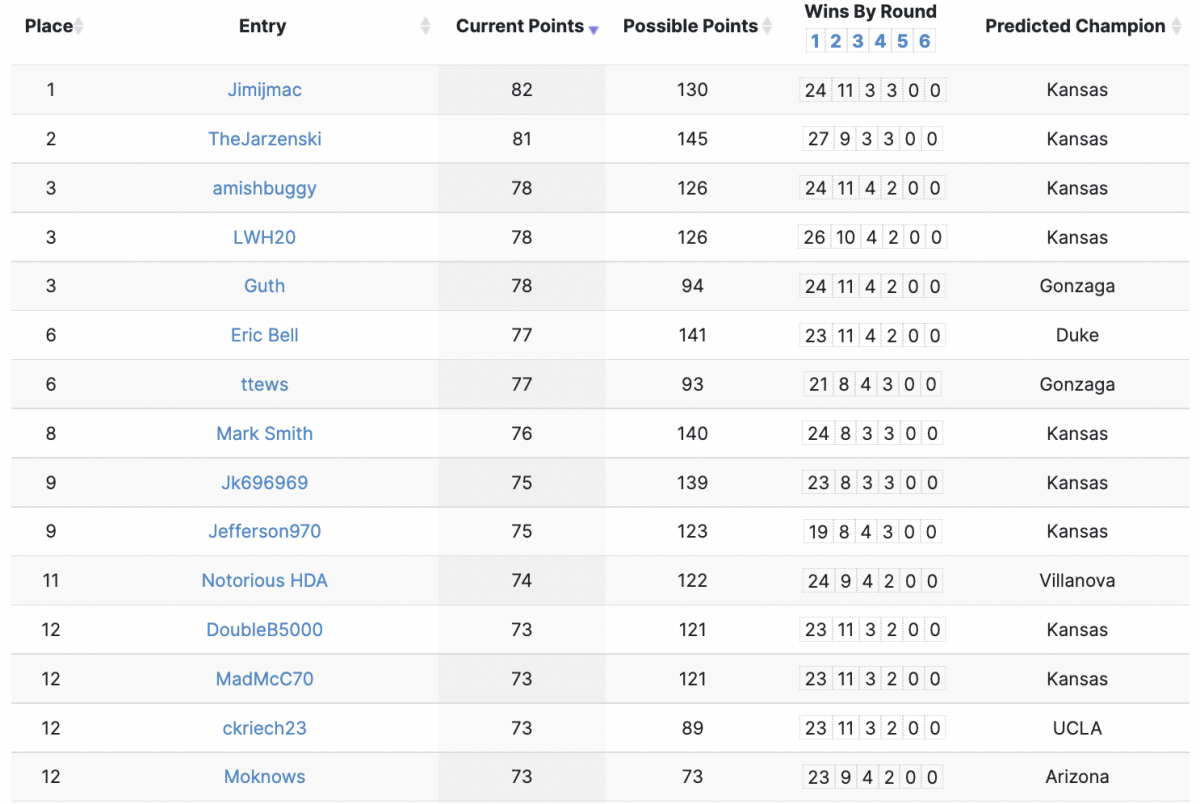 Jimjmac is currently in first place currently, and they'll need a North Carolina win to stay there since TheJarzenski also picked Kansas to win the title, but also picked Duke to go to the title game.
If Kansas wins the national title, one of those two will be our winners. But if either Duke or Villanova win, then it looks like Eric Bell or Notorious HDA will take the crown. Pretty simple!
As for me, I'm currently sitting at a solid No. 884 – right in striking distance!
 SONG OF THE DAY. "What I Got" by Sublime.
 NOT STICKING TO SPORTS. A 70-year-old who kidnapped a bus full of children in 1976 has been approved for parole... Scientists are preparing for our best shot yet at identifying alien life... How an Ivy League school turned against a student... The pain of prolonged grief disorder... What stops people from being kinder?... The guys who get off being friendzoned...