I am sorry that the Skull Session was delayed. I wish I had a cool excuse, but truly I just accidentally slept instead. Looks like everyone needs a bye week, bloggers included.
Anyway, it seems that Randy Wade's got himself a little Buckeye Fairy watching out for him, which is equal parts terrifying and endearing.
I ordered some custom New England Patriots gear for my middle son. And who ever packaged the gear put a Buckeye in our packaging! I AM PROUD TO SAY.... I WILL FOREVER BE A BUCKEYE DAD! #GOBUCKS pic.twitter.com/BhirPpQX2d

— Randy L Wade% f@Ly..... (@gslsff) October 12, 2021
I, too, will forever be a Buckeye Dad, even without children.
Word of the Day: Tardy.
 DON'T LOOK NOW, BUT... I'd like to remind you that we're just a few removed from all of the "Ohio State is no better than the fourth-best team in the Big Ten!" takes. Because those look hilarious now.
The Buckeyes are looking like an absolute machine these days, and that shows up in football knower Bill Connelly's SP+ predictions, which has Ohio State as a pretty healthy favorite in all of its games going forward.
According to SP+, Ohio State's projected to win each of its next six games by double digits, and then the Buckeyes are projected to beat Michigan on the road by just under a touchdown (if that was the actual game line, I would liquidate my bank account on it tomorrow, for what it's worth).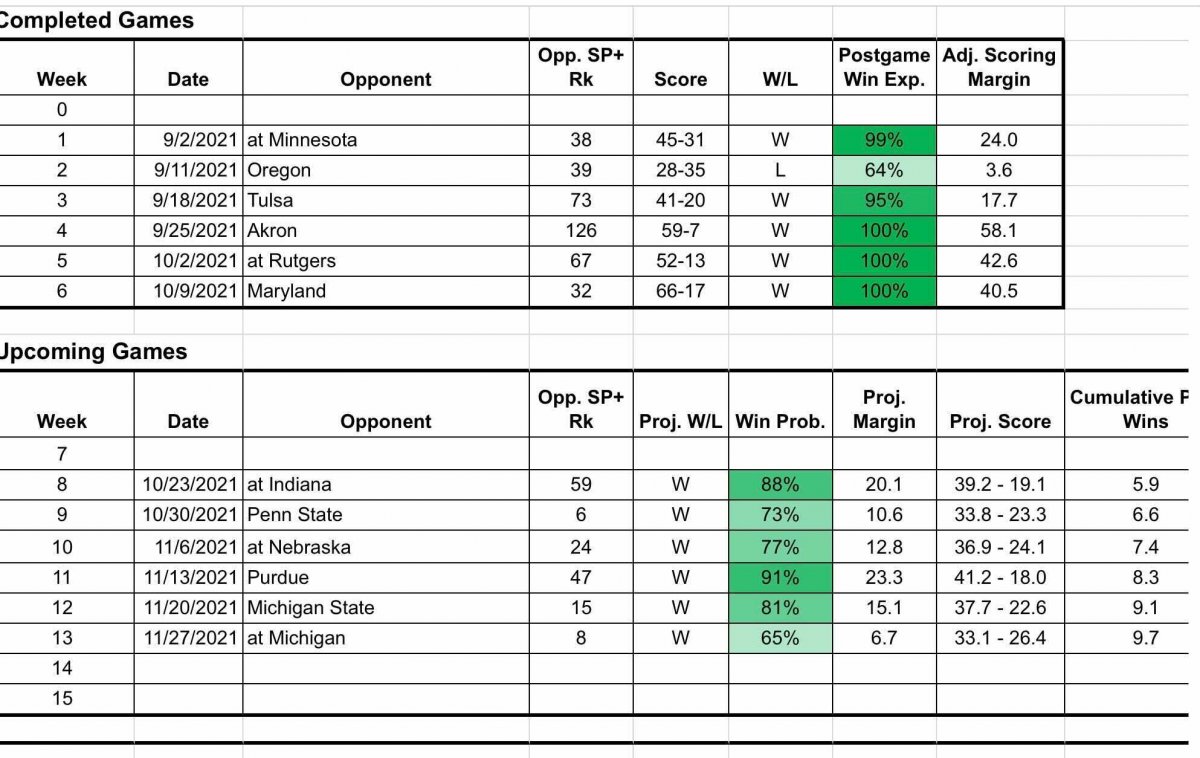 I think the most infuriating thing here is that Ohio State has a 64% postgame win expectancy against Oregon, meaning if you played that game under those same circumstances with the same production, the Buckeyes would win 64% of the time.
At the same time, I'm not sure we ever would have seen Ohio State approaching its Final Form like this without an early-season kick in the ass.
I might be sending Oregon a Christmas card.
 SQUID GAME. The Brotherhood is built on trust, but apparently, that trust would not extend to a life-or-death Korean game show.
... especially if you're Jerron Cage.
October 12, 2021
The number of people who spat out Cage's name without hesitation is just a tad concerning, to say the least. But at least that means he's consistent as a person?
I don't know, I'm struggling to find a silver lining in this.
 BUCKEYE ON BUCKEYE. It would seem that the only person alive who can shut down Terry McLaurin is his former college teammate Marshon Lattimore, which makes all the sense in the world, really.
McLaurin's been damn near unstoppable at times this season, but Lattimore put a stop to that on Sunday, shadowing his former teammate all afternoon and putting him on absolute lockdown. He forced McLaurin to a season-low four receptions for 46 yards on 11 targets and had six pass breakups, which is tied for the third-most since 1999.
His performance was so good it earned him PFF's Defensive Player of the Week nod.
PFFs Defensive Player of the Week

Marshon Lattimore pic.twitter.com/Dh5slxairi

— PFF (@PFF) October 12, 2021
It's worth noting that this award is based 100 percent on numbers, so the fact that he earned it while shadowing one of the league's top receivers for an entire afternoon is kinda nuts.
But something tells me this ain't over. Eventually, Terry's gonna get his revenge.
 BRING THE BEEF. Iowa and Penn State have not stopped beefing since the final whistle and I am absolutely here for it. It's now extended to the coaches press conferences.
Ferentz's transcribed comments here. pic.twitter.com/A5inrk27jh

— Chad Leistikow (@ChadLeistikow) October 12, 2021
It's truly a shame that Penn State's going to get flayed in a couple of weeks and there won't be a chance at a rematch. That drama would have led to some absolutely must-watch television (which is good news because the game would be complete ass, just like the last one).
 SONG OF THE DAY. "Heads Will Roll" by Yeah Yeah Yeahs.
 NOT STICKING TO SPORTS. A missing apostrophe in a Facebook post lands a man in defamation court... The Cartel recruited, kidnapped youths through a shoot 'em up video game... The unearthing of Ireland's mysterious naked sweathouses... An elk wandering Colorado for two years with a tire around its neck is freed...