Tonight, the Buckeyes prove they're for real.
Personally, I don't need much more convincing after watching them win seven of their last six games and beat three-consecutive ranked teams on the road, though I do understand that skeptics still exist.
But they won't after tonight.
Ohio State's rolling into Iowa City as 5.5-point underdogs, but you can keep your points. The Buckeyes are winning this straight up. Hell, I might even lay five points – Fran McCaffery's going in a trashcan.
I'm just praying we a sequel to his delicious meltdown from the famous Justin Ahrens game of 2019.
Uh, wow. Iowa coach Fran McCaffrey was just screaming at an official walking down a hallway of Value City Arena. "You cheating motherfucker! You're a fucking disgrace!"

— Kyle Rowland (@KyleRowland) February 27, 2019
That quote might lead you to believe that a controversial call or series of calls cost Iowa that game, but you'd be wrong. Ohio State won by 20 points and the game was never close.
Here's hoping it's 30 this time. I need to see what shade Fran's face turns after purple.
Word of the Day: Obstinate.
 THE GAP GROWS WIDER. Every year, you can count the number of teams that have a legitimate shot at a national title on one hand. And that's not going to be changing anytime soon.
Number of 5-star recruits signed in the 2021 class:

Alabama, Ohio State, Georgia, LSU and Clemson: 22
The other 125 teams: 12

The talent gap is only growing in college football.

— Brad Powers (@BradPowers7) February 3, 2021
There's nothing close to parity in this sport, and that gap is only getting wild. But hey, as a fan of the team that's bringing in at least five of those five stars, all is well.
 THE BEST AT BRINGING IN THE BEST. It doesn't matter who he is, a head coach doesn't just wave his hand and sign a top-five class.
Bringing in an elite class takes an elite staff, especially this year, when some of them had to recruit without even ever seeing the kids or their families face-to-face.
And thankfully, Ohio State's got that part down, finishing with three of the top-10 recruiters in the nation.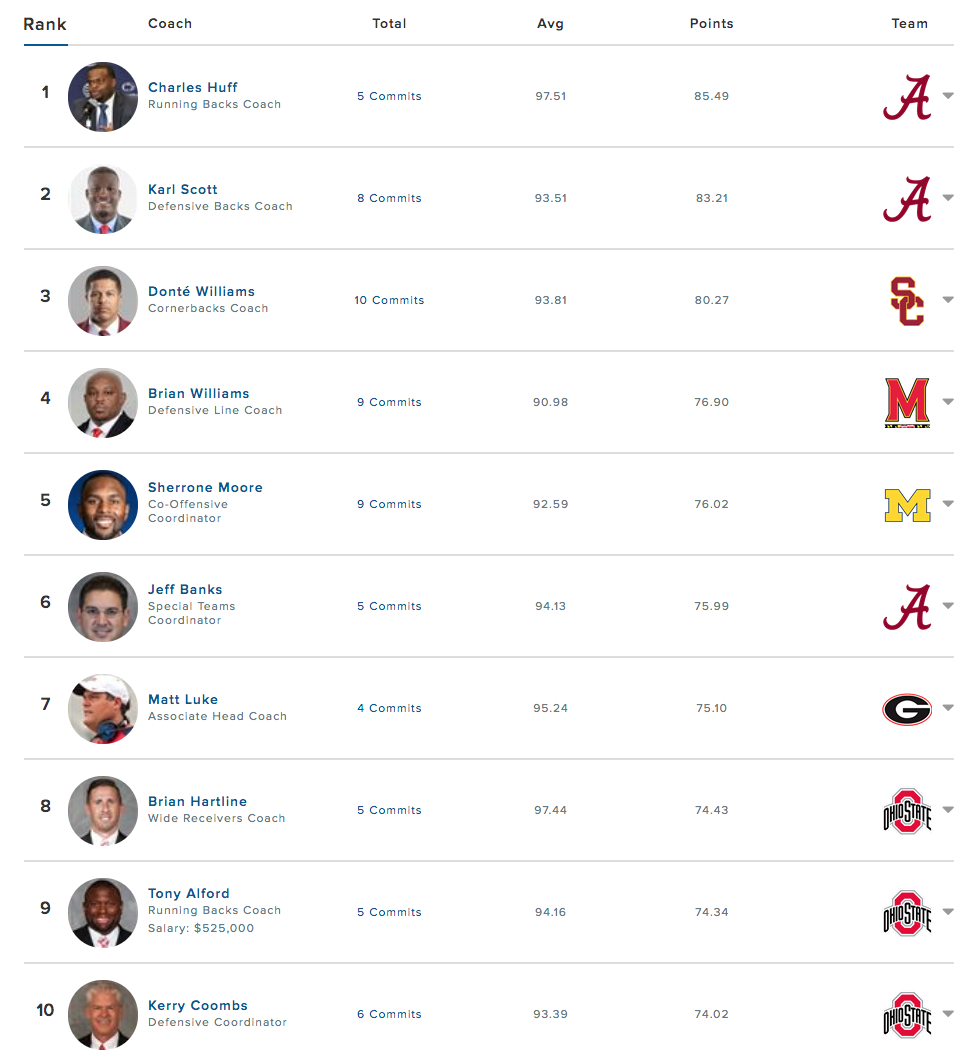 And this doesn't include the guy that's currently favored to land two five-star, top-five players in the country.
Yes, Larry Johnson is somehow all the way down at No. 24. But it's tough to imagine he'd stay there if Ohio State lands J.T. Tuimoloau.
 THAT'S SUSPICIOUS! Alabama has put together one of the most incredible recruiting classes I've ever seen – no doubt about that.
When you assemble a recruiting class with seven five-star prospects, including the No. 2 player in the country (which, by the way, Alabama beat Ohio State to land), I can only tip the cap.
But when it comes to class rankings and accolades like "the best recruiting class of all time," stuff like this sure helps.
This does look pretty suspicious. Recruiting rankings correlate to winning, but this right here shows why many dont trust the services. Overall, theyre mostly right, but what is the reasoning for a player to jump this late? https://t.co/Be8nG1DHNs

— David Waters - Gators Breakdown (@GatorDave_SEC) February 3, 2021
Keanu Koht with a HUGE JUMP, Was out the Rivals top 250 and now is 42 in the nation according to them. 198 on the composite about to be much higher. Kool-Aid with another jump as well.

— Cody LaDue (@CodyLaDue1) January 26, 2021
If you're having trouble following, two Alabama commits – Terrion Arnold and Keanu Koht – made absolutely massive jumps in the recruiting rankings in the final week before national signing day, which helped boost Alabama's class rating to the highest ever.
That would be suspicious under normal circumstances, but it's amplified by the fact that we're in the middle of a pandemic and there has been no way to evaluate these players at camps or anything like that for months.
So what the hell changed in the middle of the offseason two weeks before signing day? Not much besides the fact that Alabama needed a bit of a boost to make some headlines.
*removes tinfoil hat*
 STILL A LONG WAIT. I'm gonna be honest, when I first saw "NCAA FOOTBALL IS BACK!" flooding my timeline on Monday, my naive ass was fully expecting to be able to snag a copy this summer.
I was extremely wrong.
Spoke to an insider today who says the target date for the EA College Football game is 2023.

A lot can happen with athletes rights between now and then.

— Darren Rovell (@darrenrovell) February 3, 2021
The natural response is, of course, "why the hell would they announce this over two years in advance?"
I don't know the full, honest answer, but I'd imagine it has something to do with EA Sports releasing their quarterly earnings the same day of the announcement.
The older I get, the more I learn that the answer to most of life's mysteries is really fairly simple: money. 
 SONG OF THE DAY. "Lose Your Head" by London Grammar.
 NOT STICKING TO SPORTS. You can name a cockroach after your ex and watch it get eaten for Valentine's Day... An attorney is giving away a free divorce to a lucky, unlucky couple... Hitler's toilet seat that was looted by a U.S. soldier during World War II is up for auction... Millennials are changing the luxury real estate market... A British teenager fell into a 10-month coma before the pandemic and is now waking up in a new world... An aerobics instructor in Myanmar does her workout routine as a coup unfolds behind her...