Look, going back to work after a long weekend sucks, but at least you've got one fewer day to coast through this week.
Silver linings. Silver linings.
Word of the Day: Ambrosia.
 OFFICIAL SPORTS BAR OF ELEVEN WARRIORS. Ohio State football may be on hold for the time being, but as you all know, Eleven Warriors never sleeps. Buckeye football or not, we'll be at Buffalo Wild Wings all season, and we cordially request that you join us.
Buffalo Wild Wings is now the official sports bar of Eleven Warriors, which means all fall, you'll see Eleven Warriors + Buffalo Wild Wings signage at each of their central Ohio sports bars. We'll also be recording an episode of our new No Cap Podcast featuring Tyvis Powell live in a local Buffalo Wild Wings every Friday at 7 p.m. and we want you there.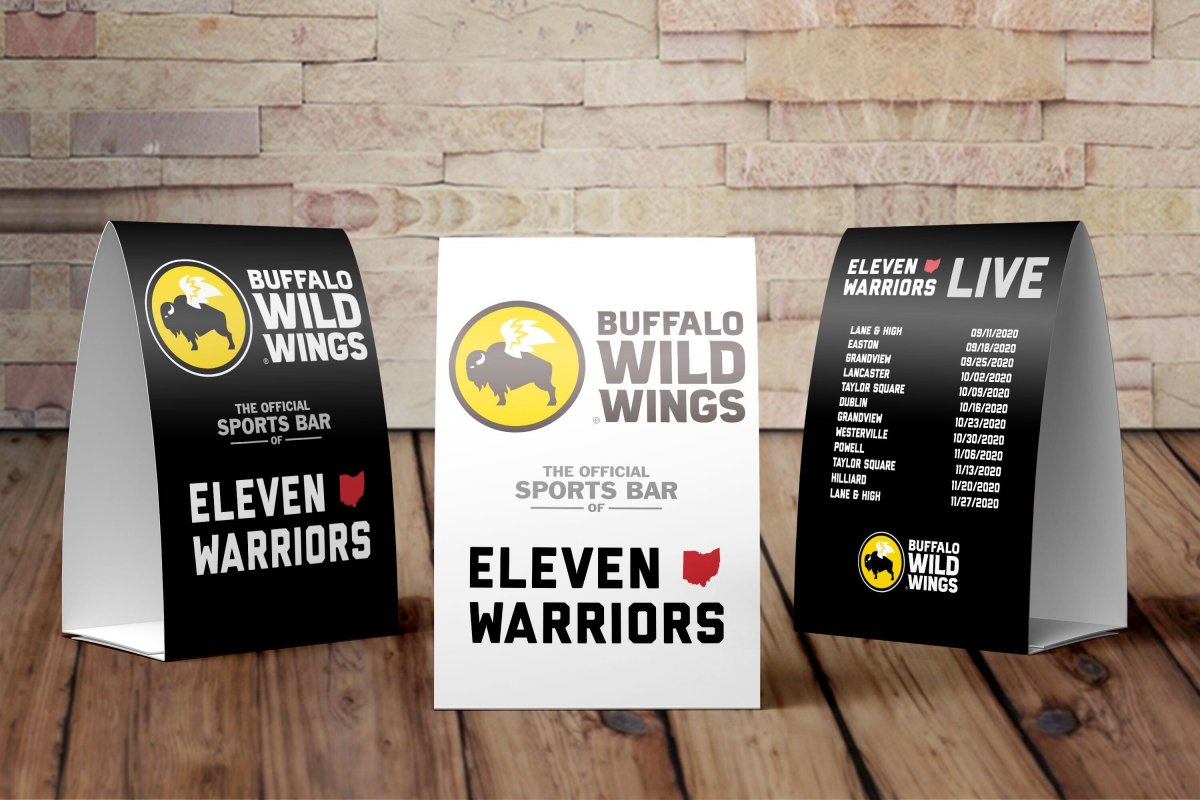 So come on out, meet Jason and Tyvis (from a safe distance, of course), eat some delicious food and enjoy a few beverages as the show pipes live over the sound system. It's gonna be a party, and we want you there.
Lane & High, you're on deck. See you Friday.
 HEARTBROKEN URBAN. If it just doesn't feel right to turn on college football these days knowing the Buckeyes won't be taking the field, you're in good company. Urban Meyer's right there with you.
"It is heartbreaking to not see the scarlet and gray out there," Meyer said. "Maybe we will before the season is over."

The Big Ten potentially holding another vote on football as early as this week. Meyer said it's tough to predict what will happen, but praised the coaching staff as well as new OSU president Dr. Kristina Johnson for their efforts.

"Coach Day and Gene Smith are swinging," Meyer said. "Our president, Dr. Kristina Johnson is doing one heck of a job."
I think the wildest part of all of this is that it's now been a month since the "decision" and there's still somehow been no closure, finalization or details for what the hell happens next. All we've got so far is a vague-ass open letter that said the decision "will not be revisited," about a week before multiple reports that the decision was absolutely being revisited.
I don't know how this is going to turn out, but I do know it's been a dumpster fire from the start, and the Big Ten keeps dousing the flames with kerosine.
 MR. EVERYTHING. There are few things in life I find more pleasurable than watching a fellow who is simply better than everyone else on the field at... everything.
That is Reid Carrico. Reid Carrico is better than everyone at everything.
2021 Ohio State commit was all over the field Friday night. @CarricoReid | @OhioStateFB | @FootballIronton

: https://t.co/NoGcytaJFk pic.twitter.com/jU3pbk0aTk

— Hudl (@Hudl) September 7, 2020
Strip sacks, rushing touchdowns, kick returns – can we let him play quarterback next? Maybe try kicking?
I need more. Give it to me.
 SERENADE US, HARRY. If I don't get to watch Harry Miller eat folks on the field this year, at least I get to watch him get the Led out on Twitter.
Black Dog - Led Zeppelin pic.twitter.com/hMMgm15lXf

— Harry Miller (@h_miller76) September 7, 2020
If you're taking requests, my beautiful wife would like an acoustic rendition of a "Lovebug" by the Jonas Brothers for our three-month wedding anniversary. Please and thank you.
 MARCUS FREEMAN GETS PAID. Marcus Freeman may be 100 miles south these days, but he's still got that Buckeye blood, and when a Buckeye cashes in, we celebrate around these parts.
And folks, he is indeed cashing in.
Sources: University of Cincinnati DC Marcus Freeman has agreed to a new two-year contract. It pays $600,000 in the first year, with the $75,000 raise privately fund raised. Freeman was courted hard by multiple Power 5 schools and the NFL last off-season.

— Pete Thamel (@PeteThamel) September 8, 2020
Between this and Luke Fickell's fat extension, it looks like Cincinnati's finally trying to play with the big boys. More than that, they've finally realized the only way they're gonna compete with the big boys is hiring some of the big boys.
 SONG OF THE DAY. "Young and Beautiful" by Lana Del Rey.
 NOT STICKING TO SPORTS. Fireworks at a gender reveal started a wildfire... Human remains were pulled from a lake in Central Park... A Medieval metropolis existed in what's now St. Louis, then mysteriously disappeared... The companies that help people vanish... The hunt for Catherine the Great's shipwreck treasure...  A woman bit her husband's penis because he refused to kill a rat...