Oh heck, look who it is! Back at it again after all these months!

So what was I gonna do, say no to the newly married man? Fifty bucks is fifty bucks, and I know how much Kevin looks up to me, so here you go: an Official Johnny Ginter Skull Session, brought to you by the guy who fell asleep one time in the middle of writing one.
Back in my day writing these things, I wasn't concerned about petty things like "copyright violations" and "actual news." I wrote hundreds of words based on stupid puns and reviewed the finales of television shows on an ostensibly Ohio State sports-themed web blog simply because I could; unencumbered by your petty notions of content, I was truly free to write and to create and to make whatever dumbass MS Paint idea popped into my addled, mushy brain.
Then guys like Kevin started doing these and coincidentally readership something like octupled.
I don't see a connection.
ANYWAY, here's your Song Of The Day, which is simply too kickass not to lead with:
Oh, and your word of the day is PRESTIDIGITATION.
 HEY FOLKS, MAYBE WE SHOULD LET ATHLETES MAKE SOME MONEY WHY NOT?
Remember ol' Dr. Michael Drake? Love him? Hate him? Harbor a very specific and weird personal vendetta against him?
Well, no matter how you remember his tenure as president, he's going to appear at a U.S. Senate hearing today to talk about "Exploring a Compensation Framework for Intercollegiate Athletes," along with a bunch of other collegiate luminaries. SEC commissioner Greg Sankey should be there, along with former player Eric Winston and a few others.
The action starts at 10 AM, and if you're interested in seeing what all is said, the hearing can be streamed via this link.
 OKAY BRIAN, YOU KNOW HOW TO RIDE A BIKE, WE GET IT, GOSH 
I've done Pelotonia a couple of times, doing 50ish miles for the ride, which basically caused my legs to fall off while the rest of my body collapsed into a filthy, decaying heap. Brian Hartline did this yesterday:
1st century ride. Accomplished the whole ride in just under 6 1/2 hours with 7,000ft of climbing.

Im tired. @CamdenDierkes #MindsetIsEverything pic.twitter.com/YsmEXSL3AV

— Brian Hartline (@brianhartline) June 30, 2020
#MindsetIsEverything, sure, okay, but also being in really, really, really ridiculously good shape also helps. A tad. A BIT!
 YOUR SEMI-REGULAR NOTICE THAT MICHIGAN MEN ARE SLOW ON THE UPTAKE 
There is nothing, absolutely nothing, in this Freep article by Ranier Sabin (kickass name, though) that will surprise you.
In it, Sabin dissects how Jim Harbaugh's teams have undermined his reputation as a miracle worker, which I assume is a thing that some people might've thought he had like, a decade ago.
Under Harbaugh's leadership, the Wolverines are 2-12 against AP top-10 teams.

And since the start of Harbaugh's second season at Michigan, the Wolverines have rarely exceeded their potential. The Free Press compared U-M's ranking in the 247Sports' team talent composite heading into each of the last four seasons against its final position at the end of those years in the Massey Composite — an index that averages the rankings of more than 100 computer-generated ratings systems and human polls.

Only once — in 2016 — did Michigan's standing in the Massey aggregate end up better than its placement in the 247Sports.com team talent amalgam. In two of the following three seasons, it fell below that benchmark.
Well... yeah. Duh. The reason why this super obvious article is in the Skully is because it was written in the Year of Our Lord Two Thousand and Twenty, and not like, one year into Harbaugh's tenure.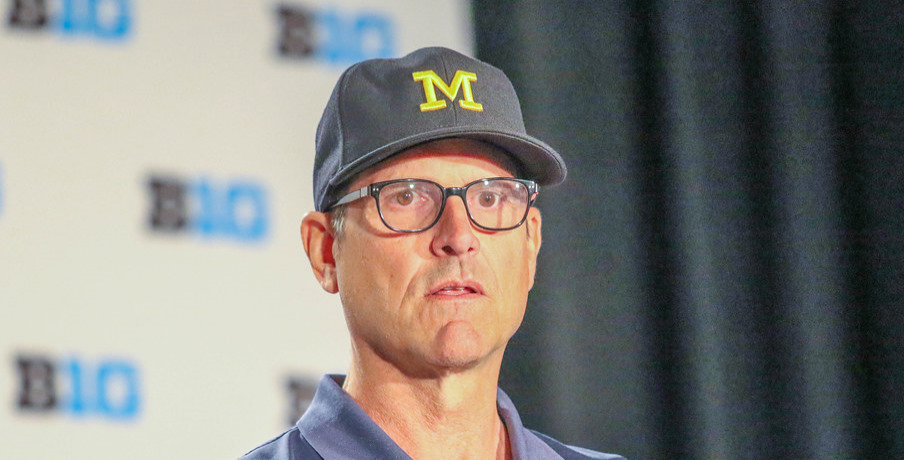 Simply put: anyone expecting Michigan to wise up anytime soon and figure out that literally eight million American dollars per year is a high premium to pay for mediocrity had better find a comfortable seat.
 OREGON JUST OFFERED A 14 YEAR OLD KID 
Okay, yes, he's already 5'11" and yes, offers like this are generally more of a way to advertise and build connections than a genuine attempt to fill up a roster, but holy hell, let the kid get a spot on a high school team first, maybe?
Even though TC Manumaleuna hasn't played yet for the Vikings, North Salem coach Jeff Flood is well aware of what his incoming freshman can do on the field.

"I saw him quite a bit. He's a kid who never stops working," Flood said. "He's got a great head on his shoulders, that drive to be great at whatever he does. He's got the tools. You don't see many eighth-graders who are his size."
It's a weird amount of pressure to put on a kid who was born during the second season of The Office, as detailed by Pete Martini (damn, another great name) at the Salem Statesman-Journal. At a certain point it's valid to wonder if student-athletes that young are benefiting from that kind of attention and expectations, or simply bearing the burden of a program looking to make an advertising push and boost their Q Score with young people.
 JUST A REMINDER THAT MARYLAND AND RUTGERS ARE BAD AT FOOTBALL 
Amy Daughters didn't need to remind us, I guess, but I will never stop finding it funny that Ohio State has outscored Rutgers 327-48 in their six meetings since the Scarlet Knights joined the Big Ten. In fact, new members of the B1G Nebraska, Maryland, and Rutgers have a combined record of 1-19 against the Buckeyes since joining, which according to my notes is extremely bad.
Nebraska got that lone win, and since it gave birth to this image, I wouldn't say that it was a total loss.
 MR. GINTER'S OLD FASHIONED, COUNTRY TIME, FRESHLY BAKED LINKS 
This time it's okay to stare directly at the sun... Justin Fields can throw the ball a little... An extremely detailed Civil War-era map... Human Geography is cool... TV TOO HIGH... A Concise History of America's Brewing Industry... The most interesting (and important) historical figure you've probably never heard of... OH CANADAAAAAAA... Human parasites in the Roman World