It may be a bye week, but we've still got a Ryan Day media availability coming at you at noon.
ICYMI
Word of the Day: Canoodle.
 CHASE YOUNG FOR HEISMAN? I mentioned this yesterday, but we've seen plenty of defensive players get Heisman consideration over the years and have certainly heard media members stumping for particular defensive players. But this whole Chase Young thing just feels different.
It seems like the narrative is that he actually has a legitimate shot to win the damn thing this year, and that media members – many of whom have Heisman votes – would actually consider 
And that's what the latest straw poll from The Athletic ($) suggests as well.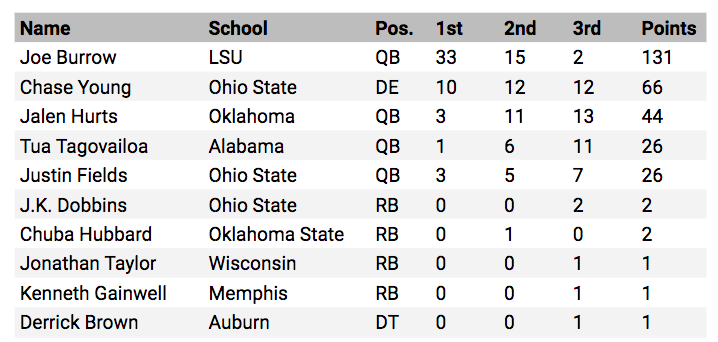 Rooting for Nick Saban and Alabama over Joe Burrow goes against almost every moral fiber in my body, but if Burrow happens to lay an egg against Bama in the upcoming game and Tua's ankle sprain hinders him as much as it seemed to last season, there's a real chance he's at the top of this straw poll in a week. Because lord knows he's going to do some just terrible things to Maryland and Rutgers in the next two games. 
My pipe dream is that J.K. Dobbins, Justin Fields and Chase Young all get invites to New York, because that would absolutely melt faces across the country, especially down south.
 COMPUTERS LOVE THE BUCKS. Between Ohio State's offensive firepower and its swarming, havoc-wreaking defense, there's not a metric or predictive rating you'll find that doesn't absolutely love this Buckeye team.
Ohio State is now at historic levels in both the FPI and SP+
Ohio State is still No. 1 in FPI, now up to 33.6 points better than an average FBS team. Only three other teams in the last 15 seasons have reached this level -- 2005 Texas, 2005 USC and 2013 Florida State.

— Brad Edwards (@JBradEdwards) October 28, 2019 
After prematurely losing yet another HoF coach in the offseason, when will poor old Ohio State ever catch a break?

(I hope the /s isn't needed here)https://t.co/nuspRXJHET pic.twitter.com/PmAX7GaID9

— CollegeFootballData.com (@CFB_Data) October 28, 2019
Obviously the games aren't played on computers, but based on the past, it would seem that computers are extremely effective at deciding whether or not a team is good, and it's not like it doesn't show on the field, either.
 BRINGING BACK THE VIDEO GAME? There's a sizable portion of the college football fanbase (present company included, if we're being honest) whose Pay-For-Play #takes start and end with "bring the damn video game back."
For those of you, I'm pleased to inform you that your wish seems to get more and more likely every day.
From NFLPA.com:
The NFL Players Association (NFLPA) and the National College Players Association (NCPA) are pleased to announce a collaborative effort to explore how college athletes from all sports can finally receive fair compensation for use of their name, image and likeness. Under REP Worldwide, the group licensing subsidiary of NFL Players, Inc., we will look to advance and market the group licensing rights of college athletes of all sports.

To date, college athletes' group licensing and broadcast rights have been sold by schools, conferences, and the NCAA. These organizations take all revenues and profit derived off the athletes' work without even acknowledging that athletes deserve a fair share. Under this new partnership, the NFLPA and the NCPA will explore opportunities for merchandise, gaming and other officially licensed products. We will also review how recent developments impact television broadcast revenues in pursuit of fairness.
The huge disclaimer here is that it doesn't look like this will lead to anything until 2023, when the California law regarding players' image and likeness goes into effect, but it's certainly a step in the right direction. And after more than six years without the game, I'll take what I can get at this point.
 AMONG THE BEST. Last year, I learned just how good Kaleb Wesson was by observing how the Buckeyes looked without him. And it was absolutely gross.
This year, I pray I never find out what the team looks like without him because I'm beginning the season with full confidence that he is one of the best players in the country. And so is John Gasaway of ESPN, who ranks him the No. 6 player in the nation entering the season.
6. Kaleb Wesson, Ohio State Buckeyes

Ohio State made the 2019 NCAA tournament by the narrowest of margins and upset No. 6-seeded Iowa State before losing by 15 to Houston. The Buckeyes project to have a much less stressful Selection Sunday next March, however, thanks in large part to Wesson. After excelling in efficiency as a freshman and in volume as a sophomore, Wesson could well put all of the above together in 2019-20. To do so, Wesson will have to be on the floor. As a junior, he picked up at least four fouls in 14 of his 32 appearances
Wesson dipped his toe in the NBA waters this offseason, and it would seem his feedback included "lose a lot of weight" because he almost doesn't even look like the same human being anymore.
The left photo is from Wesson's freshman year. The right is from last week.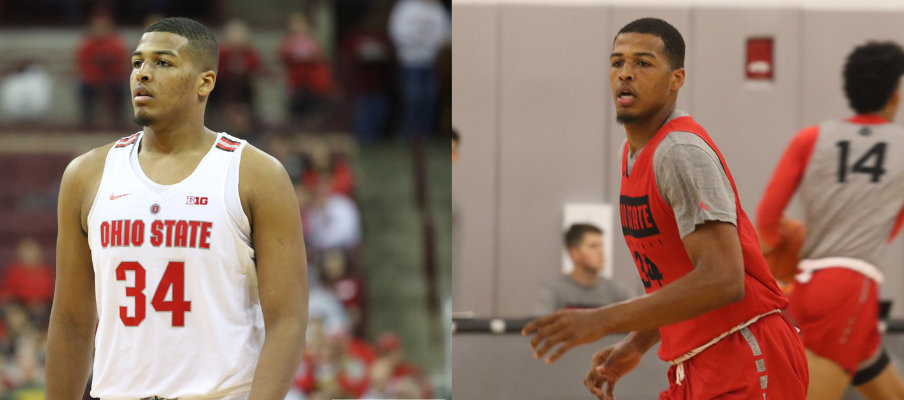 Nobody who isn't a moron is doubting Wesson's ability on the court, but the trouble throughout his career has been keeping him there. Fouls have been an issue, but so has conditioning. The good news is, if that photo is any indication, it looks like he's in the best shape of his life.
 DECOLDEST COMMITS. LSU's all-name team just got a hell of a lot stronger on Monday with the addition of 2022 prospect Decoldest (The Coldest) Crawford.
BREAKING: #LSU has landed a new commitment from the state of Louisiana.

The Tigers have reeled in Green Oaks 2022 prospect Decoldest Crawford after he received an offer this weekend. https://t.co/8xXH7BscbE pic.twitter.com/hW2K3rw2xa

— Shea Dixon (@Sheadixon) October 28, 2019
It's honestly a crime we have to wait over two years to hear Ed Orgeron say his name publicly.
I think Ohio State should go all in on Chief Borders to close the gap in the all-name race. If they secure his commitment, nobody's going to be able to contend with a Chief, Master, Steele and Sevyn on the same team.
It would be absolutely Lejondary.
 NOT STICKING TO SPORTS. An explosion at a gender reveal party kills a woman in Iowa... She was charged with murder 15 years after her sister-in-law vanished and police credit a 'crime fighting' Facebook page... What if a drone falls on your head?... Can you get too old to be good at video games?... A long-accepted theory about magnets might be wrong... Maybe it's actually fine to eat road kill...