Folks, it looks like I'm going to Cleveland this weekend.
Whos in Cleveland this weekend and wanna hit the field? Throw, catch and run some routes?

— Cardale Jones (@Cardale7_) March 4, 2019
ICYMI
Word of the Day: Nudnik.
 BEST TO EVER PLAY THE GAME. There are some extremely varied opinions about Dwayne Haskins. Some see him as an overrated prospect benefitting from a soft quarterbacks class, others see him as a generational talent that would have even topped last year's quarterback-heavy class.
But the guy who's probably spent more time working with and studying Haskins than every analyst and scout combined has perhaps the strongest #take yet.
Ryan Day believes Haskins could be one of the best to ever play the game of football.
Here's a sample of what Day told Albert Breer of SI.com:
"We're supposed to get three years with him, and we only get one," Day said, smiling now. "But at the end of the year, when those three games happened, Maryland, Up North [Michigan] and Northwestern, 1300 yards and 14 touchdowns, every time he threw it I'm like. 'Yes!' And then, 'Sh--! Here we go again.' Then I see [Mel] Kiper's Top 5, and I'm like, 'G--damn, get Kiper out of here.'"

...

"The good news is, for two years, he's been in an offense where it's going to translate into the NFL, because it's very NFL-oriented," Day said "Protections, progressions, route concepts, everything. Being an NFL quarterbacks coach for a couple years, in that room, you're able to talk about what it means to have protections and defensive structure. He has experience with that. He has exposure to it.

"So for him, coming in and having some of these conversations with the coaches, I'm sure he was able to talk in their language because of what we do on offense."

...

"If he continues to develop, if he's afforded an opportunity to work through and learn, grow, then I think he could be one of the best to ever play the game," Day said. "He has that ability."
The rest of the article is basically just a targeted advertisement for any elite high school quarterback looking to make it to the next level to come to Ohio State. Hell, I was ready to commit on the spot and I can't throw a football more than 30 yards.
The more I hear Day talk about quarterback things, the more Justin Fields' decision to come to Ohio State makes complete sense. I don't think there's anywhere else I'd go as an elite quarterback, because I don't think there's another quarterbacks coach like Ryan Day.
 ALL-COMBINE TEAM. It's a pretty good thing to be considered the best of an already elite group, and that seems to happen fairly often for Buckeyes.
Five different Ohio State offensive players were named to NFL.com's all-NFL Combine team with their performances in Indy this weekend.
From Chad Reuter of NFL.com:
Dwayne Haskins, Ohio State
Best team fits: Jacksonville Jaguars, New York Giants.
Analysis: Haskins measured under 6-foot-4 (6-3 3/8, 231 pounds) and ran a 5.04-second 40-yard dash, which is below average for the position. Interestingly, Jameis Winston had similar measurements (6-3 3/4, 231, 4.97) and still went No. 1 overall. Why? Because Winston could spin the ball. Haskins showed the same proclivity during his on-field workout, separating himself from all other participants. His release was clearly the quickest, and the ball jumped to the receiver in a heartbeat. His deep ball was also the most impressive, sailing high and far. Haskins is the class's best thrower, and that's what quarterbacks are paid to do.

...

Mike Weber, Ohio State
Best team fits: Jacksonville Jaguars, Kansas City Chiefs, Philadelphia Eagles.
Analysis: Injuries and platoons limited Weber's touches in Columbus, but he was quite productive when given a chance. Weber was one of the fastest backs at this year's combine with a 4.47 40-yard dash, and he also recorded a 33 1/2-inch vertical and lifted 22 reps on the bench. Weber's best part of his workout may have been the excellent foot quickness, change of direction and receiving skills he displayed during position drills.

...

Parris Campbell and Terry McLaurin, Ohio State
Best team fits: Baltimore Ravens, Cleveland Browns, Detroit Lions, Green Bay Packers, New England Patriots, Philadelphia Eagles, Pittsburgh Steelers.
Analysis: These Buckeyes ripped up the Lucas Oil Stadium turf Saturday. The two similarly sized receivers (6-0, 205-208 pounds) ran among the best 40-yard dashes of the receivers, with Campbell tying for the best mark in the position group at 4.31 and McLaurin coming in at 4.35. Their jumps were among the best, as well (McLaurin recorded a 40 1/2-inch vertical and an 11-2 broad; Campbell a 40-inch vertical and an 11-3 broad). Most importantly, they were two of the more consistent pass catchers on the field after the tests were done. Both have become much more polished receivers in the past year than they were as underclassmen, and that work showed as they ran crisp routes and snatched the ball out of the air.

...

Michael Jordan, Ohio State
Best team fits: Buffalo Bills, Jacksonville Jaguars, Seattle Seahawks.
Analysis: Jordan played out of position in 2018 because his team needed him to slide to center. His combine measurements (6-6, 312, 34 1/4-inch arms) show he does not need to stay in the pivot at the next level. Jordan's smooth work in drills gave him the look of a starter. He also posted some of the better jumps (32 1/2-inch vertical, 9-8 broad) among the offensive linemen, and some solid agility times for his size (7.71 three-cone, 4.71 short shuttle)
So basically, a draft shortcut would be to just select the highest-rated Buckeye on the board whenever you're on the clock.
 BACKING THEIR WAY IN. This college basketball season is hilarious.
Ohio State is 6-10 since the New Year, has an 8-10 conference record and just lost by 35 points and is still decidedly in the tournament field and not even in the "Last Four In," according to Joe Lunardi of ESPN.
There's no way the Buckeyes deserve to make the tournament at this point, and David Briggs of the Toledo Blade has a plan to make sure it doesn't happen again.
From Briggs of the Toledo Blade:
To spare the committee the grief of deciding between Second-Rate State, Tepid Tech, and the University of Blah, there is an easy and overdue fix. It is time, once and for all, to require — like a football team needing six wins for bowl eligibility — at-large hopefuls finish .500 or better in their conference regular season. 

Is that too much to ask?

Truth is no one but their own fans wants to see the 10th-place team from the Big Ten play the eighth-place team from the Big 12 in the First Four in Dayton. The magic of the tourney is the little guys earning their big shot, and the more Cinderellas — and less power-conference flotsam — the better.
I agree with this #take in principal. I'd rather watch a good mid-major team in the tournament than a terrible major conference team any day. The big problem this year is, there aren't many good mid-major teams, either.
Behold, the MAAC: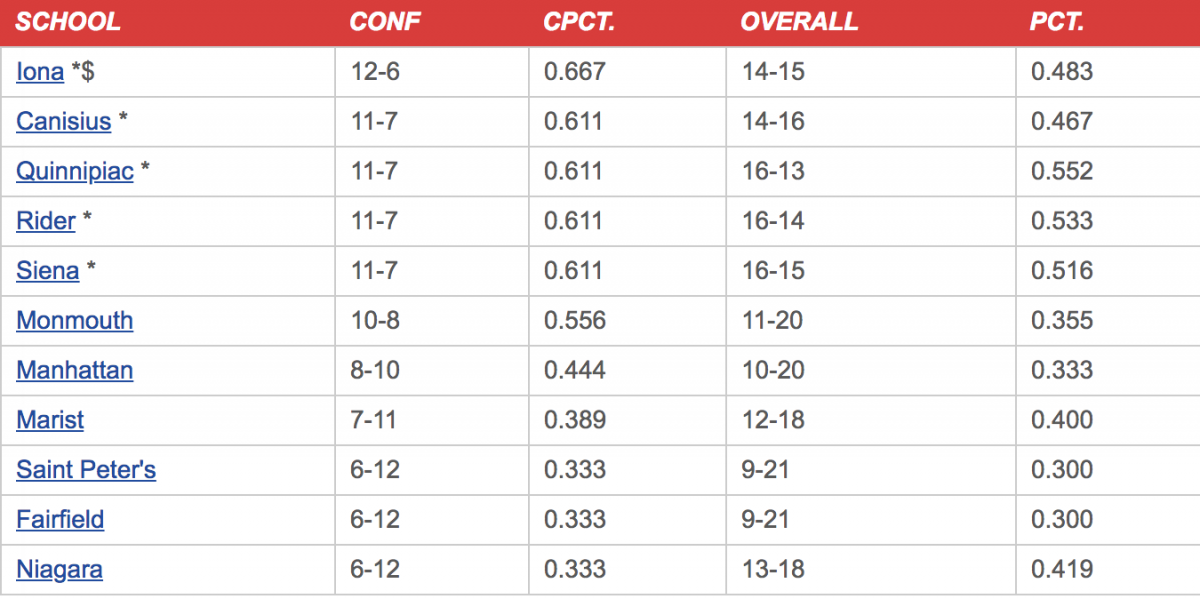 I don't think Ohio State deserves to be in the tournament this year, but the solution probably isn't just tossing Siena in there instead. And it's not like the other teams from major conferences on the bubble are anything close to deserving, either.
 FORGOTTEN LEGEND. Yesterday, I was perusing the 'ole Ohio State men's men's basketball Wikipedia page – as one does in March – and I stumbled across a legendary player I've somehow never heard of, even though he made history in some games I actually attended!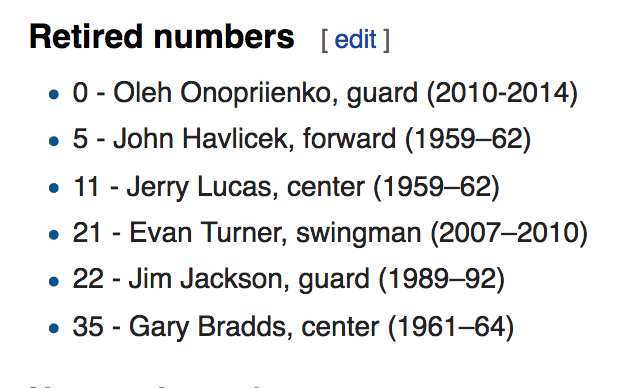 I went to almost every home basketball game during the 2013 and 2014 seasons and I never knew Oleh Onopriienko even existed, much less had his number retired! It must have been wild sharing the number with both Jared Sullinger and D'Angelo Russell during his career. I don't know how they pulled that off.
As you would expect from someone with their number retired, Onopriienko is also in the Ohio State record book.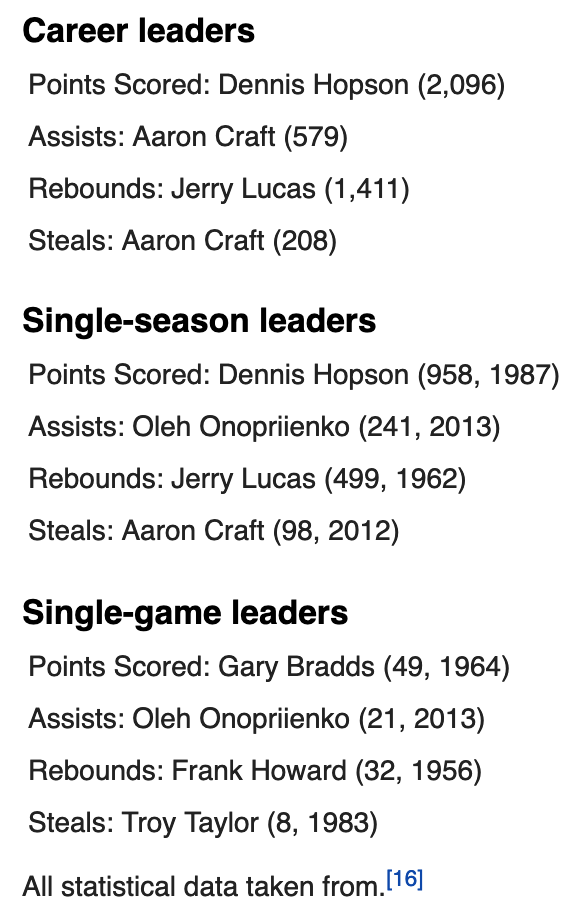 The strangest part about all of this is I seem to vividly remember Shannon Scott owning one of those records. This is the wildest example of the Mandela Effect I've ever personally experienced. It's like history has just be rewritten.

I know Wikipedia trolls happen all the time, but I really appreciate the nuances and the dedication to this one.
Whoever did this didn't just toss a random joke name in one section, they basically created an entire false history for this individual, giving him records, stats and even working him onto the roster page of the 2011-2012 Wikipedia page with a height, weight and hometown of Dnipropetrovsk, Ukraine (although they also listed him as a senior when everyone knows his senior year was in 2014 smh).
The best part about all of this is that there's no clear motive. Whoever did this just inserted a fictitious Ukrainian guard into recent Ohio State basketball history, for some reason. And they covered their tracks, too – the IP address behind the edit is from Ukraine.
As far as the name goes, the only thing I can find on the Google Machine is this fellows Twitter account by the same name and this Ukrainian serial killer that shares the same last name.
Regardless, this is now my favorite Ohio State basketball player and I wish with everything inside of me that he was actually real. I'm considering having a jersey made.
I left all the edits to the Wikipedia page as-is because I just couldn't bring myself to delete an artist's hard work, so somebody else will have to clean it up.
 ODEN GETTING THAT PAPER. Moving on to someone who actually did play basketball at Ohio State, Greg Oden is about to get his degree.
Greg Oden, #1 pick of the 2007 NBA draft, picked up his graduation stole from counselor John Macko last week. Greg is a participant in our Degree Completion Program and will graduate this spring 2019 with his degree in Sport Industry! pic.twitter.com/nlCdaJuJxm

— SASSO (@SASSO_OSU) March 4, 2019
I love the Degree Completion Program. It exists almost purely for the benefit of the players, and Oden is the perfect example of how it can work.
With his injury history, he had an extremely short ticking clock counting down the time he could get paid to play basketball. And thankfully, by choosing to cash in on the few healthy years he had, he also didn't have to ruin his chances at getting a degree because of this program.
Kudos to Oden for coming back and putting in the work.
 LINK LOCKER. H.I.V. is reported cured in a second patient... How to make meals from office snacks... The Tinder Swindler seduced and swindled young women for millions and is a fugitive from justice in several countries... Broke, a sheriff in Appalacian coal country struggles to provide law and order...