February signing days don't have the feel they once did, but that doesn't mean we weren't entertained.
Miami signed Vin Diesel's dad to be their punter:
Australian punter Louis Hedley gives Hurricanes head start on National Signing Day https://t.co/vDjELqYxGw pic.twitter.com/JcPZOI3x7A

— South Florida Sun Sentinel (@SunSentinel) February 6, 2019
UCLA lost a prospect who chose to walk on at Washington instead:
How rough was Signing Day for UCLA? One guy they were waiting on opted to walk-on at Washington instead.

I mean, ouch.

— Stewart Mandel (@slmandel) February 7, 2019
And this kid sucks:
Folks, Gavin Potter Instagrammed himself in a Tech uniform yesterday, then walked into his signing with a KSU hoodie on, and then chose THE KANSAS JAYHAWKS. Troll level might be my new favorite Jayhawk. What a steal by Les Miles. pic.twitter.com/pPh2u1IBcb

— Ryan (@RRinehart2012) February 6, 2019
.@KU_Football signee Gavin Potter is putting Oklahoma and Oklahoma State on notice

(via @FOX23) pic.twitter.com/ZaG96uisLM

— FOX College Football (@CFBONFOX) February 6, 2019
Seriously, if the guy was better at football he might be the best villain in college football history. Instead, I'm quite confident I'm never going to hear his name again.
ICYMI
Word of the Day: Bilious.
 CANDID CARDALE. 12 Gauge joined the Beanie and Boom Podcast over at Lettermen Row and I can honestly say I've never heard anyone speak so candidly about what the hell happened during the 2015 season.
I'd give you a suggested time to skip to, but truly you should all just listen to the whole damn thing because it's that good from start to finish.
And please beware, if you're expecting to feel better about the 2015 season, you won't. Actually, this will probably ruin your day.
My favorite revelations are that Tim Beck is actually good, Cardale wanted to leave after his title run but an unnamed coach gave him poor reviews to NFL coaches, the coaching staff didn't pick a starting quarterback until seconds before the Virginia Tech game, and the entire offense was based around getting folks touches.
Most of that makes me want to die, but also Dolo somehow delivered that crushing information to me in an enthralling and entertaining way. I'm sure he could somehow make a career out of that.
 TURN YOUR HEAD! This is without doubt the most widely spouted, blanket criticism of Ohio State's cornerbacks, as if any defensive backs coach would ever teach a corner to intentionally never find the ball.
Anyway, Jeff Hafley addressed it in his first presser, so now we never have to talk about it again!
Jeff Hafley's answer about whether he wants Ohio State's cornerbacks to turn and look for the ball was tremendous. pic.twitter.com/gmp395udR1

— Colin Hass-Hill (@chasshill) February 6, 2019
The small secret he doesn't tell you is that it ain't really that easy.
The fix isn't just telling them to turn their head and find the ball, the fix is making sure they don't get torched at the line of scrimmage so they're able to turn and find the ball without giving up a touchdown.
But as long as it's fixed, the Internet folks won't know or care how it's done.
 ARENA FOOTBALL COMING. The offseason just took one to the jaw, cause it looks like football is coming to The 'Bus nearly year round.
Nothing confirmed yet but signs seem to indicate that Columbus, Ohio will be home of a sixth Arena Football League team in 2019.

Despite no announcement, there AFL already has a Columbus website set up. https://t.co/3TwcQSagv8 pic.twitter.com/FIytZkjq2a

— Jake Russell (@_JakeRussell) February 6, 2019
I'm unreasonably stoked for this, provided that the roster is Buckeye-heavy. Get J.T. Barrett or Dolodale and let them sling it to Dontre Wilson.
Hell, I've watched enough arena league to know Braxton Miller would be an arena legend.
 D-RUSS SPEAKS CHINESE? Today I learned, All-Star D'Angelo Russell can speak Chinese.
A #LunarNewYear message from @Dloading and Consul General of Peoples Republic of China in New York Mr. Ping Huang! pic.twitter.com/OGEHjtlDWw

— Brooklyn Nets (@BrooklynNets) February 7, 2019
I have nothing but respect for folks that learn a useable second language. I happen to be fluent in Attic Greek, which would be fantastic and greatly useful if I were exchanging letters with the apostle Paul or Socrates.
Alas, I am blogging about sports instead.
 WORST BEATS OF THE YEAR. I don't even know if I want to call these bad beats, because it's so much worse than that. Twice in less than 48 hours, an egregious blown call cost gamblers a cover.
Mind you, we're not talking fouls or judgement calls, we're talking two shots that went in well after the final horn and absolutely should not have counted.
Monday night, we had Iowa State vs. Oklahoma. Iowa State closed as a 2.5 point favorite. And then this:
I thought that was the worst beat I'd ever see in my life, given that the shot literally should not have counted and absolutely would have been overturned if it were reviewed, but less than 48 hours later we had one that was even worse.
Villanova closed as a 9 or an 8.5 point favorite. And then this happened.
Villanova -9 bettors just got HOSED.

WOW pic.twitter.com/lW6VtwCpWv

— B/R Betting (@br_betting) February 7, 2019
"Interesting call there at the buzzer."
Nobody's slowed this one down yet, so I'll provide you with a freeze frame. Spoiler: his plant foot wasn't even on the ground when the buzzer went off, much less the ball in the air.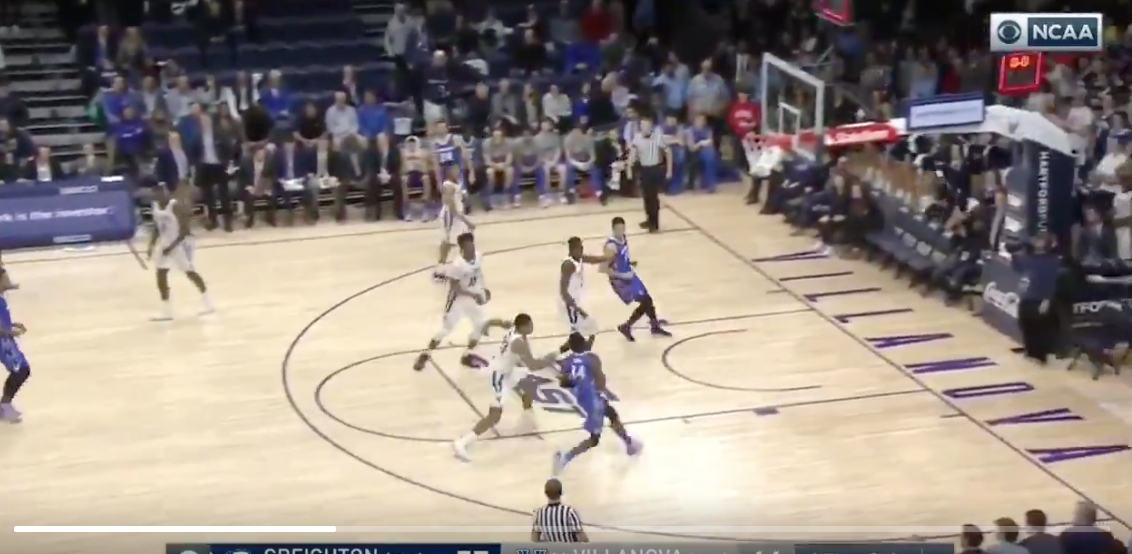 If you really want to bust out your tinfoil hats, a referee by the name of Robert Ayers actually officiated both games. Makes you think, for sure.
I'm not actually suggesting Mr. Ayers intentionally fixed a basketball game, but the problem with this is that it's extremely easy to fix with video review and would have been fixed with video review if it happened at literally any other point in the game. They just didn't in either case, because the shot didn't decide the game.
It's kind of funny that we hear the NCAA, college athletic directors and coaches talk about changes that could be coming to make things fair for gamblers – like college injury reports, for example – but then this happens. Twice.
This actually has much bigger ramifications than gambling – though you might not believe me if you just lost a wad of cash on either of these atrocities. The new NCAA selection method actually takes margin of victory into account to a point, and various metrics take every point into account as well. If it's possible to get these right, it's just negligent not to do it.
 LINK LOCKER. The American warship doomed by its own navy... A giant cross washed up on a Florida beach and no one knows where it came from... Dozens of cities have secretly experimented with predictive policing software... Making new drugs with a dose of artificial intelligence...