I dedicate this Skull Session to Smoked on High, my new favorite BBQ joint in Columbus. Texas and North Carolina could learn a thing or two. Thanks to 1st Ohio Battery's Sam Blazer for introducing me.
ICYMI:
Word of the Day: Dilatory.
 SEIZING THE MEANS OF RETURNING PRODUCTION. Boasting about returning starters used to be cool in the 1970s. Now we have things like GPS, air conditioning, and more than three choices of light beer at the corner store.
It's about "returning production" these days, as originally ranked by SB Nation wizard Bill Connelly. But what do the wizard's rankings mean for the only team we care about?
From Bill Landis of cleveland.com:
Offensively, it's not quarterback production or offensive line play that carries the highest correlation to strong offense. It's receiver production. More specifically, it's returning receiver yards.

That's not to say that replacing a quarterback is some small thing, or that the returning production of players like Weber and Dobbins doesn't mean anything. It's just that when it comes to predicting offensive success in Connelly's system, returning receiver yards matters most. So the fact that the Buckeyes have 90.5 percent of their receiver yards back is important, even if the group as a whole was a bit underwhelming last year.

...

Returning production matters more, in general, on defense than it does on offense. And most of that is centered on the secondary. The four areas of production with the highest correlation to future S&P+ performance -- regardless of which side of the ball we're talking about -- are passes defended, tackles, defensive back passes defended and defensive back tackles. We gave you total passes defended and total tackles above. The percentage of returning defensive back passes defended (47.7 percent) and defensive back tackles (41.4 percent) are both lower than the overall number. By this measure, losing Ward and Webb matters more than losing the three defensive ends.
It may take a couple of weeks, but Ohio State will be fine with Damon Arnette, Kendall Sheffield, and Jeffrey Okudah. I do worry about replacing Webb, though we'll have to see what kind of reviews freshman Josh Proctor draws after he lands.
As for the offense... CHOO CHOO.
 BARRETT CATCHES A STRAY. J.T. Barrett is out here just trying to make the Saints opening roster, and he's catching strays from an Alabama quarterback on local radio.
From 97.1 The Fan's Rothman & Carpenter (via 247sports.com):
"The thing that blew me away (about Haskins' throw to Mack) -- and look, I love J.T. Barrett and I love what he stood for," McElroy said. "I thought he was a great leader and had good understanding. But I thought he was real gun-shy and he wouldn't really pull the trigger. And he could make the throw, but he wasn't always willing to. And then I watch Haskins and I see something different. And then I listen to him being interviewed and he's like, 'Yeah, I can make all the throws.' The guy is uber-confident, he believes in himself and he has the talent to do it.

"So, I'm very excited to see what the offense can be."
Listen, "Mac" ... Ohio State fans are the only ones allowed to ravage Barrett and his ability with 300-comment message board threads. An outsider is not allowed to come into Columbus and sling stones at the winningest quarterback in program history. Show some respect for a Korean War vet.
 BUY THE FIRE BUCK. I don't get to do it anymore, but I always enjoyed walking through the tailgate lots and looking at the shrines erected by Buckeye fans on sacred fall Saturdays. You see some wild things.
I can't imagine spending $5,000 on a fire truck and turning it into a tailgate chariot. But one Buckeye fan did. And now he's offering the chance of a lifetime to YOU.
From craigslist.com (via bustedcoverage.com):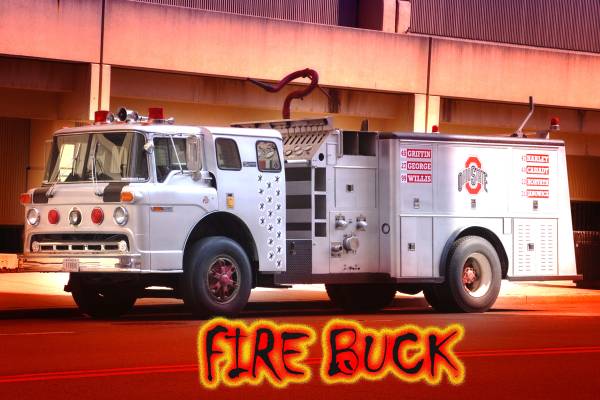 The time has come to part ways with my tailgating behemoth, better known as The Fire Buck. After many years and thousands of dollars, I don't really have the time any more for the dedication this takes to tailgate at all of the games. I have been told I should only do Big Ten games, or maybe only do a few here and there. While that sounds perfectly logical, I don't want the truck to go to waste on me only using it a couple of times a year. Since its inception, I have involved it in tailgates, birthday parties, patio parties at BW3, charity events, parades, and much much more. I have literally put blood, sweat and tears into this truck and it is bittersweet that I will be parting ways with it. I have spared no expense in restoring this truck, and the before/after pictures should show you the care that has been taken into making it what it has become.

...

The Fire Buck originally started out in service at the Mt. Clemens Fire Department in 1982. There it stayed in service, providing vital firefighting equipment to the people near the Lake St. Clair area, until it was sold in 2006. This fire apparatus was later purchased by Kevin's Lawn and Landscaping to be used as a water transportation vehicle for landscape installation. On October 5th, 2009 Kevin decided he had no further use of the truck and placed it up for auction on eBay Motors.

The truck was brought back to the Columbus Ohio area on October 10th, 2009 and work began soon thereafter. Once converted into what would now be labeled 'The Fire Buck', it was unveiled in early July of 2010 and has been on display for every home game since that time.
The only way I would buy that would be if it had a functioning water cannon that I could use as a crowd control mechanism during the biannual sacking of Ann Arbor while the sirens blared Buckeye Battle Cry.
 BUCKEYE R/CFB ARMY NEEDS SOLDIERS. Apparently there's a college-themed game of Risk being played out on the CFB Subreddit (explained in detail over here) because the offseason is hot and dark.
Ten people have asked me to mention it, acting like I'm Abe Lincoln and capable of ordering a draft. The truth is I hate Risk and any other board or dice game that doesn't involve money. But I have now mentioned their need for Buckeye soldiers, so please stop asking me about it.
 CANAL WINCHESTER > DUBLIN CONFIRMED. Columbus booming is no shocker these days. What is kind of surprising is Canal Winchester dumping Dublin as the fastest growing city in Franklin County.
From dispatch.com:
In Ohio, the numbers also show continued growth for central Ohio communities. Seven of the state's fastest-growing cities are in Franklin County or an adjoining county, and five of them are mostly within Franklin County. Among cities, Canal Winchester showed the fastest growth in the state from 2016 to 2017 at 4.4 percent, followed by Dublin with a 4.3 percent growth rate.
People will make excuses for Dublin like they always do for the Shamrock City—"Oh but Winchester has so much more room to grow, yada yada yada." Not me. I welcome our new overlords. Byron Mullens, come collect your crown, lad.
 THOSE WMDs. The men who didn't disappear... Photos: A look back at Columbus' Union Station... The unceasing necessity of Phillip Roth... AI chatbots attempt to schedule meetings—without enraging us... Why do Adams County residents stay when their town has no future?