This is how I woke up Sunday when I recollected an off week Saturday that included 42 free Landgrant beers, dinner with my mom in Bellefontaine, and a 29-point Michigan loss:
HOW YALL FEELIN RIGHT NOW pic.twitter.com/o41Du3bnMV

— PodKATT (@valleyshook) October 22, 2017
I'd say it's back to business this week, but that would imply there's actually an off week in the life of a #content creator.
ICYMI:
Word of the Day: Militate.
 WHO GOT THE HORSE HIGH? Tilt of the fedora to Penn State. I figured they'd put Michigan down like a rabid weasel in the town square, and it looked like a playoff contender on every front Saturday night.
Penn State fans immediately wanted Alabama. And one national pundit believes Penn State's apotheosis under James Franklin worthy of the No. 2 ranking.
From Pete Thamel of yahoo.com:
On Sept. 29 of 2016, Penn State's program looked destined for another mediocre season. Shrouded by the stigmas and sanctions from the Jerry Sandusky scandal, the Nittany Lions looked lost after getting pummeled at Michigan by 39 points. Grumbles about coach James Franklin's job status intensified, as questions about fit, his game management and ability to resuscitate the Nittany Lions back to relevancy echoed from Pittsburgh to Philly.

Thirteen months since that dark day in Ann Arbor, Penn State has emerged as one of the most dominant programs in all of college football. The Nittany Lions eviscerated No. 19 Michigan, 42-13, to solidify their No. 2 ranking and status as the best team in the country not named Alabama.
Urban Meyer should demand the Big Ten blood test Jason Cabinda. Not for steroids, but for genetic mutations. The man is a prototype of "the Penn State linebacker."
But Nick Bosa got his wish. Penn State will indeed saunter into Columbus on its high horse. Hard to blame them, either, as they haven't lost a conference game since November 2015 (a 55-16 loss to Michigan State) September 2016 (a 49-10 loss to Michigan).
 KARMA. Ohio State outplayed Penn State for three quarters last year in Happy Valley, but fell late down the stretch of their second night road game in two weeks. To compound the problem, Penn State was coming off an open week.
The scheduling gods struck back at Penn State this year, with the Nittany Lions coming off a night game (albeit a home one) before facing Ohio State coming off an open week.
Don't underestimate the advantage this gives the Buckeyes.
From mydaytondailynews.com:
The open date comes at a perfect time for No. 6 Ohio State. Coaches and players can relax this weekend while preparing for the biggest game on the Big Ten schedule. A week after playing Michigan, the Nittany Lions visit Ohio State for a 3:30 p.m. game Oct. 28.

"It's a huge advantage for us," Price said Wednesday. "Obviously, we get guys rested up and relaxed and have an extra week of prep. I've already watched four games of theirs. I'm already looking at what we're doing offensively, scheming up to put some of their guys in space and exploit some of their players."
Ohio State opened as a seven-point favorite yesterday, which sounds about right to me. 
Price should also know the Nittany Lions pulled at least one punch while subduing the Wolverines last week:
Franklin says Moorhead had an unseen play he wanted to run, but was vetoed by Franklin. Folks we have a secret play on our hands.

— Roar Lions Roar (@RLRblog) October 22, 2017
Nothing but respect for Joe Moorhead. I look forward to watching Big Game James Franklin regroup after the Browns draft Saquon Barkley and an SEC school hires Moorhead.
 SAFETY ALERT. Saquon Barkley rightfully earns praise as Penn State's driving offensive force. He's the best player Ohio State will face this season and is playing like a man unaware the Browns will likely have two top-10 picks.
But Penn State's offense is more than one person. Don't sleep on Sober Johnny Manziel at QB or DaeSean Hamilton. They'll be gunning for the secondary, mostly Damon Webb and Kendall Sheffield.
From theozone.net:
Ohio State is up next for the Nittany Lions, and knowing how the Buckeyes like to play the pass, Hamilton should expect some more time in the slot next Saturday.

That means senior Damon Webb and sophomore Jordan Fuller are going to have to be ready for quick hitters and double moves for downfield jump balls. They are also going to have to tackle well after the catch.

The OSU safeties struggled with all of this last week in Lincoln, Nebraska, as Huskers receiver J.D. Spielman caught 11 passes for 200 yards and a touchdown.
Nothing but the best performance of the season will be good enough against Penn State, as Lincoln Riley and Oklahoma already laid down a blueprint to help blunt the Buckeye pass rush.
Sober Manziel throws his fair share of jump-balls, too. A turnover or two could change the game, and there will be plenty to be had.
 WHO HAS IT WORSE THAN US? Critics don't yet recognize the local team as America's No. 1 team. That's fine for now, because it's not coronation season, and a helluva lot more fan bases have it worse than us.
We start in South Bend, where surely all seven USC diehards are furious about Notre Dame running their team off the field. It was such a decisive route, the Irish's social media guru dunked on them with a poorly-edited yet hilarious video.
FINAL: Notre Dame 49, USC 14.#GoIrish pic.twitter.com/6bThwzcKb1

— Notre Dame Football (@NDFootball) October 22, 2017
We go to Fayetteville, where Bert Bielema looked clueless as Gus Malzahn's unit him by 20.
Why does Coach Bielema always have his mouth open like hes confused... why?

— RebeccaSmithson Moll (@ras328) October 21, 2017
Arkansas has started 0-4 in SEC play five times.

Three of those, Bret Bielema was the head coach.

— Derek Ruscin (@derekruscin) October 22, 2017
Bielema now in danger of becoming the first Arkansas coach in the Hogs' SEC era to lose five conference games by 30 or more points.

— Bo Mattingly (@SportsTalkwBo) October 22, 2017
Things didn't go much better in Knoxville:
Time to check in on Tennessee fans: pic.twitter.com/yduaRkSYYb

— Deadspin (@Deadspin) October 21, 2017
But it all pales in comparison to the meltdown in Ann Arbor that started with Lavert Hill telling Penn State fans their team should be No. 11, not No. 2.
Former Penn State commit Lavert Hill was not a fan of the White Out. pic.twitter.com/WZpx8kQxuw

— Onward State (@OnwardState) October 22, 2017
Things were only got worse from there.
This is Michigan's 15th consecutive loss to a ranked opponent on the road. Last win: at Notre Dame in 2006.

Kyle Rowland (@KyleRowland) October 22, 2017
Michigan is unranked in the AP poll for the first time since Sept. 2015.

— Kyle Rowland (@KyleRowland) October 22, 2017
Penn State's punter trolled Michigan's kicker, Quinn Nordin, a former Penn State commit who flipped to Michigan with a commitment video involving a private plane, that missed an extra point in the first quarter:
 

— Blake Gillikin (@blakegillikin) October 22, 2017
One MGoBlog poster has pinpointed Michigan's biggest problem: Dipshit nerd fans, who have never played sport in their life, caring more about their bullshit opinions: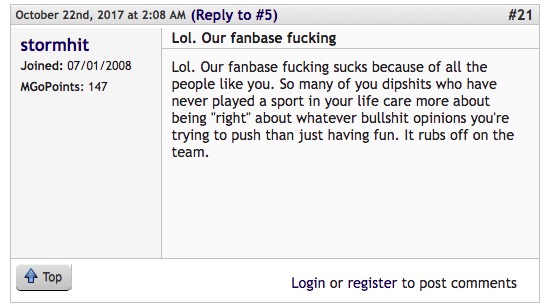 Another reader surmised their offensive debacle the best: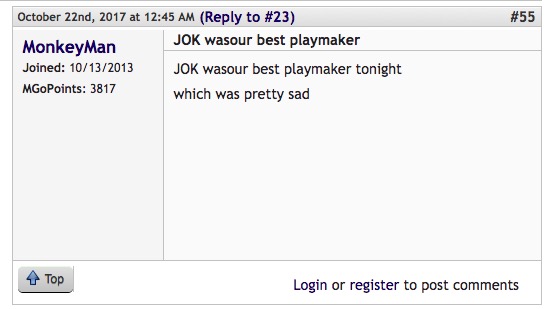 No rest for Michigan this week. They play rival Rutgers in a showdown for 4th place in the Big Ten East. Don't be shocked if the Knights go into Ann Arbor and win 12-6.
 THOSE WMDs. The decline of the Midwest's public universities... Witches still hunted in India... Unmasked: Firefighters and cancer... Homecoming queen kicks game-winning field goal... The violent fall of a #teen weed kingpin... How black holes form and how they work.