On October 28 Ohio State hosts the defending conference champions in the Horseshoe. That Friday night before the game we'll be throwing a party at Buffalo Wild Wings on Lane & High, and you're invited.

Here are the details:
LOCATION: Buffalo Wild Wings is at 2151 N High St right on the corner of Lane and High. You've been there.
TIME:  The restaurant is open from 11am - 2am, but the Banger goes from 7pm - 11pm on the second floor. Go upstairs!
ADMISSION: 100% of your $21 (suggested) donation goes to long-time 11W charity partner DownSyndrome Achieves, and it also gets you two tickets for Yuengling products. You are free to donate more. You can also donate if you're unable to attend. 
Buffalo Wild Wings will be giving 20% of its receipts from that evening to DSA, so by all means - come hungry and thirsty and your appetites will go toward a great cause. Eleven Warriors readers have already helped fund the first-ever BioBank for Down Syndrome research, located at Nationwide Childrens Hospital. We can do more, so we are!
---
FAQ
Why $21?
Chromosome 21 is one of the 23 pairs of chromosomes humans have. People with Down Syndrome have two copies of this chromosome. The trisomy of the 21st chromosome is what causes Down Syndrome. That's why.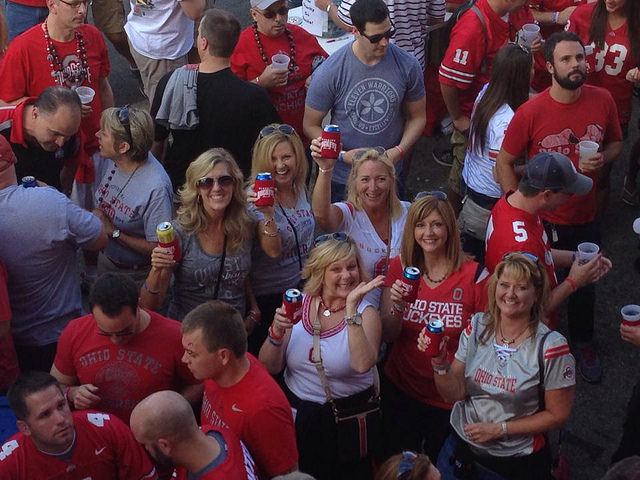 I'm under 21, or want to bring someone who is under 21. Is that okay?
YES IT IS OKAY. Your underage guests will get a different-colored bracelet which gets them two non-alcoholic beverages. You can also be over 21 and drink non-alcholic beverages. This is an all-ages affair.
Hey, what happened to the Eleven Dubgate?
Don't you mean The Eleven Dubgate VII Presented by Sweet Water Brewery happening on Nov 11? Oh, we haven't announced that just yet. Whoops, we've said too much.
Will my favorite 11W writer or personality be there?
Yes. And so will your least favorite writer and personality. Bonus!
Do I have to make a reservation or can I just show up?
Just show up at Buffalo Wild Wings and head to the second floor. See you there!