Nearly 100 hours out from Ohio State at Rutgers. Hopefully the Scarlet Knights are getting their last will and testament together.
ICYMI:
Word of the Day: Amalgamate. 
 BLOCKING: IT'S KIND OF A BIG DEAL. Urban Meyer made it known as soon as he arrived in Columbus: Receivers that don't block won't play.
He's held true to that too, even going as far as deploying receivers that are better blockers than route runners or catchers.
It can be frustrating at times since, you know, a receiver's main job is ostensibly catch the ball. But blocking is a critical part of Meyer's offense, especially one that relies on bubble screens and crossing routes. 
From Edward Sutelan of The Lantern:
And members of the offense believe bubble screen passes and short crossing routes can be the key to success against any team.

"I think those plays can work against anybody, and I say that because I think we're one of the best perimeter blocking receiver groups out there. That's all it is," wide receiver Johnnie Dixon said.

But what is the key to making those short passes work?

"You block good out there and it pops," Dixon said. "A guy like [H-back Parris Campbell] touches the ball and you see what he can do. He's quick. Give him the ball in space and lights out."
So this is why guys like C.J. Saunders (listed at 5-11, 176) have trouble seeing the field. Guys that small aren't punishing anybody outside of grade school, let alone a Big Ten linebacker in space.
I don't agree with it, but that's why Ohio State's rotation looks like it does.
 BARRETT IMPROVING (FOR NOW). After a season of stressing the long-ball, J.T. Barrett has improved his downfield passing in every game this year, despite the offense cratering against Oklahoma.
A look at his numbers, via CFB FIlm Room: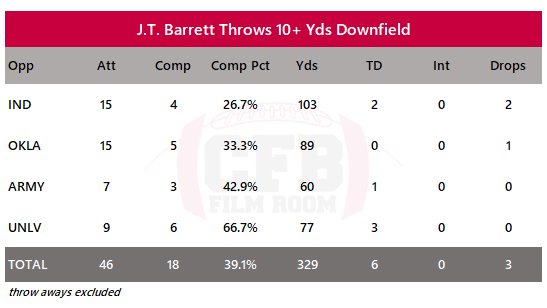 Obviously Army and UNLV aren't stiff competition, but at least it's better than Barrett's numbers remaining the same against lesser foes.
We'll see how he looks against Penn State. But I don't expect some miraculous transformation. The receivers and Barrett are what they are.
In other passing news...
Ohio State CB Denzel Ward has contested 59.1% of his targets in coverage this season. Increase from an already impressive 40.5% last year.

— CFB Film Room (@CFBFilmRoom) September 27, 2017
Let's hope that trend continues, because teams will continue to test the secondary because none of them want to tangle with that defensive line.
 COMRADE BUCK-I-GUY? One of the best perks about this job is waking up and not knowing what the hell I'm going to write about that day. Sure, it's usually Ohio State-related, but that could include anything from a dog-sitter stabbing the rightful owner to Shoeless LaQuinton Ross scuffling with racist Israeli hooligans to Iowa needing 100 black coffins to send its enemies to Hell.
Today's topic? Buck-I-Guy and communism. Two things you wouldn't think have a lot in common.
From Tony Gerdeman of theozone.net:
This two-part YouTube video from the Scott Spears Show totaling about 45 minutes goes through many amazing twists and turns as Ohio State superfan Buck-I-Guy argues with world-famous watermelon-smashing comedian Gallagher over politics, being a phony, family reunion facilities inside Ohio Stadium bathrooms, and political biker gangs.

The discussion is also accompanied by the very mean-spirited insults dished out by the melon-smashing comic, such as referring to the cowboy-hat-wearing Ohio State fan as a "communist" and "un-American."

While the video is goofy in its own right, it is actually kind of fascinating to see this infamous OSU Superfan get called out by an embattled comedian. Without any further ado, here is "The Untold History of the Buck-I-Guy, Gallagher Rivalry."
Buck-I-Guy may be a Trotskyist, but please keep in mind: He aided the City of Kings in its battle against opioids, and thus operates under the grace of Warren G. Harding.
I don't want to ban anyone for slandering Ohio State's No. 1 fan, but I will.
But I'm more concerned about this "watermelon-smashing comedian." What sort of psychopath wastes a good melon like that? No friend of mine. Glad Buck-I-Guy smashed him.
 PETRINO WINS SCANDAL. Louisville whacked its athletic director and championship basketball coach yesterday. The winner of this, much like a cockroach surviving a nuclear blast, is renowned ethicist Bobby Petrino.
From sbnation.com:
In January 2014, when the school hired Petrino and released his contract specifications, the coach's buyout was set at $10 million. That's how much the school would have been owed if Petrino left before June 30, 2017.

Since then, that buyout has dropped to $8.5 million until 2018, then to $7 million in 2019, then $5 million. His buyout clause stayed the same after the coach's new seven-year contract was announced in April 2016.

The most interesting clause could make Petrino a lot more intriguing to schools making coaching changes in the near future: With Jurich leaving the school, Petrino's buyout is cut in half. That means right now, Petrino's buyout is $4.25 million, which is a heck of a lot more enticing for any school that might hope to pry him away than an $8.5 million fee would've been.
Maybe Louisville can keep Petrino this time around if they let him coach football and basketball. It would probably be an upgrade on hiring Tom Crean, a name that's been floated as Pitino's replacement. 
 INDICTMENTS FOR EVERYBODY. The FBI pinched an Adidas sports marketing director as part of its ongoing corruption probe into college basketball recruiting. You might be shocked to learn their might be some dirt under Nike's nails as well.
Sources: Employees of Nike's EYBL grassroots division, along with documents, have been subpoenaed by FBI in furtherance of investigation

— Darren Heitner (@DarrenHeitner) September 27, 2017
I hope this ends with Umbro outfitting the last three teams involved in college football: Ohio State, Cleveland State, and East Carolina.
Other schools are feeling the heat too:
DEVELOPING: @AlabamaMBB conducted an internal review following FBI probe. Associate AD Kobie Baker has resigned. pic.twitter.com/bbPb15OVwx

— Stadium (@WatchStadium) September 27, 2017
The U of Miami issued a release that it has been officially notified it is under FBI investigation.

— Jeff Rabjohns (@JeffRabjohns) September 27, 2017
Let me grab my popcorn. This is about to get good.
 THOSE WMDs. The great Silicon Valley heist... Clues to Africa's mysterious past found in ancient skeletons... How special ops became central to the war on terror... When girls won't be girls... The last stand of Brazil's Arrow People... Google drops firm reviewing YouTube videos.