Word of the Day: Rakish
PROGRAMMING NOTE: The men's basketball team hosts Nebrasketball at 6 p.m. on BTN.
 ANOTHER STRANGER WHO KICKS GOOD.  When a Macedonian #teen inevitably hacks 11W's Slack channel and uploads it to Wikileaks, you can confirm a prophecy of mine shortly before kickoff against Bowling Green:
No disrespect to Sean Nuernberger, who lost his job due to injury, but walk-on Tyler Durbin would kick for the rest of the year.
It was a dream season for Durbin (and my prophecy)... until the Clemson game. Such is how the college kickers game goes.
Ohio State signed the No. 2 kicker of 2017, Blake Haubeil, whom it plans to grayshirt due to tight scholarship numbers.
That means Nuernberger will retain the kicking job in 2017, right? Well, unless another walk-on emerges from the shadows.
Remember that bando who drilled a 55-yard field goal? His name Austin Brizee. He tried it on a bet for free Chipotle and earned him a tryout.
From dispatch.com:
Now Brizee, 20, might end up with more than the chicken bowl with brown rice and black beans he happily feasted on. Video of the kick quickly went viral. It got the attention of Buckeyes assistant director of player personnel Eron Hodges. He texted Brizee and offered a walk-on tryout. Brizee doesn't have a date yet for that tryout, but he is taking his opportunity seriously. He has enlisted former Ohio State kicker Kyle Clinton to help refine his technique.

[...]

This was not a fluke. Brizee is a talented athlete who played four sports — baseball, soccer, golf and bowling — at Brush High School in suburban Cleveland.

Brizee enrolled at Thiel College in Pennsylvania with the intention of playing baseball. When that didn't pan out, he eventually transferred to Ohio State, in part to try out for the band. He has played the trumpet since elementary school.
Brizee is working out with walk-on kicker Kyle Clinton on the fundamentals in the meantime and plans to leave the band if he makes the team.
May the best man kick the big three-point bangers next January. In Woody we trust. Amen.
 FICKELL DOING AS EXPECTED. Ohio State must be selective when it comes to Ohio kids. The best of the best will play, but by and large, they're lesser developed than players in Texas, California, or Florida. 
Luke Fickell and Cincinnati won't be as selective in their hometown turf, and they can show love early in the cycle.
From 247sports.com:
"He has come in down here and amped up the excitement when it comes to recruiting," the source said. "He's getting some guys to take a look, even visit, that are very much on Ohio State's radar. We know if Ohio State really wants someone they are going to win out over Luke. But for us down here, it's still good to see what is going on."
I'll be watching to see if Fickell can make any inroads in recruiting the Queen City. Cincinnatians, God bless 'em, revel in their esoteric ways. That's an opening for Fickell.
Tom Herman convinced five-star Ed Oliver to sign with Houston like Herman wouldn't be coaching Texas within two years. 
 GROWN MEN CRYING. I tell people I quit video games in order to read more. It's actually because I lack the emotional maturity expected of a 30-year-old man.
So while I enjoy mocking millionaires melting down on national television, I broke $500,000 in X-Box controllers playing FIFA over three years. I could only imagine if millions of dollars rode on those games. I would be in the mental ward taking my daily mush through a straw.
From Jon Solomon of cbssports.com:
Crankiest Coaches

| RANK | COACH  | SCHOOL |
| --- | --- | --- |
| 1 | DABO SWINNEY | CLEMSON |
| 2 | JIMBO FISHER | FLORIDA STATE |
| 3 | PAT NARDUZZI | PITTSBURGH |
| 4 | JIM HARBAUGH | MICHIGAN |
| 5 | BERT | ARKANSAS |
| 6 | NICK SABAN | ALABAMA |
| 7 | DANA HOLGORSEN | WEST FUCKIN' VIRGINIA |
| 8 | DAN MULLEN | MISSISSIPPI STATE |
| 9 | JIM MORA JR. | UCLA |
By the way: The crux of that article is arguing refs should be allowed to eject coaches from games. That's a bad idea. 
Do you know what would happen if a ref tried to eject Urban Meyer from a title game? I would literally be defending a murder we all witnessed on live television 48 hours prior in the Monday Skull Session. ("Well, look, condolences to his young children but that call was atrocious...")
 THOMPSON IN CRUNCH TIME. Last spring Urban Meyer told oft-injured defensive lineman Dylan Thompson to "Do something. And underline that, do something."
Ohio State ruled him ineligible for the 2016 season a couple months later.
1+1 needs to equal 85 scholarships when the 2017 season starts, and Thompson is a name often selected as one of the four "dead men walking" in the WHAC.
Thompson posted this last month (thanks for the ridiculous removal of the chronological timeline, Instagram!); he's clearly not going down without one last go.
From Dylan Thompson's Instagram: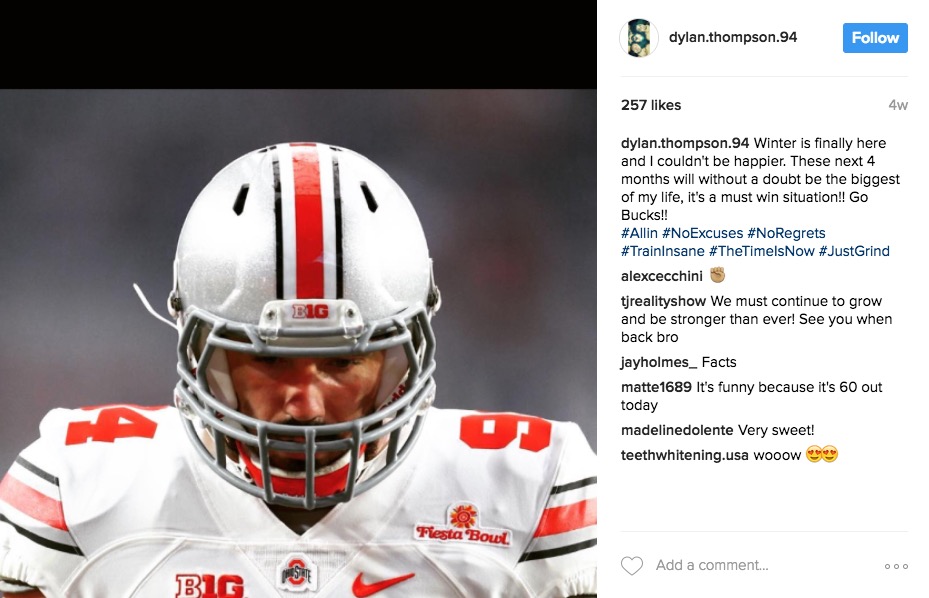 Thompson certainly looks the part. The defensive line talent pool is ridiculous, though. 
 THOSE WMDs. Tommie Harris on his wife's death... Sports Illustrated 1993: The Browns cold-fish coach Bill Belichick... Canadian missing for five years found barefoot in the Amazon... Just say "no" to scam callers, or hang up... Why does this one couch suck so much?