Here's to hoping I don't wake up today to my own readers running a train on me in the comments section. I am too famous for this!!!!!!!!111
This week's NSFW ANTI-WORK #BANGERS:

OHIO STATE THE DRAW KINGS. We knew Ohio State was the 2014 home attendance king, but yesterday we found out that the Buckeyes put butts in the seats everywhere they traveled last year. The result? The 2014 total attendance crown.
via 97.1 The Fan's Lori Schmidt: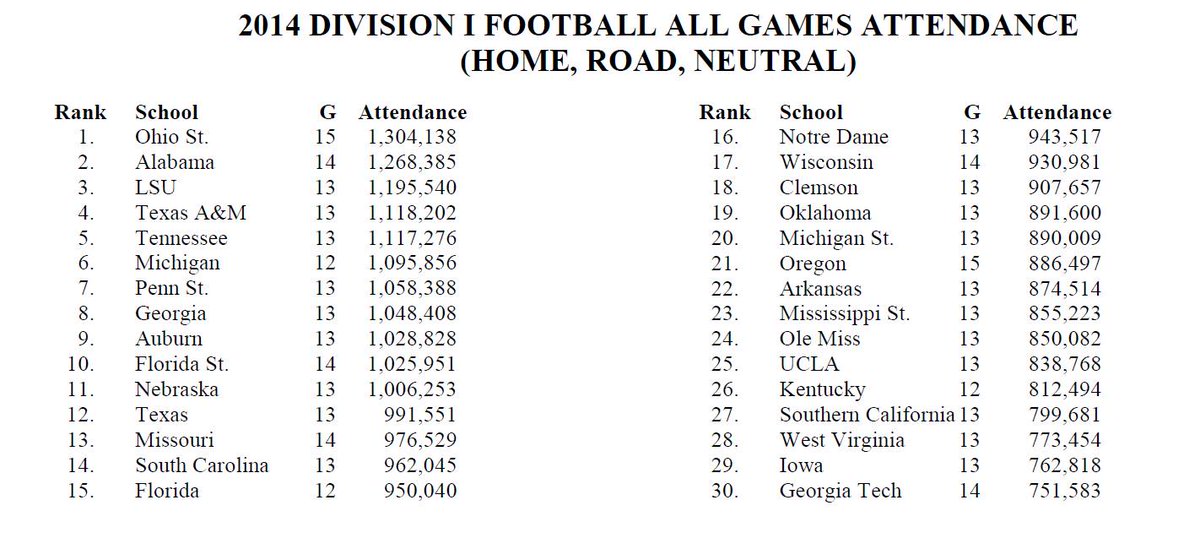 Prayers to the 773,454 poor souls condemned to watching Iowa Football last year. They made their choice, yes, but I'm not sure anybody deserves that fate.

SMITH AND BENNETT TABBED FOR IMPACT. I'm not surprised to see Devin Smith ranked in the upper third of a list predicting NFL rookies to make an impact this season, but it's good to see a national writer give Mike Bennett some love too:
From Bryan Fischer of NFL.com:
33. WR Devin Smith, New York Jets: Defenses will have to respect Smith's speed and he's a perfect complement to the receivers already on the roster.

[...]

60. DT Michael Bennett, Jacksonville Jaguars: One of the best value picks in the draft likely already has a role set for Gus Bradley's defense.
Jeers to Jeff Heuerman's ACL by the way, because he'd be in the upper half of this list if it didn't give out on him. (Heuerman was about to be the steal of my next fantasy draft too.)

LAX EYES HISTORY. Ohio State's men's lacrosse saved us from a world in which Duke Lacrosse threepeated. On Saturday night, its next test is Denver, which appears to be a tough proposition.
From Ryan Cooper of TheLantern.com:
Denver (14-2) is found at or near the top in several key statistical categories, including leading the nation in face-off percentage (69.0 percent) and man-up offense success rate (58.6 percent).

The Big East champions are also fifth in the country in total offense at 14.06 goals per game and eighth in turnovers per contest at 11.88. Freshman midfielder Trevor Baptiste leads the country in face-off winning percentage at 70.5 percent, holding a commanding 2.9 percentage point edge over the next-best player.

The Pioneers may have been the preseason No. 1 team, but the Buckeyes have already proven they can beat them, courtesy of a 13-11 victory in Columbus on March 14. OSU coach Nick Myers, however, said it sometimes presents a larger challenge when a team already has a head-to-head win under its belt heading into the rematch.
Unfortunately, this match will be played in the high altitude of Denver. If Ohio State pulls another upset, it will punch its ticket to its first-ever trip to the Final Four.

OHIO'S TOP B-BALLERS IN COLUMBUS. This Saturday, Ohio's top high school basketball prospects — including OSU commits and targets — will play in the All-Ohio Nike Sweet Sixteen Showcase.
Among the 2016 prospects, from Steve Helwagen of OhioState.247Sports.com:
* Derek Funderburk, PF, Lakewood St. Edward – The OSU verbal will play with his King James Shooting Stars team. They have pool games at 10 a.m. and 4 p.m. at Ohio Dominican (1216 Sunbury Road, just off I-670/Fifth Avenue exit) and 8 p.m. Saturday at Reynoldsburg High School (Livingston Avenue).

* Willie Jackson, SF, Garfield Heights – Jackson had a big game for King James last weekend at the EYBL in Houston.

* Jarron Cumberland, SG, Wilmington – Cumberland has continued his torrid play for King James after moving over from OBC.
2017, 2018, and 2019 prospects will be showcased too. (In other, non-related news, I am old and I need to die.)
Full schedule and details here.

JALIN MARSHALL: FASTEST COP IN AMERICA? Urban Meyer says all Ohio State footballers will complete a "shadowing experience" of "real life" jobs this summer.
May 14, 2015
I assume the crime rate is about to plummet in Columbus (or wherever Jalin is completing his shadowing) because that's as close as a police department could come to employing The Flash.

THOSE WMDs. How to fight a debt collection letter... The last male white rhino... Flying with jetpacks over Dubai... Messi at 17 vs. Juventus... For Lawrence Phillips, a Dead Cellmate and Another Day of Reckoning... How far did Frodo and Sam walk?