Former Ohio State wrestlers Anthony Agazarm and Jose Rodriguez have been charged with felony assault stemming from an incident in March.
Columbus Police were called to the corner of North 4th Street and East 15th Avenue just before 2:30 a.m. on March 22 to investigate a reported fight.
Two witnesses stated they observed the victim being kicked and punched in the head by a pair of suspects before the suspects fled on foot. The victim was rendered unconscious, but came to and told the police he first met the suspects at the Fourth Street Bar and Grill.
According to the police report, the victim said Agazarm and Rodriguez took his drinks while at the bar and after additional problems ensued between both parties, the two wrestlers waited for him outside before jumping him. Witnesses said Agazarm and Rodriguez told them the victim was actually the one who jumped them first, however.
The report lists Agazarm and Rodriguez as persons of interests in the case and each has since been charged with felony assault, according to Franklin County court records. The police report also states the victim was then treated at The Ohio State University Medical Center for possible facial fractures. 
From the police report:
Witness 1 and Witness 2 stated they observed Victim 1 being assaulted by Suspect 1 and Suspect 2 on the sidewalk near the southwest corner of N. 4th St. and E. 15th Ave. on the listed date and time. They stated Victim 1 was on the ground and Suspect 1 and Suspect 2 were kicking and punching Victim 1 in the head multiple times. The Suspects told the Witnesses that Victim 1 jumped them first, then the Suspects fled the scene going southbound on N. 4th St.

Victim 1 was unconscious at first, but later stated the Suspects took his drinks from the bar earlier when they were at Fourth Stree Bar and Grill. Victim stated he had problems with them inside the bar, and they were waiting for him when he came outside and jumped him. Victim 1 was transported by CFD Medic 7 to The Ohio State University Medical Center where he was treated by Dr. Boggs. Victim 1 may have facial fractures. The extent of his injuries were not known at the time of this report.
Both Rodriguez and Agazarm are due in court Thursday morning on charges of felonious assault.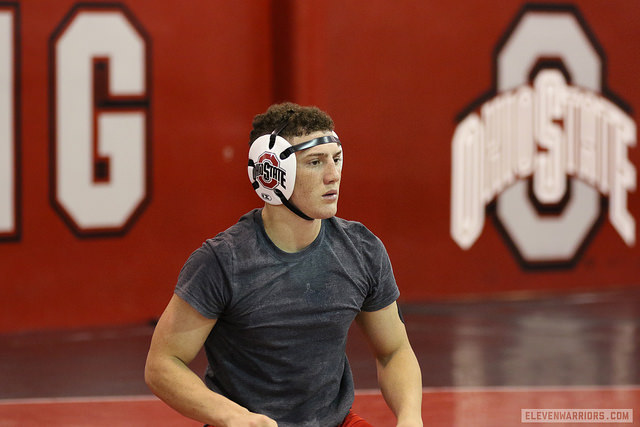 Rodriguez was the Buckeye starter at 125 for much of his redshirt freshman season and finished seventh at Big Ten championships to advance to his first career NCAA Tournament. Rodriguez announced his intention to transfer from the program earlier this month. 
Agazarm amassed a record of 3-6 in his lone season of competition for the Buckeyes. 
Neither Rodriguez or Agazarm are listed on the team's official roster at the time of this writing. 
"Fighting is below the very high standard we hold our student-athletes to," Ohio State head coach Tom Ryan told Eleven Warriors. "We do all we can to empower our men to make wise choices. Mistakes have consequences. The court system process will now assess the information that they have and will decide the ramifications. We will let the court process run its course."