Ohio State made the final home game of the 2013-14 season a memorable one. Let's recap all the Big Ten action. We also take a look at the headlines around Buckeye hockey with an emphasis on recruits in the midst of their postseason runs.
What Happened

The hockey Bucks closed out their home schedule with a loss and shootout win against the No. Minnesota Golden Gophers. Though I didn't get to see Friday's game, it sounds as though it went something like the last outing against Michigan. Not necessarily a horrible game, but far too many mistakes against a team that can really make you pay for screwing up.  
Ohio State rebounded nicely on Saturday. The Gophers took a quick lead once again, but this time the Buckeyes responded. Good old fashioned hard work, particularly in the third period, kept them in the game. Ryan Dzingel tied the game in the final frame with a power play goal. 
Minnesota answered on the next shift, but the Bucks would not be denied. Nick Oddo (I think) took the puck and a lot of traffic to the net. Nick Schilkey took advantage of the confusion to score his 11th goal of the season. Schilkey struck again in the shootout and Christian Frey turned aside all three Minnesota attempts, earning the bonus point for the Buckeyes.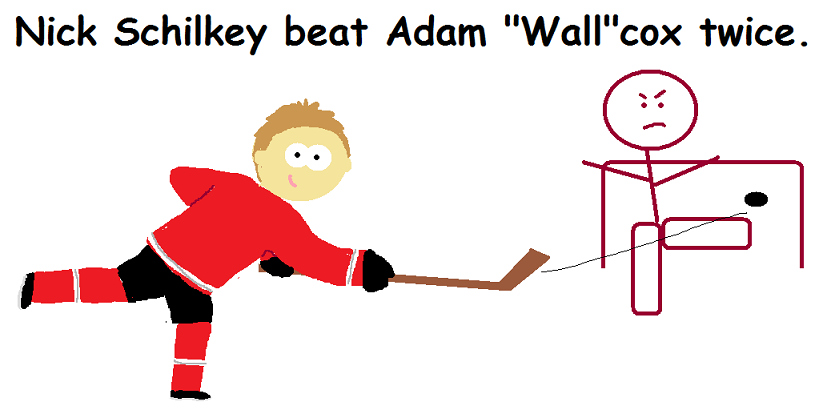 In other conference action Wisconsin squeaked by Penn State. Two late game comebacks by the Nittany Lions pushed the Badgers to the edge. However six point weekends from Mark Zengerle and Nic Kerdiles along with excellent goaltending from Joel Rumpel gave Wisconsin the sweep.
The Wolverines torched the Spartans in Friday's contest, winning 7-1. They staked themselves an early lead on Saturday as well, chasing Jake Hildebrand from the Michigan State net for the second straight game. MSU rallied behind a 24 save performance by relief goalie Will Yanakeff. The Spartans reeled off three goals in the final two periods and defeated Michigan 4-3.
Heading into the regular season's final week the Big Ten tournament match ups are now more or less set. Minnesota and Wisconsin have locked up the top two seeds. Which will be No. 1 is yet to be decided, but we know both will have byes the B1G's opening round. 
Michigan is the third seed and take on sixth place Penn State. Although Ohio State could still tie the Wolverines in points, Michigan would win the tiebreaker. Instead the Bucks face Michigan State as either the fourth or fifth seed . 
What's Next

Ohio State heads to Penn State for the final two games of the regular season. Friday's game is set for 7pm. Saturday is an afternoon affair, scheduled to begin at 3pm.
Further Reading

Ohio State's recaps from Friday and Saturday feature game stories and boxscores, as well as links to highlights and press conferences.
Other recaps come via Grant Miller for The Lantern (Friday) and Nathan Wells for SBN College Hockey (Friday), as well as Erika Hadley (Friday) and J. Justin Boggs (Saturday) for USCHO.
Short Shifts

Buckeye News

Congratulations to Northview and St. Ignatius, your 2014 Ohio high school hockey co-champs. The two teams played over 100 minutes of hockey last Saturday before officials made the controversial decision to declare the game a 1-1 tie. Northview's Jake Koback and St. Ignatius' Danny Brogan scored the goals. Northview goalie David Marsh set a state tournament record by recording a whopping 77 saves. Nubyjas Wilborn has a round up of stories from the tourney.
Recruit Update

Future lady Buckeye goalie Kassidy Sauve and forward Lauren Spring will be on Team Canada's roster as the team look to repeat at the Under-18 world championship. The tournament begins on March 23rd and runs through March 30th.
In the AJHL the North Division quarterfinals are nearly complete. Kevin Miller (2g, 2a) and the Fort McMurray Oil Barons swept their opening round series against Drayton Valley. Nicholas Jones (2g, 3a) and the Sherwood Park Crusaders also swept their series, defeating Bonnyville in three straight games. 
Both teams now advance to the semifinals. Tyler Busch and the Spruce Grove Saints make the semis as well by virtue of their top seed bye. Match ups and schedules for the next round are to be determined pending the outcome of the remaining quarterfinal series. 
The AJHL recently announced Busch as a member of the league's All-Rookie team and Jones made the North Division's All-League team. Jones also chatted with the good fellows of The Pipeline Show last night. You can find the archived conversation here. My favorite part is when he describes himself as a two way forward who tries to have an impact offensively. I'd say 41 goals and 31 assists in the regular season probably had an impact.
In high school tournament action Tyler Nanne and Edina repeated as Minnesota's AA champs. Nanne had a tremendous outing in the quarterfinal win over Stillwater, racking up four goals. You can see highlights of that game here. The video also includes an interview in which Nanne, provider of two-thirds of the game's offense, calls it "a good team win." He also set up the opening goal in the championship game and made an appearance in the annual All-Hockey Hair video.
Over in Wisconsin Sam McCormick scored twice in Notre Dame's quarterfinal dismantling of Eau Claire. He talked with Andrew Pekarek after the game. You can see that interview here. Notre Dame lost their semifinal game to eventual state champs Verona by a final score of 1-0. 
Mark Johnson penned a solid feature on Chicago Mission forward and Buckeye recruit Tanner Laczynski. It's nice to know the word is getting out about the atmosphere at hockey games which (despite snarky reports by opposing fans) was especially great this season. Based on the homepage of the league I think that Laczynski, fellow OSU recruit Jason Dhooghe, and Mission won this year's Illinois state minor midget championship.
And finally, last but by no means least, the recruit list has a new member. Swedish defenseman Victor Bjorkung is now committed to Ohio State. He is currently the alternate captain for the USHL's Chicago Steel. He originally planned to play his college hockey at Maine, but decommitted from following the Black Bears' coaching change. You can read more about him in this player spotlight and this Q&A. You can also hear about his penchant for fancy pants in this interview from 2012.
Nuts Abroad

Despite serious offers from the Pittsburgh Penguins at the NHL's trade deadline Ryan Kesler is still a Canuck. Greg Wyshynski suggests he could remain one for some time, a victim of his own work ethic. Rob Rossi says Ray Shero may have found the asking price too high this time but he hasn't given up on the idea of bringing Kesler to Pittsburgh. That might make for an interesting summer. One thing that has been given up? The Kesler-RJ Umberger feud, at least according to Umberger and Shawn Mitchell (and/or Aaron Portzline).
Matt Bartkowski was another Buckeye staying put at the trade deadline. Mark Daniels has some quotes from Bartkowski about the 2012 deal-that-wasn't and earning regular ice time with the Bruins. While the deadline didn't bring a need for change of address forms, it may yet have an effect on him. Boston brought in a couple veteran defensemen that could challenge Bartkowski's spot in the line up. Stephen Harris has more on the potential blue line battle here.