It was an up week for men's hockey as the Buckeyes took four out of six points at Michigan State, engineering comebacks in both of their games. It was a down week for women's hockey as they were swept by No. 2 Wisconsin despite a valiant effort in Saturday's contest. We recap the action and get you up to date on your Ohio State Olympians as well as all the news from around Buckeye hockey land.
Buckeye Men

What Happened
For 58 minutes on Friday Michigan State had to be pleased with what they'd accomplished. The Spartans' dogged defense had contained the Buckeyes' high powered offense. They had remained disciplined and prevented Ohio State's vaunted power play from being a factor in the game. Jake Hildebrand has been impenetrable in net. They had a 2-0 lead.
Unfortunately for MSU a hockey game is 60 minutes long. With a shade over three minutes left in the game the Buckeyes got their second power play chance of the night. Steve Rohlik pulled Christian Frey for the extra attacker. Tanner Fritz scored through a Darik Angeli screen. The Spartans were whistled for another penalty. Rohlik pulled Frey again. Nick Schilkey worked tenaciously to get the puck to Alex Szczechura, who beat Hildebrand and the clock.  
In the shootout Schilkey and Fritz ensured an extra point for the Buckeyes. Schilkey employing some slick moves. Fritz going with a straight up shot five hole. Christian Frey denied three of Michigan State's four shooters with authority.
Saturday was the Matt Johnson and Alex Lippincott Show with special guest appearance by Frey. Early in the first period Lippincott blocked a shot, collected the loose puck, and sped up the ice. He eluded one Spartan defender with a spin-o-rama. Then he slid the puck underneath another Spartan and right onto Johnson's stick. He didn't waste Lippincott's impressive assist, beating Jake Hildebrand to give the Bucks a 1-0 lead.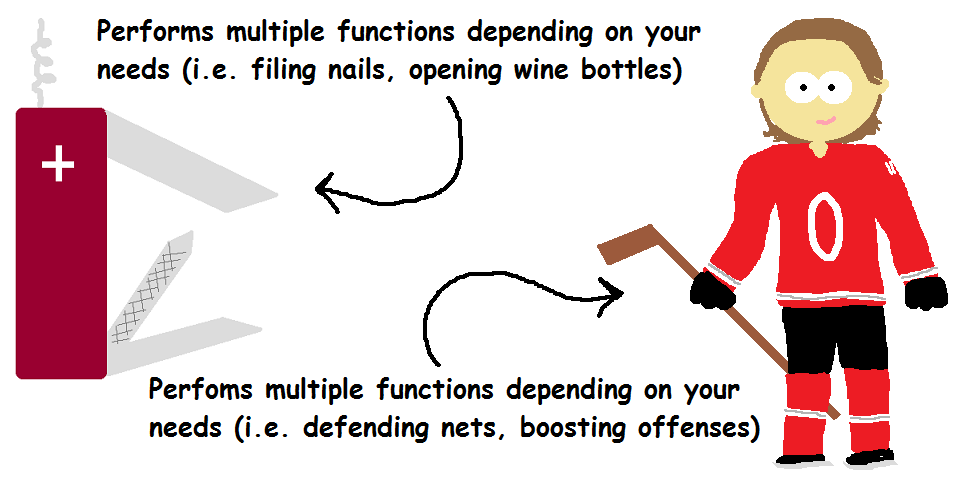 An undisciplined second period by the Buckeyes led to four power plays and two power play goals for Michigan State. The Spartans were up 2-1 going into the final 20 minutes, but that lead wouldn't last. With just about 11 minutes left on the clock Lippincott forced a Spartan turnover. Johnson grabbed the puck, drove to the net, and beat Hildebrand again.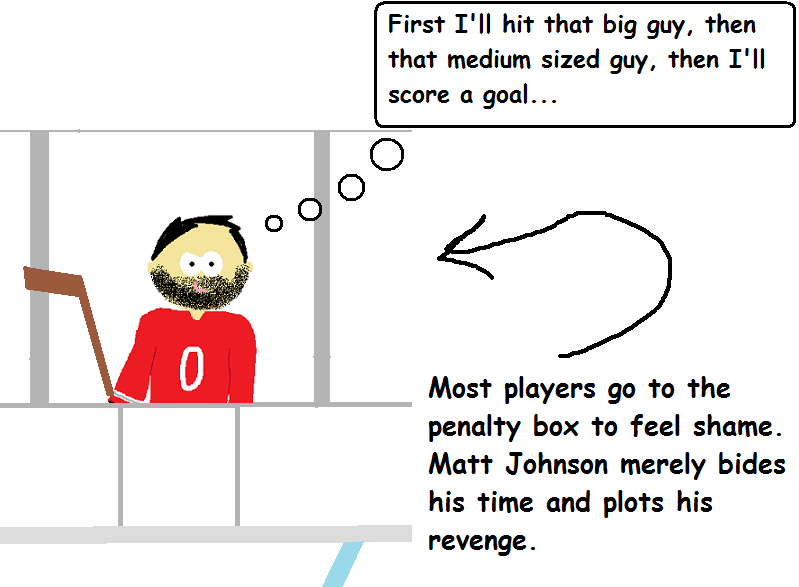 Ohio State had all the momentum from that moment on, but couldn't get another puck by Hildebrand in regulation or overtime. Frey wasn't tested as often, but he was stellar when called upon. He robbed Michael Ferrantino in the dying seconds of overtime with what may be the Buckeyes' save-of-the-year so far.
Not surprisingly Frey also stoned all three Spartan shooters in the shootout. Schilkey scored his second shootout goal in as many games, earning the Buckeyes an all-important extra conference point.
Random Thoughts
Christian Frey had an awesome weekend. He made big time saves in both games. The aforementioned robbery of Ferrantino was unquestionably the best one, but there was also a play during Friday's game in which a Spartan circled the net and threw the puck out to a crashing teammate who was deftly foiled by Frey. He killed it in the shootouts too.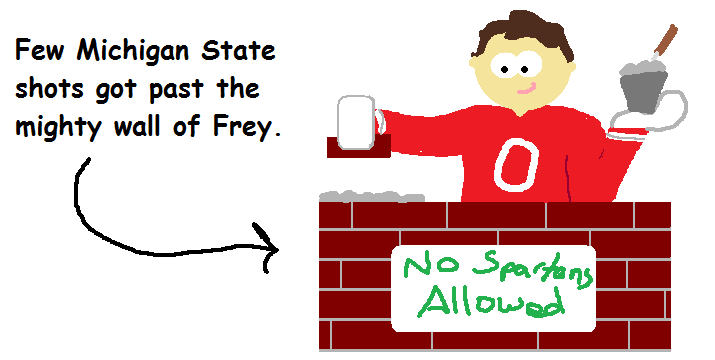 After recording an assist in Friday's game, Ryan Dzingel now has 99 points in 99 games for Ohio State. I can't emphasize this enough: Buckeye fans should come see him now, this season, because he might very well be bound for the pro ranks this summer.
If you missed Saturday's action and want to see the highlights your best bet is to get to the Schott. The arena videos are outstanding this season. They've been updated throughout the year to include the latest and greatest Buckeye goals, hits, and saves.
What's Next
This is a tough stretch of schedule for the Buckeyes. In the coming weeks Ohio State will face the Big Ten's top three teams. First up is Wisconsin this Friday at 7pm and Saturday at 8pm.
Friday, as you are likely aware, is Valentine's Day. Hockey is probably not the first thing that springs to mind when thinking about the holiday, but I offer these five reasons why watching hockey is the perfect way to celebrate it.
Valentine's Day is all about love, right? Well, watching sports and falling in love both produce feel-good chemicals in your brain. As far as your gray matter is concerned hockey and love are pretty much the same thing.
When you rearrange the letters in "Happy Valentine's Day" you get "Save neatly, happy din" which is obviously a cosmic reference to outstanding goaltending by the home team's netminder and the subsequent adoration by appreciative fans.
Valentine's Day has a violent history. Attending a hockey game is therefore much more in keeping with the spirit of the holiday than having a quiet, boring dinner.
You could gently hand a teddy bear to your significant other who will most likely put it up on a shelf to gather dust. Or you can chuck a teddy bear onto the ice where it will be collected and given to a sick kid.
If you happen to be single on Valentine's Day the best thing to do is not mope around all sad and alone, eating ice cream directly out of the carton. The best thing to do is put on your going out pants and join a few thousand fellow hockey lovers in cheering on the Buckeyes.
Further Reading
Watch Friday's

 postgame interviews 

with Steve Rohlik and Tanner Fritz via BTN.
Buckeye Women
What Happened
Ohio State and Wisconsin played a scoreless opening 27 minutes on Friday. Brittany Ammerman drew first blood for the Badgers, taking advantage of a power play chance.  The score would remain 1-0 until the final five minutes of the game when Wisconsin chipped in a couple of insurance goals. The Buckeyes were outshot 34-13 in the contest. Lisa Steffes stopped 31 of the Badgers' 34 shots.
Wisconsin struck first in Saturday's game as well. Again, it was an Ammerman power play goal. Sarah Nurse staked the Badgers to a two goal lead early in the second period. This time, though, the Buckeyes would not go down without a fight. Midway through the game Ally Tarr became the first Buckeye to solve Wisconsin goalie Alex Rigsby.
Another Ammerman goal pushed the lead back to two. Kari Schmitt responded for Ohio State. Her third period power play strike drew the Bucks back within one. The Buckeyes thought they had tied the game up 12 seconds short of the buzzer, but the goal was waved off as the referees deemed there had been a hand pass prior to the score.
What's Next
A pair of matinee games await the lady Bucks at Bemidji State in the team's next-to-last series of the regular season. Game times for both Friday and Saturday are 3pm.
Further Reading
Short Shifts
Around the Big Ten
Wisconsin was the B1G's big winner last week. They got Nic Kerdiles back from the injured list. They also got two big games from goalie Joel Rumpel to help the Badgers sweep Minnesota. Red Berenson became the fourth winningest coach in college hockey when Michigan defeated Penn State in the opening game of their series. The Nittany Lions flipped the script on the Wolverines in the series' second game, though. PSU scored on three of their first nine shots, chasing Zach Nagelvoort. Matt Skoff was perfect at the other end. He stopped all 32 of Michigan's shots en route to a 4-0 Penn State victory. 
Check out the weekly B1G wrap ups from Jashvina Shah for CHN and Paula Weston for USCHO, plus Sean Merriman's Frozen Friday recap for BTN.
Your Big Ten stars of the week are Wisconsin's Joel Rumpel, Penn State's Matt Skoff, and Michigan State's Greg Wolfe.
Minnesota has slipped to No. 2 in the latest USCHO poll. Wisconsin is up to No. 8 and Michigan holds steady at No. 10. Ohio State, like they have for a large part of the season, continues to receive a handful of votes.
Local Hockey Shout Out 
Congratulations go out to the St. Charles Cardinals, winners of the 2014 Blue Jackets Cup. Rob Mixer has the story here.
Future Nuts
Andy Johnson takes a look at how the NCAA's new earlier contact rules affect the recruiting battle between college hockey and the CHL. He profiles some recent "impact recruits" including future Buckeye Tyler Nanne. In other Nanne news, he was named a finalist for Minnesota's prestigious Mr. Hockey Award.
Weston Hodkiewicz has the story on Matt Weis, Green Bay's sole remaining veteran from their 2012 USHL championship team, trying to rally the Gamblers to another title run.
Did you miss any recruiting news last month? Jasper Kozak-Miller has you covered with a recap of all the January commitments at Over the Boards.

 

Women's hockey recruit Julianna Iafallo believes she's prepared to take her game to a D-I level. Matthew Ondesko explains why here.
Olympic Update
Two-thirds of the way through the women's preliminaries Natalie Spooner (1a) and Team Canada are 2-0. They complete the group round against Team USA on Wednesday morning at 7:30 a.m. on NBC Sports.
Emma Terho, Minttu Tuominen, and Team Finland are 0-2 after tough losses to the U.S. and Canada. They'll look for their first win of the tournament Wednesday at 3:00 a.m. when they close out the round against Switzerland. You can see that game on MSNBC.
In the men's division, Ryan Kesler and Team USA are set to begin their Olympic experience on Thursday at 7:30 a.m. against Slovakia.
Nuts Abroad