Ohio State is undefeated through September and ranked in the top 10. And you thought 2020 wasn't a normal year.
Football season is kind of here, and normalcy has returned to America! The Big XII doesn't play defense, Oklahoma has a crushing loss, Texas had itself a big yikes and Michigan players are already talkin' shit. Nature from healing before our eyes.
Last September closed with the Buckeyes a perfect 5-0, having won their games by a cumulative score of 262-43. That came out to a comfortable 49-9 W each Saturday and if I told you in January your team wouldn't allow a point through September you'd probably believe it and then we'd all laugh at Oregon again. Normalcy!
That said, every weekend that passes with an emaciated version of a normal Saturday schedule involving programs fortunate enough to dodge an outbreak feels like an eerie Ohio State bye week. Empty stadiums are weird. Half-capacity bleachers are alarming. Seeing this in 2020 can give a person butt chills.
You've got to suspend half of your senses to consume a football game without being overwhelmed by the bitter taste that comes with compromise. But the Buckeyes are ranked again, the first sign that the team you're missing so badly is only temporarily gone, not forgotten and hotly anticipated. That feels extremely normal.
This longest offseason ever is over. The longest preseason ever is in its final month - if everything goes according to plan. Which, it's 2020. August was hot. That's basically it thus far.
OPENING: PARALLEL UNIVERSE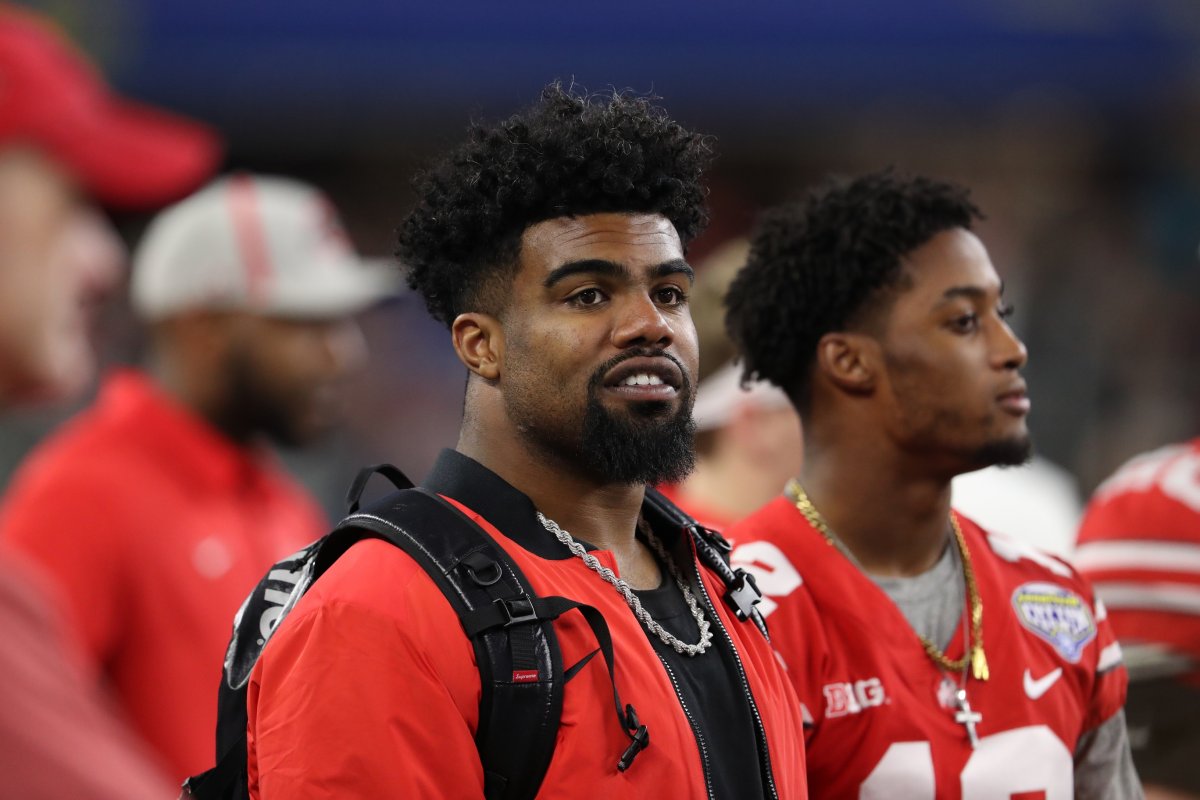 Over on Earth 2 the Buckeyes aren't playing this weekend either. This is a bye week. Worlds collide!
The two guys pictured above - neither of whom played in that 2017 Cotton Bowl - face each other Sunday for paychecks. Denzel Ward wasn't in pads that night because a) he knew the Buckeyes didn't need his services to delicately place the Trojans in a trash can, and b) he was saving his strength for the Browns' resurgence. Zeke was already a millionaire and simply came to the office on an off day.
Perhaps Ward could have played that evening. Maybe he would have laid a perfectly clean and devastating hit on Sam Darnold, forcing him to fumble. Then he might have picked up the ball and run for a touchdown only to have it called back by the most egregious misuse of a replay booth review since all the way back in - ah right, two months earlier.
Ward could have gotten ejected, his touchdown wouldn't have counted and adding insult to those two injuries - USC would have gained 15 yards from what was basically a clown heist replay booth ratfucking. That Cotton Bowl, which the Buckeyes still won comfortably, was handled by an SEC officiating crew. So was the 2019 Fiesta Bowl. Ward was better off chilling with Zeke.
Great timing for the longest offseason ever - can't get enough of this aftertaste! Only three more bye weeks to go, comrades.
INTERMISSION: THE SOLO
It must be quite a trip for anyone who wasn't old enough or existing yet to to see what passed for raw, post-punk alt-pop dripping alpha sensuality during the 1980s.
Consider Simple Minds, the band that changed its name from "Johnny & the Self-Abusers" to this line from Bowie's Jean Genie four full years after it came out, really capturing the zeitgeist. The pansexual ill-fitting leisure suit ovulation catalyst you see in the video above possibly having a stroke dancing by himself among tube televisions is Jim Kerr.
Yes, that Jim Kerr. The sex machine who married Chrissie Hynde from the Pretenders and then Rika from Lethal Weapon 2. And speaking of dancing by himself, Don't You (Forget About Me) was written for Billy Idol but ended up being Simple Minds' finest moment that didn't involve Rika from Lethal Weapon 2. You're right, millennials. You were born too late.
The solo this week is the lasting legacy of Don't You (Forget About Me), which of course is the chant that closes out what became the stadium anthem the whole world could sing regardless of native language.
Is the soloist in this video actually singing the chant?
Jim could sing that chant, wear that suit, walk into any bar in Scotland after going two weeks without a shower or a toothbrushing and still leave with all of the women and possibly a third of the men. He's chanting you into a trance. Don't let his powers of persuasion flip you. VERDICT: Yes, it's Jim. And you. It's all of us. Close your tab.
Does this chant slap?
The end of Don't You (Forget About Me) could be its own 12-minute song, which at Simple Minds concerts was (and still is!) the case. Outside of the UK, only like one and a half of their other songs hit it big. You've got to sell tickets. Gen Xers are there to hear the hit(s). Customer satisfaction remains the top key performance indicator. VERDICT: hey, hey, hey HEYEAH
THE BOURBON
There is a bourbon for every situation. Sometimes the spirits and the events overlap, which means that where bourbon is concerned there can be more than one worthy choice.
This episode began when lockdown first arrived in America.
Hunkered down with Redwood Empires Pipe Dream pic.twitter.com/z8q5ATl8NT

— Jon Ohlinger (@OhlingerJon) March 15, 2020
The American northeast where I live was quickly entering a hyper-tragic phase in this pandemic, and I knew I would be spending ample time hunkered down and anxious. There are many bourbons for that, but I had never familiarized myself with the Pipe Dream.
I felt it would be an appropriate bourbon for our chances of unifying behind a plan to successfully defeat a virus and put the current chapter of the American story to bed. A few clicks later, it was in my possession. The Pipe Dream was real.
It's named for this tree, the 14th tallest one in the world. No, the barrels were not harvested out of it - that would be a crime. Pipe Dream is a blend, combining youthful and 12 year batches, giving it strong Anna Nicole Smith vibes. That's interesting and intriguing but - quick spoiler - with a less tragic outcome.
The mystery continues: Pipe Dream's batches are sourced from California, Indiana, Kentucky, and Tennessee, which is more of a Midwest Regional bracket than a whiskey label. The only thing unambiguous is the butt-naked mash bill, which is high-corn/high-rye, so knowing what we understand about the impact bourbon ingredients have on experience, this should produce a sweetened fire - which in the presence of trees in California, well yikes.
So it should come as no surprise that Pipe Dream has a distinct, woody char to it. I tasted a lot more of the youthful juice than the 12-year it claims to contain. It was only kind of sweet, which surprised me considering it's nearly three-quarters corn. I don't know if that's the impact of all that blending but it was very hard to pin down. Pipe Dream is mysterious!
Ultimately, it's a good hunkered-down-at-home vintage that's not going to turn you inside out for $45 or change your religious views. Pipe Dream is exactly interesting enough to not be memorable. The most unique part of the experience was trying and failing to figure it out, which is always fun - even if closure was elusive.
CLOSING: SHIT SANDWICH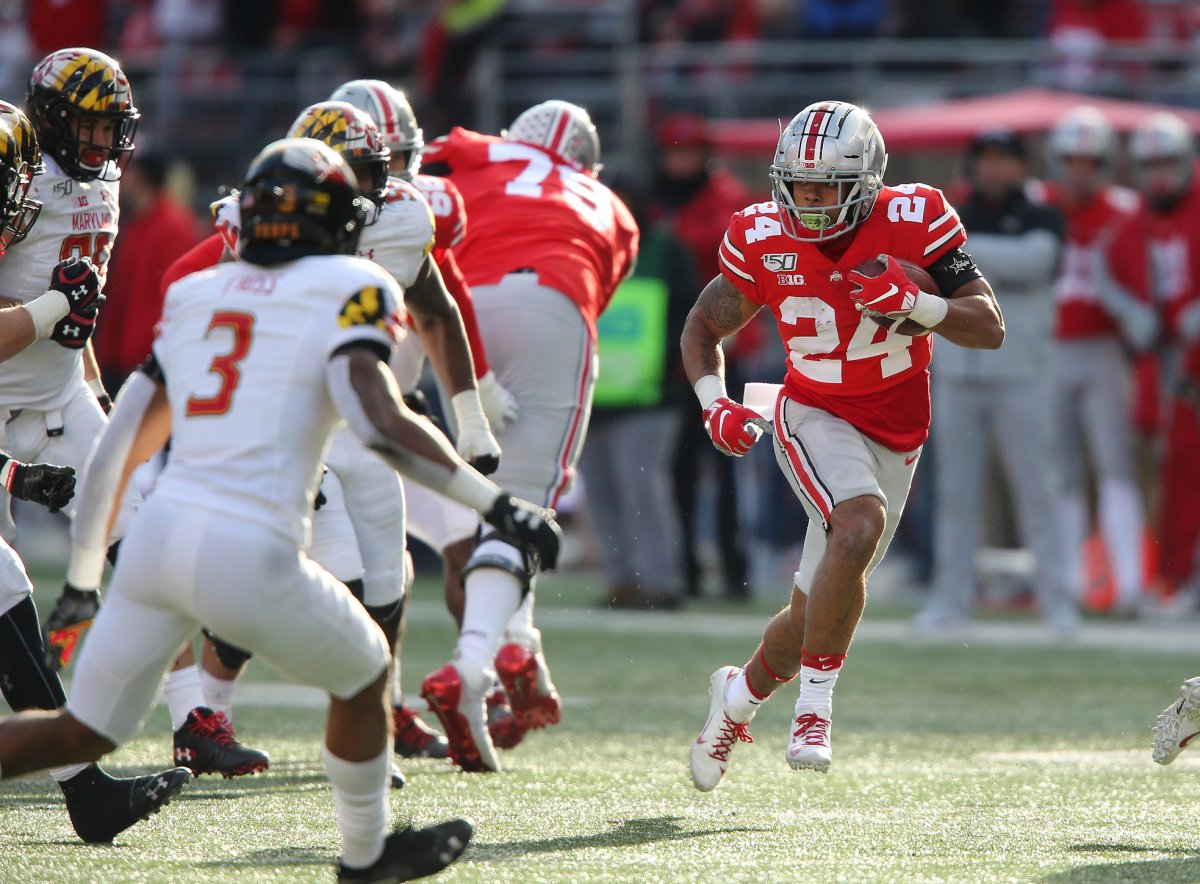 Our Buckeyes' third first opponent of the 2020 season is Nebraska, an ancient giant whose inevitable fall from Mount Olympus was correctly predicted the night it won a national championship 25 years ago while we were in the throes of wondering if Ohio State would ever hold up its end of The Rivalry.
Nebraska is always going to be a fun matchup for primordial reasons. College football loves its #traditions, and Week 2 brings us another one - the White Out, which has been very kind to Ohio State. Beaver Stadium will hit a little differently with both Seven Nation Army and crowd noise being piped in.
That gives us the best teams of 1994 inside a seven-day stretch - a hot start! Nebraska is climbing out of its worst stretch in program history and primed to be better, while Penn State carries the only roster depth in the conference that can be seen in Ohio State's rearview mirror without having to squint too much.
And then, the meat of the schedule! Probably want to check the expiration date on that meat:
WEEK 3 | RUTGERS: Don't get hurt, don't get COVID, don't get chunks of Rutgers stuck in your teeth.
WEEK 4 | @MARYLAND: The fewest points the Buckeyes have scored against the Terps in series history is 49. That floor is not in jeopardy of being breached by anything other than the plague.
WEEK 5 | INDIANA: The Hoosiers are loaded with weapons but have very little offensive line to speak of, which against Ohio State is likely to be a problem. Student-Athlete Cincinnati Bengals doesn't really strike fear into anyone's cold heart.
THANKSGIVING | @ILLIBUCK: Illinois took down Wisconsin last season, which required more breaks than Clemson got in the Fiesta Bowl. Then it beat Sparty under similar circumstances, but scientists throw that out because of the well-documented Sparty No phenomenon.
Anything is possible, but the Buckeyes generally perform well in Champaign, where they're pushing a 30-year unbeaten streak - and also on Thanksgiving weekend. Then the "meat" ends with a trip to Sparty, a home date with Michigan and a three-hour bus ride to Indy. All of that - including the gooey, rancid center - is better than no football at all. We are beyond blessed.
Thanks for getting Situational today. Go Bucks. Take care of each other.