The 2018 Ohio State game was scheduled to serve as the grand finale of Michigan's Revenge Tour.
It was supposed to avenge their 2017 loss, which had been positioned as payback for the 2016 game. That meeting was built up as retribution for the 29-point setback the Wolverines took on their home field in 2015.
Jim Harbaugh's glorious debut season drew a beautiful parallel to Bo Schembechler's first crack at his former employer, which would spawn the fabled Ten Year War. That 2015 game was supposed to be the capstone uniting the ghost of the Ohioan who coined the Michigan Man monicker with his star pupil who embodies it today. 
Fifty years later, it's still 1969 in Ann Arbor. 
Michigan fans ARE CONSUMED BY HISTORY, WHICH IS why the forecast IN ANN ARBOR has been '69 and nice for 50 years.
Harbaugh's first four appointments with Ohio State have been scheduled celebrations, and each of them has been canceled. The most points Michigan has allowed at home under Harbaugh were scored by Ohio State. The second-most points Michigan has allowed at home under Harbaugh were scored by Ohio State. The most points ever allowed by Michigan in regulation were scored last season by Ohio State.
The quest to reanimate 1969 occurs every odd-numbered November, and the Wolverines are not going to take the field on Saturday intent on deploying a garden variety rivalry game strategy. That hasn't worked in decades.
The Wolverines will be unconventional on Saturday because being conventional will produce another loss. They brought an overconfident conventional approach to Columbus a year ago and Ohio State made history out of it. Saturday will reveal new elements that have been prepared, practiced and saved for months, similar to what Harbaugh's mentor brought each November when facing his own mentor in this game.
Unconventional would be finding something resembling a vulnerability and committing to hammering it until it bleeds. Unconventional would be inflicting a psychological pathogen on the favored and undefeated visitors, like getting two of their starters to eject themselves early in the game while sacrificing a couple of expendable special teamers in the process.
It's happened before. It was brilliant strategy. Michigan should try something like that again.
From Ohio State's perspective, unconventional would be allowing the Wolverines to win, which is the only way the Buckeyes can lose on Saturday - their consent, whether intentional or by accident. Accidents happen. They're why Michigan fans still revere the Cooper era, and it's the reason why the forecast has been '69 and nice in Ann Arbor for the past 50 years.
It's the most important game of the season, every season, forever. Let's get Situational.
THE KING'S SPEECH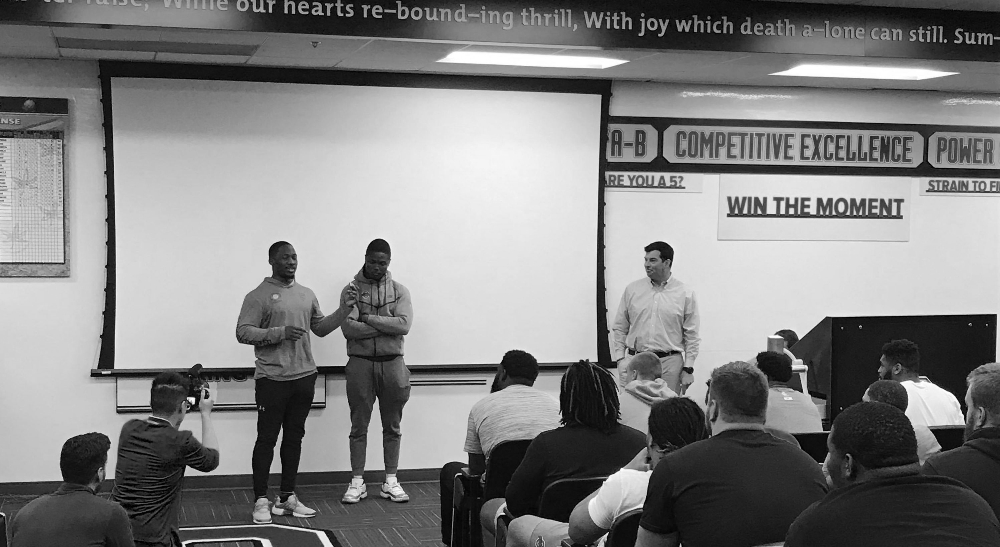 Urban Meyer's final Gold Pants speech to this year's Ohio State team went viral earlier this summer. In case you missed it, here's the summary:
How do you respect a rivalry? You work it every day. You don't shoot your mouth off...You work it every [expletive] day. Not by tee shirts. Not by bullshit.
A graduating player is customarily chosen to speak on behalf of the previous year's team during the ceremony (you'll be shocked to learn it was J.T. Barrett the previous year).
This past April, two graduating seniors were picked to follow Meyer and address a team they would not be a part of, so that they could impart their wisdom and direction for how to respect a rivalry that produces coveted jewelry for every player that manages it properly.
First, Johnnie Dixon:
Coming in from Florida you don't really know about the rivalry. You don't know what it stands for or how it goes. But you come in here and you find out. This rivalry has meant everything, not just to me but my brother here, and Parris (Campbell). We just prepared so hard, since freshman year.

While I was training in Jacksonville (for the NFL draft) I was asked "what do you think the difference is?" I think it's that those guys fear us. That's the biggest thing. You can't lose that.

You can't lose that. Every year. Keep kicking that ass.
Then, Terry McLaurin:
Echoing what (Dixon) said. I actually ran into Chase Winovich at (a pre-draft NFL team) visit last week. And they still treat it like any other game. I was laughing when I was talking to him and he asked why I was laughing and I said, "y'all just don't get it. We drive every day, that's our life.

I remember. telling (Ohio State QC coach Keenan Bailey) the day before The Game, I don't care if I don't catch a pass, as long as we win this. That mentality to beat them down, every single play, every single snap.

That's what you're going to remember. Keep that in the forefront of your mind. The Big Ten championship is always going to come down to that game, whether you like it or not.
Well, Indy's already in the cards - but still. Keep kicking that ass. Win November.
THE 1980S SAX SOLO INTERMISSION
This is an anxious, stressful week - which is why I reserved one of the most stupidly wonderful 80s videos and sax solos specifically for this moment. The most popular medicinal contribution of the decade was the metric tons of cocaine that flooded the mainland silly music videos.
It's important and healthy to bathe our fragile psyches in silliness as our imaginations betray us with nightmare scenarios, like one where an Ohio State All America DB loses his footing and lets Tai Streets to score a touchdown against an otherwise impenetrable defense, resulting in a generational pucker that allows a mediocre double-digit underdog off the hook. Impossible nightmares like that.
You cannot possibly hate my brain more than I hate it already. For this, we've got a Duran Duran video inexplicably directed by the same guy who did The Highlander and Tales from the Crypt because the only thing that makes less sense than the Ohio State-Michigan rivalry in the 1990s is quite literally everything from the 1980s.
Let's answer our two questions.
Is the soloist in this video actually playing the saxophone?
We last saw Andy Hamilton two weeks ago doing the honors for Never Surrender. He was arguably the most prolific 80s sax solo contractor, which is why finding him here isn't surprising. 
Except Hamilton is black, so...yeah that's not him. That's Duran Duran keyboard player Nick Rhodes. Relevant detail to our investigation - Rhodes does not play the saxophone. VERDICT: So, no.
Does this saxophone solo slap?
Hamilton snatched up all those 80s sax solo contracts for a reason. VERDICT: Slaps.
THE BOURBON
There is a bourbon for every situation. Sometimes the spirits and the events overlap, which means that where bourbon is concerned there can be more than one worthy choice.
On the weaker side of the Big Ten Conference, the Gophers have treated their fans to #9Winnesota and now #10Winnesota. Further down in the East Division, the Hoosiers have altered #9Windiana to #8Windiana after dropping Senior Day to Ohio State's next opponent. It's fun when the historically underwhelming exceed expectations. Or so we've heard.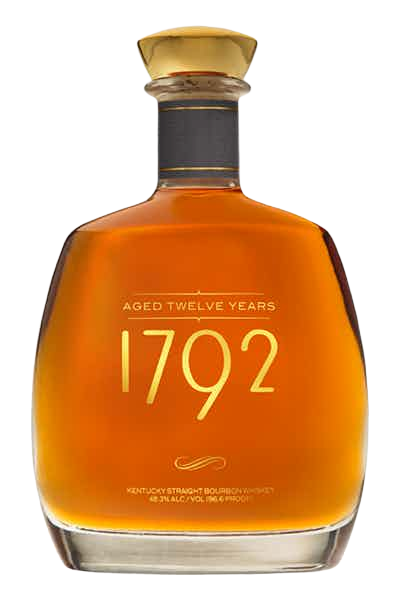 The Buckeyes are aiming for win no.12 on Saturday, for which there is no hashtag or play on words. Ohio State has completed 14 of the past 15 seasons with double-digit wins, so we are entitled and afraid of novelties like losing to Michigan or to anyone, which is the joyless sort of existence fans of powerhouse teams deserve.  
Twelve is an important number in the bourbon world, most famously with the PVW and Weller 12-year varieties. The former retails for $80 in fantasyland; you could only get it for that price if you included a kidney. It's north of $1000 in reality, and W.L. Weller 12 is a cool $350ish.
Fortunately there are attainable 12-year bourbons that won't stroke your vanity but will deliver a decent experience. The shrouded-in-secrecy Situational algorithm that computes accessibility, experience and price recommends 1792, named for Michigan's glorious era of football the year American bourbon epicenter Kentucky joined the Union.
Getting 1792 for $50 comes at a cost. It's teeming with character and oakiness like you'd expect for having sat in a barrel since twilight of the Lloyd Carr era, but it doesn't have the sweetness you'd hope for in a bourbon. The nose is just okay. It's great for $50 while simultaneously telling you why it actually made it from the loading dock to the third shelf.
Getting to 12 is worth it, whether it's Ohio State football or American brown liquor. Just win.
SAY SOMETHING NICE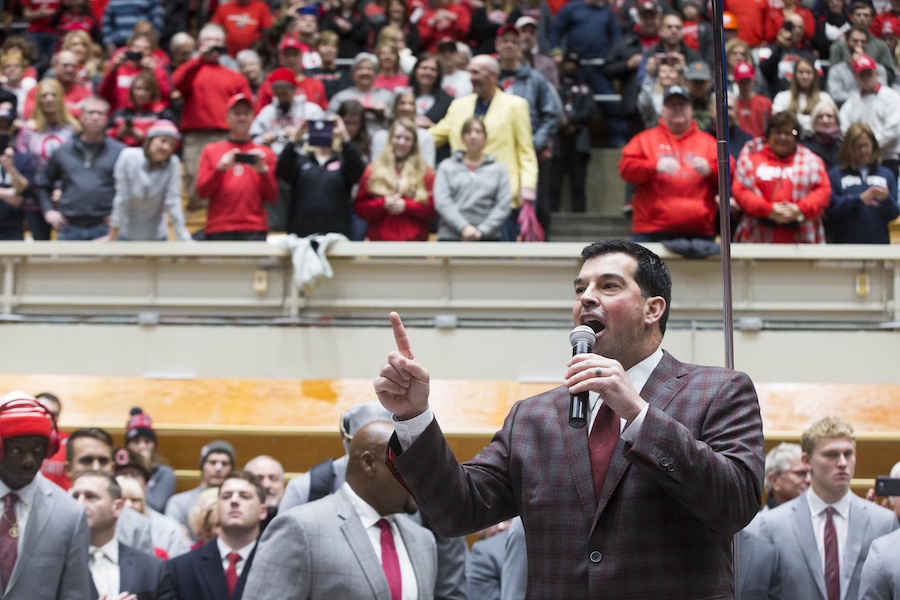 Fifty years ago the visitors from Columbus were favored by 17 points heading into Ann Arbor.
They were deemed unbeatable, nicknamed the Team of the Century and subsequently fell victim to what is still known as the Upset of the Century. A 22-game winning streak during which they were barely challenged came to an end so cataclysmic the aftermath is still a prominent highlight in hype videos leading up to The Game 50 years later.
You've seen it; there's no reason to display it here or ever.
Streaks breed fear regardless of which end your team happens to be on. Michigan began the century on the receiving end of a 1-9 decade against Ohio State. Saturday could complete an identical stretch as a sequel to what Jim Tressel started. It's unthinkable, yet it's three hours from happening.
Buckeyes fans old enough to still treat these past two decades as a merciful blessing carry a different kind of fear. We know what it's like to wake up in April and remember that Ohio State lost to Michigan in football five months earlier. We can still hear it isn't even a rivalry anymore through a different inflection, but not because Michigan wasn't holding up its end. 
John Cooper ushered in an era of confirmation that told us nothing matters except for the Michigan game, and that dozens of All America players and even a Heisman winner cannot overshadow what happens on the final Saturday of November. Without Coop, there would be no Tressel. Without Tressel, there's no standard for Meyer to uphold.
Without Meyer, Day is another well-traveled X & O prodigy elevated into a head coaching role on the strength of strategy over stewardship. By the time he reached the penultimate game of his first season atop the org chart it became clear that he's quite capable of both.
Heres Ryan Day hyping up #BuckeyeNation during #SkullSession pic.twitter.com/8vLQA2xUAf

— Tino Bovenzi (@TinoBovenzi) November 23, 2019
Day appears to combine the academic, meticulous Tresselish approach to competition with the Urbanesque intensity and focus. Ohio State hasn't had a B1G Coach of the Year since Day was in diapers. If the Buckeyes are able to leave Ann Arbor with a 12th victory it would be difficult to deny him a share of that honor. Fortunately, he's aware that Saturday is his final exam.
Thank you for getting Situational today. Go Bucks. Beat Michigan.