Eleven touchdowns have been scored against Ohio State this season. Three of them happened Saturday in Piscataway.
Yes, over a quarter of the touchdowns scored on your Buckeyes in 2019 have come from mighty Rutgers. Another three were via Florida Atlantic, and two more were by way of Maryland (fortunately the Terps also allowed 73 points - snitches/stitches, etc).
Coincidentally, touchdowns by bad teams amount to 73% of the total on Ohio State. B1G welfare cases and a paycheck opponent have led the way in scoring on the Buckeyes this season.
Rutgers, Maryland and FAU are responsible for 73% of the touchdowns Ohio State has allowed in 2019.
That means the remaining three touchdowns are equal to what the Scarlet Knights produced by themselves. Do you even remember them? One was a trick play Indiana ran and one was an underthrown ball from Jack Coan that came after Wisconsin broke Drue Chrisman blocked a punt deep in Ohio State territory. Fluky touchdowns are still worth six points. People forget that.
Anyway, Sparty's non-fluky TD drive was the third one. Your Buckeyes are 10-0 and have allowed exactly four non-garbage time touchdowns this season, and while this seems like another fun statistic that captures Ohio State's dominance this season - they can cede the B1G East division crown and Indianapolis trip-tiebreaker to Penn State with a bad outing on Saturday. 
So despite all of the domination, nothing has been won yet. If that doesn't seem fair, you must be new here. Welcome to this chaotic sport that simultaneously ages its enthusiasts while keeping us young. It's not college feelingsball, it's college football.
And it's Senior Day! Let's get Situational -
THE TREND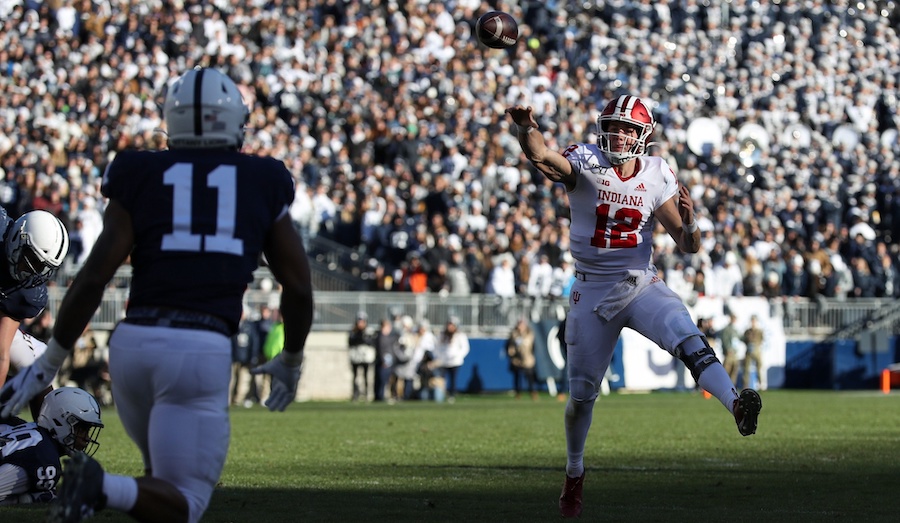 Here are some quarterbacks Penn State has faced this season, chosen entirely at random.
SOME QUARTERBACKS VS. PENN STATE 2019

| QB | COMP/ATT | YARDS | TD | INT |
| --- | --- | --- | --- | --- |
| PEYTON RAMSEY (IU) | 31/41 | 371 | 1 | 0 |
| TANNER MORGAN (MINN) | 18/20 | 339 | 3 | 0 |
| SHEA PATTERSON (MICH) | 24/41 | 276 | 0 | 1 |
| NATE STANLEY (IOWA) | 24/43 | 286 | 1 | 1 |
| KENNY PICKETT (PITT) | 35/51 | 372 | 0 | 0 |
We're all entitled to our own potentially-terrible opinions. I personally do not believe that any of these quarterbacks are as talented as Justin Fields. Gut feeling.
In addition, I do not think any of them play in as dynamic or diverse of an offense as Ohio State's, nor do I believe they have anything approaching the same access to both the quality and depth of playmakers that Brian Hartline's position room has produced.
I also don't subscribe to one-off transitive conclusions in a chaotic sport that relies on teenagers, but I do find some value in, uh, five-off transitive performances.
The past two weeks IU's Ramsey and Minnesota's Morgan combined to go 49/61 for 710 yards, with four touchdowns and zero interceptions. They both notched their season highs with Ramsey deprived of the services of his best receiver for most of the game after Penn State escaped two targeting penalties in a single play that prematurely ended his afternoon.
Neither QB was able to best Kenny Pickett's production (yes, that Kenny Pickett) (no, I had never heard of him until this moment either) from when Pitt faced Penn State.
This has been presented for entertainment purposes only. Please enjoy your Saturday.
THE 1980S SAX SOLO INTERMISSION
As the classic saying goes, you either die a hero or live long enough to become the villain who sells the rights of a classic 80s banger to a multi-billion dollar processed food conglomerate, resulting in it becoming better known to Millennials as a Big Mac jingle instead of a sepia-tinted time machine for Generation X moms and dads.
We're talking about INXS' New Sensation, served with two all-beef patties since 2018. Michael Hutchence missed the band's McDonalds ad era by 21 years, leaving his mortal coil the morning Charles Woodson put a rose in his mouth at Ohio State's expense. It's impossible to speak on Hutchence's behalf, but it's unlikely he would have thrown or punted in Woodson's direction, because why would anyone do that. Why. Damn it, Coop.
Let's answer our two questions.
Is the soloist in this video actually playing the saxophone?
Kirk Pengilly (the original lead singer of the band who ceded the role to Hutchence) handles the sax obligations, as well as some guitar on the studio cut. Pengilly, a classic everyman, is one of the most versatile musicians in pop/rock history. Hutchence was one of the most charismatic lead singers of all time, capable of impregnating any organism with a wink and a smile. File under Duo, Iconic.
VERDICT: Pengilly is playing the sax. The lasers shooting out of it are Hutchence's fault.
Does this saxophone solo slap?
He handles rhythm sax throughout the song and then hammers the solo, however brief it happens to be. VERDICT: New Sensation slaps, like the devil inside you.
THE BOURBON
There is a bourbon for every situation. Sometimes the spirits and the events overlap, which means that where bourbon is concerned there can be more than one worthy choice.
Penn State and Ohio State haven't participated in a boring sporting event dating back to roughly 800 BC, when Joe Paterno was still an assistant under Rip Engle. Whether it's football, basketball, wrestling or trading devastating online owns at each other, the Buckeyes and Nittany Lions have gone to great lengths to prematurely age each other.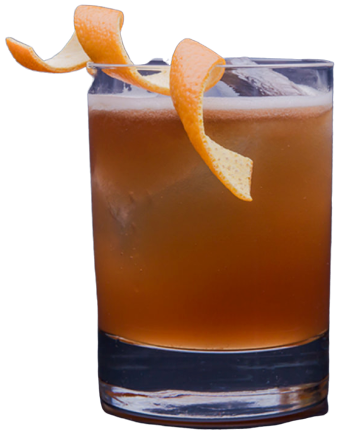 A few years later, the Great Depression happened and what history often overlooks is that Prohibition was still in effect when Americans suddenly found themselves without money, jobs, housing or hope. Sandwiched between two world wars, as it turned out. Good times.
Sadness is the mother of creation. Blood & Sand, a classic Scotch cocktail was invented n a blind pig speakeasy during that horrendous and mercifully brief era. In the spirit of continuous improvement, I've modified the original recipe to reduce the amount of vermouth and replace the scotch with a neutral, non-peaty bourbon substitute.
Yes, two alterations = a different drink, but I like the name too much to change it so let's add the year and publish it into existence. If Hollywood can make 37 Spider-Man movies we start a Blood & Sand franchise.
Schladerer (fancy cherry liqueur) might be hard to find, but you'll be fine with Heering (slightly less fancy cherry liqueur). Put all of the ingredients into a shaker with crushed ice and strain them into a glass with garnish. That's it. Prohibition-era cocktails needed to be made quickly.
One sip and you'll realize how important this drink was to surviving the period. In our current era of First World Problems, it should take the edge off yet another epic OSU-PSU battle.
SAY SOMETHING NICE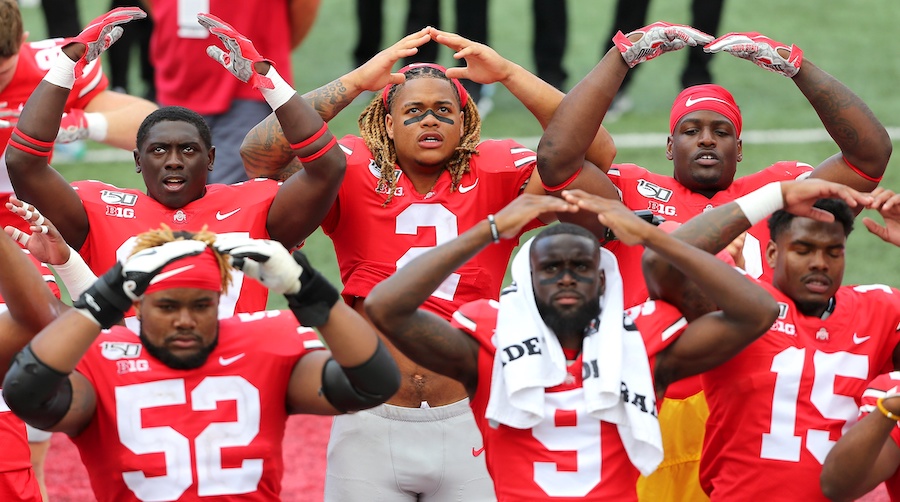 K.J. Hill. Jashon Cornell. Antwaun Jackson. Damon Arnette. Jordan Fuller. Derrick Malone. Kevin Woidke. Binjimen Victor. Austin Mack. Rashod Berry. Nathan Brock. Josh Alabi. Brandon Bowen. Brandon Pahl. Brock Davin. Owen Fankhauser. Malik Harrison. Logan Hittle. Davon Hamilton. Aaron Cox. Robert Landers. Noah Donald.
JK Dobbins? Jonathon Cooper? Justin Hilliard? Chase Young? Jefé Okudah? 
Saturday will be the final home game for a group of players whose tenures stretch over the past five seasons. Hill, nine receptions short of David Boston's school record has been on campus for 58 wins (!) and counting. If the Buckeyes win out - like, win out out - he would become the winningest player in program history. Thank you, Bert. And thank you, K.J.
Thank you for getting Situational today. Go Bucks. Beat Penn State.