Remember Fear Factor? It went off the air 13 years ago last week.
For you youngsters and reality television-avoiders, the show tested the limits of what scary or gross things Americans were willing to tolerate, in exchange for cash and prizes. Last season that concept made an unwelcome invasion into our favorite reality show: Fear Factor was the creeping dread and anxiety that came from watching the Ohio State defense. 
The Buckeyes set school records that will never be broken for longest rush allowed, longest pass allowed and most points allowed. On a near-weekly basis, the Silver Bullets gave you uncovered receivers, running backs waltzing through huge giant holes and impromptu 8-vs-11 football.
That defense tried to break all of the nice things the offense gave it, going so far as to end a victorious Rose Bowl - and Urban Meyer's coaching career - on the wrong end of a 20-0 run. We had nine months to ponder if this extra-shitty version of Fear Factor would be renewed for 2019.
But right as time expired in the 3rd quarter in Bloomington on Saturday, it was clear this unwanted programming had run its course. It's canceled. Fear Factor is over. The ratings were still great - they always are - but that show was unsustainable and had to go.
In 2018 OHIO STATE gave up 31 points to Oregon State (including TOUCHDOWNS of 49, 80 and 78 yards). In 2019 They've allowed 31 points IN THREE GAMES.
It was still in doubt when FAU picked up a few garbage scores against a defense stubbornly stuck in Base Everything Show Nothing while enjoying an insurmountable lead. Then Cincinnati suffered its first shutout loss in 14 seasons. The show was flirting with cancelation in only Week 2.
Against Indiana, the anxiety lifted as the 3rd quarter closed. Damon Arnette weaving in and out of helpless 320-lb Hoosiers en route to a 96-yard touchdown ushered Fear Factor into history. We can enjoy Ohio State defensive possessions again! One year after the Buckeyes gave up 31 points to Oregon State in the season opener (including foreshadowing TDs of 49, 80 and 78 yards) they've allowed 31 total points through the first three games.
This is decidedly not the 2018 defense. These are not Bill Davis' linebackers. Oh, they're the same guys - but this is a very different linebacking corps, operating in a drastically upgraded unit and philosophy.
Ohio State has allowed one touchdown over two weeks, against programs averaging 36 points against their non-Buckeye competition. And that one came off a trick play, which, according to resident X&O PhD Kyle Jones:
(IU) lucked out since they called that trick play when OSU was blitzing and (Jordan) Fuller wasn't sitting in the middle of the field like normal
If the Buckeyes only allow trick play touchdowns for the rest of 2019, that will be annoying but also totally acceptable, seeing as how they routinely allowed touchdowns out of Base Everything Show Nothing plays from opponents with a fraction of their talent last season. This defense is much easier to watch. It's aggressive. It's principled. It's fun. It's scary-good for a change.
And it's why Fear Factor got canceled. Scary good isn't actually scary. Let's get Situational!
THE END OF THE BEGINNING
Miami closes out Ohio State's non-conference slate this weekend, returning to the Horseshoe for the first time since Urban Meyer's debut as Ohio State's head coach.
Above you can see Devin Smith scoring the first touchdown of that era. Philly Brown scored the first two-handed TD of the era shortly after that. This is a trivia question you can dazzle everyone at the tailgate with this Saturday.
Smith was still wearing his old No.15 the last time the Redhawks visited. Once Verlon Reed transferred to Findlay after the season ended, Devin snatched up his abandoned No.9 with the quickness. An incoming recruit from St. Louis then grabbed Smith's old No.15. He was a running back, I think? I'm too lazy to google it. Anyway, Reed is indirectly the reason that kid wore No.15. More trivia for your tailgate.
Miami has the bad fortune of arriving in town to meet a Buckeye team that's clicky in all three phases and guarding against a letdown but also probably looking to switch to Final Three Quarters of the FAU Game-mode once they sprint out to another comfortable lead.
The Redhawks should get ample opportunity to pick up respectability points at the expense of base formations and Vegas bettors in front of empty red seatback chairs around 6pm Saturday. But the low-key interesting angle for Saturday is can the Buckeyes extend their streak of gaudy one-handed touchdown catches in games against Miami to two?
Please, GIF gods, make it so.
THE 1980s SAX SOLO INTERMISSION
A few months prior to Smith's one-hander against Miami I attended the Bamboozle Festival on the beach in Asbury Park, NJ. It consisted of standing in the ocean for two sun-drenched days while eating kimchi tacos, sipping bourbon and consuming a pretty exceptional lineup. Foo Fighters jumped in a helicopter when they finished and flew straight to play the Saturday Night Live season finale. Fun memory.
Our 80s sax solo journey through the 2019 season takes us to that exact same beach. This video was shot there 25 years earlier, prior to the invention of kimchi tacos. Our artist is Debbie Gibson, the subject is unrequited teenage Tiger Beat love and the clothing is vintage 80s time machine.
Let's answer our two questions.
Is the soloist in this video actually playing the saxophone? 
Curious George's cool uncle got into the molly again, and he appears to have broken into an abandoned New Jersey warehouse to play what's probably a stolen woodwind. Frankie Valli/Jersey Boys/streetlight musical authenticity statutes would normally require us to give him the benefit of the doubt. 
But alas, he's just an actor. Jeffrey Smith played the sax on Dreams and that ain't him. So, no.
Does this saxophone solo slap?
The improvisation and timbre here are unimpeachable. Only in My Dreams is a certified banger, as 80s poppy ear worms often were. We rate this sax solo as: Slaps Hard.
THE BOURBON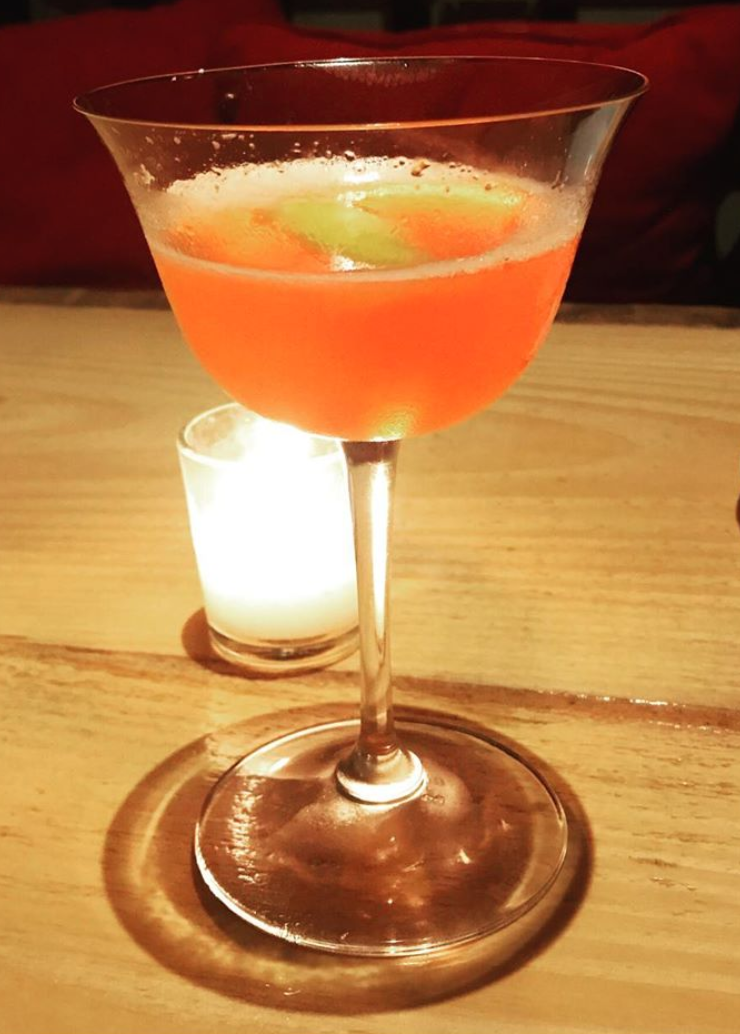 There is a bourbon for every situation. Sometimes the spirits and the events overlap, which means that where bourbon is concerned there can be more than one worthy choice.
The thermometer should scrape the 90 degree mark this Saturday during Ohio State tailgating hours. Fortunately, bourbon's versatility allows it to be both an effective heater and coolant. For the Miami game we're going to tap the latter.
A Paper Plane takes bourbon's versatility further. You can mix one up for yourself pretty easily - but - you can also premix an entire batch for all your rowdy friends to enjoy while you dazzle them with Philly Brown/Verlon Reed trivia. Here's how you do it. Total prep time is just under a minute.
Grab a bottle of Yellowstone - it shouldn't run more than $40. Straight up, it's sweet, woody and absolutely just okay for a second-shelfer which is why hipsters haven't begun hoarding it.
You'll also need bottles of Amaro and Aperol - those combined shouldn't cost you another $40. Last, you'll need four lemons and a half-gallon of passionfruit juice; more if want to dilute the booze. Slice the lemons into chunks, remove the seeds, place them into your tailgating beverage dispenser and then empty a small bag of ice over them.
PAPER PLANES FOR TAILGATING

| | |
| --- | --- |
| YELLOWSTONE BOURBON | ONE BOTTLE |
| AMARO | ONE BOTTLE |
| APEROL | ONE BOTTLE |
| PASSIONFRUIT JUICE | HALF GALLON |
| ICE | SMALL BAG |
| LEMONS | FOUR, SEEDED |
Now pour your three bottles of booze and the passionfruit juice over the top. Take a spatula or whatever clean, long kitchen item you have that won't hurt you or damage your tailgating beverage dispenser and give the mixture a few stirs before tightly sealing the cap for transport to campus.
You're ready to serve Paper Planes out of the back of your car now. They can be poured into fancy boulevardier glasses near a candle as pictured from my dinner last weekend or they can be sipped out of red Solo cups with the sun on your face.
Versatile. Cold. Cool. Refreshing. Don't forget your sunblock on Saturday.
SAY SOMETHING NICE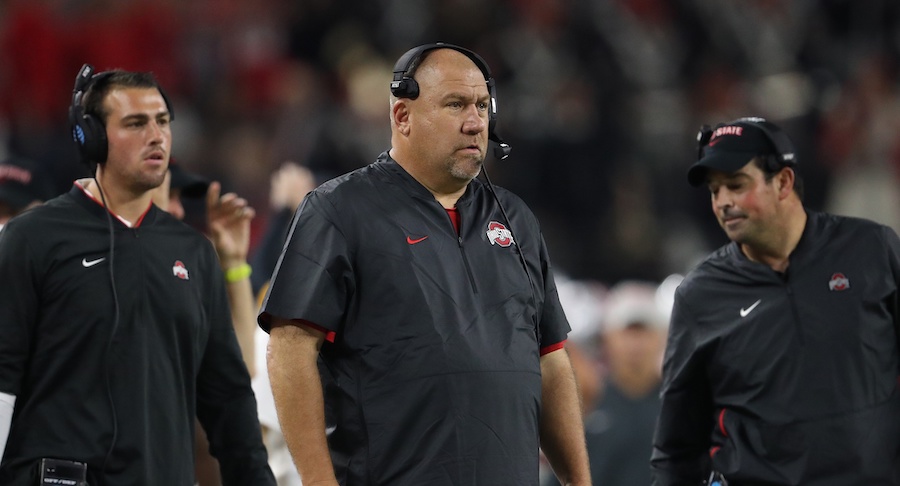 Justin Fields has started three college games now, and our red pen-wielding tribe hasn't been shy about circling what he's done wrong. Most notably, Fields has held onto the ball for too long on several passing plays, either taking hits no one wants him to take or a sack in lieu of a throwaway.
One aspect of this criticism our red pens might have missed is that the reason Fields has had all day to either throw or be indecisive on several occasions is because Greg Studrawa's unit has been blocking its ass off. 
Last season pass blocking wasn't much of a problem, protecting a far less mobile but more seasoned quarterback. It was run blocking that suffered for most of the season, partially because of No.7's non-threat to release. One year and four new starters later, J.K. Dobbins is getting a chance at a third and four step with the ball in his hands - steps he was routinely taking in 2018 with defenders already up in his personal space.
Defenses are only going to get stiffer this season, but this is already several better neighborhoods away from where we were slumming during the 2018 non-conference slate - and that unit had linemen who are now earning paychecks. Slobs back? It's early, but it's looking slobby thus far.
Thank you for getting Situational today. Go Bucks. Beat Indiana Miami. Beat Miami.