Let's get disrespectful: Nobody comes to Ohio State to play in the Indiana game.
Recruits choose Columbus for a variety of reasons ranging from NFL aspirations to childhood dreams, but at no point in the official visit does any player hear, "and best of all, being East Division rivals, we get to face the Hoosiers every year." 
Neither Austin Mack or Terry McLaurin defected to Ohio to stick it to the native flagship, yet after four hours and a few harrowing moments their team was one victory formation away from more than doubling-up the Homecoming guests on the scoreboard.
They racked up over 600 yards of offense, then spent the postgame admitting they were off and apologizing for being hungover. Fellas, that is disrespectful.
And that's largely because nobody comes to Ohio State to play in the Indiana game. Everybody knows they come to Ohio State to play in the Minnesota game, at noon. Let's get Situational!
THE RUNDOWN: WEEK SIX
11. This tweet has been living rent-free in my head since the aftermath of the Penn State game.
I only watched the second half but OSU barely looked coached tonight

— Chris B. Brown (@smartfootball) September 30, 2018
First, Chris is the best-selling author of multiple books on football strategy and tends to communicate his sports opinions in a sterile, unemotional tone. Second, he knows a lot more than most do about how Urban Meyer teams traditionally operate from philosophy to execution.
Third, reading that tweet while re-watching Ben Victor's insane touchdown (not the one pictured above, the other one) took me back to sad John Cooper postgame press conferences when he would wistfully bemoan players just needing to make more plays whenever his game strategy was questioned.
Ohio State's staff should be running strategic circles around the Tom Allens of the world, let alone the James Franklins.
It's optimal to strike a healthy balance between players making plays and out-coaching fourth-tier adversaries like former and notorious Michigan punching bag/current IU OC Mike DeBord and his boss, who conveniently fits into IU's football personnel budget. Ohio State's staff should be running strategic circles around the Tom Allens of the world, let alone the James Franklins. It doesn't.
The Buckeyes beat Penn State and Indiana because the Buckeyes have significantly better players than Penn State and Indiana. That's due to excellent recruiting, culture, retention, strength and conditioning - all of which are a credit to the coaching staff. So you could be led to believe strategy is overrated when it isn't necessary to win.
You could trust the defense is carved up repeatedly on purpose, that running backs want to decline production for five straight games and that teasing 100 yards in penalties is all part of the plan. This could be a midseason rope-a-dope, ramping up for November. Genius.
But after squandering a CFP repeat in 2015, limping through 2016 and showing a glaring lack of discipline and organization from 2017 through Saturday, it's okay to suggest the in-game stuff needs a lot of work. Just say it in a sterile, unemotional tone.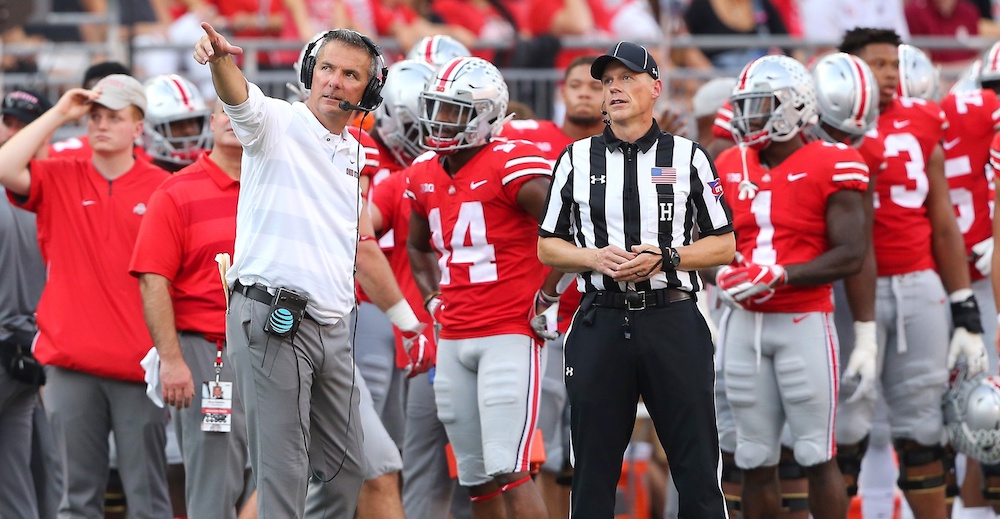 10. Right around the time you finally got over Ohio State taking a delay of game penalty in Happy Valley when it couldn't get a two-point conversion snapped **deep breath** and then using a timeout with the clock stopped because of the penalty, assumedly to get the right play called **exhale** and then just running a grab-bag Players Just Need to Make Plays play that failed...the Buckeyes kicked off Homecoming and used all of their timeouts in just eight minutes.
That isn't even three hot dogs into the game for the average 11W reader. Here's when those timeouts were burned:
12:29 left in 1Q | Indiana had the ball and was facing 3rd & 29 at the OSU 33.
7:34 left in 1Q | Indiana had the ball with a 1st & 10 near midfield.
6:08 left in 1Q | Indiana had the ball and was facing 4th & 3 at the OSU 29.
That seems a little...panicky? Fire drilly? IU was a four-touchdown underdog with a pedestrian offense. Ohio State did not call a timeout the rest of the game.
Two reasonable theories: 1) this coaching staff is full of alphas, which often results in chaos. 2) this coaching staff gets confused, a lot. And its players get confused too - as players often do; this time against IU's offense, which didn't have a 300-yard passing game this season until it met Ohio State's defense.
9. I sat behind the Ohio State bench on Saturday and unwittingly found myself playing a game called Where's the Headset. Like, if there was a weird play call (Mike Weber up the gut on 2nd and 10 and then again on 3rd and 9, whaaaaaaa) was Urban's headset on his head, over his ears and with the mic in front of his mouth and his lips moving? It was!
On the very next drive Dwayne Haskins hit a wheel route to J.K. Dobbins, a flare to Luke Farrell and boundary shots at McLaurin and Parris Campbell. My eyes tracked Urban, and he had his headset around his neck! Could it be that Ryan Day or Kevin Wilson had the director's chair? Was this a scientific observation? Does correlation mean causation? Do fish have feelings? Can bees smell fear? Let's shout all of these questions into the cosmos.
Oh, in case you're wondering: on each of Haskins' designed runs, Urban's headset was on. Oh yeah baby. Turn it up, play the hits.
8. Haskins could have broken a decades-old school record held by Art Schlichter - currently serving 10 years for stealing millions of dollars to fuel a gambling addiction - if he had simply been allowed to throw one short, garbage time touchdown.
He also would have covered the spread! **Al Michaels voice** Do you believe in irony? Yessss. Let's check the passing chart after Haskins' hungover 455-yard 6-TD passing day:
THANK YOU FOR RAINBOWS: WEEK 6

| PASSING GAME CREDIT GOES TO: | BEAV | GERS | FROG | WAVE | LIONS | IU |
| --- | --- | --- | --- | --- | --- | --- |
| RYAN DAY: ZEN MASTER | 25% | 25% | 35% | 30% | 30% | 35% |
| HASKINS' ARM: PRECISion Instrument | 30% | 30% | 35% | 40% | 30% | 30% |
| TIM BECK EFFECT: FINALLY GRADUATED | 10% | 10% | 5% | 5% | 5% | 0% |
| BRIAN HARTLINE EFFECT: OBVIOUS | 20% | 20% | 15% | 20% | 30% | 35% |
| TOTE NATION: BEAUTIFUL DISTRACTION | 15% | 15% | 10% | 5% | 5% | 0% |
Tim Beck's outright sabotage of Tom Herman's room has zeroed out midway through the season, as scientists and mathematicians predicted. What the experts missed was the Ohio State running game hitting a Meyer-era low for confidence and production.
Jones thinks the issues are around blocking, that they're fixable - and that we have seen the blueprint for opposing defenses in the season's second half. I for one am excited for Haskins pair his boring 400-yard passing days with the tree-shredding ground attack we got so accustomed to prior to his arrival. 
7. Meyer is now 76-8 at Ohio State. He would be 79-8 were it not for his suspension. Only having two B1G titles and one national championship feels like an underachievement in an era when every passing Sunday brings another eight-hour Ohio State football advertisement where many of the most exciting showmen among the pros were his pupils.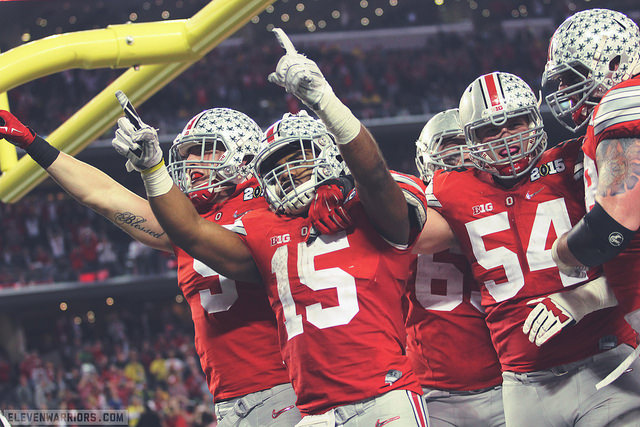 We're conditioned to absorb Saturdays while holding a red pen to grade the effort we wait all year to see, and it's this willful joylessness that sucks the pleasure out of a run that began with a still brown-haired Jim Tressel standing in the middle of a basketball court promising broken-you that you would soon be proud.
Eleven months later the Buckeyes ended a six-game losing streak in Ann Arbor, and 17 years later Michigan's in an eight-game drought in Columbus. In between, we've been treated to a gilded era in Ohio State history; one that is unmatched by any of the dead men in black and white photos that preceded either of those two coaches.
The Buckeyes have a Heisman candidate slinging the ball around like it's never been slung before.
Empires fall. Look at Florida State now. Look at what Alabama sustained between Gene Stallings and Nick Saban. Look at Nebraska pretty much since Sisqo released the Thong Song. Tom Brady has won five conference titles since the last time his alma mater won one. Empires fall. It is the inevitability of sport.
Ohio State's theme this season is to Win the Moment. Put the red pen down for a stretch and try to savor both those wins and the moments that continue to build upon this marvelous and historic run. The Buckeyes have a Heisman candidate slinging the ball around like it's never been slung before. He's either going to run out of eligibility or forfeit it. Grade less. Smile more.
6. Yeah, so anyway - this Ohio State defense routinely looks like it's playing with only eight guys. They should fix that!
HALFTIME: THE BOURBON
There is a bourbon for every situation. Sometimes the spirits and the events overlap, which means that where bourbon is concerned there can be more than one worthy choice.
Keeping with today's hangover theme - let's all travel back to our formative years when teachers would surprise and delight classes with an "educational film" in lieu of "actual instruction" which may or may not have been due to a "self-induced headache" brought on by "after school activities" that resulted in "dehydration." Movie day!
Teaching is hard. It's harder when it hurts to speak. So, here's an educational bourbon film. 
Was it good? I haven't watched it, but the title looks interesting! Here's to no hangover next week.
---
THE WALKUP: WEEK 7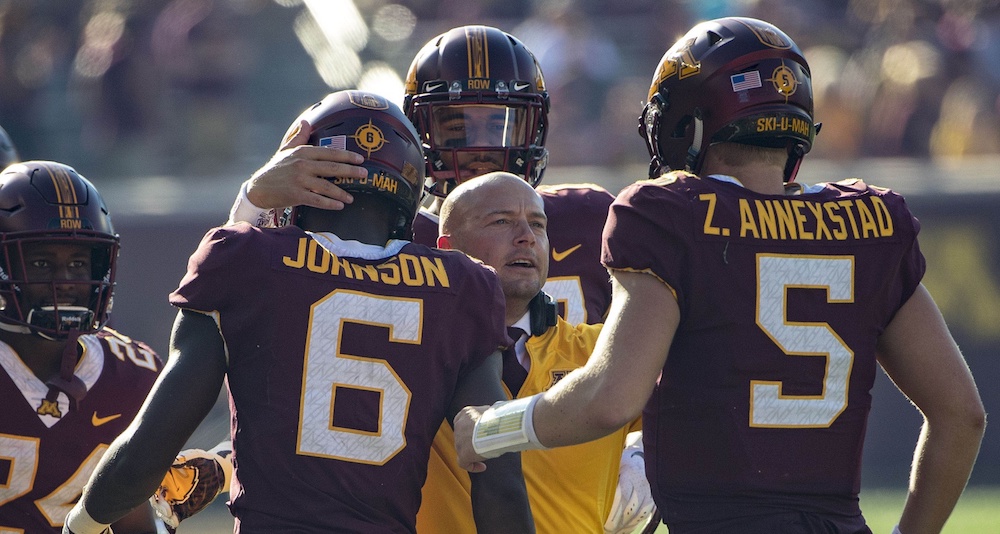 4. Before we talk Minnesota, let's revisit a few key particulars from Ohio State's sixth victory of the season and 11th win in a row.
The Buckeyes just scored 49 points against a team that was allowing less than half of that - and ended the game in victory formation in position to score again - and the tone among the winners was decidedly negative as evidenced by players proactively talking about their substandard week of practice. Don't worry about complacency.
They scored in every quarter, getting touchdowns on 7 of 13 drives. This game would have been unfathomable to complain about as recently as 2011, an era prior to Eleven Warriors hiring actual, trained journalists to cover Ohio State sporting events. Before we had our current payroll of professionals, the old guard would share beat-writing responsibilities on Saturdays. 
In 2011 I drew the short straw (note - they were all short straws that season) and got the Illinois game. If you don't remember what happened that afternoon, my game recap was titled Puntageddon. Here's a passage from that story you won't be able to un-read:
Ohio State's third drive began with a mix-up in the backfield with Miller and Herron colliding, resulting in a five-yard loss. Herron compensated on the next play, juking around Illini defenders for nine yards and putting the Buckeyes in a third and short situation.

Jim Bollman telegraphed the next play right into the teeth of the Illinois defense and the Buckeyes were forced to punt.
Ohio State completed a total of one pass that day. One. Here it is!
That team was loaded with pros, and some eventual national champions. Grade less. Smile more.
3. Last week we had to discuss whether Michigan is still Ohio State's main rival in the Big Ten (yes) with the emergence of the (no) Penn State (no) Nittany (nope) Lions (riding a 1-6 stretch vs. the Buckeyes, FYI) and I threw Michigan State (also, no) in as column fodder to demonstrate that the Spartans had a better claim (still no) to the throne than (no) PSU. 
RECAP: MAIN RIVAL?

| FOE | MAIN RIVAL? |
| --- | --- |
| PSU | No. |
| MSU | No. |
| ITSELF | Hmm. |
| UM | Yes. |
Anyway, Sparty lost to Northwestern on Saturday, at home, on Homecoming. It was the third straight year the Spartans failed to beat the Wildcats. It was also Northwestern's third straight win in East Lansing - Pat Fitzgerald's band of merry nerds has taken four of the last five against the B1G program that has challenged and beaten Meyer's Buckeyes the most.
Losing three straight home games to Northwestern is a phrase sends a chill through my spine. I'm 44, which means I've only lived long enough to see Ohio State lose to the Wildcats anywhere, once. When Ara Parseghian passed away last year that left Northwestern with no living coaches who have ever beaten the Buckeyes.
TL: DR Grade less.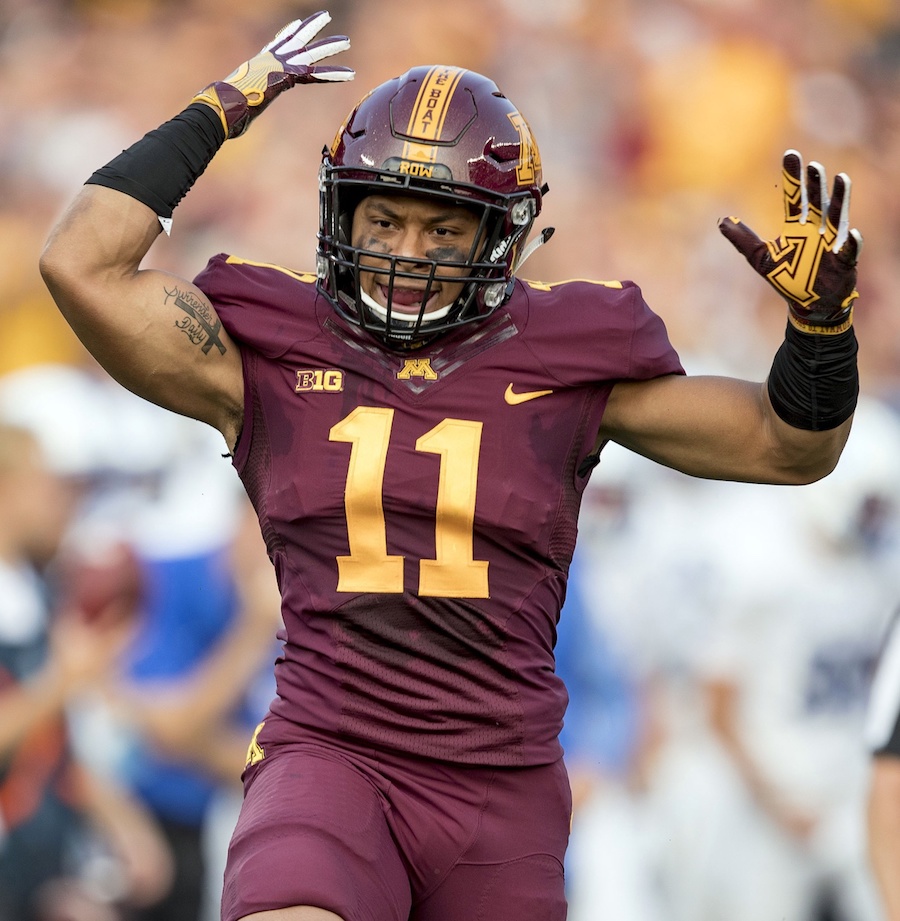 2. Antoine Winfield Jr. is injured and out for the season, rendering me unable to name a single current Golden Gopher. Marion Barber III and Laurence Maroney are the first two Minnesota players that enter my mind, and they've been gone so long they beat Alabama in a bowl game. Reminder: Minnesota fired Glenn Mason (he had a 64-57 record there) and has gone 63-76 since.
I am as unprepared for Goldie 2K18 as Ohio State was for IU's 1st quarter offense. No idea what these guys are packing. Hopefully the Dilly Bar guy is still there.
Assuming they have at least two players with blond hair flowing out the back of their helmets, like dime store knock-off Chase Winoviches. The Internet tells me Minnesota has a 6'9" freshman offensive lineman who weighs 400 lbs and probably isn't done growing. That rules. Who said this game had no intrigue.
1. Halfway point grades? Sure - let's put them on the record and revisit at the end of the semester.
MIDTERM GRADES | 2018 OHIO STATE BUCKEYES

| UNIT | TOP CONTRIBUTOR | UNIT HIGH POINT | UNIT LOW POINT | COACHING | MIDTERM | FINAL |
| --- | --- | --- | --- | --- | --- | --- |
| QB | Yeah, him. | vs. Tulane | ¯\_(ツ)_/¯ | A+ | A |   |
| TOTE NATION | Mike Weber | vs. Oregon State | Since Oregon State | B | C |   |
| SLOBS | Isaiah Prince | vs. Rutgers | at Penn State | B- | B |   |
| ZONE6 | K.J. Hill | at Penn State | vs. TCU | A- | A- |   |
| TIGHT ENDS | Luke Farrell | vs. Oregon State | vs. Indiana | C | C |   |
| RUSHMEN | Dre'Mont Jones | vs. TCU | vs. Indiana | A | B+ |   |
| SILVER BULLETS | Malik Harrison | vs. Rutgers | vs. Indiana | D | C |   |
| BIA | Jordan Fuller | vs. Tulane | vs. Indiana | C | C |   |
| SPECIAL TEAMS | Drue Chrisman | at Penn State | vs. TCU | A- | A- |   |
Thanks for getting Situational today. Go Bucks. Beat Minnesota.