Urban Meyer made it seven in a row against Michigan, dropping Jim Harbaugh to 0-4 in the process, as Ohio State took the Wolverines behind the woodshed in a 62-39 thrashing in the Shoe. 
The 62 points were the most ever given up by a Michigan team in regulation and marked the third time in series history the Buckeyes tallied at least 50 points against the Wolverines. 
Michigan's top-ranked defense had its ass handed to it by Dwayne Haskins as he torched Don Brown's unit with 396 passing yards and six touchdowns with another 34 yards on the ground. 
Parris Campbell also had himself a day with 192 total yards and two touchdowns after letting it be known he wasn't going to stand for Michigan tailback Karan Higdon's win guarantee and freshman receiver Chris Olave introduced himself to Wolverine fans with two touchdown catches and a blocked punt Sevyn Banks returned for a touchdown. 
The win clinched the Big Ten East, moved Ohio State to 11-1 overall and sets up a date with Northwestern for the B1G title next weekend in Indianapolis that could have College Football Playoff implications. 
Before we turn our focus to next week's battle with the Wildcats, here are Five Things from yesterday's dismantling of Michigan. 
---
FINE LINE
Ohio State's offensive line struggled at times this year, particularly with penalties and run blocking, but put it all together against the nation's No. 1 total defense. 
The Buckeyes ran for 171 yards against a Michigan defense coming in giving up 111 yards per game. In pass pro, Greg Studrawa's unit didn't yield a sack against a group averaging nearly three sacks per game. Yesterday marked only the second time this season the Wolverines failed to record a sack. 
With the line firing on all cylinders Ohio State's edge in speed at the skill positions allowed for an offensive clinic with the Buckeyes chewing up 567 total yards – the eighth time this season they've went for 500+ yards off offense. 
Hat tip to Thayer Munford, Malcolm Pridgeon, Michael Jordan, Demetrius Knox, who was carted off late in the game, and Isaiah Prince.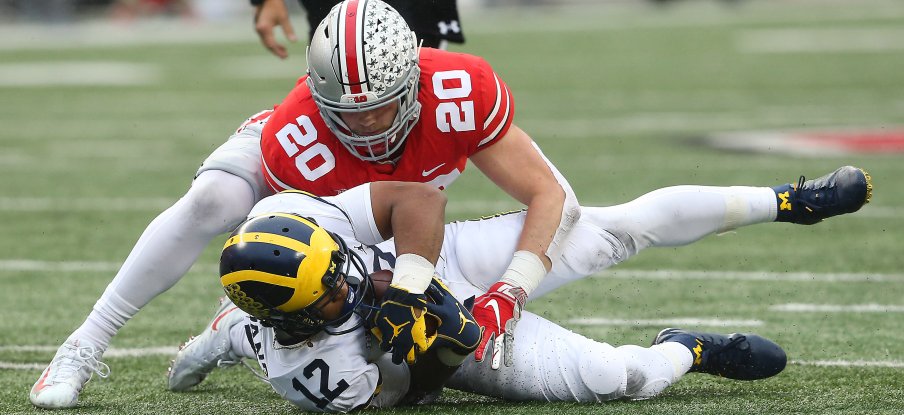 MINDING THE GAPS
Similar to the offensive line, Ohio State's linebacking corps experienced its fair share of lumps over the first 11 games, particularly Tuf Borland and Pete Werner. 
Yesterday, Malik Harrison, the clear-cut star of the group, was even better than usual while Borland and Werner had strong outings as well, producing the most complete performance by the trio this season. 
To be honest, Michigan's offense was the perfect matchup for Borland and Werner because the Wolverines attack isn't very explosive or creative, preferring to play in a phone booth, which helped hide the the pair's shortcomings in space. 
Borland has always been decent when run support is the chief task and he filled holes all day yesterday recording 10 stops.
Werner added six tackles of his own and had a stellar pass breakup on what looked like a sure touchdown on a 3rd-and-6 toss from Shea Patterson to Zach Gentry from Ohio State's 13 yard line. Werner was beat over the top but managed to knock the ball from Gentry's hand as the two fell into the end zone forcing Michigan to kick a field goal that kept OSU in the lead at 7-6 early in the second quarter. 
Harrison posted seven tackles including two for loss with a sack and every stop seemingly coming at a crucial time. His sack on the second play of the game helped force a 3-and-out deep in Michigan's own territory giving Ohio State's offense a short field it would cash in on putting the Buckeyes in front 7-0 before the game was five minutes old. 
With the trio standing tall and not missing tackles behind the defensive line, Michigan averaged a modest 4.0 yards per carry and Karan Higdon was held to 38 yards below his per game average. 
COMING OUT HOT
After completely outplaying Michigan in the first half but leading just 24-19 thanks to a muffed kickoff and drive-extending penalties, Ohio State came out of the halftime locker room and dominated the third quarter, outscoring the Wolverines 17-0 to take a 41-19 lead into the fourth.
The Buckeyes defense held Michigan to 60 yards in the quarter including just 16 yards rushing on eight carries and stopped the Wolverines on all third down conversion attempts. 
After a Blake Haubeil field goal edged Ohio State's lead to 27-19, Chris Olave blocked a punt following a defensive stand and Sevyn Banks scooped up the ball and galloped 33 yards to the house for a 34-19 Buckeye lead. 
Three plays later, on 3rd-and-12, safety Jordan Fuller picked off an ill-advised Patterson toss setting up Ohio State's offense at the Michigan 22 yard line. After a 20-yard pass from Haskins to K.J. Hill, Mike Weber jogged into the end zone giving the Buckeyes a 41-19 lead with 3:10 left in the third quarter. 
The game was never in doubt from there thanks to the third quarter domination fueled by Fuller's interception and Olave's blocked punt.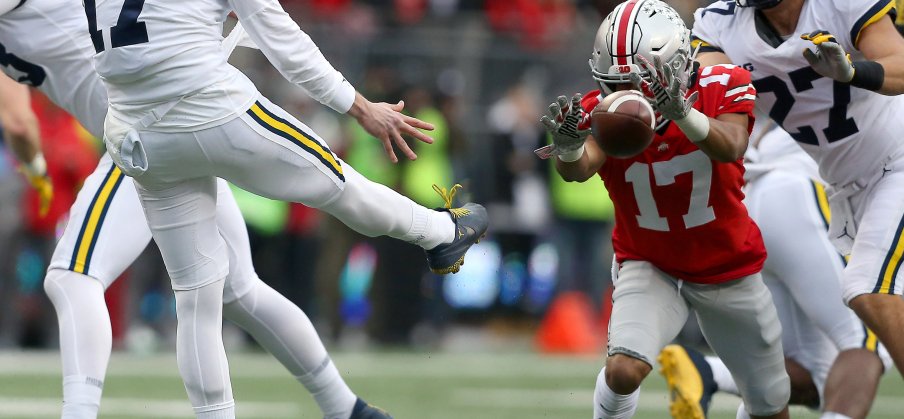 SIEVER SILVER BULLETS RETURN
A week after giving up 44 points and 535 yards to Maryland's 99th-ranked total offense, Ohio State's defense wasn't dominant but made plays when it mattered and fared much better in containing big plays against Michigan. 
Ranked 122nd nationally coming into the game having given up 21 plays of 40+ yards, Greg Schiano's unit surrendered just one play over 40 yards yesterday which came via a meaningless 43-yard pass from Joe Milton to Nico Collins with Ohio State leading 62-32 with a little over two minutes left. 
Beyond containing big plays, the defense also came up with two interceptions – something it hasn't done since the TCU game – and both led directly to touchdowns for the offense. 
With the defense forcing Michigan to execute, the Wolverines had to run at least eight plays on five of their six scoring drives (not counting the 9-yard drive after the muffed kickoff). 
The defensive line in particular played lights out with Davon Hamilton creating havoc all day (4 tackles), Robert Landers doing his thing (4 tackles, sack), Johnathon Cooper having one of his best games (3 tackles, sack), Chase Young bringing constant pressure (TFL, PBU, QBH) and Dre'Mont Jones clogging up the middle. 
Again, this was the perfect offense to hide Ohio State's defensive limitations but the group put forth a hell of an effort. 
URBAN DONE DID IT AGAIN
It's easy to take for granted what he's done but winning seven in a row against Michigan is no joke. 
I guess we all should've known it would be a blowout when the oddsmakers installed Michigan as a 4.5 point favorite considering Meyer has never lost a game as Ohio State's head coach when his team was the underdog. 
Of course, the icing on the 7-0 cake is that it put Jim Harbaugh in an 0-4 hole making him the only Wolverine coach in history to start his tenure with four straight losses in The Game. 
This was supposed to be Michigan's year. Revenge tour and all that bullshit. Instead, they came to Columbus riding high and left facing another year of soul searching. 
More importantly for Meyer, this one takes on an even greater meaning than usual after a preseason filled with scandal and a regular season of scrutiny over his health and whether or not it might force him to hang up his whistle. 
You could see how special this one was for his wife as she broke down on the sidelines in the waning moments and Meyer nearly did the same during his postgame presser. 
Q. You had a special moment after the game outside the locker room. You were shown by your family, Shelley, your grandson. What did that moment mean to you and what were you thinking?

COACH MEYER: There's no one that means more to me than her. And, yeah, there's nothing more important than my three kids and my grandson. And another one on the way. And to see the smiles on their face, that's priceless and that's something I'll never forget.
 
Meyer needed what seemed like forever to compose himself before he could answer the question after taking 60 minutes to put Michigan back in its place.