Ohio State's offense had just picked up a few quick first downs in the team portion of practice when Billy Price noticed Dre'Mont Jones bent over, winded, with hands on hips.
"I was messing with the guys, I told Dre'Mont, 'You guys are puffing a little bit too hard over there,'" the senior center said on Thursday. "He said, 'You guys are running way too fast.'"
The Buckeyes are barely into their 2017 version of spring practice, currently on the University-mandated spring break after — to use Urban Meyer's term — "getting their brains kicked in" during weight room sessions by Mickey Marotti and his strength staff this winter. Still, things looked crisp in individual drills last week. Then Kevin Wilson took handle of the offense.
Wilson's desire for tempo is something that Price, quarterback J.T. Barrett, defensive coordinator Greg Schiano and defensive end Tyquan Lewis all noted instantly when a reporter brought up the new offensive coordinator's name and what he has already done in Columbus.
"That's probably one of the immediate changes," Price said. "We're running pretty fast. It's really, really nice because the defense gets exhausted."
"We're not creating any new plays or anything like that. I think one of the main things is emphasis on our tempo," Barrett added. "I think that got away from us last year and 2015. Making sure we're playing fast and the big thing too is just effort."
And Lewis: "Coming out of the shoot, it's a little weird, for sure."
Indiana Offense v. OSU Under Wilson

| SEASON | YARDS | POINTS | outcome |
| --- | --- | --- | --- |
| 2011 | 333 | 20 | OSU 34, IU 20 |
| 2012 | 481 | 49 | OSU 52, IU 49 |
| 2013 | 442 | 14 | OSU 42, IU 14 |
| 2014 | 395 | 27 | OSU 42, IU 27 |
| 2015 | 402 | 27 | OSU 34, IU 27 |
| 2016 | 281 | 17 | OSU 38, IU 17 |
| AVERAGE | 389 | 27.4 | OSU 6-0 |
Schiano and former defensive coordinator and linebackers coach Luke Fickell dealt with Wilson's tempo firsthand last season when Ohio State hosted Indiana. Fickell's defenses worked against Wilson for five seasons prior, including 2011 when he served as the program's head coach.
Indiana averaged 27.4 points per game over those six matchups. The Hoosiers tallied just 17 last year at Ohio Stadium but took an early lead and got within a touchdown of the Buckeyes both in the second and third quarters.
"We're doing some tempo that is, if you remember the Indiana game, we got caught a few times in tempo," Schiano said on Thursday.
The Buckeyes still held Richard Lagow to only 182 yards passing and intercepted him once, while Indiana failed to reach 100 yards on the ground. It took 40 carries for the Hoosiers to record 99 rushing yards.
The Buckeyes are in line to have four draft picks from that defense this year and much more next year. So they are a bit of an exception when it comes to talent. But even a coach with Schiano's NFL pedigree and prowess as a defensive mind can't look past Wilson's early influence on Ohio State's offense this spring.
"Tempo really makes us button it up and be on point," Schiano said. "Because if you get one guy who doesn't get his feet in the ground, they gotta play. That's one thing that jumps out with Ryan Day and Kevin. Just really, really good football coaches and good guys to coach with."
Wilson said his top priority is getting Barrett, Meyer, the other assistants and players to trust him and buy what he is selling them. His Indiana teams always seemed to create explosive plays despite having lesser athletes than the majority of their opponents, outside of current Atlanta Falcons running back Tevin Coleman. At Northwestern, Oklahoma, then Indiana, he evolved — all with tempo on the brain.
"At Northwestern, we had a great evolution, some things we had to do to give our kids a chance to be successful," Wilson said last week. "I got hired at Oklahoma because of some of those things but injuries to Jason White, our plan changed. Adrian Peterson showed up, our plan changed. Sam Bradford showed up, our plan changed.
"Went to Indiana, the plan changed. Each year was different. We had quarterback injuries one year, lost our starting quarterback, our backup and third. We were a running team with Tevin Coleman, you guys saw him here. Next year with Nate Sudfeld we're the best passing team. Every year we change. So I'm kind of used to change. I have core values in offensive football that parallel almost exactly word for word verbatim to what Coach Meyer believes."
Meyer believes in a balanced attack, and often says its perfect harmony lies in 250 yards rushing and 250 yards passing. Ohio State was spectacularly close to that during its run to the 2014 national championship. Which is why he made Wilson and Day watch those tapes with him upon their arrival in Columbus.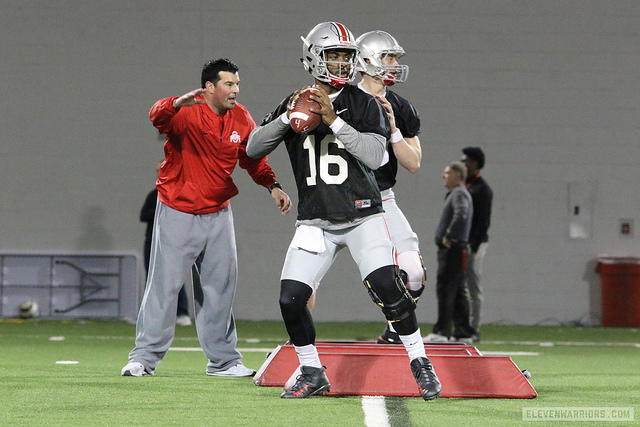 "I wanted everybody to watch that this is our vision, this is our dream. We're very balanced," Meyer said on March 7. "Great tempo between plays, aggressive play calling and that run, the Wisconsin, Alabama, Oregon were perfect examples. Michigan State in 2014."
Then Meyer went a step further and tied things into what he noticed as one of Wilson's biggest positives. His offenses have a steady pulse.
"He's got a lot of experience calling plays so when you say tempo it's not necessarily the quantity of plays. It's just the rhythm. That's where Tom Herman brought so much to our offense," Meyer said. "It's got to be just calling plays, practicing plays and calling plays, getting to the line of scrimmage much faster. That's one of his strengths."
And the early returns are that Wilson is listening.
"To me, it starts with the ability to run the ball and be physical, gotta take care of the ball, gotta take care of the quarterback, gotta find ways to make those big plays and find ways to score," Wilson said. "Like Coach Meyer said to from the start: This is the Ohio State offense. How can we make it better?"
The answer: Tempo.