The personnel in Ohio State's tight end room ahead of spring practice is the exact same as last season. The man coaching Marcus Baugh and Co. is different, however.
Ed Warinner left Columbus for Minneapolis to coach the offensive line for P.J. Fleck at the University of Minnesota. In his place, Urban Meyer hired former Indiana head coach Kevin Wilson to not only coordinate the offense but also lead the tight ends.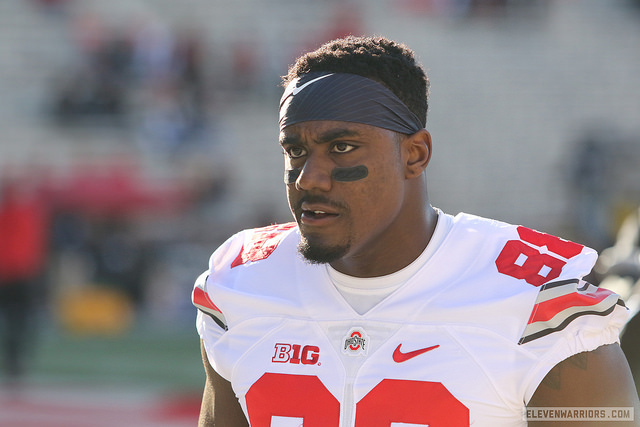 Wilson steps into one of the most experienced units in the program in terms of game reps, with Baugh back to lead the way and A.J. Alexander also still in Columbus. Both played in every game last season.
The Buckeyes also sport three players who redshirted in 2016 at tight end. Let's break down Wilson's options at the position a little further with spring practice officially a week away.
The Returners
The aforementioned Baugh and Alexander provided stability for Ohio State at the tight end position in 2016, at least in terms of personnel consistency. Meyer said both dealt with various nagging injuries in the heart of the season, namely sprained ankles for Alexander and a shoulder strain for Baugh. It led to the Buckeyes utilizing offensive lineman Branden Bowen as a third blocking tight end against Northwestern.
Baugh is Ohio State's leading returning pass catcher ahead of the 2017 season. The fifth-year senior caught 24 passes for 269 yards and a pair of touchdowns last year, becoming a trustworthy target for J.T. Barrett as the downfield passing game struggled. Baugh's production increased immensely from prior years and he showed his potential as a playmaker in his team's loss to Penn State.
That terrific individual effort by Baugh put the Buckeyes up 9-0. But the Nittany Lions roared back and eventually scored a 24-21 victory.
Baugh also hurdled defenders in Ohio State's wins over Bowling Green and Maryland. With struggles at wide receiver outside of Curtis Samuel last fall, Barrett clearly felt he could depend on Baugh though the tight end did drop more passes than any of his teammates in 2016.
Still, Baugh has come a long way from when Meyer suspended him as a freshman after multiple run-ins with the law for underage drinking. Baugh then sat behind program stalwarts and future NFL draft picks Jeff Heuerman and Nick Vannett. Now he returns for a fifth season though it was rumored he would turn pro.
Alexander caught four passes for 27 yards in 13 games last season. Both he and Baugh need to improve and show more of a willingness to block on the edge in the running game for the offense to improve as a whole. But as we saw in 2016, they are at least serviceable.
The Freshmen
In an effort to address a glaring need on the roster, Ohio State signed three tight ends in its 2016 recruiting class. But despite the nicks and bruises that Meyer said Baugh and Alexander dealt with last year, the Buckeyes did not feel the need to burn the redshirt of Jake Hausmann, Kierre Hawkins or Luke Farrell.
Each member of the trio came to campus as a four-star prospect from the state of Ohio — Hausmann is from Cincinnati while Farrell and Hawkins hail from the Cleveland area. The three each bring something different to the table as well.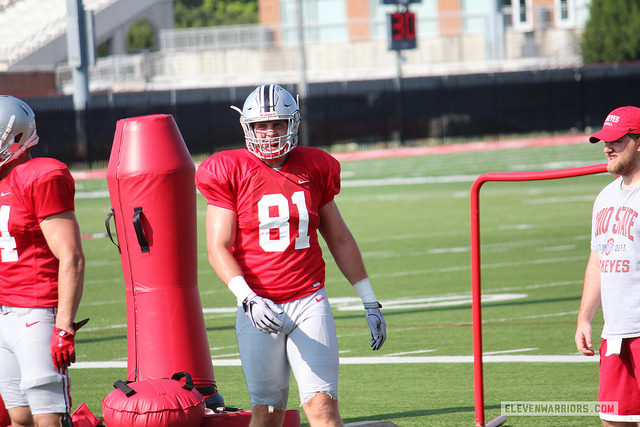 Hawkins played a multitude of positions at Maple Heights High School. He lined up everywhere from running back, quarterback, in the slot and also at tight end. Hawkins's versatility and speed at 6-foot-3 and 245 pounds caught Ohio State's eye as someone who could potentially become a playmaker at H-back.
Farrell is the tallest of the bunch at 6-foot-6 and 245 pounds, an extremely hard worker who did everything he could at Perry High School to gain weight to pair with his terrific frame. A solid receiver and big body, Farrell is also extremely intelligent. His final GPA at Perry was north of 4.0.
Meyer mentioned Hausmann a few times early last season as the one freshman tight end who was "closest" to playing but it never came to fruition. Listed at 6-foot-4 and 245 pounds, Hausmann hails from one of the most successful high school football programs in the state. Cincinnati Moeller has nine state championships in the playoff era. Hausmann was the highest rated tight end of the three and dubbed the fourth-best tight end nationally in the 2016 cycle by 247Sports.
Make no mistake, the three can play at a high level. They would not be in Columbus if they could not.
2017 Outlook
The question marks at tight end for Ohio State begin with Wilson as the new position coach. He coached against the Buckeyes last season and saw Baugh catch a 25-yard pass from Barrett against the Hoosiers. Further film study by the team's new offensive coordinator will provide an early indication as to what the senior can do to help the Buckeyes move the ball.
But spring practice will be Wilson's first hands-on opportunity to work drills with the five players at the position. Baugh and Alexander have the edge in terms of experience but the Buckeyes signed three tight ends in 2016 with an eye toward the future. If last year was any indication, it will be difficult for Hawkins, Hausmann and Farrell to crack the rotation. Unless Wilson feels otherwise.
How much those three developed both last season and then from the Fiesta Bowl loss to March will help determine if they have a role in 2017. Hausmann and Farrell dressed for the College Football Playoff Semifinal against Clemson. Hawkins did not.
Vico outlined Wilson's previous track record as a tight ends coach last month. When Oklahoma gave the tight end reins to him, production from the position almost immediately improved. Naturally, having a future NFL player like Jermaine Gresham to utilize helps.
If Baugh turns into a worthwhile NFL prospect next season, Wilson's tutelage will be a massive reason why. It will also give us an indication of where the position is headed at Ohio State in the coming years.