Ohio State just signed the No. 2 class in America, and there's certainly a lot to be excited about on both sides of the ball.
Yesterday, we looked at the new additions on offense and how they fill a number of needs for Urban Meyer and Kevin Wilson. The defensive side of the ball is even more impressive, and the Buckeyes are likely to see an immediate impact from a number of the heralded defenders. 
The group receives high marks at every position and should pay dividends right away in 2017. 
Ohio State's 2017 Class – Defense

| Signee | Position | Hometown | Measurables | Rating |
| --- | --- | --- | --- | --- |
| Jeffrey Okudah | Defensive Back | Grand Prairie, Texas | 6-foot-2, 190 pounds | ★★★★★ |
| Shaun Wade | Defensive Back | Jacksonville, FL | 6-foot-1, 177 pounds | ★★★★★ |
| Isaiah Pryor | Safety | Lawrenceville, GA | 6-foot-2, 195 pounds | ★★★★ |
| Kendall Sheffield | Cornerback | Missouri City, Texas | 6-foot, 185 pounds | ★★★★ |
| Amir Riep | Defensive Back | Cincinnati, Ohio | 5-foot-11, 185 pounds | ★★★★ |
| Marcus Williamson | Cornerback | Westerville, Ohio | 5-foot-9, 180 pounds | ★★★★ |
| Baron Browning | Linebacker | Kennedale, Texas | 6-foot-2, 230 pounds | ★★★★★ |
| PETE WERNER | Linebacker | Indianapolis, IN | 6-foot-3, 220 pounds | ★★★★ |
| BRENDON WHITE | Athlete | Powell, Ohio | 6-foot-2, 200 pounds | ★★★★ |
| Chase Young | Defensive End | Hyattsville, MD | 6-foot-5, 251 pounds | ★★★★★ |
| Haskell Garrett  | Defensive Tackle | Las Vegas, NV | 6-foot-2, 288 pounds | ★★★★ |
| Jerron Cage | Defensive Tackle | Cincinnati, Ohio | 6-foot-2, 275 pounds | ★★★★ |
| Blake Haubeil | Kicker | Buffalo, NY | 6-foot-3, 200 pounds | ★★★ |
Defensive Back
It's constantly said that everything starts up front, but when it comes to the Buckeye newcomers, we're going to start with the defensive backfield. 
Simply put, this is likely the best group of defensive backs that one team has ever signed. Ohio State is bringing in six players; two of which are five-stars and the rest are of the four-star variety. Beyond just the star power, it was absolutely necessary for Urban Meyer and Greg Schiano to put such an emphasis on this unit given the departures of Marshon Lattimore, Gareon Conley, and Malik Hooker. 
The defenders that are being brought in are also extremely versatile. You'll see that only Sheffield, Pryor, and Williamson have a specific position listed. The rest – Okudah, Wade, and Riep – all possess the skills to end up at safety or corner.
Okudah and Wade are already on campus and look to get their first shot at one of the corner/nickel spots. Both are absolutely going to have the opportunity to play early and often. They're the long, athletic defenders that Schiano covets, and every other school in the country was after them.
Okudah was rated as the No. 7 overall player in America, but you'd be hard-pressed to find someone better. There may not be a single flaw in his game, and it's fair to assume that he will be a hot commodity leading up to the 2020 NFL Draft. It sounds crazy to look so far ahead, but he really is that good of a prospect. 
Hanging on to Shaun Wade – with Florida and Alabama chasing for two years – may go down as one of Meyer's greatest wins on the recruiting front. He's not quite as physically advanced as Okudah, but he will surely add some weight to his 6-foot-1 frame.
The Buckeyes did miss on Darnay Holmes, who committed to UCLA during the Army All-American Bowl, but they quickly answered by adding the nation's top JUCO corner. When it comes to the class as a whole, Kendall Sheffield is probably the most likely to be a starter from day one. He's a true corner and could very well see the field right away opposite Denzel Ward.
Isaiah Pryor was the nation's No. 7 safety before enrolling in January. There had been a bit of discussion about him growing into a linebacker, but as the only pure safety in the class, it certainly makes sense for him to stay at that spot. He too had offers from all over the country as Meyer has made it a habit of landing stars from the state of Georgia. 
Riep and Williamson are two native Ohioans that the Buckeyes were able to keep in-state; or back in the state for Williamson who spent a year at Bradenton's IMG Academy. The latter stands 5-foot-9 and is more of a smallish corner, but he definitely packs a punch and isn't afraid to come up and stop the run. A redshirt does seem likely for Williamson unless he's needed on special teams. 
Amir Riep has the necessary tools to play anywhere in the secondary, though he primarily was a corner in high school. Kerry Coombs was able to keep the Cincinnati product away from Michigan State, and Riep gets special mention for driving to Columbus and delivering his letter of intent to Coombs himself.
Guys like Damon Arnette, Jordan Fuller, Damon Webb and even Denzel Ward can expect to be pushed to the limit this spring and summer.
It doesn't get much better than that.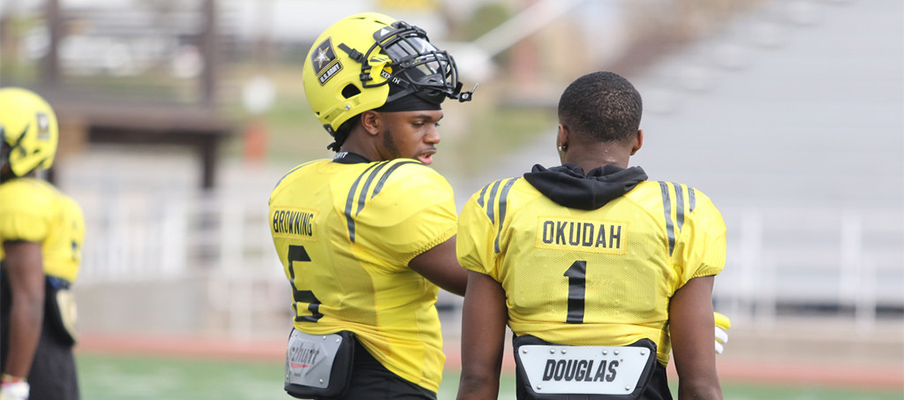 Linebacker 
Ohio State probably only needed to bring in a pair of linebackers for the 2017 class, and helping to fill the void in the middle was likely the most pressing need. With question marks surrounding Brendon White's ultimate position, the number of new bodies looks like 2.5 for now. While White made reference to #Zone6 in a tweet last month, he's still being listed as more of an athlete (linebacker/receiver) by the Buckeyes.
We anticipate that the Ohio State legacy ultimately ends up at linebacker, thus his inclusion in this group. The Darron Lee comparisons were running rampant when he committed, and while White – the No. 3 athlete in America – ended up way more highly touted than Lee, a similar career trajectory could very well be in the cards.
The crown jewel of the unit is Kennedale, Texas' Baron Browning. The nation's top-rated linebacker was down to Ohio State and Alabama, and after some fun and games with Urban Meyer, he ultimately sided with the Buckeyes. He arrived in January and should see the field as a true freshman. Browning has the athleticism to play on the outside, but at 6-foot-2 and 230 pounds could also be called upon to help replace Raekwon McMillan in the middle.
Ohio State lost Antjuan Simmons to Michigan State and replaced him with Pete Werner, a player with much better size and even more upside. Werner is 6-foot-3 and 220 pounds and is likely to be tried out at all the linebacker spots. The one-time Notre Dame pledge committed to the Buckeyes 24 hours after Luke Fickell – his primary recruiter – was announced as Cincinnati's new head coach.
Defensive Line 
The Buckeyes managed to sign just one defensive tackle in 2016, and while Malik Barrow has a ton of potential, this was a position of need for the 2017 class. Those needs have now been addressed as Larry Johnson will have the chance to work with a pair of tackles who were ranked among the top 15 at the position. 
Haskell Garrett pulled off a bit of a stunner when he committed to the Buckeyes before even visiting, and it may end up being one of the biggest pledges of the entire class. Ohio State was also able to keep Jerron Cage away from the family ties in South Bend. While Robert Landers and DaVon Hamilton have both outplayed their three-star ratings, adding two four-star tackles is big news for the Buckeyes. 
Chase Young was the guy Ohio State wanted at defensive end all along. His rating has soared throughout the fall and winter and he ultimately found himself ranked as the nation's No. 2 defensive end and No. 8 overall prospect. With Tyquan Lewis, Sam Hubbard, Jalyn Holmes, and Nick Bosa likely to see the bulk of the playing time in 2017, it will be difficult for Young to crack the two-deep. However, he may very well be too good to redshirt. 
It would have been great for the Buckeyes to land either Marvin Wilson or Jay Tufele on signing day, but it just wasn't meant to be. We should expect to see two or three tackles in the 2018 class, and don't be surprised to see Larry Johnson pull a five-star out of the South (via Baltimore). 
Special Teams 
The lowest-rated signee for the Buckeyes just so happens to be the country's top-ranked kicker. Blake Haubeil's Kohl's Kicking profile lists the Buffalo native as a five-star with a laundry list of accolades. Ohio State needed a kicker as Sean Nuernberger will be a senior in 2017, and they are bringing in the best one in America. 
Want a wildcard return man? How about Kendall Sheffield? He returned punts and kicks for scores last year as a JUCO, and with Curtis Samuel and Dontre Wilson both gone, he could be utilized on special in addition to his duties in the secondary. 
---
Overall, this group of defenders is impressive across the board and scores a rock-solid A in my book. Looking through the list, there's really only a handful of signees who look like definite redshirt candidates, and even they are poised to be impact players down the road. Just a fantastic job from top to bottom by Urban Meyer and the entire staff. 
Some noteworthy 2017 misses include defensive tackles Marvin Wilson (Florida State) and Jay Tufele (USC), linebacker Anthony Hines (Texas A&M), Darnay Holmes (UCLA), and five-star safety Richard LeCounte (Georgia).