Urban Meyer knows better than anyone the importance of recruiting the fruitful ground of the state of Ohio into his college football program. Due to this perception, Eleven Warriors will look at the 10 Ohio high school programs who produced Buckeyes in 2016.

CINCINNATI — The area directly above the main entrance to Archbishop Moeller High School is painted blue with eight words, written in white, spread out across the width of three doorways. These eight words serve as a simple, subtle reminder each and every day to the students who enter this building.
Through These Doors Walk The Men of Moeller
The message is clear: There's a certain way you're supposed to carry yourself here. There's an expectation level to uphold as a Moeller student. There is an academic standard and an athletic one, as well.
It's a school-wide mantra, and it stems down to John Rodenberg's football program, too.
"I know it's cliche, but the tradition builds on itself. Kids know what to expect when they come here," Rodenberg says. "They come in the door and they're ready to work. I've got to do very little to motivate that initial work ethic.
"I might have to do it throughout their career here, but when they come in here it's like a DNA. They just know what they're coming here for."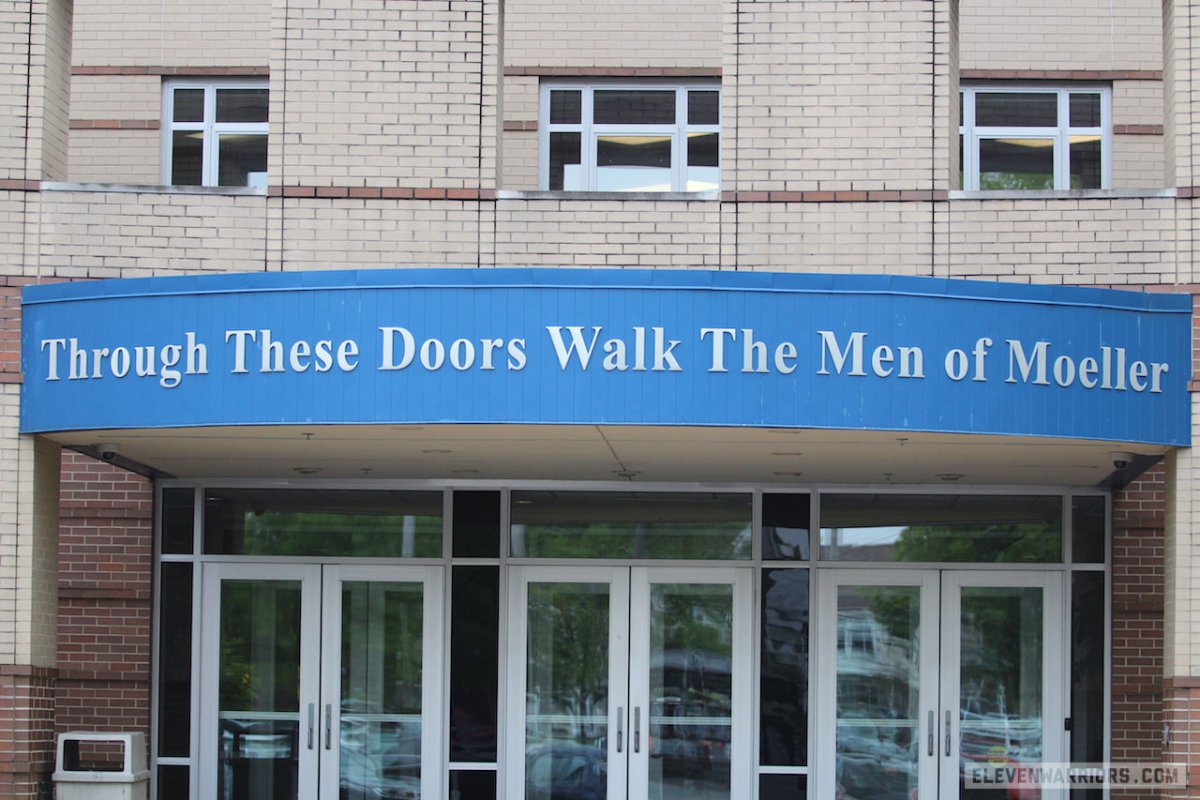 What are they coming to Moeller to play football for? That's simple: to win.
Moeller's nine state championships are second only to Cleveland St. Ignatius' 11 in the playoff era. The Crusaders are tied with Newark Catholic for first all time in Ohio high school playoff appearances with 33. Moeller's 49 state playoff wins rank 10th all time in state history across all divisions.
This is a place where tradition reigns supreme. And it's not often talked about much within the Moeller football program, but this is a place where anything less than playing for a state championship is often seen as a disappointing season.
"It's an understood thing," says Jake Hausmann, a tight end signed to play at Ohio State in the 2016 class. "Our coaches say at the beginning of the year we don't need to talk about it a lot because a lot of added pressure can make teams crumble. They know that we understand the expectation level is to get to the playoffs, get to the Final Four and then win state."
It's not going to happen every year — that's impossible. But the fact that competing for state titles is the expectation level every year has allowed Moeller to be one of, if not the most, successful high school program in Ohio's storied history.
"Here at Moeller, every year we have to go into the season competing for a state championship. That's gotta be our foundation," Rodenberg says. "Now, we don't talk about winning a state championship, but what we do talk about is preparing to be a championship player and a championship team.
"What we talk about here is if you do these certain things you will be at a chance to compete for a championship."
---
Jake Hausmann showed up at Moeller as a high school freshman in search of glory on the basketball court rather than the football field. Moeller's basketball program, like its football one, is wildly successful. The Crusaders have three state titles to their name since 1999, so it's far from unusual for kids to come here to play sports other than football.
"I came here for the basketball program because it was so good and still is so good," Hausmann says. "I kind of wanted to go to college for basketball."
That quickly changed during Hausmann's first football season at Moeller, however, when he became the first player ever under Rodenberg to dress varsity as a freshman. This created thoughts of trying to play both sports in college, but it didn't take long for Hausmann to give up the hardwood and focus full-time on football.
It led him to a standout career at Moeller that included a state championship season as a sophomore, where he started at tight end for the Crusaders. Moeller knocked off Mentor, 55-52, in one of the more entertaining state title games in recent memory.
Hausmann played on that team with Sam Hubbard, the current Ohio State redshirt sophomore defensive end. Hubbard was a senior that year, Hausmann a sophomore, and next season they'll team up again. This time, it will be as Buckeyes.
THE JAKE HAUSMANN FILE
Size: 6-5/240
Position: TE
(Hometown) School: Cincinnati, OH (Archbishop Moeller)
247 Composite: ★★★★
National Ranking: 120
Position Ranking: 4 (TE)
State Ranking: 5 (OH)
Rated the nation's No. 4 tight end in the 2016 class, Hausmann committed to Ohio State on Jan. 25, 2015 becoming the Buckeyes' sixth commit in a highly-touted 2016 group. Over a year later, on National Signing Day, he inked his letter of intent and became the 10th Moeller player ever to sign to play for Ohio State.
"Jake is the complete package," Rodenberg said. "He's a very good detached tight end in space, he knows how to move and he knows how to run routes. But he's also a really good attached tight end with his zone blocking and gap-scheme blocking. He blocks really well.
"He's going to be able to transition to the college level on both levels."
Moeller has a pedigree of producing high-level football players. That is what happens when you are one of the premier programs in the state each year. There is hardly ever a shortage of talent.
Rodenberg, who has been the head coach of the Crusaders since 2008, says the poster boy for his program, though, is former Michigan State standout Marcus Rush.
"He comes up a lot," Hausmann said of Rush.
"His motor, his work ethic, Marcus would just set the tempo of what we want here as a football player," Rodenberg added. "I remember him coming in one day after he had shoulder surgery and he was squatting with an arm brace on and one guy holding the bar. Most guys take six, seven weeks off and he wasn't supposed to be doing it, but he's doing it anyway.
"That's Marcus Rush."
That's Moeller, too.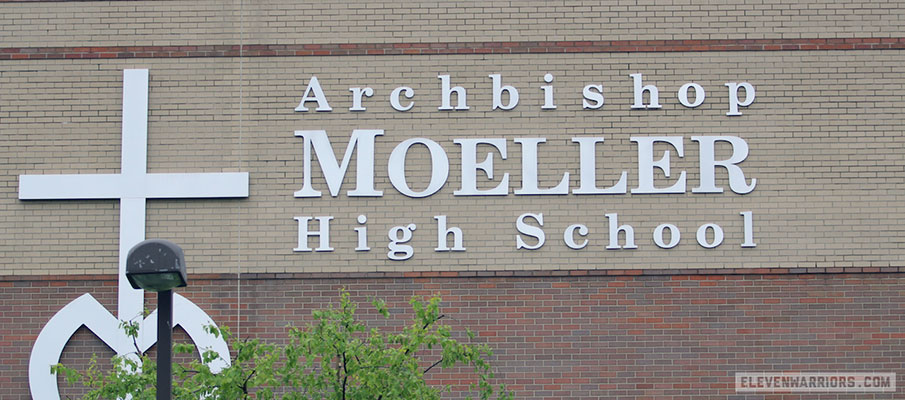 ---
For the first time since 2001, Archbishop Moeller failed to make the Ohio state playoffs in 2015. Excluding Hausmann, the majority of the Crusaders' Division I talent got injured during the season. They simply couldn't compete with what Rodenberg calls "the most difficult schedule in the state."
The two teams that played for the Ohio Division I state title in 2015 — Huber Heights Wayne and Lakewood St. Edward — Moeller played both. The Crusaders played Ohio Division II state champion Cincinnati La Salle and other Cincinnati powers Elder, Colerain and St. Xavier. Moeller played Ohio powerhouse St. Ignatius and out-of-state powers Indianapolis Cathedral and Don Bosco Prep (New Jersey), as well.
The injuries racked up, and Moeller stumbled to a 5-5 record. Rodenberg believes if his team stays healthy it probably makes the playoffs, but the longtime head coach thinks there was a bigger issue in 2015.
"I think what I did, as I reflect on it, is I let our team get soft, I let our team get loose, and I think we had so much success over those last few years that we weren't tight enough. Then, the injuries compounded that," he said. "Had we not been hurt, we're in the playoffs, but if you compound it with the fact that I let things get just a little loose and then the injuries on top of that, we were doomed."
MORE JAKE HAUSMANN
That can't happen again, course. Not here, anyway. Missing the playoffs isn't an option.
Rodenberg insists it won't and the head coach says he shoulders the blame for last season. There are some schools in the state of Ohio that would consider a 5-5 season to be a success. At Moeller, it's quite the opposite.
Rodenberg believes it will be good for the program in the long run, however.
"It's sort of cleansing," he said. "Sometimes when you get your ass kicked, you've gotta look in the mirror. You want to blame something else, but all of a sudden when you're by yourself you look in the mirror and say, 'That was on me.'"
"I feel great. And I feel great about our guys. We've still got great players and we'll be OK."
Of course they will. This is Moeller, after all.
Moeller will be back because it has won nine state title and has 33 playoff appearances. Moeller will be among the state's best next season because of the winning pedigree that's been established long before Rodenberg arrived on the scene in 2008.
Because…
Through These Doors Walk The Men of Moeller.
"I'll be honest with you: I never take attendance for lifting, I never take attendance for who comes to practice because the competition is so high that if you're not here you know you're behind," Rodenberg said. "I know that's not the way it is at other schools. It's not the way it has been at other schools I've been at.
"This is a unique place."