For nearly a month, we've waited and wondered: 'what will happen to Ohio State's defense when forced to play a team with real talent?' After four consecutive performances in which the unit held opponents to 350 yards or less, it faced its stiffest test since Matt Barnes retooled both its philosophy and personnel on the fly Saturday night against Penn State. 
While the Nittany Lions may not jump out as one of the nation's most dynamic offenses, thanks in large part to a midseason injury to senior quarterback Sean Clifford, it still featured as much blue-chip talent as any team on OSU's schedule. Jahan Dotsons don't exactly grow on trees, you know.
But after nearly a month of re-establishing itself as a two-deep defense willing to play match-quarters coverage, it came as a bit of a surprise just how often we saw the Buckeyes employing single-high defenses on Saturday night. There they were, now facing their biggest test, and the men in scarlet jerseys and gray helmets were back to dropping a safety into the middle of the field in zone coverage.
Except, that's not exactly what happened...
On Penn State's first snap in possession of the football, coming in Ohio State territory following an early Jeremy Ruckert fumble, we saw two additional defenders crashing toward the line as Clifford handed the ball to Noah Cain.
The Buckeyes had lined up in what has become their base, defensive look with four down linemen, and two linebackers (Cody Simon at Mike and Teradja Mitchell at Will) joined in the box by Marcus Williamson (who lined up like a Sam linebacker). Behind them was a cornerback on either side and two deep safeties, with Ronnie Hickman to the boundary and Bryson Shaw to the field.
Just before the snap, however, Simon and Willamson sped toward the line of scrimmage, blitzing the B and C gaps, respectively, to the wide side of the field. The blitz wreaked havoc amongst the Nittany Lion blockers, allowing Williamson to shoot into the backfield untouched and force a fumble.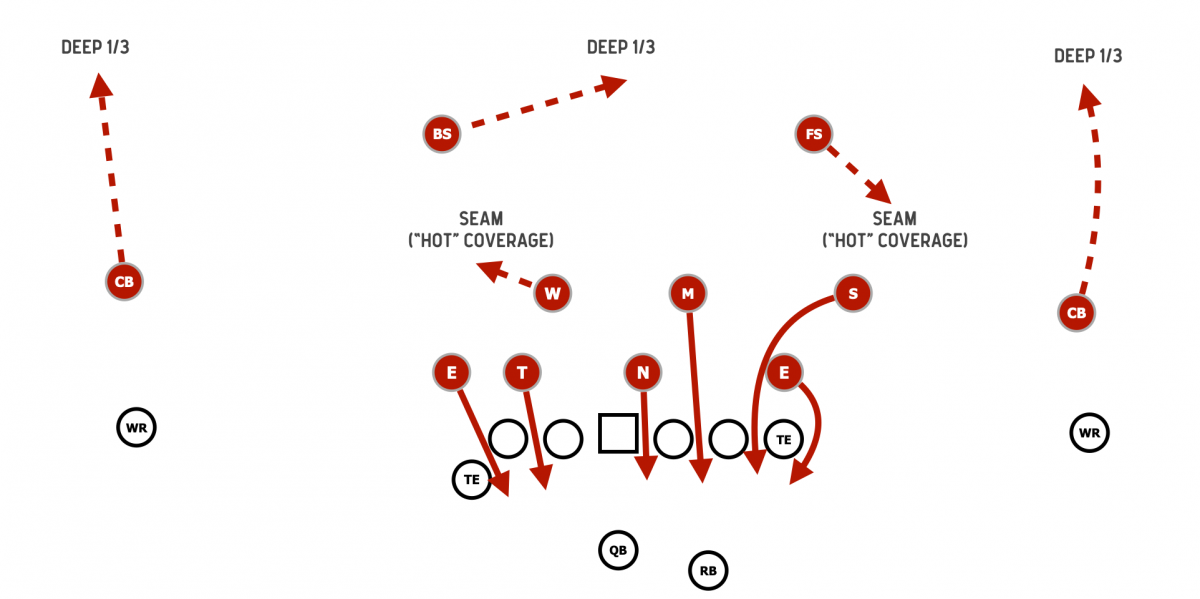 Behind the blitz, there were just five defenders in coverage. Hickman opened up to the wide side and joined the cornerbacks in each playing a deep-third of the field. Meanwhile, Shaw dropped down into an underneath zone opposite Mitchell, each lined up initially on a hash mark.
But while these five players began in those locations, they didn't just stand there and wait for receivers to run into them. Those five defenders ran what is known by many as "Hot" coverage, as it is meant to complement the six-man rush in front of it.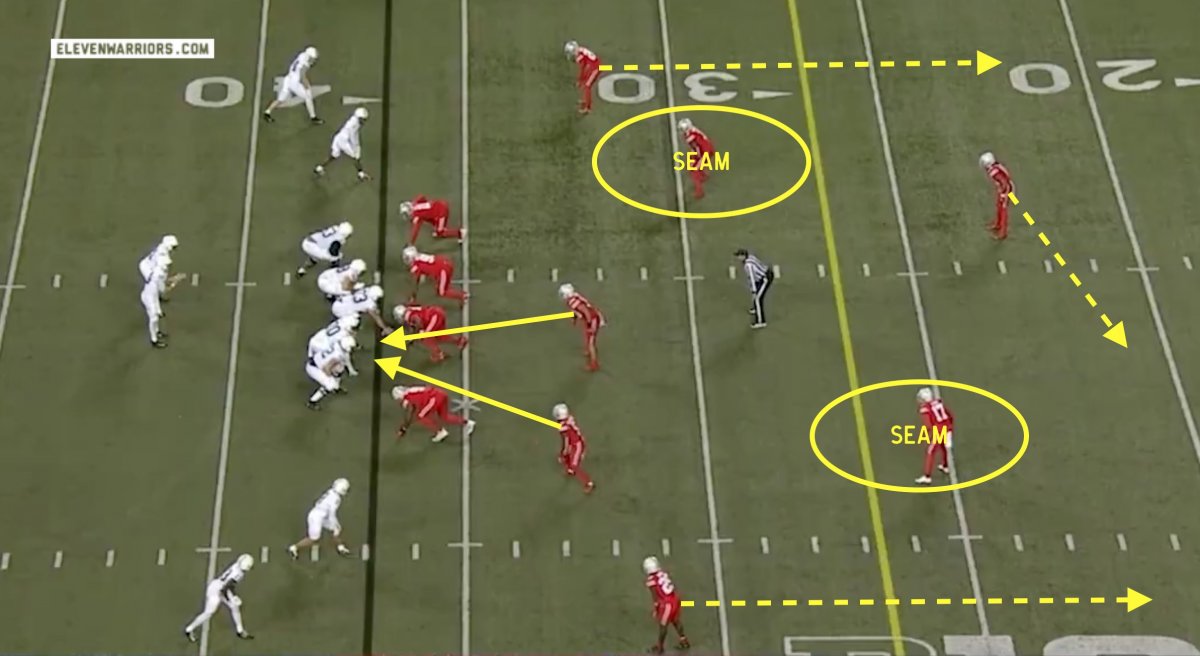 It's far from a new scheme, as it has long been a successful change-up to Quarters coverage. For long well over a decade, Mark Dantonio and Pat Narduzzi called it frequently in 3rd & long situations, appearing to line up in a base defense before bringing two additional rushers. 
Today, Narduzzi still employs it more than anyone else at the FBS level in Pittsburgh, but it's also become quite popular among other well-known defensive play-callers. Clemson's Brent Venables ran it countless times against Ohio State during the past two College Football Playoffs, employing it behind a variety of blitzes with names like Spurs, Wizards, or Clippers as he tried to create pressure on Justin Fields.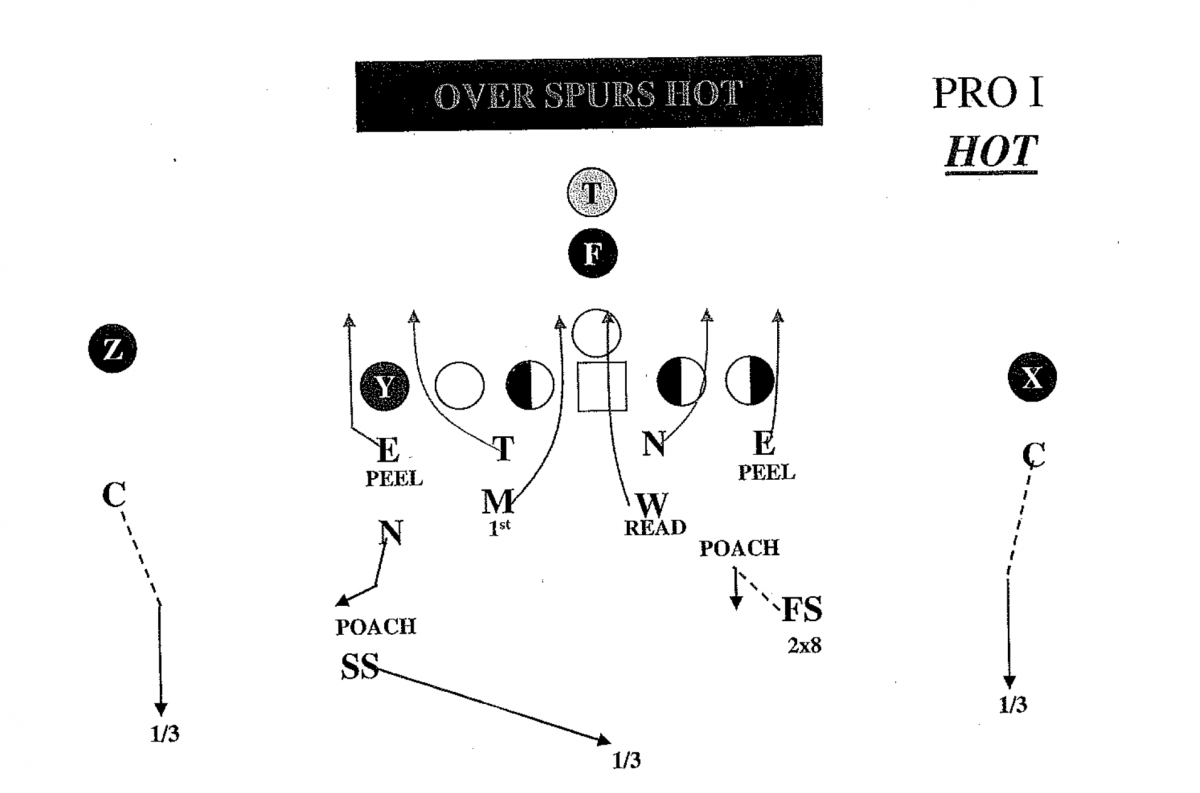 Why basketball teams? Because the coverage works very much like the classic 2-3 zone we've seen from teams like Syracuse on the hardwood. As the basketball swings around the court, all five defenders keep their eyes on it and adjust their positions accordingly.
On the football field, this version of the 2-3 asks defenders to match the eyes of the quarterback. As he scans one side of the field, the coverage players shuffle in that direction.
Of course, it's called "Hot" coverage because the six pass rushers in front of them are putting heat on the quarterback and hopefully forcing him to dump the ball off to his "hot" receiver underneath, where all five coverage players are waiting to make a quick tackle. In fact, many coaches don't actually run these blitzes in hopes of actually getting a sack or forcing an incompletion, but rather to force the ball out for only a short gain and eliminate any explosive plays.
That brings us back to the Buckeyes' use of it on Saturday night. Barnes wasn't saving it only for 3rd & long, as Chris Ash often did when he was in the same position for Ohio State.
Rather, Barnes called the same blitz regularly on 1st & 10. Knowing the Nittany Lions have long been a heavy RPO team, it may have been called to take away any handoffs and minimize any defenders that could have been put into conflict by the option. 
But whatever the original reason, it worked. With the Penn State running game virtually negated, averaging just 1.1 yards-per-carry on the evening, Clifford regularly dropped back to pass on first downs. 
As a result, he often had a multitude of Buckeyes in his face. Such was the case when Tyreke Smith and Zach Harrison sandwiched him to force a fumble while Simon and Williamson executed the exact same blitz that forced the first one. 
As the game wore on, Barnes made sure to go back to this play-call on numerous occasions. By mixing it in with a number of three-deep simulated pressures that appear to blitz extra defenders but only send four and keep seven players back in coverage, the Nittany Lion blockers were kept on their toes, struggling to keep their dinged-up quarterback from getting hit.
The Buckeyes would bring down Clifford four times and would hit him on five other occasions during his 52 dropbacks that night. Perhaps the most important hit on #14 came in the fourth quarter, as Smith got home once more when Barnes called for the same blitz that forced the two earlier fumbles. 
Even as Lathan Ransom, in for Williamson on this play, peeled off from his pressure to cover the releasing running back, Smith was still able to win his one-on-one battle with the left tackle and force Clifford into releasing an arm punt downfield.
As noted, Barnes called for this blitz on more than three occasions Saturday night, along with a few other six-man pressures in front of "Hot" coverage. More than once, however, Clifford was able to get the ball out quickly and accurately enough to allow his receivers to make a play.
But it revealed a clear philosophy from what was once a rudderless Ohio State defense. Barnes was hellbent on forcing Clifford, Dotson, and co. to string together long drives knowing the Buckeyes had plenty of offensive firepower that is always one missed tackle away from finding the end zone.
Even on a night when that offense largely shot itself in the foot with seven illegal procedure penalties that turned a number of potential touchdowns into field goals, Penn State couldn't keep up. While the Nittany Lions still managed to put together four scoring drives, each took 10 plays or more and milked precious time off the clock.
"We weren't able to [drive] consistently enough and turnovers are what really kind of caught us," James Franklin said after the game. "Give [Ohio State] a bunch of credit, it's a good football team. We weren't able to do it consistently the way we needed to on the road to get this win."
With an offense whose season-low in yards (466) would still rank 17th in the nation if it averaged that total every week, the Buckeye defense can employ conservative coverage and force opponents to work their way down the field. But the addition of zone blitzes like this one on early downs marks a transition for Ohio State, as its defense is no longer telegraphing what's to come.