It's worth pointing out how rare this is.

Despite having spent three weeks of spring ball, four weeks of training camp, and three games playing one way this fall, the Ohio State Buckeyes virtually threw out their approach to playing defense following the Tulsa game two weeks ago. After playing a single-high style of either Cover 1 (man) or Cover 3 (zone) for over 90% of snaps going back to 2019, Matt Barnes has the OSU defense playing a completely different style, virtually overnight.
Over the past two games, the Buckeyes have not only lined up with two deep safeties before almost every snap, but they have employed coverage concepts that keep the safeties there. The most common concept seen by far against Akron and Rutgers was Cover 2, which asks each safety to defend a deep-half while leaving five defenders in zones underneath to take away short passes.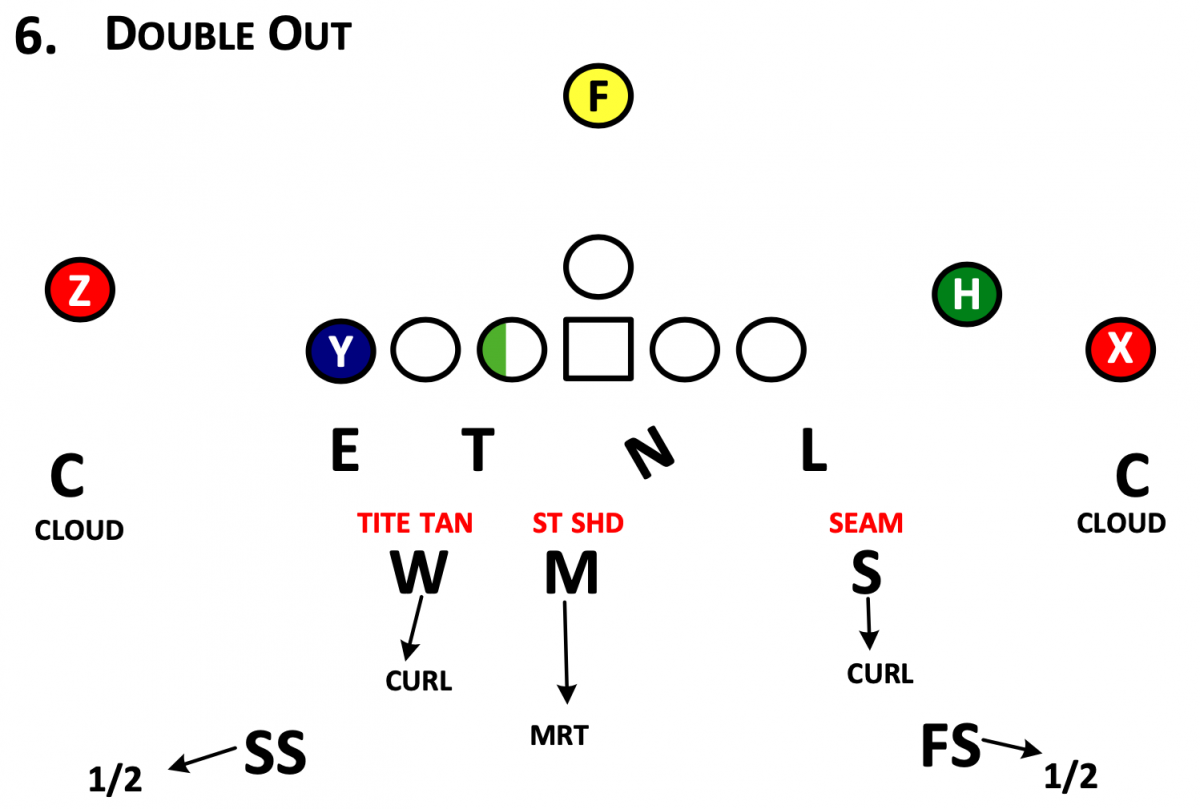 Older readers may recall a time when this was the most common defense employed across every level of the sport, as the quick passing game inspired by the west coast offense became more common in the 1990s and 2000s. The blanket of zone defenders in front of the safeties proved the most effective way to stifle the slants, hitches, outs, and short crosses that seemed to show up on every play.
Ironically, many of those same concepts were what had given the Buckeyes so much trouble recently, albeit in the form of RPOs. Short pass patterns to the slot or in the flat were paired with run plays, forcing OSU linebackers to defend two concepts at once.
On a trip to the Garden State this past weekend, this approach certainly seemed to be the right one for Ohio State. Freshman cornerback Denzel Burke took an early slant route back for six after Rutgers quarterback Noah Vedral sailed a pass over the head of his blanketed receiver.
But this change in coverages wasn't just about defending the pass. The Buckeye run defense has improved dramatically in the past two weeks, despite removing a player from the box.
One reason Ohio State had leaned so heavily on the single-high approach was that it ensured there was a defender for every possible run gap, which coaches call being 'gapped out.' In two-deep alignments, however, the defense is typically a man short at the point of attack.
But with cornerbacks playing underneath zones near the line of scrimmage, they actually become part of the run fit, responsible for containing the edge and turning runners back inside toward their teammates. On Rutgers' first possession, we saw this concept executed perfectly.
Though each is listed at just 192 lbs, both Burke and slot corner Cam Martinez do a great job of getting outside leverage on a jet sweep, forcing the runner to cut back directly into the arms of Zach Harrison. Though neither actually touched the ball carrier, their play was crucial in making the stop.
Though results against the 118th and 102nd-ranked offenses in FBS this season should be taken with a grain of salt, the Buckeyes have to be pleased with their improvement since making the change in philosophy. For context, had Ohio State kept all opponents to an average of 3.96 yards-per-play this season, it would rank second in the nation behind only Georgia in the category.
| Weeks | Yards Per Play | Rush Yards Per Attempt | Pass Yards Per Attempt | 3rd Down Conversion % | Points Allowed |
| --- | --- | --- | --- | --- | --- |
| 1-3 | 6.14 | 4.69 | 7.62 | 53.19% | 86 |
| 4-5 | 3.96 | 2.63 | 5.24 | 28.15% | 20 |
It's also worth noting that the early-season personnel rotations appear to have diminished, with a clear first-string separating itself from the rest. Those players seem to have adjusted to the speed of the game and are simply playing faster.
"It's just a bunch of guys who are now maybe expecting to make plays," Ryan Day said following the game. "Before, I don't think they really – they were just trying to get lined up, and everything they were doing was for the first time. I thought the defensive staff did a good job this week with the plan, I thought they mixed up the looks, I thought we created disruption in the backfield and then we were able to create some turnovers."
While new starters like Burke, Martinez and Ronnie Hickman have emerged in recent weeks as playmakers within the unit, some of the more established members of the defense have stepped up in ways that don't always show up in the box score.
For instance, many questioned the impact Haskell Garrett had made early in the season, and against Rutgers, he was credited with just one tackle. However, as seen in the example below, he blows up this early run play by knocking the center (#66) off track as he tries to pull and lead the runner on a sweep, meaning no one touches Teradja Mitchell before he makes a tackle-for-loss.
It's worth noting that Barnes didn't call for the defense to simply sit in a static, Cover 2 alignment on every snap. The Buckeyes occasionally rotated after the snap into Cover 3 and still seem to prefer man-coverage in high leverage situations.
On a few occasions last fall, we saw Ohio State use simulated pressures on third downs, blitzing linebackers while dropping the same number of defensive linemen back into zone coverage. On Saturday, we saw the same concept applied to the Cover 2 zone, with the defensive ends dropping in coverage and effectively spying the QB should he take off and run.
While Tommy Eichenberg appeared to add the cherry on top with a late interception on Saturday, Ohio State should use that play as a word of caution. Harrison made the play by getting pressure off the right edge and hitting the QB's hand as he threw, but with time left in the third quarter, Rutgers had begun to pick up on the Buckeyes' game plan and had dialed up a way to beat it. 
While spread passing concepts began gaining steam 15 years ago, Cover 2 fell out of favor as offenses could attack the weak spots in the coverage: deep down the middle and along the sidelines. On this play, Rutgers was sending receivers to all three areas and Vedral could have lobbed an easy touchdown over the middle, had Harrison not gotten there in time.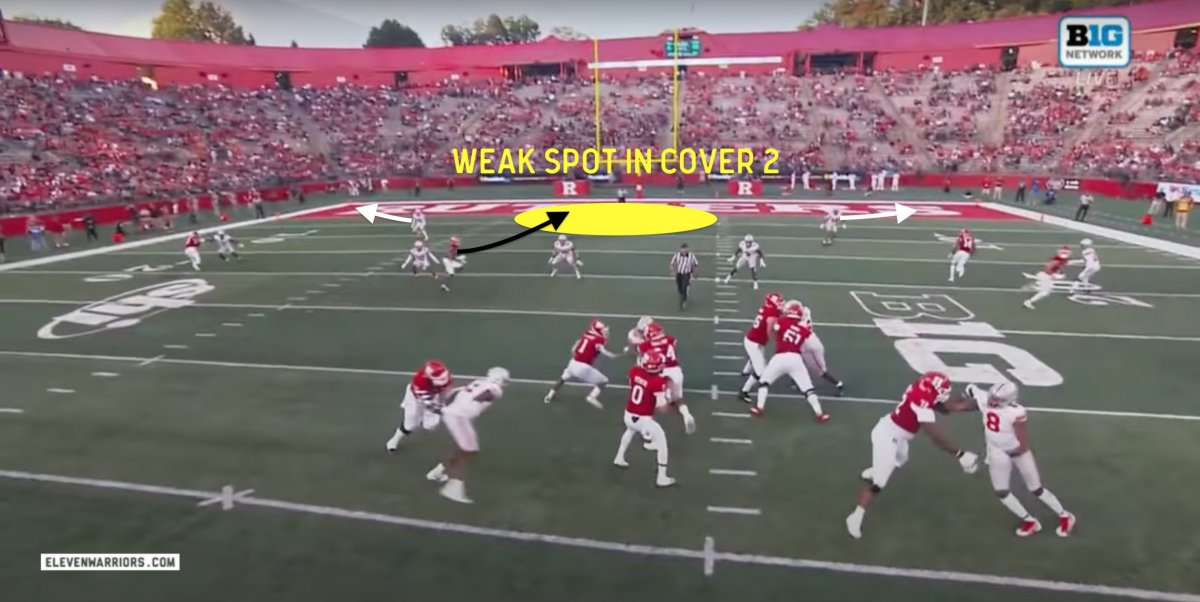 To combat these patterns, defenses began asking the middle linebacker to turn and run with these vertical routes, with Brian Urlacher acting as the poster-child for this technique. It turned the role of the MIKE into a glamour position once again, with some of the best athletes on the field manning that spot.
This technique was a pre-cursor to the pattern-matching defenses that are seen at places like Alabama and Georgia today, merging the best elements of man and zone coverage into one. But the Buckeyes aren't in a position to do such a thing, at least not right now.
Teaching a pattern-matching scheme like those can take years to master, due to the number of rules and checks that every member of the defense must recall at all times. That is a big reason why many NFL defensive coordinators choose not to even carry such concepts, as it takes too much time for new players to get acclimated.
Given that the Buckeyes had taught everyone in the defense the proper technique for playing zone coverage, making the change to a two-high scheme was simply a matter of assigning new zones, rather than starting from scratch. Instead of three deep zones and four underneath in Cover 3, the Buckeyes now simply play two-deep, five-under coverage with different landmarks.
But as long as Barnes is still calling for zone coverage the majority of the time, he must remain unpredictable in his tendencies, switching between Cover 2 and Cover 3 with greater frequency. Every offensive playbook features concepts that can beat any type of coverage, and it is imperative that the defense keep its opponents from knowing what is coming on any given play. 
While these structural changes seem to be paying off, the jury is still out on how effective they will be in the long run. The Buckeyes host an explosive Maryland offense which, despite a sloppy, turnover-filled performance last week against Iowa, is the most productive unit of any opponent thus far on the schedule, meaning the first true test of the new-look defense is still yet to come.