What do you have in common with C.J. Stroud?

Maybe you both had the same Biology 101 professor or share a fondness for Inn-N-Out Burger. But chances are that you're part of the 99.999% of 11W readers who have never thrown a pass in a college football game.
For you and me, that's just fine. But we aren't trotting out onto the field at Huntington Bank Stadium as Ohio State's starting quarterback in a little over a week. 
Having now officially won the title of 'QB1' in Columbus, Stroud will be the focal point of Buckeye practices, ensuring he's prepared to continue the recent tradition of excellence at the position.
"Me, personally, I think reps are the most important thing, especially the practice days, especially fall camp," Stroud said back in July, long before he'd earned the starting job. "Because you're 12 days away after the last day of fall camp until the first game. So the more reps you can get with the ones, the more chemistry you can get with everybody that's starting already."
It doesn't take an expert to realize that Stroud's transition into the role would be made easier with a strong running game and an offensive line that can keep him upright. Luckily, the voices you'll hear regurgitating those platitudes aren't the ones preparing him to take the field. Ryan Day is, and he's shown he's quite capable of doing so at a high level.
While Stroud is a different player than Dwayne Haskins or Justin Fields, there are a number of elements within Day's playbook that can be dialed up to help the redshirt freshman get more comfortable while still moving the ball. Though we here at Film Study certainly aren't privy to the game plan for the Gophers, there are a few things we expect to see from the Ohio State offense early on:
1. Run-Pass Options
Since Day and Kevin Wilson joined the program in 2017, RPOs have not been a focal point of the OSU offense. Instead, they've been a helpful complement to the inside run game, meant to spread the defense horizontally. 
But last season, as the coaches did their best to keep Fields from taking any unnecessary hits during the regular season, we began seeing them sprinkled into Day's call sheet a tad more. These weren't just bubble screens attached to a run play, but actual pass concepts with multiple receivers. 
While the Buckeyes feature a deep backfield and a talented (and massive) offensive line, the wide receiver group is the deepest position on the roster and finding as many ways as possible to get them the ball would be wise.
Whether it's a post-snap read like the one shown above, or simply by checking into a quick hitch outside when the cornerback is playing soft coverage (known as an Access throw), quick passes that allow Stroud to get the ball out to his playmakers can help him get into an early rhythm in the pocket.
2. Move the Pocket
While we haven't seen much from Stroud in a Buckeyes uniform yet, the Spring Game showed he possesses an ability to throw accurately on the run.
Sprint-outs like this one have been a staple of the Buckeye offense in the red zone since J.T. Barrett was under center. When Fields took over as the OSU starter in 2019, however, such pocket movement became prevalent no matter where the ball was placed.
Stroud looked quite comfortable executing bootlegs and quarter-rolls off play-action, which afford the quarterback two luxuries. First and foremost, they move the quarterback away from pressure. Second, and perhaps equally as important to a young QB, they provide a more simple read as the field is effectively cut in half.
Instead of reading from sideline to sideline, the quarterback's progression is much simpler due to the fact that all his receivers are within his field of vision and he doesn't need to reset his feet to make a different throw.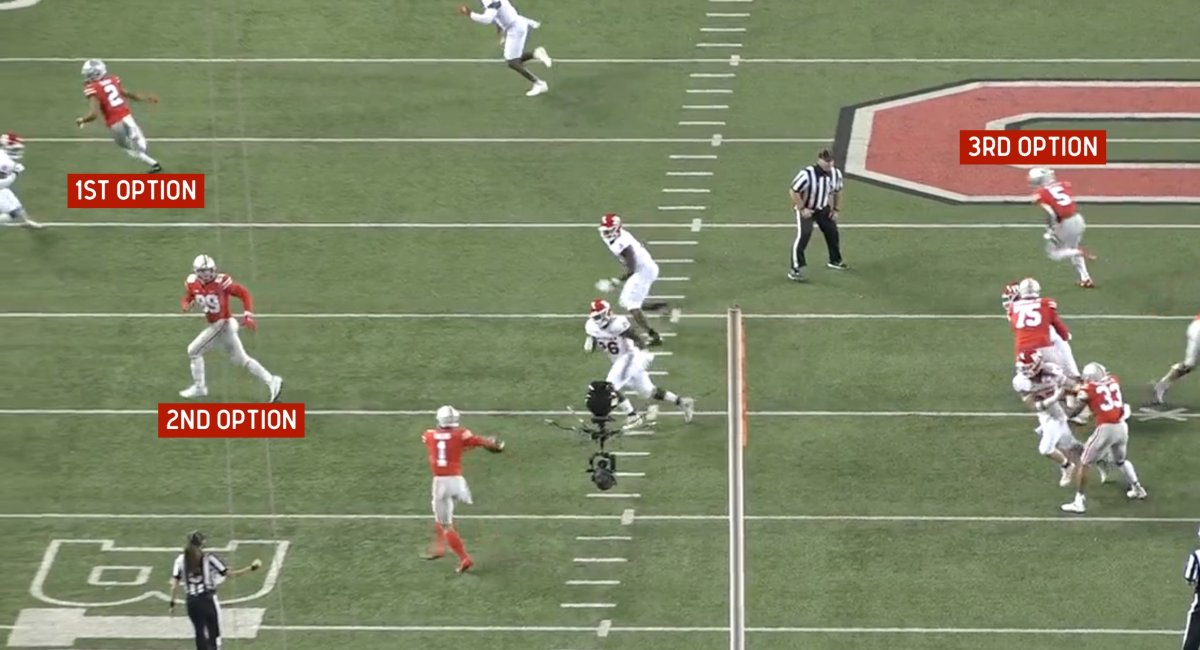 Not only are there often easy check-downs, like a tight end or back in the flat, the QB can also easily take off if he doesn't like any of his options, limiting the number of forced throws into coverage.
3. Crossers, Crossers, & More Crossers
As you can probably tell, it's best to avoid asking a young quarterback to simply set up camp in the backfield and hope they find receivers downfield. But it's also unrealistic to expect every passing play to rely on the threat of a run to occupy the defense's attention.
In those 2nd-&-long scenarios where Stroud will have to throw from the pocket, Day and those talented receivers can make life easier by going back to one of the coach's signature concepts: crossing routes.
Over the years, Day has found ways to run the play, known as Mesh, from virtually every personnel group and formation, finding ways to dress it up and keep the defense from knowing that it's coming. 
"We're not running a new run scheme, we're coming up with a new way to run [a play], and that's how we get creative," Day told a clinic audience of high school coaches in 2019. "So, it can be the same thing for the guys up front, the guys who are blocking it, and the same thing for the quarterback."
While the Spring Game was a fairly vanilla sampling of the OSU playbook, Mesh was still prominently on display. Zone-dropping linebackers were getting pulled in one direction, only to see a receiver streak across their face going the other way, and Stroud seemed more than capable of finding the open man.
4. Let The Stars Be Stars
We might have mentioned this already, but Ohio State has some good wide receivers. In fact, they might have the best such group of any team in the country. 
So, even though C.J. Stroud will still be getting used to the college game over the next few weeks, that doesn't mean he shouldn't take advantage of the talent on the other end of his passes. Chris Olave, in particular, was the best deep-call receiver in the country a year ago, and he has already shown an ability to track Stroud's throws.
With a player as talented and as experienced as Olave, 50-50 balls are more like 70-30 balls, and the young QB shouldn't hesitate to take shots downfield when #2 is on the receiving end.
But there's also Garrett Wilson. While he, too, has shown an ability to haul in passes downfield, he's a very different player than Olave in that he might be the most dangerous Buckeye in the open field, and getting him as many touches as possible will help take the pressure off Stroud.
But screens and Jet Sweeps like the one above do more than simply get a dynamic playmaker in space. 
On the very next play, Ohio State sent a different receiver (Jameson Williams) in a similar motion before the snap, only to hand the ball off inside to Master Teague. Don't watch the ball, however, watch #12 for Penn State (playing outside linebacker) and the way he abandons his run gap to defend the sweep.
Later in the half, Day would bring out the same formation and same motion, hoping to get the defense's attention. This time, instead of handing the ball off to anyone, Fields keeps the ball for himself and looks downfield for a receiver.
Yet again, #12 was put in conflict as he stepped up to see who actually got the handoff, only to be late in his pass drop, allowing Wilson to run wide open through the zone he was tasked with defending.
Three plays, three first downs, and one really frustrated defense. To say a player like Wilson is a QB's best friend might be putting it lightly, and there's no doubt Ryan Day will be looking to create layered concepts like these to help his new QB in the coming weeks.