Ohio State experienced an unprecedented level of recruiting success in the decade.

The decade started off with a little bit of Jim Tressel, but then it was Urban Meyer taking over and leading Ohio State through the 2010s. Meyer earned his reputation as an elite recruiter while in Gainesville, and that certainly continued during his tenure in Columbus. 
Some folks say that a program like Ohio State tends to recruit itself, but when you're butting heads with Alabama, Georgia, and other national powers, it requires a tireless head coach and a dedicated staff. The Buckeyes had plenty of success on the recruiting trail throughout the past decade, but a few of the classes stand out above the rest. 
10. Class of 2010 • 18 Enrollees • National Rank: No. 18 • Score: 237.38
Jim Tressel's 2010 recruiting class didn't come with a whole lot of star power and featured several players who would never contribute at Ohio State. Fort Wayne running back Rod Smith was the class's top-rated signee and was the country's No. 46 overall prospect. Cincinnati's Andrew Norwell was a key signee in the trenches and Corey "Philly" Brown also went on to have a fine career in Columbus. 
Carlos Hyde was one of the class's standouts as the Cincinnati native turned Naples, Florida star ran for over 3,000 yards and 37 scores during his Buckeye career. Three-star Georgia cornerback Bradley Roby developed into a second-team All-American before being selected in the first round of the 2014 NFL Draft. Michigan defensive tackle Johnathan Hankins would go on to become a first-team All-American and Cleveland's Christian Bryant was one of the defensive leaders at safety. 
Quarterback Taylor Graham, wide receivers Verlon Reed and James Louis, and linebacker Scott McVey were among the signees whose careers didn't pan out. Louis ended up transferring to Florida International while shoulder injuries hampered McVey.
9. Class of 2011 • 22 Enrollees • National Rank: No. 6 • Score: 278.47
It was the last class of the Tressel Era, and 13 of the 22 enrollees hailed from the state of Ohio. Braxton Miller, Devin Smith, and Michael Bennett were some of the more noteworthy local stars. The downside of this class was that Tressel took a risk on a number of three-star Ohioans who just didn't produce in Columbus. That included a trio of Northeast Ohio linemen in Tommy Brown, Chris Carter, and Antonio Underwood. 
Ryan Shazier was a huge pull from Florida and Braxton Miller was magic during his time at Ohio State, but the biggest recruiting win – at least at the time – was five-star Virginia linebacker Curtis Grant. The top-rated signee of the group, Grant was listed as the No. 23 prospect in the country. He may not have made quite the splash you'd expect from a player with such a lofty ranking, but Grant was a part of the national title run and helped mentor Raekwon McMillan who was a freshman in 2014. 
8. Class of 2015 • 26 Enrollees • National Rank: No. 7 • Score: 279.60
While the 2015 class had its share of hits, it doesn't rank up there with some of Urban Meyer's other hauls. Jerome Baker, Dre'Mont Jones, K.J. Hill, and Mike Weber all went on to have successful careers after arriving as four-stars. Justin Hilliard was the lone five-star signee, and while injuries have gotten in the way, he could be in line for a more prominent role in 2020.
Denzel Ward was a three-star according to some outlets, and he certainly exceeded expectations. The same can be said for Damon Arnette, Robert Landers, Branden Bowen, and DaVon Hamilton. It was a different story for players like Eric Glover-Williams, Grant Schmidt, Kevin Feder, and Nick Conner. Schmidt and Feder both transferred out of the program while Conner was medically disqualified. 
The 2015 class also saw Meyer take a shot on talented Florida athlete Torrance Gibson. He was moved to wideout but eventually was suspended for a violation of team rules before leaving the program. Future Cincinnati Bengal Joe Burrow was also among the 2015 haul.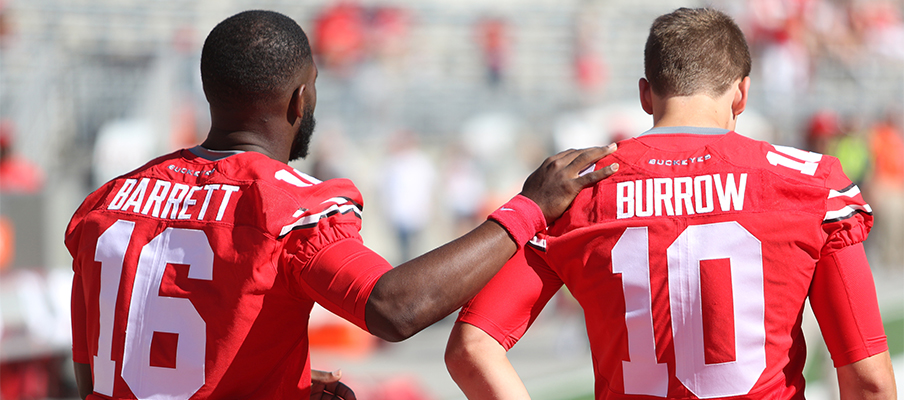 7. Class of 2019 • 17 Enrollees • National Rank: No. 14 • Score: 261.18
This comes with a pretty big disclaimer since there's still a very long way to go for this group of now sophomores and redshirt freshmen. We're just one season into the careers of Garrett Wilson and Zach Harrison, and there seems to be little doubt that both will be stars at Ohio State. Harry Miller was the other five-star 2019 signee, and early returns have been positive on him as well. Miller may be on track to earn a starting gig along the interior line this year.
Jameson Williams has some serious speed and flashed in limited playing time as a true freshman. I think Marcus Crowley has the biggest opportunity to make an impact this coming season. He's a different kind of back then both Master Teague and fellow 2019 signee Steele Chambers. Enokk Vimahi's decision to hold off on the two-year mission trip was also a nice bit of good news for the offensive line depth.
Ranking the more recent classes obviously involves a nice bit of projecting, but several of the signees already look like future stars.
6. Class of 2018 • 26 Enrollees • National Rank: No. 2 • Score: 317.06
The class of 2018 comes with a slightly smaller disclaimer than 2019 as these players are all juniors and redshirt sophomores heading into the next season. Ohio State signed three five-star prospects, and as of now, we're still waiting on Nicholas Petit-Frere, Taron Vincent, and Tyreke Johnson to make their presence felt. Each of the three should have an opportunity to make a needed splash in 2020.
Chris Olave arrived as a three-star prospect and the Cali native has already exceeded expectations. Cam Brown, Sevyn Banks, Master Teague, Tyler Friday, Tyreke Smith, and Josh Proctor have all seen action and will have more prominent roles this coming season. At linebacker, Teradja Mitchell, K'Vaughan Pope, and Dallas Gant continue to battle for playing time. 
Kamryn Babb was one of the best wideouts in the country, and we're all hoping he can fight back after a number of knee injuries. Brian Snead's departure has left Tony Alford's running back room a bit depleted. I don't think anyone knows what to make of Jaelen Gill at this point. L'Christian Smith, Matthew Baldwin, and Alex Williams have all found new homes or – in Williams' case – are in the process of finding new homes.
5. Class of 2012 • 25 Enrollees • National Rank: No. 5 • Score: 286.13
The 2012 class was a bit of a strange one as Urban Meyer was named Ohio State's new head coach in November of 2011, which meant he had about three months to use his recruiting wizardry in the lead-up to signing day. After taking over for Luke Fickell, Meyer would do just that and really gave the fanbase an idea of exactly what he was capable of on the trail. 
Some of the biggest wins came in the form of Noah Spence, Adolphus Washington, Tommy Schutt, and Armani Reeves. Spence had his issues in Columbus, but beating out the Nittany Lions for the country's best pass rusher was an impressive feat. Flipping Taylor Decker from Notre Dame was also one of the biggest moments for the class. Joshua Perry and Tyvis Powell proved to be two of the more impactful local signees.
One big takeaway from the 2012 class is just how good some of the lower-rated signees turned out to be. Michael Thomas and Cardale Jones both arrived as three-stars following their time at Fork Union Military Academy. Pickerington's Pat Elflein was barely ranked inside the top-1,000, and all he did was earn unanimous All-American honors before being selected by the Minnesota Vikings.
Medical issues cost Kyle Dodson his playing career. David Perkins, Warren Ball, Bri'onte Dunn, and Devan Bogard were among the others to leave the program due to injuries and/or off-the-field issues. 
4. Class of 2016 • 24 Enrollees • National Rank: No. 4 • Score: 289.12
Nick Bosa will be suiting up for the Super Bowl in just two short weeks. Four years ago, he was Urban Meyer's top-rated signee for the 2016 recruiting class. The group was strong from top to bottom and included other talented signees like Dwayne Haskins, Binjimen Victor, Jordan Fuller, Michael Jordan, and Austin Mack. 
Some of the lower-rated members have also done big things in college. Malik Harrison was a three-star and rated as the 683rd-best player in the country. Tuf Borland was also ranked outside of the nation's top-300. It wasn't perfect for everyone, though, as Keandre Jones transferred to Maryland and four-star guard Tyler Gerald left the program in March of 2017.
3. Class of 2014 • 23 Enrollees • National Rank: No. 3 • Score: 296.08
Finishing behind only Alabama and LSU, Ohio State's 2014 class included what was one of the biggest recruiting wins of the Meyer Era. Hinesville, Georgia's Raekwon McMillan sided with Ohio State over Alabama, Clemson, and Auburn. The five-star saw action as a true freshman and was then a two-year starter before heading off to the NFL.
Damon Webb, Marshon Lattimore, Curtis Samuel, Jamarco Jones, Jalyn Holmes, and Sam Hubbard were among the other key signees. At wide receiver, Ohio State struck gold with Parris Campbell, Terry McLaurin, and Johnnie Dixon. The class also included one of the more impactful three-stars of the decade in New Castle, Pennsylvania safety Malik Hooker.
Marcelys Jones, Kyle Trout, and Dylan Thompson didn't have the most illustrious careers. The same can be said for four-star Cleveland Glenville safety signee Erick Smith. 
2. Class of 2017 • 21 Enrollees • National Rank: No. 2 • Score: 312.14
When looking through the commitment lists, I was reminded of how good this class was basically from top to bottom. Battling for the No. 1 spot is clearly an impressive feat, and a case can probably be made for this one to be at the top. That would especially be true if the 2019 season had ended a bit differently. 
The Buckeyes brought in five prospects of the five-star variety, and two of them – Chase Young and Jeffrey Okudah – are projected to be selected in the top-five of the 2020 NFL Draft. Wyatt Davis was listed as a first-team All-American, Shaun Wade may be a first-round pick had he elected to test the NFL waters, and Baron Browning has flashed at times and will have even more of an opportunity as a senior in 2020.
J.K. Dobbins certainly played like a five-star during his time at Ohio State. Josh Myers, Thayer Munford, Pete Werner, Blake Haubeil, and JUCO signee Kendall Sheffield were also major components of the class. On the flip side, Ohio State hasn't gotten much from guys like Ellijah Gardiner and Jerron Cage. We all know about the Tate Martell saga and Trevon Grimes transferred to Florida in order to be closer to his family.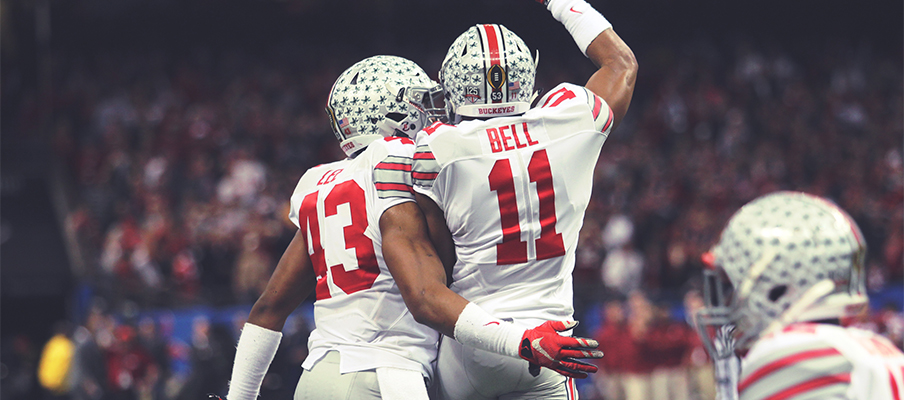 1. Class of 2013 • 23 Enrollees • National Rank: No. 2 • Score: 303.35
Urban Meyer's first full class was an instrumental part of Ohio State's 2014 national championship season. Five-star safety Vonn Bell was the class's top-rated signee as Meyer beat out the SEC for the prized defender. Middletown athlete Jalin Marshall was also a five-star and – believe it or not – Joey Bosa was a measly four-star and the class's third-best signee. 
Four-star tailback Ezekiel Elliott is now perhaps the best pure rusher in the National Football League. The class also included Eli Apple, J.T. Barrett, Gareon Conley, Marcus Baugh, Billy Price, and Tyquan Lewis. If you're a fan of the productive three-star signings, then you'll be happy to know that things worked out quite well for both Darron Lee and Chris Worley.
The class did include a few signees that didn't work out so well. Mike Mitchell was a freakishly athletic linebacker, but a family member's health problems led to a transfer to Texas Tech. He has since moved to Florida, bulked up to 270 pounds, and most recently played for the NAIA's Southeastern University. 
Dayton's Cameron Burrows was the No. 2 player in Ohio behind Marshall. Injuries plagued his Ohio State career which ended with 31 tackles for four pass breakups. Centerville's Evan Lisle eventually transferred to Duke after spending his time in Columbus as a backup lineman. Cleveland's Donovan Munger saw his career come to an unfortunate end due to a blood clot issue.