Ohio State's football team didn't have many bad years in the past decade.

In the last 10 seasons, Ohio State won 117 total games – tied with Clemson for the second-most in the decade, behind only Alabama (124) – and won at least 11 games in all but one of those seasons. With the exception of the Buckeyes' infamous 6-7 campaign in 2011, which was Ohio State's only losing season in the last three decades, the football program in Columbus was consistently one of the best in the country during the 2010s.
What are sports, though, if not for subjective lists and debates? So as we continue with our Decade in Review series here at Eleven Warriors, it's time to take a look back at each of Ohio State's 10 seasons of the 2010s and count them down (in one writer's subjective opinion) from worst to best.
Factoring in how many games each team won, which games they won and lost, whether they won conference and/or national championships and how they performed relative to the circumstances they had to overcome, here's our ranking of Ohio State's teams of the past 10 years from No. 10 to No. 1.
10. 2011 (6-7)
You probably don't want a lengthy reminder of the 2011 season, so we'll keep this one short.
Outside of a thrilling upset victory over Wisconsin when Braxton Miller connected with Devin Smith for a last-minute game-winning touchdown, there wasn't much else worth remembering from Luke Fickell's season as interim head coach. Reeling from scandal and the summer departures of Jim Tressel and Terrelle Pryor, these Buckeyes struggled from the beginning and never found their footing, ultimately losing their final four games of the year.
9. 2010 (12-1, vacated season)
On the field, Ohio State's 2010 season was mostly successful. The Buckeyes suffered one regular-season loss to Wisconsin, which cost them the chance to play for a national championship, but won the remainder of their games, including a 37-7 win over Michigan and a 31-26 Sugar Bowl win over Arkansas to cap off the year.
None of Ohio State's 12 victories from the 2010 season officially count in the record books anymore, though, as the Buckeyes vacated those wins as part of their self-imposed sanctions for NCAA violations. While Jim Tressel's career at Ohio State remains fondly remembered for the success the Buckeyes had throughout the 2000's, memories of his final season as head coach were overshadowed by the fallout that followed.
8. 2015 (12-1)
If this was a ranking of Ohio State's most talented teams of the decade, the 2015 Buckeyes would probably top the list. On paper, Ohio State entered the 2015 season as a heavy favorite to repeat as national champions, with a roster that included more than two dozen players who have since gone on to play in the NFL.
Despite all that talent, however, the 2015 Buckeyes never played up to their potential until it was too late. They limped through their first 10 games of the season – struggling to put away teams like Northern Illinois and Indiana that never should have been able to play them so close – before suffering a 17-14 loss against Michigan State that kept them out of the Big Ten Championship Game and College Football Playoff.
Ohio State finished the season strong, defeating Michigan 42-13 and earning a 44-28 Fiesta Bowl win over Notre Dame, but 2015 will always be remembered for what could have been. In a year where the Buckeyes should have been college football's most dominant team, they underachieved.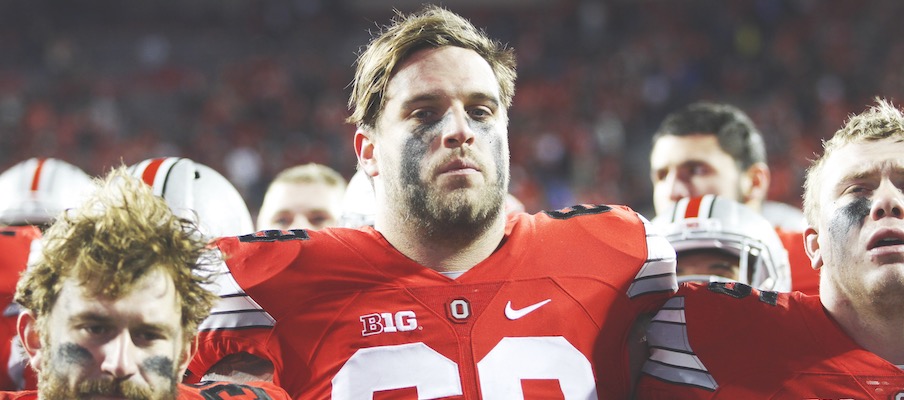 7. 2013 (12-2)
2013 was one of three seasons in the 2010s (and second in a row) in which Ohio State won all 12 of its regular season games, which put the Buckeyes on the doorstep of a national championship game appearance. With a win over Michigan State in the Big Ten Championship Game, Ohio State would have earned a berth in the final BCS national championship game.
The Buckeyes' championship hopes crumbled, however, with a 34-24 loss to the Spartans, Ohio State's only loss in its five Big Ten Championship Game appearances of the 2010s. The season ended on an even sourer note when the Buckeyes suffered a 40-35 loss to Clemson in the Orange Bowl, marking the only time in the decade other than 2011 that Ohio State lost two straight games.
Ohio State's undefeated regular season in 2013 made history, as its 42-41 win over Michigan that year completed a 24-game win streak that broke the school record. That history was dampened by how the season ended, though, and the Buckeyes ended the year ranked 12th in the final AP poll – the only time other than 2011 that Ohio State finished outside the top 10 nationally.
6. 2016 (11-2)
Ohio State's 2016 season will forever be remembered for how it ended, as the Buckeyes suffered their second season-ending loss to Clemson of the decade – and one of their most humiliating losses ever – in a 31-0 beatdown by the Tigers in the College Football Playoff semifinals. Before that lopsided defeat, though, there were plenty of positive moments worth remembering.
The Buckeyes played five top-15 opponents during the 2016 regular season, and defeated four of them. Their loss to Penn State kept them out of the Big Ten Championship Game, but their 45-24 win at Oklahoma, 62-3 win over Nebraska and overtime wins over Wisconsin and Michigan – the latter of which delivered one of the most thrilling finishes in the history of the rivalry, Curtis Samuel's "Brooklyn Dagger" touchdown in double overtime – were enough to propel Ohio State into the playoff, nonetheless.
Even with the shutout loss to Clemson and the earlier loss to the Nittany Lions that kept the Buckeyes out of the Big Ten Championship Game, Ohio State's big wins during the regular season still led to the sixth slot in that year's final AP rankings.
5. 2017 (12-2, Big Ten champions)
2017 was the only time other than 2011 in the past decade that Ohio State lost two games in the regular season, as the Buckeyes suffered a September loss to flag-planting Baker Mayfield and Oklahoma and a lopsided 55-24 loss at Iowa in November. Those two losses were enough to kill Ohio State's national championship hopes and keep the Buckeyes out of the College Football Playoff.
Even so, the Buckeyes overcame those losses to win the Big Ten championship, which they clinched with a 27-21 win over Wisconsin. They capped off their season with a 24-7 victory over USC in the Cotton Bowl.
It was a far from perfect season for Ohio State, but still one in which it completed one of its primary goals of winning the Big Ten championship, which was enough to solidify its place as one of the five best seasons of the 2010s.
4. 2018 (13-1, Big Ten champions)
Ohio State's 2018 season was overshadowed by drama, which began in July was Zach Smith was fired for domestic violence allegations, continued with year-long speculation about Urban Meyer's future and ultimately ended up being Meyer's final season as the Buckeyes' coach. On the field, Ohio State's defense was a regular source of angst, as the Buckeyes gave up more points and yards than they had ever allowed in any season in school history.
That said, the Buckeyes overcame it all – including a three-game suspension for Meyer to start the season – to win all but one of their games. Dwayne Haskins had the most prolific passing season in Ohio State history to lead the Buckeyes to 13 wins for just the third time in school history. They scored a rivalry-game record 62 points in a blowout win over Michigan, defeated Northwestern to win their second consecutive Big Ten championship and sent Meyer out with a Rose Bowl win over Washington.
Ohio State's one loss, a 49-20 stinker at Purdue, was enough to keep the Buckeyes out of the College Football Playoff, but they still finished the year ranked third in the nation despite facing adversity all season long, which is why their 2018 season should be remembered as one of their best of the decade.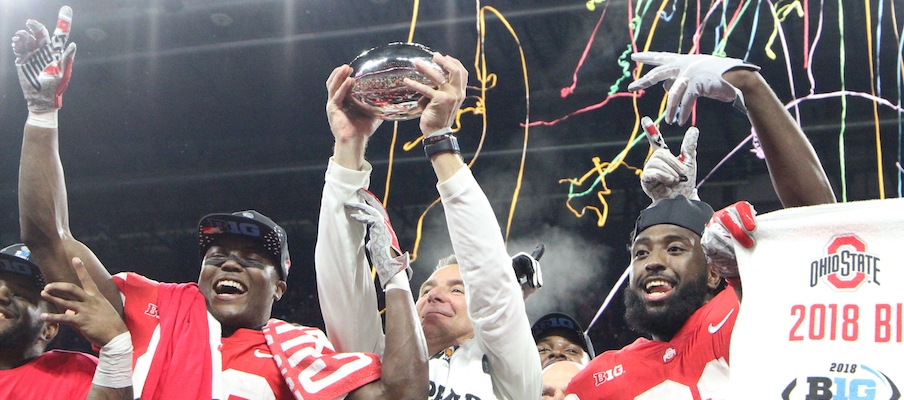 3. 2012 (12-0)
Ohio State was only allowed to play in 12 games in 2012 due to a one-year postseason ban, and it won every one of them. 
In his first year as Ohio State's head coach, Urban Meyer led a spectacular turnaround from the Buckeyes' 6-7 season a year before. He took over a team that didn't have nearly as much talent as his later teams would and led those Buckeyes to wins week in and week out, culminating with a 26-21 victory over Michigan in the Shoe.
Ohio State didn't play a single game in 2012 against a team that would finish the year ranked in the top 20 nationally, and six of the Buckeyes' wins were decided by one score or less. While 2012 was the only season of the decade in which Ohio State went undefeated from start to finish, it's unknown how the Buckeyes would have fared in postseason play.
This season was special, though, because of everything the Buckeyes had to overcome to go 12-0 and because of how far they came in just one year. Meyer's leadership of such a rapid turnaround was perhaps the most impressive coaching job of the entire decade, and it was an immediate statement that the Buckeyes were once again ready to compete for national titles.
2. 2019 (13-1, Big Ten champions)
Ohio State's final team of the 2010s delivered its most dominant regular season of the decade, as the Buckeyes won all of their first 13 games by double digits and by an average of more than 36 points. With an offense and a defense that both ranked in the top four nationally, Ohio State steamrolled through most of its competition – including a 56-27 win over Michigan – and defeated Wisconsin twice to win its third straight Big Ten championship.
2019 was one of only two seasons in which the Buckeyes both won the conference title and made the College Football Playoff, and they looked like a team capable of winning a national championship all the way up until the final minute of their season-ending 29-23 loss to Clemson in the Fiesta Bowl.
While the season ended in heartbreaking fashion, Ryan Day's first season as Ohio State's head coach still surpassed just about all realistic expectations, as the Buckeyes made it clear they were one of the three best teams in college football – by a wide margin over everyone else – and played at an elite level on both sides of the ball.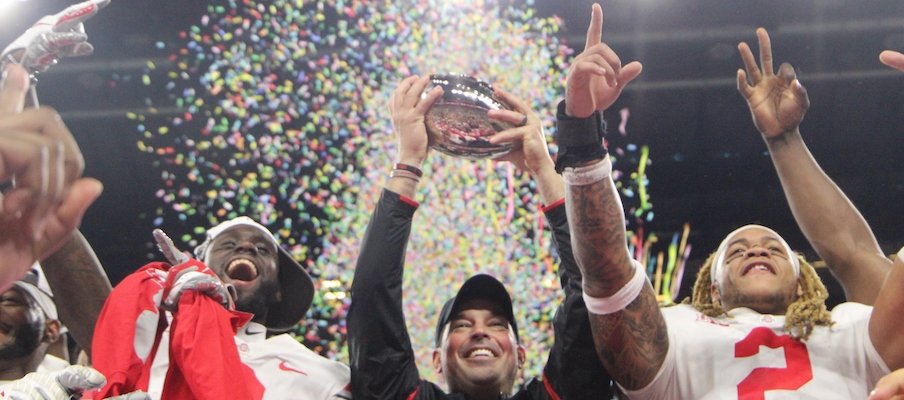 1. 2014 (14-1, Big Ten and national champions)
The 2014 season didn't start out looking like it was going to be one of Ohio State's greatest seasons ever. After Braxton Miller suffered a season-ending injury in preseason camp, it looked like the Buckeyes' championship hopes had been spoiled before they even started – and they certainly didn't look like a title contender when they lost to Virginia Tech at home, 35-21, in their second game of the year.
As the year progressed, though, the 2014 Buckeyes kept getting better. They had some close calls – they went to double overtime at Penn State before Joey Bosa ended the game with a walk-off sack – and suffered what could have been yet another crippling injury when J.T. Barrett broke his ankle in the 42-28 win over Michigan. But they still ended the regular season with an 11-1 record and a chance to win the Big Ten championship and make the College Football Playoff.
The rest is history.
Led by third-string quarterback Cardale Jones, superstar running back Ezekiel Elliott and a dominant group of "Slobs" up front, Ohio State pulverized Wisconsin, 59-0, to win the conference title and emphatically prove they belonged in the CFP. 
In the College Football Playoff semifinals, Ohio State took down Alabama – the No. 1 seed and national championship favorite – with a 42-35 win sealed by Elliott's iconic 85-yard run through the heart of the south.
Finally, Elliott ran for 246 yards and four touchdowns to lead the Buckeyes to a 42-20 win over Oregon and clinch Ohio State's first national championship since the 2002 season.
Capped by perhaps the most memorable three-game stretch in Ohio State history, the Buckeyes' national title run makes 2014 the easy choice for Ohio State's best football season of the decade, and a season that will continue to hold a prominent place in Ohio State lore for many decades to come.