In the final home game of the season, Ohio State scored on its opening drive and never looked back. As the Buckeyes pulled away in the second half, Ryan Day called on 10 true freshmen in Ohio State's 37-3 trouncing of Minnesota. The final score was only the second time in school history for the Buckeyes to win a game with that exact score. The first? TCU in 1973.  
It was a quiet night for the first-year players in the stat book, but there were some notable achievements. Carnell Tate caught one pass for six yards and now has caught a pass in seven consecutive games. He has at least one reception in 10 of Ohio State's 11 games and has 17 catches for 251 receiving yards this season. The only players in program history to have more receptions as a true freshman are Cris Carter (41), David Boston (33), Garrett Wilson (30) and Ted Ginn Jr. (25).
Cornerback Calvin Simpson-Hunt recorded the first two tackles of his career. Quarterback Lincoln Kienholz went 2-for-2 passing for seven yards and has completed 80 percent of his pass attempts in the two games he has played.
Rest of the class
According to Pro Football Focus, Brandon Inniss (six snaps), Luke Montgomery (10) and Jelani Thurman (three) joined Tate and Kienholz on offense against Minnesota while Malik Hartford (16), Jermaine Mathews Jr. (14) and Kayden McDonald (6) joined Simpson-Hunt on defense. Arvell Reese played on multiple special teams units.
A breakdown of the freshmen on special teams
Kickoff: Arvell Reese, Harford, Mathews, Simpson-Hunt
Kickoff Return: Inniss, Reese, Tate
Punt: Mathews, Simpson-Hunt
Punt Return: Hartford, Inniss, Mathews, McDonald, Reese, Simpson-Hunt, Tate
FG Block: Hartford, Mathews, Simpson-Hunt
Ohio State travels to Ann Arbor next week with the season on the line. With the stakes as high as they've been all season, it will be interesting to see which freshmen have the coaching staff's confidence to play in The Game.
Through 11 games, 14 of Ohio State's 21 scholarship true freshmen have seen the field, with seven – Hartford, Inniss, Mathews, McDonald, Montgomery, Reese and Tate – now ineligible for a redshirt as they have played in more than four games. Rogers and Thurman will shed their redshirts if they play against Michigan.
Class of 2023 Tracker

| NAME | POS | DEBUT | MINNESOTA STATS | GP | SEASON STATS |
| --- | --- | --- | --- | --- | --- |
| CARNELL TATE | WR | Indiana | 1 catch, 6 yards | 11 | 17 catches, 251 yards, 1 TD |
| MALIK HARTFORD | S | Indiana | 16 defensive snaps | 10 | 10 tackles, 2 PBU |
| BRANDON INNISS | WR | Indiana | 6 offensive snaps | 10 | 1 catch, 58 yards, 1 TD |
| JERMAINE MATHEWS JR. | CB | Indiana | 14 defensive snaps | 10 | 13 tackles, 1 INT, 3 PBU, 1 TD |
| LUKE MONTGOMERY | OL | Indiana | 10 offensive snaps | 9 | 44 offensive snaps |
| KAYDEN McDONALD | DT | WKU | 6 defensive snaps | 6 | 1 tackle, 0.5 TFL, 1 PBU |
| ARVELL REESE | LB | Indiana | Special teams | 6 | Special teams |
| JELANI THURMAN | TE | WKU | 3 offensive snaps | 4 | 2 catches, 18 yards |
| CALVIN SIMPSON-HUNT | CB | Rutgers | 2 tackles | 3 | 2 tackles |
| LINCOLN KIENHOLZ | QB | MSU | 2/2 passing, 7 yards | 2 | 4/5 passing, 25 yards |
| NOAH ROGERS | WR | Indiana |   | 4 | 14 offensive snaps |
| BRYSON RODGERS | WR | Purdue |   | 2 | 6 offensive snaps |
| JOSHUA MICKENS | DE | MSU |   | 1 | 1 defensive snap |
| JASON MOORE | DT | WKU |   | 1 | 3 defensive snaps |
| JAYDEN BONSU | S |   |   |   |   |
| NIGEL GLOVER | LB |   |   |   |   |
| CEDRICK HAWKINS | S |   |   |   |   |
| JOSHUA PADILLA | OL |   |   |   |   |
| AUSTIN SIEREVELD | OL |   |   |   |   |
| WILL SMITH JR. | DT |   |   |   |   |
| MILES WALKER | OT |   |   |   |   |
(Note: The table does not include freshman walk-ons who have not yet played.)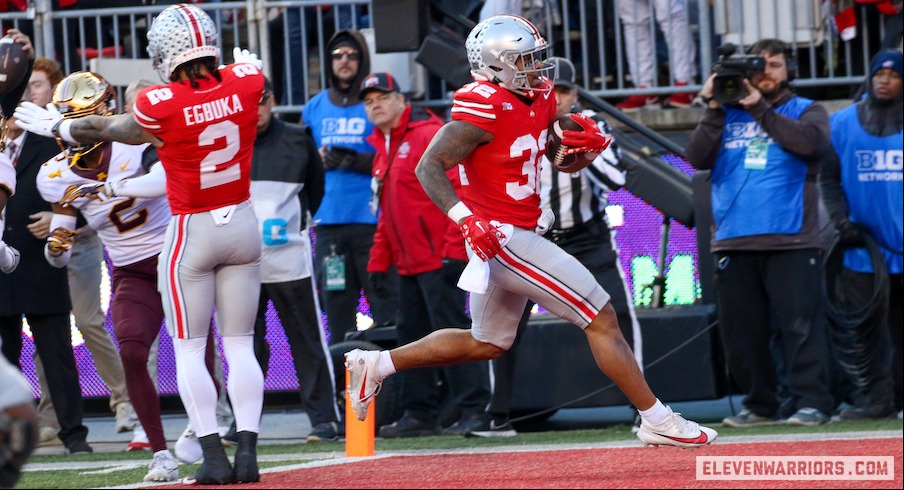 #2 Ohio State 37, Minnesota 3
Nov. 18, 2023 • Ohio Stadium • Columbus, OH