Four games into the season, it's evident which players Ohio State trusts most to play significant roles this year and which players will likely have to continue waiting their turn for another year before seeing consistent playing time.
While Ohio State no longer releases an official depth chart each week, we can put one together based on how we've seen the Buckeyes deploy their players over the course of their first four games against Indiana, Youngstown State, Western Kentucky and Notre Dame.
Although most of the lineup has looked as we thought it would entering the season, there have been a few surprises, such as Chip Trayanum supplanting Miyan Williams as the No. 2 running back and Josh Proctor beating out Ja'Had Carter for the starting free safety job. And while most of the backups haven't gotten a lot of playing time in the first four games, we've at least gotten a glimpse of who could be the next men up at every position.
With that in mind, we take a look at how Ohio State's depth currently appears to stack up at every position, how that compares to preseason expectations and what that could mean for the rest of this season.
Quarterback
1. Kyle McCord
2. Devin Brown
3. Tristan Gebbia
Brown made a legitimate run at winning the starting quarterback job this offseason, enough so that the quarterback competition continued into the first two weeks of the season, but McCord locked down the job with his play over the past three games, especially with his game-winning drive against Notre Dame last weekend.
Brown remains the next man up, and Ohio State will look to get him backup quarterback reps when it can in games that are decided early. McCord and Brown are the only quarterbacks who have played so far this season, but Ryan Day has said Gebbia would be the third quarterback to play. Day has also said he hopes to get freshman quarterback Lincoln Kienholz into a game this season, though the best opportunities to do that have likely come and gone now that non-conference play is over.
Running Back
1. TreVeyon Henderson
2. Chip Trayanum
3. Miyan Williams
Healthy after battling a foot injury for most of the 2022 season, Henderson has reemerged as Ohio State's clear-cut starting running back, playing nearly twice as many snaps as any other Buckeye at the position in the season's first four games.
While Williams played the most snaps among running backs in 2022, Trayanum operated as the No. 2 running back throughout the first month of the season and firmed up his grasp on that role with his game-winning touchdown against Notre Dame. Williams, who played only two snaps against Notre Dame, now appears to be a clear third on the depth chart behind Henderson and Trayanum.
Dallan Hayden and Evan Pryor have each seen playing time in one game this season but likely won't see much more action the rest of the year unless injuries affect the top three running backs. Hayden could be a candidate to redshirt this season by playing in four or fewer games after not taking a redshirt as a true freshman last year.
Wide Receiver (X)
1. Marvin Harrison Jr.
2. Carnell Tate
3. Noah Rogers
Wide Receiver (Z)
1. Julian Fleming
2. Jayden Ballard
3. David Adolph
Wide Receiver (Slot)
1. Emeka Egbuka
2. Xavier Johnson
3. Brandon Inniss
Harrison, Egbuka and Fleming are all clear-cut starters at wide receiver. Tate has played the most snaps behind them and is the next man up at both outside receiver spots – he's listed at X because that's where he's played when the starters have come out of games – but he hasn't yet made a significant dent in Fleming's playing time as it appeared he might going into the season.
Johnson is the only receiver who's played more than 10 offensive snaps through Ohio State's first four games, though his playing time has remained more occasional than regular.
Ballard, Inniss, Rogers and Adolph are the other wide receivers who have played offensive snaps for the Buckeyes this season, but all of their playing time has come in the final minutes of games that were already decided.
Tight End
1. Cade Stover
2. Gee Scott Jr.
3. Joe Royer
Stover has continued to play the vast majority of snaps with the game on the line as he did last season, but Scott has also mixed in for regular playing time, mostly in two-tight end formations. Royer has also mixed in for some snaps with the first-team offense, but Scott has played more than twice as many snaps as Royer even though there was some thought entering the season that Royer would be the next man up behind Stover.
Patrick Gurd seems to be the next man up after those three tight ends after playing in two of Ohio State's first three games this year. While Jelani Thurman generated plenty of offseason buzz, it looks unlikely he'll see significant playing time this year after appearing in only one of Ohio State's first four games.
Left Tackle
1. Josh Simmons
2. Zen Michalski
3. George Fitzpatrick
Left Guard
1. Donovan Jackson
2. Tegra Tshabola
3. Austin Siereveld
Center
1. Carson Hinzman
2. Victor Cutler Jr.
3. Jakob James
Right Guard
1. Matt Jones
2. Enokk Vimahi
3. Toby Wilson
Right Tackle
1. Josh Fryar
2. Luke Montgomery
3. Miles Walker
Though the competitions to start at both offensive tackle spots and center lingered into the final weeks of the preseason, Ohio State has settled in on a firm starting five since the start of the season with Simmons, Jackson, Hinzman, Jones and Fryar playing every snap with the first-team offense.
Michalski, Tshabola, Cutler, Vimahi and Montgomery were the second-team offensive linemen against Western Kentucky, the only game this season in which the starting offensive linemen haven't played the entire game. Montgomery looks as though he could be the next man up at both offensive tackle spots – or Fryar could move to left tackle if anything happens to Simmons – as Montgomery has seen playing time as a sixth offensive lineman in all of Ohio State's first four games. Vimahi could potentially be the next man up at both guard spots, though Tshabola's move inside sets him as a potential successor to Jackson if Jackson leaves for the NFL after this season.
Fitzpatrick and James are the only other offensive linemen to see the field so far this season, with both of them playing the final snap of the game against Western Kentucky. Siereveld would likely be the fifth man up at guard while Walker would likely be sixth in line at tackle, but both of them and fellow true freshman Joshua Padilla are in line to redshirt this year.
Defensive End
1. JT Tuimoloau
2. Kenyatta Jackson Jr.
3. Omari Abor
Defensive End
1. Jack Sawyer
2. Caden Curry
3. Mitchell Melton
Tuimoloau and Sawyer's firm grasp on the starting defensive end jobs was made clear by their playing time against Notre Dame as each of them played all 65 of Ohio State's defensive snaps against the Fighting Irish. Curry and Jackson rotated in for snaps with the first-team defense in the Buckeyes' first three games, but they've rotated in less frequently than OSU's second-string defensive ends typically have in past years.
Melton has been the fifth man up at defensive end, but all of his playing time so far has come late in lopsided games. Abor, who was expected to miss most of the season after undergoing surgery in August but ended up being cleared to play before the start of the season, rounds out the three-deep as the only defensive end to see playing time in the first month of the year.
Defensive Tackle
1. Tyleik Williams
2. Jaden McKenzie
3. Tywone Malone
Defensive Tackle
1. Ty Hamilton
2. Mike Hall
3. Hero Kanu
While Hall and Hamilton were expected to lead the defensive tackle rotation entering the season, Williams has emerged as the Buckeyes' top interior defensive lineman, playing 50 more snaps than any other DT through the first four games. With Williams playing most of the snaps at 3-technique, Hamilton and Hall have functioned as co-starters at nose tackle – though Hamilton has started three out of four games – while playing nearly an equivalent number of plays through the first month of the year.
Those three have played the vast majority of defensive tackle snaps, with Hall also playing some snaps at 3-tech, though McKenzie has mixed in for occasional work at that spot as well. Kanu has played the fifth-most snaps at defensive tackle, mostly playing late in decided games, though he did get in for a pair of short-yardage plays as a third defensive tackle against Notre Dame.
Despite receiving some preseason hype after transferring in from Ole Miss, Malone has played only fourth-quarter snaps in lopsided games so far. Kayden McDonald and Jason Moore got on the field for their first snaps as Buckeyes against Western Kentucky, but both of them are likely to redshirt along with fellow freshman defensive tackle Will Smith Jr.
Will Linebacker
1. Steele Chambers
2. C.J. Hicks
3. Reid Carrico
Mike Linebacker
1. Tommy Eichenberg
2. Cody Simon
3. Gabe Powers
Eichenberg and Chambers have continued to play the lion's share of snaps as Ohio State's starting linebackers for the second year in a row, though Simon played a couple of series in place of Chambers against Notre Dame. While Simon has played Mike linebacker when he's gotten late-game snaps with the second-team defense, his playing time at Will against the Fighting Irish would suggest he's the next man up at both linebacker spots.
Hicks saw playing time as the second-team Will linebacker in each of Ohio State's first three games but has yet to play a defensive snap with the game on the line, suggesting he's unlikely to play a substantial role on defense this year unless Jim Knowles reintroduces the Jack position. Carrico and Powers would be the next men up behind Simon and Hicks, but they'll likely be waiting until next year for the chance to play a role on defense as neither of them has played any defensive snaps yet this season.
Cornerback
1. Denzel Burke
2. Jermaine Mathews Jr.
3. Jyaire Brown
Cornerback
1. Davison Igbinosun
2. Jordan Hancock
3. Lorenzo Styles Jr.
Instead of the rotation that Ohio State seemed likely to use at cornerback entering the season, Burke and Igbinosun have played nearly all of the first-team snaps at the two outside cornerback spots while Hancock has played primarily as a slot cornerback in rotation with starting nickel safety Sonny Styles. Hancock would likely move back to outside cornerback if the Buckeyes needed someone other than Burke or Igbinosun to play extended snaps there.
Brown entered the season as Ohio State's fourth cornerback but has played just one more snap than Mathews, who has made a strong case for a spot on the two-deep with his impressive play in limited action, including a pick-six against Western Kentucky. Lorenzo Styles Jr. could also potentially be the next man up behind Burke, Igbinosun and Hancock if any of them miss time, though Ohio State is seemingly weighing the possibility of redshirting Styles after playing him in only two of the first four games.
Nickel Safety
1. Sonny Styles
2. Jordan Hancock
3. Cameron Martinez
Styles has started all of Ohio State's first four games at nickel safety, but he's split snaps over the last three games with Hancock, who substitutes into the game in situations where the Buckeyes want three cornerbacks on the field. Martinez began the year playing that role but has seen minimal playing time since giving up a 36-yard catch on the opening drive against Youngstown State, though he's still third in line to play snaps at the position.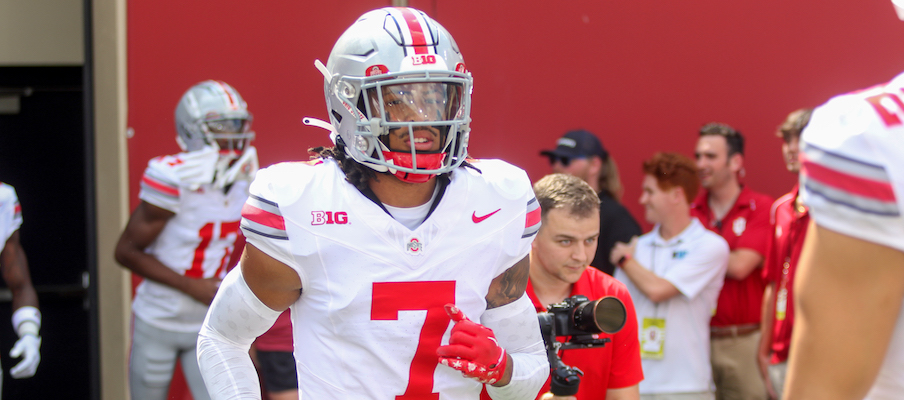 Free Safety
1. Josh Proctor
2. Ja'Had Carter
3. Kye Stokes
Strong Safety
1. Lathan Ransom
2. Malik Hartford
3. Brenten "Inky" Jones
Proctor, Carter and Hartford all competed for the starting free safety job into the first game week of the season, but Proctor has started every game except the Youngstown State game (which he missed due to injury) and played well enough to seize the starting job outright.
Hartford began the year as Proctor's top backup, but was benched for Carter after one drive against Youngstown State and now appears to be fourth in the safety pecking order. Hartford saw playing time at strong safety in the fourth quarter against Western Kentucky, though Carter would likely be the first safety off the bench if either Proctor or Ransom was unable to play, while it's also possible the Buckeyes could move Styles to one of the deep safety spots in such a situation.
Stokes would presumably be fifth in the safety pecking order after seeing some action as a backup last year, though he has yet to see any playing time this year. Jones, a walk-on, is the only other safety that has gotten into a game this year, though his only snaps came on special teams against Western Kentucky.
Kicker
1. Jayden Fielding
2. Parker Lewis
3. Austin Snyder
Fielding beat out Lewis for the starting kicking job this offseason and has handled every field goal, extra point and kickoff so far this year with the exception of two fourth-quarter kickoffs against Western Kentucky. Snyder joined Fielding and Lewis on the travel roster for the Notre Dame game, so he'd seemingly be the third man up behind them.
Punter
1. Jesse Mirco
2. Joe McGuire
3. Austin Snyder
Mirco has handled all of Ohio State's punting and holding duties this year while fellow ProKick Australia product McGuire is the only other punter on the Buckeyes' roster. Snyder was both a kicker and punter at Findlay University before transferring to Ohio State, so he'd be an emergency option to punt if needed.
Long Snapper
1. John Ferlmann
2. Max Lomonico
3. Collin Johnson
Ferlmann has handled all of Ohio State's long-snapping duties this season after transferring in from Arizona State while Lomonico has joined him on the travel roster as the Buckeyes' top backup long snapper. Johnson, who joined the Buckeyes as a walk-on this offseason, is the only other long snapper on the roster.
Kickoff Returner
1. Xavier Johnson
2. TreVeyon Henderson
3. Evan Pryor
Johnson has been Ohio State's only kickoff returner so far this season, so it's uncertain who would be the next man up in that role behind him. Both Day and special teams coordinator Parker Fleming alluded to the possibility of Henderson returning kicks in August, so he could potentially be an option to do so even though he hasn't done it in a game since the 2021 season opener. Pryor's skill set is also seemingly well-suited for returning kickoffs, though he's never done it in a game for Ohio State.
Punt Returner
1. Emeka Egbuka
2. Jayden Ballard
3. Brandon Inniss
Egbuka has continued to field all punts with the game on the line for the Buckeyes this season. Ballard fielded two punts in the fourth quarter and had an 18-yard punt return against Western Kentucky, so he looks to be the next man up at punt returner. Inniss is probably less likely to return any punts in games this season, but has taken punt return reps in practice and is a strong candidate to be Ohio State's punt returner of the future.