When Ohio State needed him the most, Kyle McCord stepped up in a major way in South Bend Saturday night.
The junior could have easily become flustered late in the game of his fifth career start. With more than 14 million people watching on television and a sold-out crowd in Notre Dame Stadium, McCord looked like a savvy veteran rather than a first-year starter playing in his first big game.
With 1:25 remaining and Ohio State trailing 14-10, McCord led the Buckeyes down the field for a 65-yard drive in 85 seconds, culminating with a 1-yard touchdown run by Chip Trayanum that gave the Buckeyes a 17-14 win over Notre Dame.
While McCord didn't throw a touchdown, the junior had a very good game, especially when it mattered most. He completed 21-of-37 passes for 240 yards, including 5-of-12 passes for 73 yards on the game-winning drive.
He stepped up on crucial downs throughout the game, completing 11 of 15 passing attempts for 162 yards on third and fourth downs. On the final drive of the game, McCord completed a 23-yard pass to Emeka Egbuka on 3rd-and-10, a 7-yard pass to Julian Fleming on 4th-and-7 and a 21-yard pass to Egbuka on 3rd-and-19.
McCord's 89.5 QBR in Week 4 was the second-highest in the Big Ten, behind only Michigan's JJ McCarthy (96.8).
"To win the game in a two-minute drill, that's what great quarterbacks do," Ryan Day said after the game. "Those were some big-time throws in there. He hung in there, he was poised."
With that, we charted each of his 37 throws and 21 completions to six different receivers in South Bend Saturday night. (Note: The passing chart is categorized by how many yards the quarterback threw the ball in the air past the line of scrimmage on each attempt and whether the ball reached its target inside or outside the hashes, though the stats listed include yards gained after the catch on each completion.)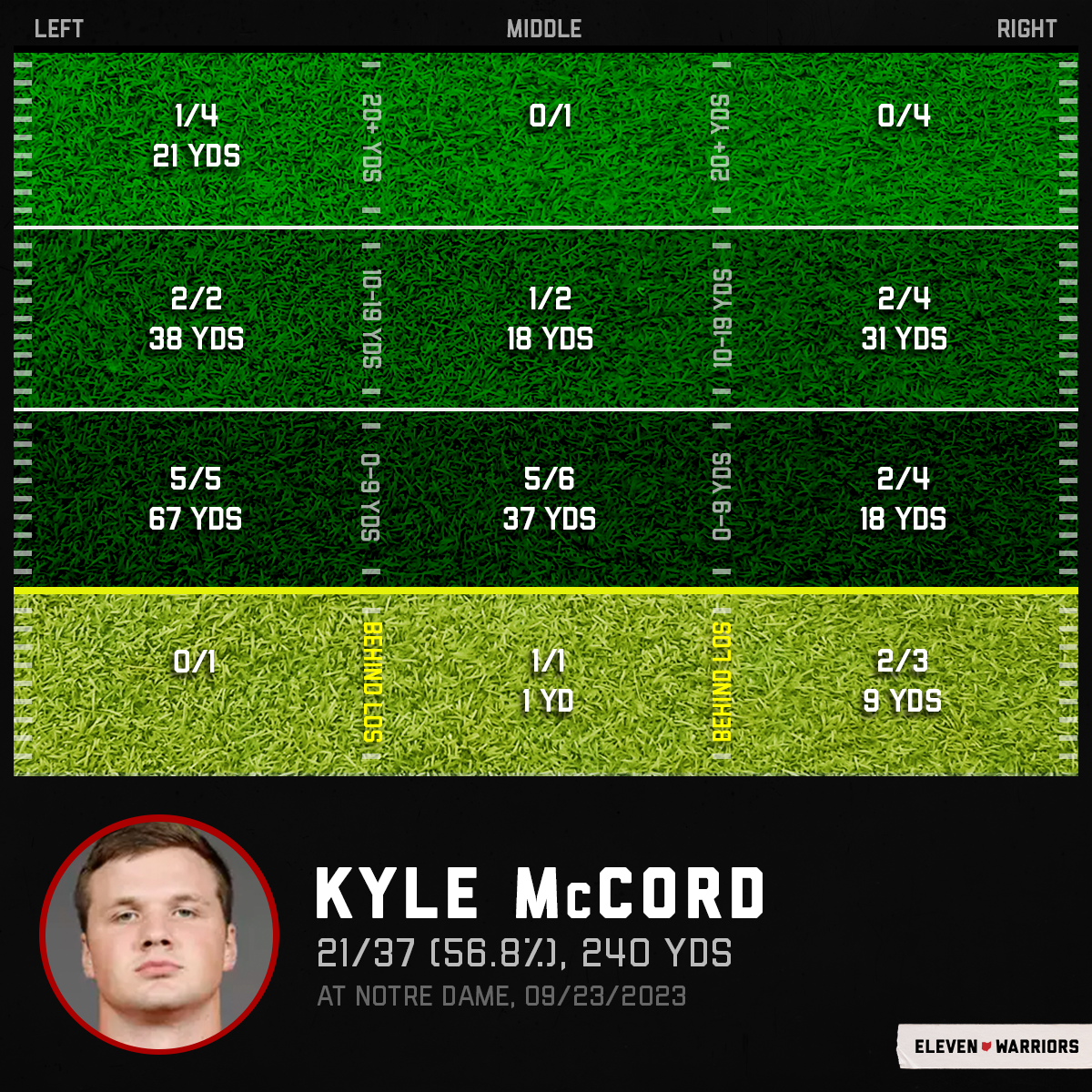 Ohio State will still need McCord to be more efficient than he was against the Fighting Irish, considering he completed just 56.8% of his passes, but it's much easier to learn from a win than a loss, especially when it's against a top-10 team on the road. Most importantly, McCord made the plays the Buckeyes needed him to make with the game on the line.
We highlight the three best and three worst moments of McCord's game against Notre Dame below.
Great throw: 21-yard completion to Emeka Egbuka on final drive
To put the Buckeyes on the brink of their game-winning touchdown, McCord throws a dart to Egbuka right in front of the goal line on 3rd-and-10 with less than 15 seconds left. It was the perfect throw and exactly what Ohio State needed to keep its chances of winning alive.
The last 15 seconds of that game... pic.twitter.com/JI5RFpbOvx

— NBC Sports (@NBCSports) September 24, 2023
Good throw: Would-be 30-yard completion to Marvin Harrison Jr.
This wasn't ruled a catch after review (and Notre Dame wasn't penalized for defensive pass interference), but it sure looked like a catch. McCord throws it to a place where only Harrison can get it and the best receiver in college football made one heckuva play to bring it down.
Marvin Harrison Jr. has so much skill! pic.twitter.com/lKjBxQ6lKT

— NBC Sports (@NBCSports) September 24, 2023
Good throw: 4th-and-7 completion to Julian Fleming
Before his final completion of the game to Egbuka, McCord made another key throw to keep the game-winning drive alive. Fleming cut across the field and McCord found him in stride to get the first down on a make-or-break fourth-down play.
Bad throw: High miss on a deep ball to Emeka Egbuka
One thing a quarterback never wants to do in the middle of the field: Miss high. Another thing a quarterback never wants to do in the middle of the field: Miss to the open side of the field where the safety is coming from. McCord did both of those on this throw. Luckily, it fell incomplete.
Bad throw: Incompletion to Cade Stover in double coverage
McCord would have needed absolutely perfect ball placement here given that Stover was double covered. Nothing else was necessarily open, but this was a very risky throw. Like the last time, it's much easier to learn from an incompletion than an interception.
Bad throw: A near-interception that could have ended the game
This throw could have been intercepted not once but twice. McCord never saw the safety climb the field and, luckily, the throw was a little high so all the safety could do was tip the ball and other defensive backs ended up being too far from the ball before it fell to the ground. Had the throw been picked off, however, McCord's night would have been defined by a game-sealing turnover rather than a game-winning drive.
Four starts into the season, McCord has now completed 59 of 71 passing attempts (83.1%) within 10 yards of the line of scrimmage, nine of 22 passing attempts (40.9%) between 10 and 19 yards downfield and six of 20 passing attempts (30%) of passes 20 or more yards downfield.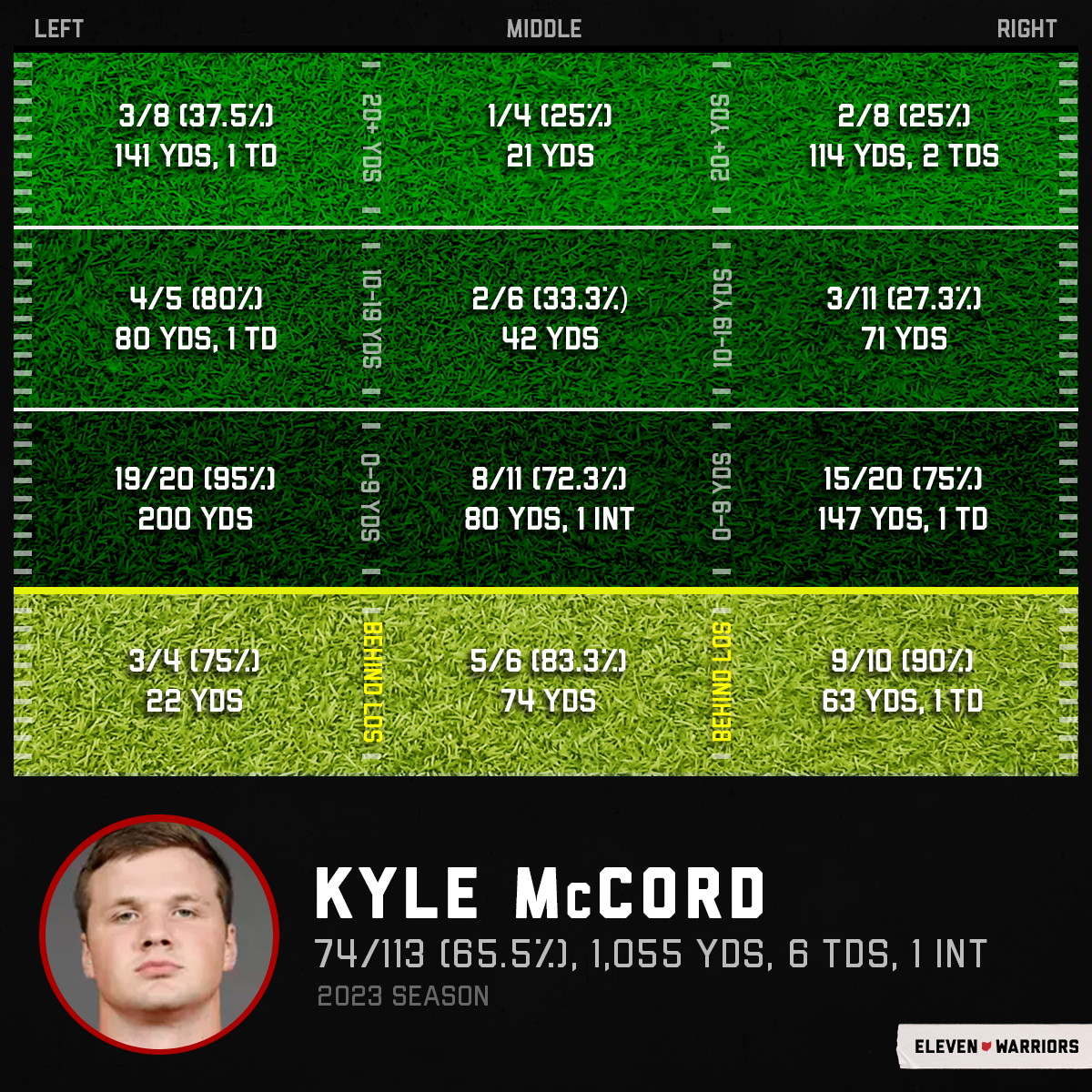 After completing just one of his first 10 attempts between 10-19 yards in the first two games of the season, McCord has now completed eight of his 12 attempts in that range over the past two games. His completion to Egbuka in the final seconds against Notre Dame, however, was his only completed pass thrown more than 20 yards downfield in South Bend.
McCord has been at his best throwing to the left side of the field within 20 yards of the line of scrimmage. Against Notre Dame, he was a perfect 7-of-7 for 105 yards in that range. So far this season, he has completed 23-of-25 passes for 280 yards and a touchdown between the line of scrimmage and 19 yards down the field left of the hash mark.
All in all, McCord seems to be getting more and more comfortable behind center with every start. He now enters the bye week with plenty to work on but also plenty of confidence to build off after proving he could lead the Buckeyes to a big win on the road when Ohio State needed him to step up with the game on the line.