The men's basketball team opened and closed its season winning five of seven games.
That's not terrible! Unfortunately they were bookends for a 6-15 stretch which included injuries, curious substitution patterns and a litany of lousy, forgettable moments we're better off not rehashing.
How the Buckeyes finished the season fished our basketball optimism out of the trash and kicked it down the calendar into the next academic year. This was a lost season right up until the moment Ohio State created an intriguing trailer for the next one.
The football team's journey was much different, but its disastrous penultimate outing is also not worth rehashing. What it left on the field in Atlanta is difficult if not impossible to diminish on account of the final score. Unlike the Michigan rivalry, Ryan Day proved he understood that assignment and didn't overthink a single part of it.
losing the wrong way can turn a one-season DISAPPOINTMENT into a program depression.
Ohio State football's big picture orientation will be just fine. It just needs to solve the little things, and that one big annual one. Which - they've done that before, and it's not mysterious. The Peach Bowl showed that just leaning into the best and most authentic version of itself should be enough against anyone less than the defending national champions.
As gross as this is to say, both programs demonstrated the proper way to lose. They ended their seasons short of all stated program goals but paved a smoother road for the immediate future, curbed with valuable cautionary tales and legitimate reasons to believe. Wait til next year is only a cliché when it's wishful thinking.
Apathy is impossible in the aftermath of what we saw out of these two teams bowing out of their respective disappointing seasons. If you're not bullish about the 2023 Buckeyes on the field and the court you're either distracted or clinically miserable.
If this sounds like a fan site stroking the locals with a flowery take, well there's always some of that here - and it's healthy when dosed responsibly. But what we just saw is also an opportunity to remember how losing is inevitable - and how losing the wrong way can turn a one-season disappointment into a program depression.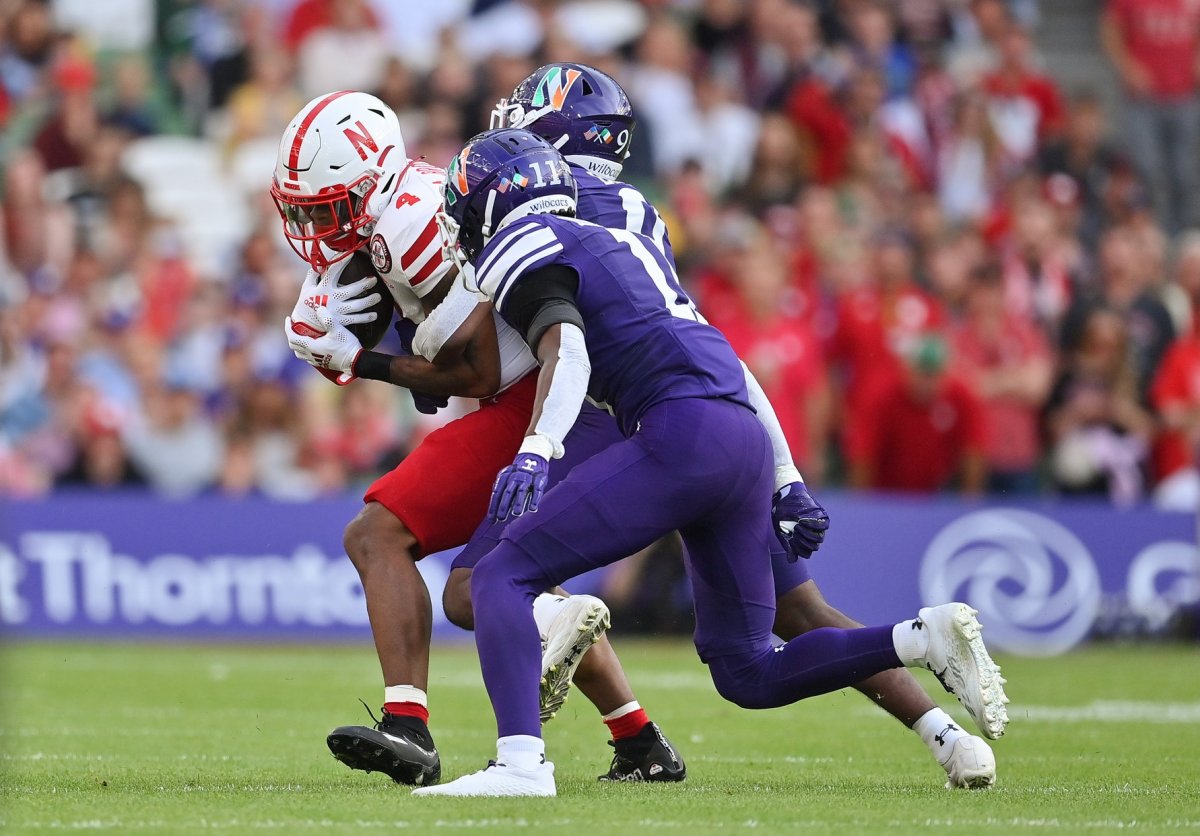 When Scott Frost arrived in Lincoln it was widely believed he would become what Jim Harbaugh finally (almost?) morphed into seven years into his Michigan coaching tenure.
As an added bonus, Frost would bring only a fraction of Harbaugh's constant weirdness with none of the annual offseason employer cuckolding. A Nebraska Guy who understood Nebraska Football. He wore the helmet. He loved the state.
You could not construct a better prototype in a lab. The Huskers AD at the time, Bill Moos, was so giddy with his home run hire he proclaimed Ohio State was running scared.
Alas, Frost was fired three games into last season. He finished his coaching tenure at his alma mater with no postseason losses, because Nebraska did not qualify for any bowl games under his guidance. There would be no next year for Frost. He didn't survive September.
Perspective - Chris Holtmann just missed one NCAA tournament and it felt like the apocalypse. The last time the Huskers were bowl-eligible, Holtmann was still coaching at Butler.
Frost's 2021 Huskers are in the conversation for college football's most fascinating team of all time. They went 3-9, lost heartbreakers to five top-20 teams, all by single digits, and still finished 63 points up in point differential on the season, nine full touchdowns better than their schedule.
That team finished six games under .500. It wasn't bad luck. They weren't a good football team.
Good football teams beat bad ones. Barely losing big games isn't why Frost is no longer in Lincoln. His big failing was losing so many of the small ones. A great example of surviving serial big game failures still coaches on the other side of the conference.
Harbaugh, enjoying his second-straight season as the B1G champion and rivalry game winner, took awhile to reach his current perch. He was barely .500 against winning teams in his first five seasons at Michigan, but he ran the table against the same ankle biters who ended Frost's tenure.
He is currently just 1-6 in postseason games and still 2-5 against Ohio State, but there isn't a single Georgia Southern-type loss on his record. A 2-OT escape against Army in 2019 is the closest he ever got to a Toledo or Appalachian State-type embarrassment. He got a next year, then another, then another. In 2021, next year finally arrived.
Harbaugh's rivalry record turned a sharp corner after his legacy and coaching career were saved by COVID. Still, the only Ohio State or Michigan coach in the modern era who had rivalry performance printed on his termination papers was John Cooper. Contrary to popular narrative, no one gets fired for losing to one opponent a few times.
Coop was allowed to coach in 13 of those games because he cleaned up everywhere else. He was 1-1-5 in the rivalry with one postseason win at this point in Harbaugh's tenure. They're comparable. Sadly, Coop never benefited from any jittery, watered-down versions of Michigan.
The program standard and the fan standard much higher than the employment standard. This is for the best.
However weird, cringey and flirtatious he might be Harbaugh was still too golden for a pink slip even prior to the 2021 Ohio State haymaker. Frost simply needed to be cruel to the B1G's bottom seven for a contract extension. He couldn't even achieve that bare minimum.
Frost coached 47 games at Nebraska and only won while covering the spread a dozen times. As the saying goes, great teams cover. His final straw was a 45-42 loss to 22-point underdog Georgia State, at home. Harbaugh would never. Neither would Day.
Every coach has a cost-prohibitive buyout these days, and the switching costs for a university comes down to accessibility of a superior option. Nebraska now employs turnaround artist Matt Rhule, who comes with none of the storybookishness Frost possessed - but every bit of the track record he lacked.
They'll give him some time to take down Ohio State, Michigan or any other ranked opponent. He'll need to be consistent against the bottom-feeders far more quickly.
I cannot remember the first time I heard I'm cool with Ohio State losing every game but one, just beat Michigan but that always been sheer idiocy to me. Just read the first six words of that sentence and stop right there. See a doctor if you believe that for longer than four hours.
If job security was as simple as winning one game Coop wouldn't have been retained in Columbus from the Reagan era into the new millennium. He was too good on most of those other Saturdays. He transformed the program. Jim Tressel's tenure is impossible without him.
Ohio State's bad losses are bemoaned for years because there are so few. The program standard and the fan standard much higher than the employment standard. This is for the best.
RYAN DAY beats non-Michigan teams at an impossible clip and makes the CFP 75% of the time. there IS no superior option available.
Day now owns two of the worst consecutive final November Saturdays in decades, but there's nothing hot about his seat. He's 45-6 and 31-2 in conference play while finishing no lower than No.5 in the country in final polls.
Best offense in the country in his tenure. Only Minnesota's P.J. Fleck and Purdue's Ryan Walters are younger. No bad losses, only big ones. It's not ideal, but it's not fatal either.
Day turned in a D and an F on his last two coaching exams against Harbaugh, has overseen a dramatic and significant imbalance shift on Ohio State's roster between offensive and defensive players and is the figurehead of the flagship program in an athletic department which has been less than...expeditious in decoding mastery of the NIL riddle.
But there's no hot seat when your floor is still 11 wins and your upside isn't showing signs of diminishing. He beats non-Michigan teams at an impossible clip and makes the CFP 75% of the time; there's no superior option available.
As for Holtmann, his team's exit this season produced a reasonable autopsy that can only feed the optimism heading into the fall. There was a leadership void atop the roster, but guess who put together the roster? It's not blameless, it's not successful - but due to that second bookend, it wasn't a total loss either.
One more January/February swoon may put Holtmann in the danger zone, and Day cannot overthink Michigan again. Losing without a CAPA is how losers are manufactured and established, and that's exactly how Frost got himself fired.
As long as losing sucks and is reviled in Columbus, there is little to keep you up at night because the inevitability of losing is fine if it serves as a down-payment on future success. But when it becomes routine, that's when losing loses its purpose.
That's when changes are made. In the meantime, next year looks pretty damn exciting. And if that promise materializes, you can thank this year for doing a lot of the heavy lifting.