After playing away from home just once in its first seven games of the season, Ohio State is hitting the road again this weekend for the second week in a row.
For the only time in a regular season that features eight home games and only four road games, Ohio State will play back-to-back road games as it heads to Evanston, Illinois, this weekend to play Northwestern one week after traveling to Penn State.

NORTHWESTERN
WILDCATS
1-7 (1-4 BIG TEN)
ROSTER / SCHEDULE
---
NOON – SATURDAY, NOV. 5
RYAN FIELD
EVANSTON, ILLINOIS
---
ABC
WatchESPN
On paper, this game shouldn't be near the challenge last week's game in State College was. The Buckeyes are favored to win by 38 points and Northwestern has lost its previous seven games in a row.
But Ryan Day doesn't want his team to take its foot off the gas pedal now. The final month of the regular season is now underway, and every game matters as the Buckeyes look to keep themselves at the forefront of the Big Ten standings and the College Football Playoff race. So just as he has been all season, Day continues to preach competitive stamina to his team going into its first game of November.
"I think the first thing is that we've always said it's about us. So why does that change this week?" Day said. "You have to continue to do what you're doing and get better every week. If you don't, not only do you show weakness, but you set yourself up for problems down the road. And I think that when you have a problem or you lose a game, maybe it's something you did that week, but maybe it's something you did the weeks leading up to it. So for us, our goals are still our goals. And if we don't maximize every single minute of the day this week, then it doesn't matter.
"It's a Big Ten matchup. It's on the road. (Northwestern coach Pat Fitzgerald) does an unbelievable job. I know maybe they don't have the record that they want to, but we gotta go play football and we want to play at a high level. That's the goal here. So it, again, really shouldn't matter who we're playing against. Competitive stamina is exactly what we talked about at the beginning of the season, and we'll continue to reiterate that this week."
The Headlines
Championship contender vs. cellar-dweller
Advertisement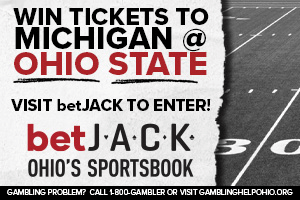 Ohio State and Northwestern find themselves in polar opposite positions entering this week's game.
The Buckeyes are 8-0, the second-ranked team in the country, tied for the Big Ten East lead and ranked in the top 10 nationally in scoring offense (2nd), total offense (6th), total defense (6th) and scoring defense (10th). Northwestern is 1-7, dead last in the conference standings and ranks 83rd in scoring defense, 90th in total offense, 94th in total defense and 120th in scoring offense.
Northwestern hasn't won a game in more than two months and has yet to earn a victory on American soil this season, as its only win came in Week 0 when it earned a 31-28 win over Nebraska in Dublin. The Wildcats went 0-3 in non-conference play against Duke, Southern Illinois (an FCS school) and Miami (Ohio) and have since lost four straight conference games against Penn State, Wisconsin, Maryland and Iowa.
Their most recent result was as ugly as any of them, as they allowed Iowa – who has averaged only 16.4 points and 248.6 yards per game this season – to score 33 points on 398 yards.
Northwestern has given Ohio State some competitive matchups in the past, most recently in the 2020 Big Ten Championship Game, when the Wildcats held a 10-6 lead at halftime before the Buckeyes scored 16 unanswered points in the second half. However, this year's Northwestern squad has shown none of the competitiveness that the Big Ten West-winning Wildcat team did.
Buckeyes look to get run game going
We thought last week might be an opportunity for Ohio State to get its run game back on track after rushing for only 66 yards against Iowa. It didn't turn out that week, as the Buckeyes only managed 98 yards on 26 carries against Penn State, marking the first time since 2018 that Ohio State was held under 100 rushing yards in back-to-back games.
That's all the more reason for the Buckeyes to look to establish the run early and often in a game they're expected to win big. Northwestern's rushing defense isn't formidable – the Wildcats rank 105th nationally in yards allowed per rushing attempt (4.57) and 109th in rushing yards allowed per game (186.4) – but a big day on the ground would nevertheless help Ohio State's rushing offense build some much-needed momentum for the home stretch of the season.
Ohio State also might need to lean more heavily on its run game than usual if Saturday's game ends up being played in inclement weather. The weather forecast for Saturday in Evanston calls for rain and winds that could gust over 40 miles per hour, which could make passing the ball downfield more challenging – though C.J. Stroud and the Buckeyes still project to have the advantage over Northwestern's passing defense, which ranks 101st nationally with 7.68 yards allowed per passing attempt.
"With the weather like that, running the ball is going to have to be a big thing for us," Ohio State left tackle Paris Johnson Jr. said Wednesday. "Our mindset is that we've done it before in the past at a really high level, and that's who we are, and we're going to have it to show it again Saturday."
How much the Buckeyes run the ball could depend partly on the health of Miyan Williams, who left the Penn State game late in the first quarter with hand and knee injuries. Williams appears likely to be available, though, as Day said Thursday that Ohio State is "looking forward to getting him back this week" and he was seen leaving the practice field in uniform on Wednesday.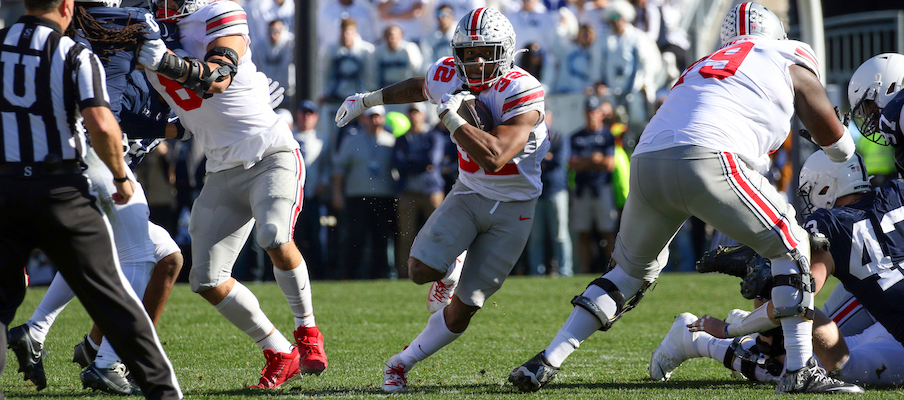 Buckeyes poised to break record
No Football Bowl Subdivision team has ever scored 20 or more points in 70 consecutive games, but Ohio State could become the first to do so on Saturday.
Although it did take until the middle of the fourth quarter for the Buckeyes to reach that mark in their eventual 44-31 win over Penn State last weekend, it would be a massive surprise if Ohio State doesn't hit the 20-point mark against Northwestern.
The Buckeyes haven't been held below 20 points since their 31-16 loss in 2017 to Oklahoma, who was in the midst at that time of setting the standing record streak of 69 consecutive 20-point games. The Sooners' streak ended last year, but Ohio State tied that record in Happy Valley.
Considering Northwestern has allowed 31 or more points in six of its eight games this season, it would come as a shock if the Wildcats were the team to end that streak. If the Buckeyes can score 40 or more points on Saturday, they would also set a Big Ten record with their eighth consecutive 40-point games, breaking the record of seven previously set by Michigan in 1901-02 that Ohio State tied in its fourth-quarter scoring explosion last week.
Keep An Eye on These Guys
RB Evan Hull
No. 26 should be circled on the scouting report for Ohio State's defense this week because Hull has been Northwestern's most productive offensive player by far. The junior running back ranks 12th in the entire Football Bowl Subdivision in yards from scrimmage this season as he leads the Wildcats in rushing (136 carries for 579 yards and three touchdowns) and receptions (45 catches for 461 yards and two touchdowns).
"They got a really good running back," Ohio State safety Lathan Ransom said. "They use him in a lot of different ways. He's really good."
Hull's production has slowed against better competition, as he has been held to 77 or fewer yards from scrimmage in four of Northwestern's last five games, but he has nonetheless been the Wildcats' most reliable weapon both on running plays and as a receiver out of the backfield. He has the speed and shiftiness to be a playmaking threat even against a defense of Ohio State's caliber, but if the Buckeyes bottle him up, they'll likely be able to shut down Northwestern's offense as a whole.
LT Peter Skoronski
Even though Johnson and Dawand Jones are projected to be early-round picks in the 2023 NFL draft, it's arguable neither of them will be the best offensive tackle on the field Saturday. Skoronski is widely regarded as one of the top offensive tackles in the country and could be selected as the early top 10 picks in next year's draft.
A highly recruited prospect who chose Northwestern over power programs like Notre Dame, Michigan and Penn State, Skoronski has started every game for the Wildcats since he arrived in Evanston in 2020 and earned All-Big Ten second-team honors as a true freshman before earning first-team honors as a sophomore. He was selected along with Johnson to the Associated Press midseason All-America team and is graded by Pro Football Focus as the best pass blocker in the country, having allowed only one sack and four total pressures on 362 pass-blocking snaps this season.
While J.T. Tuimoloau is coming off the game of his life and Zach Harrison has also excelled in recent weeks, Skoronski will put Ohio State's defensive ends to the test when they're going head-to-head with him. In a matchup offensive tackle-needy NFL teams will surely be watching closely, Skoronski's presence also provides added motivation for Johnson and Jones to perform at their best.
"Peter's a good guy. We played in the All-American game together and it's cool to see another guy in my class just really excel at his position and just be dominant," Johnson said. "But I mean, honestly, I feel like it's kind of like when you're playing like high school ball and you have a best friend on the other team, and even though you might not play the same position, you just want to out-compete them. It's a competition at that point, you know, to show who can be more dominant in that game."
DE Adetomiwa Adebawore
Johnson and Jones have already held their own against plenty of highly touted edge rushers this season, but they and the rest of Ohio State's offensive line will face another one in Evanston. Adebawore, who was recently ranked by PFF as the No. 50 overall prospect in the 2023 draft class, will challenge the Buckeyes' blockers from all over the defensive front as a 6-foot-2, 280-pound defensive end who also frequently kicks inside to rush from the defensive tackle spot.
Adebawore leads the Wildcats with four sacks and 23 total pressures this season, and he's also forced two fumbles. Northwestern is going to need some big plays on defense if it's going to have a chance to upset Ohio State, and Adebawore – the highest-graded defender (73.7) on Northwestern's defense, per PFF – is the most likely candidate to disrupt front for the Wildcats.
Game Week Talk
"The biggest thing is we just have to handle it better than our opponent, because they have to deal with it as well. And if it's extreme, then we have to make adjustments."– Ryan Day on the potential for inclement weather
Day acknowledged that the weather forecast for Saturday's game "doesn't look very promising," but that's not necessarily going to change the Buckeyes' game plan. Day said the Buckeyes have practiced in the elements when they can this season to prepare for adverse weather, but that they try not to worry about weather forecasts too far in advance, knowing the actual weather doesn't always match the forecast.
"Year in and year out, Coach Day has done a phenomenal job, and I have so much respect for the program that he's built and the job that he's done."– Northwestern coach Pat Fitzgerald
Both Day and Fitzgerald had nothing but praise for one another this week. Fitzgerald also said he ranked Ohio State as the No. 1 team in the country on his Coaches Poll ballot. Asked about Stroud, he said "from a standpoint of quarterback play, I'm not sure there's anybody playing better than C.J. right now in the country."
"At the end of the day, we treat every game the same. We can't look past an opponent. We can't look forward. I mean, we're excited to play Northwestern. We're excited to go to Northwestern and play a good team."– Lathan Ransom
This isn't the first time Ransom or his teammates have said this. Even though this week's game is expected to be a blowout, as many of Ohio State's games have been this year, the Buckeyes know they still need to prepare hard this week and play hard Saturday to ensure they don't have a letdown.
Get Smart
Projected Starters
Ohio State
Pos
Northwestern
OFFENSE
C.J. STROUD
QB
BRENDAN SULLIVAN
TREVEYON HENDERSON
RB
EVAN HULL
MARVIN HARRISON JR.
WR
DONNY NAVARRO III
JULIAN FLEMING
WR
BRYCE KIRTZ
EMEKA EGBUKA
WR
MALIK WASHINGTON
CADE STOVER
TE
THOMAS GORDON
PARIS JOHNSON JR.
LT
PETER SKORONSKI
DONOVAN JACKSON
LG
CHARLIE SCHMIDT
LUKE WYPLER
C
ETHAN WIEDERKEHR
MATT JONES
RG
VINCE PICOZZI
DAWAND JONES
RT
CALEB TIERNAN
DEFENSE
ZACH HARRISON
DE
ADETOMIWA ADEBAWORE
J.T. TUIMOLOAU
DE
SEAN MCLAUGHLIN
TARON VINCENT
DT
DEVIN O'ROURKE
MIKE HALL
DT
JORDAN BUTLER
STEELE CHAMBERS
WLB
XANDER MUELLER
TOMMY EICHENBERG
MLB
BRYCE GALLAGHER
TANNER MCCALISTER
NB/SLB
GREYSON METZ
DENZEL BURKE
CB
A.J. HAMPTON JR.
JORDAN HANCOCK
CB
CAMERON MITCHELL
RONNIE HICKMAN
S
JEREMIAH LEWIS
LATHAN RANSOM
S
ROD HEARD II
Ohio State has a 64-14-1 all-time record against Northwestern. The Buckeyes have won 33 of the last 34 games in the series, with the Wildcats' only win over Ohio State in the last 50 years coming in a 33-27 game in Evanston in 2004.
Fitzgerald (who was Northwestern's linebackers coach in 2004) is 0-8 against Ohio State as Northwestern's head coach. Day is 2-0 against Northwestern as Ohio State's head coach.
Day and Northwestern defensive coordinator Jim O'Neil previously coached together in 2016, when Day was the San Francisco 49ers' quarterbacks coach and O'Neil was the 49ers' defensive coordinator.
Northwestern's roster includes eight players from Ohio, all of whom are backups: Running back Cam Porter (Cincinnati), defensive end Aidan Hubbard (Cleveland), defensive end Najee Story (Solon), tight end Marshall Lang (Cincinnati), defensive end Jaiden Cameron (Clayton), offensive lineman Ben Wrather (Powell), wide receiver Jack Kennedy (Cleveland Heights) and defensive back Garner Wallace (Pickerington).
This week's game will serve as a homecoming for Ohio State freshman wide receiver Kaleb Brown, a Chicago native who is the Buckeyes' only player from Illinois.
Ohio State is playing a true road game for the second consecutive week for the first time since November 2018, when the Buckeyes played Michigan State and Maryland on the road in back-to-back weeks.
This week's game is Ohio State's fourth noon game of the season and third noon game in a row. It will also be the fourth Buckeye game this season broadcast on ABC.
How It Plays Out
Line: Ohio State -38, O/U 56
Ohio State is favored to win this game by the third-largest spread it's faced all season, behind only its home games against Arkansas State and Rutgers. And if anything, that spread feels like it should be higher rather than lower.
Simply put, nothing suggests Saturday's game in Evanston should be close. Ohio State has been significantly better than Northwestern on both sides of the ball, and while the Wildcats have a couple of notable NFL prospects, there's still a significant talent gap between the two teams.
Ohio State didn't cover the spread against Arkansas State or Rutgers, which could serve as a warning against betting on the Buckeyes this week. While Northwestern has lost seven straight games, the Wildcats have kept five of their seven losses within 10 points and have only lost by more than 20 points once. Lousy weather has the potential to keep scoring lower, and perhaps the notoriously long grass at Ryan Field can slow the Buckeyes a bit, too.
That said, Ohio State has won six of its eight games this season by at least 29 points, and everyone on the Eleven Warriors staff is expecting the Buckeyes to win by at least that margin again.
Eleven Warriors Staff Prediction
52
 
7