Before each Ohio State game, Eleven Warriors catches up with a media member who covers the opposing team to get their perspective on the Buckeyes' upcoming opponent.

WISCONSIN BADGERS
2-1
ROSTER / SCHEDULE
---
7:30 P.M. – SATURDAY, SEPT. 24
OHIO STADIUM
COLUMBUS, OHIO
---
ABC
ESPN+
Ahead of Ohio State's Big Ten opener, we're checking in with Wisconsin beat writer Colten Bartholomew of the Wisconsin State Journal to get his thoughts on how the Badgers have looked so far this season and what their chances of upsetting the Buckeyes on Saturday night at Ohio Stadium.
Bartholomew says Wisconsin's defense is still good, but not quite as good as it was last year, when the Badgers ranked No. 1 nationally in total defense, while he says the passing offense has improved from last season. He also explains what went wrong in the Badgers' 17-14 loss to Washington State, names a couple of Wisconsin players to keep an eye on Saturday and gives his thoughts on whether the Badgers can end their eight-game losing streak against Ohio State this weekend.
Wisconsin led the nation in yards allowed per game in 2021. Three games into the 2022 season, how does this year's defense stack up with last year's defense?
Bartholomew: I'd say it's about 80% of what last year's defense was. The losses of Jack Sanborn and Leo Chenal at the inside linebacker spots are predictably the easiest to notice. Chenal was a disruptor at the line of scrimmage that UW hasn't yet found a replacement for, and Sanborn was a do-it-all guy who covered so much ground. The defensive line is playing well, and outside linebacker Nick Herbig (four sacks) is living up to his preseason billing as an All-American. But the rest of the outside linebackers – C.J. Goetz, Darryl Peterson, Kaden Johnson, etc. – need to start adding some sacks and TFLs to help Herbig out.
How would you assess the strengths and weaknesses of Wisconsin's offense entering conference play?
Bartholomew: Surprisingly the passing game has been one of the greater strengths of the offense thus far, with quarterback Graham Mertz finally starting to pay off some of the potential that made him a coveted recruit. He's cleaned up the mechanical issues that have held him back and been more decisive in his decision-making to cut down turnovers thus far.
Penalties have been the biggest weakness, with the offensive line being flagged for more holds than UW can afford. But overall the Badgers offensive line hasn't been as dominant as many expected it to be. That may come in time as the top unit plays more together, which was the case last season.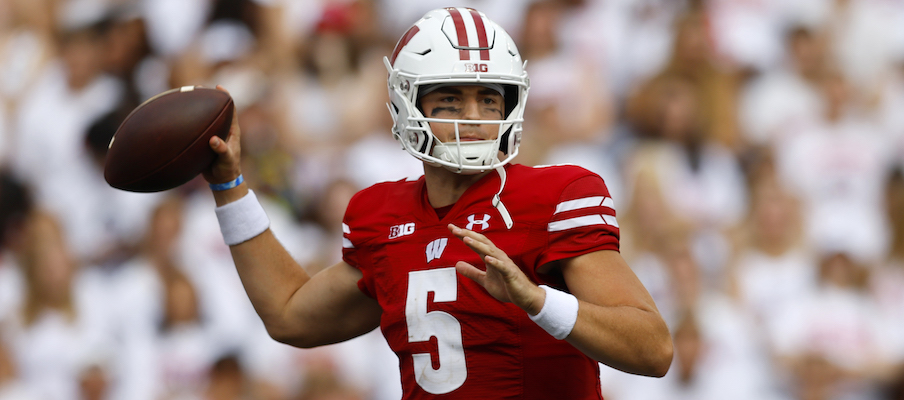 Wisconsin lost its only non-conference game against a Power 5 opponent. What went wrong against Washington State, and how have the Badgers responded to that loss?
Bartholomew: Penalties and turnovers doomed the Badgers against the visiting Cougars. UW turned it over three times, including on its last possession when tight end Clay Cundiff was stripped inside the Wazzu 10-yard line with the offense heading in for the go-ahead score.
The loss looks to have served as a wake-up call, though blowing out New Mexico State was expected. The Aggies are one of the worst teams in the FBS and the Badgers' backups could've won that game.
Braelon Allen is Wisconsin's most well-known star. Who are a few other standouts that people need to know about on this year's team?
Bartholomew: A few key players to watch Saturday are Nick Herbig, the junior outside linebacker who's been a starter since his freshman season in 2020, and junior wide receiver Chimere Dike.
Herbig, whose older brother Nate is a guard for the New York Jets, wants to prove himself against the Buckeyes' pair of stellar tackles and defensive coordinator Jim Leonhard schemes him into one-on-one situations he trusts Herbig to win. It'll be a great test of speed and technique against the Buckeyes' size and strength on the edge.
Dike, another regular since his freshman season, is the Badgers' best and most diverse route runner. He has the most experience with Mertz and he's the go-to guy on third down. Dike isn't as explosive or dynamic as the Buckeyes' receivers, but he's got dependable hands and creates separation with his breaks.
Ohio State has won its last eight games against Wisconsin. Do you think the Badgers can turn the tables this year, or will the Buckeyes' winning streak continue?
Bartholomew: I think this game plays out much like the last few matchups in this series –UW hangs in there for a while, maybe into the third quarter, then a swing in momentum toward OSU flips things for good. The Badgers just don't have the depth or athleticism to play with the Buckeyes for four quarters, in my opinion. My prediction is OSU wins 31-17, but folks come away thinking the Badgers are the best team in the Big Ten West.