Opening the season in the Shoe, on primetime television and against fifth-ranked Notre Dame is not the recipe for true freshmen to see the field.
Ohio State has veteran depth and talent at every position. As a result, the Buckeyes did not turn to any of their true freshmen to play snaps on offense or defense against the Fighting Irish.
The only two true freshmen to see playing time against Notre Dame were walk-on kicker Jayden Fielding, who handled kickoff duties in place of Noah Ruggles, and defensive end Caden Curry, who did not play on defense but was on the field goal team. (Correction: The initial version of this story said Fielding was the only freshman to play against the Fighting Irish.)
Fortunately for the other freshmen, there should be more ample opportunities to earn playing time over the next two weeks, when the Buckeyes will play a pair of Group of Five opponents in Arkansas State and Toledo. As of now, however, none of the Buckeyes' freshmen have earned a major role on offense or defense, which means redshirts will likely be in store for many of them this season as a result.
Class of 2022 Tracker

| NAME | POS | DEBUT | NOTRE DAME STATS | GP | SEASON STATS |
| --- | --- | --- | --- | --- | --- |
| OMARI ABOR | DE |   |   |   |   |
| KOJO ANTWI | WR |   |   |   |   |
| DEVIN BROWN | QB |   |   |   |   |
| JYAIRE BROWN | CB |   |   |   |   |
| KALEB BROWN | WR |   |   |   |   |
| CALEB BURTON | WR |   |   |   |   |
| BENNETT CHRISTIAN | TE |   |   |   |   |
| CADEN CURRY | DE | Notre Dame | Played on FG team | 1 | Played on FG team |
| JAYDEN FIELDING | K | Notre Dame | 4 kickoffs | 1 | 4 kickoffs |
| GEORGE FITZPATRICK | OT |   |   |   |   |
| KYION GRAYES | WR |   |   |   |   |
| DALLAN HAYDEN | RB |   |   |   |   |
| AVERY HENRY | OL |   |   |   |   |
| C.J. HICKS | LB |   |   |   |   |
| CARSON HINZMAN | OL |   |   |   |   |
| KENYATTA JACKSON | DE |   |   |   |   |
| HERO KANU | DT |   |   |   |   |
| GABE POWERS | LB |   |   |   |   |
| KYE STOKES | S |   |   |   |   |
| SONNY STYLES | S |   |   |   |   |
| TEGRA TSHABOLA | OL |   |   |   |   |
| RYAN TURNER | CB |   |   |   |   |
(Note: The table does not include freshman walk-ons who have not yet played.)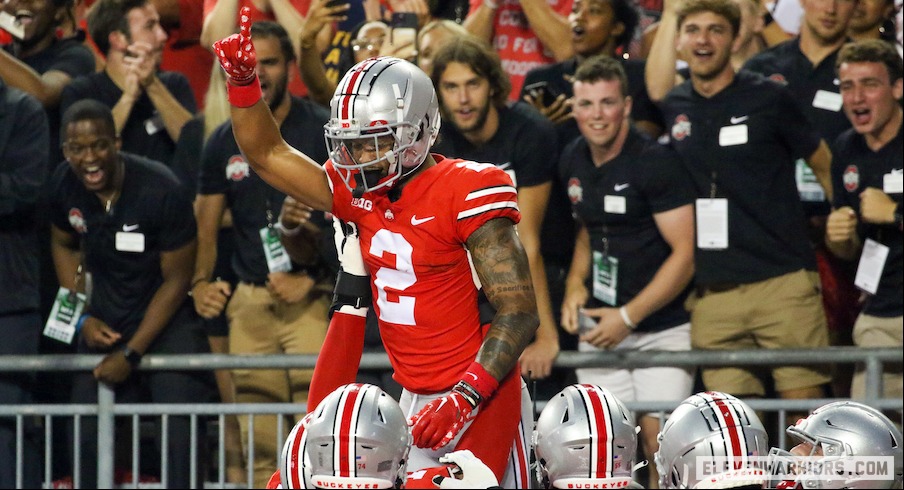 #2 Ohio State 21, #5 Notre Dame 10
Sept. 3, 2022 • Ohio Stadium • Columbus, OH