One play into Saturday night's Ohio State-Notre Dame game, Buckeye fans were all thinking the same thing.
Here we go again.
The brand-new defense they heard about all offseason and the advanced scheme employed by first-year coordinator Jim Knowles couldn't stop a first-time starting quarterback from completing a 54-yard pass play down to the Ohio State 31-yard-line – on the very first snap of the game.
Tack on a 15-yard penalty for a personal foul on J.T. Tuimoloau, and the Buckeyes had practically handed the Irish a touchdown on a silver platter right out of the gates. Surely Ohio State's offense would have to dig the defense out of another hole in a track meet of a game in which neither side could stop a nosebleed.
None of you got that far ahead of yourselves, did you?
In actuality, it was Knowles and the Buckeye defense that kept Ohio State in things while its universally heralded offense struggled to get off the ground. Notre Dame failed to score a touchdown on that first drive after all, and the Fighting Irish only got in the end zone on one occasion all night. In fact, they didn't score a single point at all in the second half as the Buckeyes eventually found enough offensive momentum to edge out a hard-fought double-digit win.
It turns out Knowles' defensive debut for Ohio State went about as well as one could expect, if not better. And the 35-year coaching veteran wasn't surprised in the slightest.
"It's a matter of confidence and leadership. It's a matter of, they expected this. Our players expected this, I expected this," Knowles said during his postgame press conference. "So when they come in tomorrow, we're able to show them why it worked, how it worked. You just gotta give them that added motivation and confidence. But we expected this on defense. So I'm pleased and happy for them. But I'm not surprised. We expected it."
Notre Dame finished the first half with a three-point lead on the Buckeyes, who sputtered on offense following an injury to star wide receiver Jaxon Smith-Njigba. The Fighting Irish had 10 points and 181 total yards as they ran to the locker rooms – not overly impressive numbers by any measure.
Had the Irish doubled those totals by game's end, Ohio State and its reigning top-rated offense in the nation should have had plenty in the tank to edge out Notre Dame, if not blow them away altogether. But the Buckeye defense didn't even come close to allowing a repeat of an already quaint opening half by the Irish offense.
In the final two quarters, Ohio State gave up no points and just 72 total yards. Notre Dame, which entered the game with a plan to pound the ball on the ground, averaged just 1.9 yards per carry in the half. The Irish had just 10:24 of possession, completed only two of their eight pass attempts and converted 1-of-6 third downs.
"Maybe last year we would've gotten our heads down, you know, but we didn't."– Ryan Day
But stopping the run was priority No. 1 for Knowles and company, and in holding Notre Dame to a total of 76 rush yards on 30 attempts, it's safe to say they passed the test with flying colors.
"I think our run defense was stout, really controlled the line of scrimmage. Our guys up front, we thought that was going to be a strength," Knowles said. "Really pleased, like I said, with all the pull plays, shifting the formations, motions that our linebackers and safeties were able to see it all. Coming into our first game, they saw a lot in terms of the run game fits. And that just gives everybody confidence, right? It gives the fans confidence, it gives the team confidence, no matter how the offense is doing or whatever's going on. When you see guys just showing up in the right places, everybody's like, 'OK.' It may not look exceptional, but it wins games, and I was really pleased with that."
Tommy Eichenberg and Mike Hall spearheaded the attack for Ohio State, as the fourth-year Buckeye linebacker finished with nine tackles, three tackles for loss and two sacks while the second-year defensive tackle had four tackles, two tackles for loss and a sack. And that's just to mention a couple of standouts amid a litany of strong performances for the Buckeye defense.
As mentioned, it wasn't a banner night for the Buckeye offense, which had its fewest points in a game since 2018's 49-20 loss to Purdue. C.J. Stroud couldn't even crack 250 yards passing, no wideout or running back hit the 100-yard mark and the whole team scored just three times.
Still, Buckeye head coach Ryan Day could have found plenty to be proud of in the group's gritty second-half effort, particularly a 14-play, 95-yard drive to seal the deal in the fourth quarter. 
Day made sure to give credit where it was due on that front after the game, but what was he most proud of? Without question, the defense that gave his unit a chance to get back out in front of the Fighting Irish in the final two frames.
"10 points," Day said. "For them to stop Notre Dame to 10 points, and I guess total yards was 253, rushing yards 76. I think it was the front, guys running to the ball. I think you just saw what I was talking about leading into the game, just energy running to the ball. The decisive, playing fast. If they gave up a big play, it wasn't a panic. It wasn't like, 'Oh my God the world's coming to an end.' They just keep fighting. Like the first play, we brought a corner blitz, we missed a tackle. We hung in there and then forced them into a field goal. There was no panic there.
"Maybe last year we would've gotten our heads down, you know, but we didn't. I thought we played tough. I thought the energy was off the chart on defense tonight, and I'm proud of our guys. Jim called a great game, the whole defensive staff, but it was our players. Players play. And they do, they have something to prove. We all have something to prove. And I think they proved that they can be tough."
Perhaps the best part of it for Knowles was that he didn't have to empty his bag of tricks in order to beat the No. 5 team in the country. Knowles played around with the Jack position Saturday, putting sophomore defensive end Jack Sawyer in some different spots, but Knowles said that wasn't the half of it.
If Saturday's performance was vanilla for Knowles and the Buckeye defense, Ohio State fans should be licking their chops about what the future could hold in the coming weeks.
"There's still a lot of things that we haven't shown. Tonight we were rather basic, and I wanted to keep it that way for the players so they could play fast and not worry about making mistakes," Knowles said. "So I was pleased with it, it worked. There's still a lot more work for us to do and a lot more of the package to develop."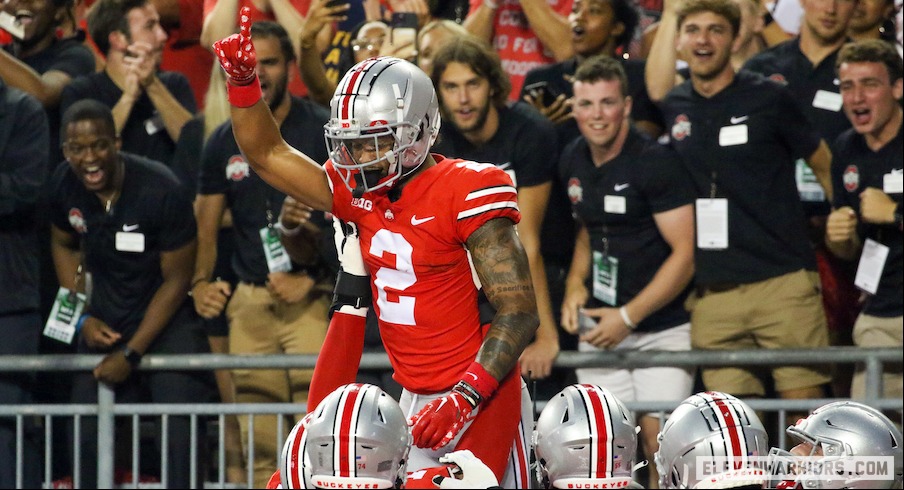 #2 Ohio State 21, #5 Notre Dame 10
Sept. 3, 2022 • Ohio Stadium • Columbus, OH