The deadline for players to enter the transfer portal and remain eligible to play for another school this year has officially passed, and Ohio State has exactly 85 scholarship players on its roster.
While that doesn't necessarily guarantee that Ohio State won't have any more departures before the start of the 2022 season, as players could still enter the transfer portal and sit out a year or leave the team for other reasons, the Buckeyes' roster for this year appears to be set for now. If a player hasn't entered the transfer portal by now, it's safe to assume that player intends to stay at his current school this year, and Ohio State doesn't have any available scholarships to offer players who are already in the portal.
Given that, it's time for an updated look at how the Buckeyes' 2022 roster stacks up in terms of scholarship players at every position.
Below, we take a look at how many scholarship players Ohio State has at each position as well as how much collective experience they bring to each position group, along with some analysis on how the numbers look at each position.
For reference: Ohio State coach Ryan Day told reporters in December that Ohio State ideally wants to have approximately four scholarship quarterbacks, five running backs, 11 wide receivers, five tight ends, 16 offensive linemen, eight defensive ends, eight defensive tackles, eight linebackers, eight cornerbacks and 11 safeties on the roster. Following the cutdown to 85 players, Ohio State sits slightly below those numbers at quarterback, wide receiver, defensive tackle, cornerback and safety, but has a surplus of scholarship tight ends, defensive ends and linebackers.
All snap counts listed below are courtesy of Pro Football Focus' premium statistics and only include snaps played on offense and defense, not special teams. Projected starters are based on our own projections and have not been confirmed by Ohio State.
Quarterbacks (3)
Projected Starters: C.J. Stroud (811 career snaps at Ohio State)
Others with Experience: Kyle McCord (95)
Freshmen: Devin Brown
While Day has said he would always like to have four scholarship quarterbacks on his roster, he acknowledged this spring that Ohio State's current quarterback situation is about as ideal as he could realistically hope for in the transfer portal era.
"We've been in a lot dicier situations than this," Day said in April. "It's a delicate situation. But I feel really good about where we're at in that room right now."
Even after losing Quinn Ewers and Jack Miller to transfers, Ohio State still has a quarterback room that features a trio of top-50 overall prospects from their respective recruiting classes, led by the returning Big Ten offensive player of the year in Stroud, a favorite to win this year's Heisman Trophy. Unlike last year, when no quarterback on the roster had thrown a single collegiate pass entering the season, Ohio State has both a returning starter and a backup quarterback with experience, and both McCord and Brown have the potential to be Ohio State's next great quarterback after Stroud.
Running Backs (5)
Projected Starters: TreVeyon Henderson (508)
Others with Experience: Miyan Williams (226), Marcus Crowley (94), Evan Pryor (45)
Freshmen: Dallan Hayden
With Henderson back to lead the running back room for his second year at Ohio State, Williams giving the Buckeyes a strong No. 2 back, Pryor looking ready to make an impact this season and Hayden arriving this summer, Day said after the spring game that he likes how the Buckeyes are stocked in the running back room, as well.
"I think we have three really good running backs," Day said. "We have a fourth coming in this summer in Dallan Hayden. So it's good. They've had a good spring. I feel solid about that."
Day indicated this spring that Crowley might not be available to play this season after suffering what has been described as a "long-term" injury last fall, which could leave the Buckeyes a bit thinner on depth than they'd like to be. Overall, though, the Buckeyes' running back room is in great shape for the 2022 season.
(Update: Crowley has medically retired, leaving the Buckeyes with only four scholarship running backs.)
Wide Receivers (10)
Projected Starters: Jaxon Smith-Njigba (807), Marvin Harrison Jr. (255), Emeka Egbuka (122)
Others with Experience: Julian Fleming (305), Jayden Ballard (34), Kamryn Babb (32)
Freshmen: Kojo Antwi, Kaleb Brown, Caleb Burton and Kyion Grayes
Even with the departures of top-11 NFL draft picks Chris Olave and Garrett Wilson, Ohio State still has plenty of star power at wide receiver, as Smith-Njigba is widely regarded as college football's best returning receiver while Harrison, Egbuka and Fleming are all candidates to be breakout stars in 2022.
Since those are the only four receivers on the roster who have seen substantial playing time entering this season, Day said after the spring game that the Buckeyes are still working to build depth at the position, though he named Ballard and walk-on Xavier Johnson as other receivers who performed well this spring. And considering that all four freshman receivers were top-150 overall prospects in the 2022 class, it wouldn't be a surprise to see any of them on the field sooner than later.
"Eventually we want to get to about six guys that we feel good about putting into the game, which is where we've been the last couple of years," Day said. "I think we're still kind of working on getting to six, but these guys are working hard, and I think the top four or five guys, we feel pretty solid about."
Tight Ends (6)
Projected Starters: Cade Stover (311 – 229 on offense)
Others with Experience: Mitch Rossi (256), Gee Scott Jr. (69), Joe Royer (34)
Has Not Yet Played: Sam Hart
Freshmen: Bennett Christian
Tight end is the only offensive or defensive position on the roster where Ohio State doesn't have a single player who has already played at least 500 snaps for the Buckeyes, leaving them without a clear-cut No. 1 option at the position. They have more than enough depth at tight end, though, after Stover moved back to the position following a brief stint at linebacker.
Stover and Rossi both saw regular playing time as backups to Jeremy Ruckert last season, and Scott and Royer are also expected to contribute this season, giving the Buckeyes four veteran tight ends with a good mix of skill sets. Together, they should be able to give Ohio State what it needs from its tight ends even if none of them are as individually well-rounded as Ruckert.
"To me, the tight end group's like a basketball unit," Ohio State tight ends coach and offensive coordinator Kevin Wilson said this spring. "Typically some guys block better, some guys run routes better. But when those guys get going and you put them on the field and you can move those parts around and you can take advantage of matchups, and that's what we're looking for."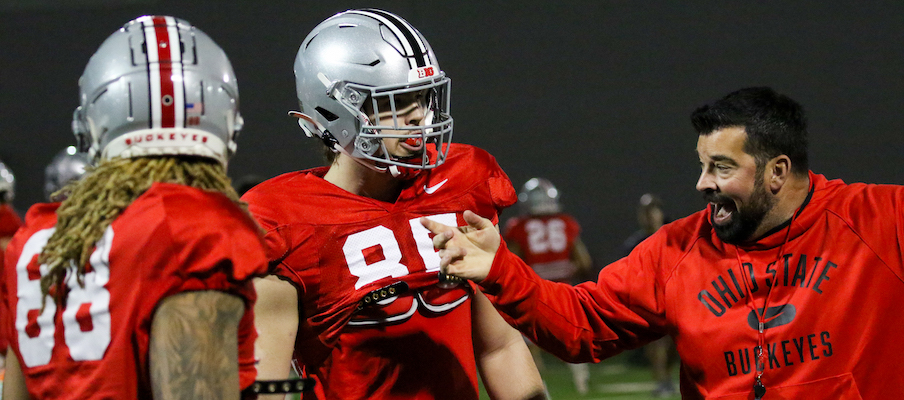 Offensive Linemen (16)
Projected Starters: Dawand Jones (960), Luke Wypler (875), Paris Johnson Jr. (794), Matt Jones (778), Donovan Jackson (103)
Others with Experience: Enokk Vimahi (157), Josh Fryar (98), Jakob James (10), Trey Leroux (8), Zen Michalski (2)
Have Not Yet Played: Ben Christman, Grant Toutant
Freshmen: George Fitzpatrick, Avery Henry, Carson Hinzman, Tegra Tshabola
Ohio State has no shortage of experience at the top of its offensive line depth chart with Johnson, Wypler and Dawand Jones all returning as starters from last season and Matt Jones having played enough snaps to be considered a returning starter, too. Buckeye coaches have expressed plenty of confidence in Jackson stepping in at guard this season even though he hasn't seen extensive playing time yet.
Day made it clear this spring that he was concerned about the Buckeyes' offensive line depth, though. While Ohio State is right at the number of offensive linemen it wants to have, Vimahi and Fryar are the only ones who have played snaps that weren't in the final series of a blowout win, and many of the offensive linemen who are candidates to make up the second-string offensive line – including Fryar, Leroux, Michalski and Christman – were sidelined by injuries this spring.
"We got to find at least eight or nine that we feel good about putting in the game, which we did last year, we had that depth and we were able to roll guys and really have had that for a couple years, when you think back," Day said before the spring game. "I don't know if we have that right now coming out of the spring, and that's a little bit of a concern."
Defensive Ends (9)
Projected Starters: Zach Harrison (1,057), J.T. Tuimoloau (286), Jack Sawyer (173)
Others with Experience: Javontae Jean-Baptiste (678), Tyler Friday (446)
Has Not Yet Played: Mitchell Melton (special teams only)
Freshmen: Omari Abor, Caden Curry, Kenyatta Jackson Jr.
Three projected starters are listed here because Larry Johnson often mixes up his starters from game to game and because it's hard to envision Harrison – the only returning Buckeye who's played more than 1,000 snaps at Ohio State – not starting at least some games this fall even with both Tuimoloau and Sawyer making a big push for starting jobs. Fifth-year seniors Jean-Baptiste and Friday have also seen a lot of playing time for the Buckeyes, giving them five defensive ends who should all be in the rotation and could even start games this fall.
"I don't really care who starts, to be honest with you," defensive coordinator Jim Knowles said after the spring game. "Because we're gonna play a lot of guys up front. And I want them fresh and I want them hungry. And the more the better."
Even with the transfer departures of four defensive ends this offseason – Jacolbe Cowan, Cormontae Hamilton, Darrion Henry-Young and Noah Potter – Ohio State still has a ton of depth at the position. It remains unclear whether Melton will miss time after he was injured in the spring game, but Curry also looked ready to contribute in his first spring as a Buckeye while Abor and Jackson will round out the depth chart when they arrive this summer.
Defensive Tackles (7)
Projected Starters: Taron Vincent (628), Jerron Cage (448)
Others with Experience: Ty Hamilton (280), Tyleik Williams (183), Jaden McKenzie (61), Mike Hall (35)
Freshmen: Hero Kanu
Vincent, Cage, Hamilton and Williams were all regulars in last year's defensive tackle rotation, giving the Buckeyes an experienced quartet of players to lead the position group. Much like at defensive end, it's likely all of those four will get opportunities to start, though Vincent and Cage are the frontrunners to start most of the time.
Ohio State would ideally like to have one more scholarship defensive tackle than it does, but Hall is also expected to contribute as a redshirt freshman while McKenzie looked in the spring game like a player who could also be ready to finally contribute this season. The Buckeyes' three-deep at defensive tackle should be solid at worst, and Kanu will add depth when he arrives this summer.
Linebackers (9)
Projected Starters: Steele Chambers (475 – 423 on defense), Tommy Eichenberg (442)
Others with Experience: Teradja Mitchell (552), Cody Simon (449), Palaie Gaoteote (78 at Ohio State; 857 at USC), Reid Carrico (19)
Has Not Yet Played: Chip Trayanum (304 running backs at Arizona State)
Freshmen: C.J. Hicks, Gabe Powers
The only position at which Ohio State has not had a single scholarship player leave the team since the end of last season (since Dallas Gant and K'Vaughan Pope were already gone by midseason), the Buckeyes do not yet have any established stars at linebacker but have plenty of depth with nine scholarship players, including four who have already played more than 400 snaps at Ohio State.
Considering that the Buckeyes will only have two traditional linebackers on the field on most plays and that any of the nine linebackers on the roster could be legitimate candidates for playing time this year, competition for position on the depth chart will remain fierce going into preseason camp. Knowles indicated this spring that he might not rotate as much at linebacker as the Buckeyes will on the defensive line, but he still hopes to have a bunch of linebackers who make the case that they should be on the field.
"A lot of times at linebacker, it does come down to just a couple guys who play and into the rhythm of the game. But you want more because you want that ability, if somebody goes down or to spell somebody or to rotate," Knowles said. "I think linebacker is a feel kind of game, you know, like a running back. So the best will play a bunch. But you want more guys that are competing, you want guys that are tugging on your shirt saying, 'Coach, why am I not in there?'"
Cornerbacks (6)
Projected Starters: Cameron Brown (775), Denzel Burke (734)
Others with Experience: Jordan Hancock (31), Jakailin Johnson (8)
Freshmen: Jyaire Brown, Ryan Turner
This is the only position where Ohio State sits two below its target number of total scholarship players, which could be a concern if the Buckeyes endure any injuries at the position.
The top of the depth chart looks strong, though, as Burke and Brown are both returning starters who have played more than 700 snaps at Ohio State and have played at a high level. There's a notable lack of experience behind them, which results from the transfer departures of Sevyn Banks, Lejond Cavazos and Ryan Watts, but Ohio State coaches conveyed a lot of optimism this spring that Hancock and Johnson will be ready to provide quality depth and potentially force their way into the rotation this fall.
With only four returning scholarship cornerbacks, though, Ohio State will also need at least one of Brown or Turner to be ready to play as a freshman if the Buckeyes are going to feel good about their depth as a whole.
Safeties (10)
Projected Starters: Ronnie Hickman (752), Josh Proctor (573), Tanner McCalister (1,849 snaps at Oklahoma State)
Others with Experience: Lathan Ransom (497), Cameron Martinez (197), Kourt Williams (182), Jantzen Dunn (9)
Has Not Yet Played: Jaylen Johnson
Freshmen: Kye Stokes, Sonny Styles
After a wave of attrition that saw Bryson Shaw, Andre Turrentine and Marcus Hooker all enter the transfer portal within the past month, Ohio State went from being "way over" the number of safeties it wants on the roster to actually being one below the target number Day stated in December. Still, Ohio State has more than enough players to have a three-deep at all three safety spots.
Hickman, Proctor and McCalister all have plenty of game experience – especially McCalister, who's played the most collegiate snaps of any player on the roster by far – and Williams and Martinez are also expected to be ready to play bigger roles this year. Ransom also has substantial experience, though he's coming off a broken leg, and Stokes sure looked ready to contribute as a freshman in the spring game.
Both Day and Knowles expressed some concerns this spring about whether they had enough game-ready safeties, but that was largely because of injuries, as Proctor, Ransom, Williams, Martinez, Dunn and Johnson were all either limited or out this spring. As long as most of those players are back on the field and healthy for preseason camp, the Buckeyes should have the safety depth they need when the season starts.
Specialists (4)
Projected Starters: Noah Ruggles (K), Jesse Mirco (P)
Others with Experience: Parker Lewis (K), Jake Seibert (K)
It's rare for a college football team to have three kickers on scholarship, but the Buckeyes do after they accepted a transfer commitment from former USC kicker Parker Lewis last week. Ruggles is the projected starter after he was a Lou Groza Award finalist last year, but Lewis has been told he'll get a chance to compete for the job in preseason camp and will likely take over kickoff duties even if Ruggles continues to kick field goals and extra points, while Siebert gives Ohio State additional kicker depth.
Mirco remains the only punter on scholarship, with walk-on Michael O'Shaughnessy serving as his backup. The Buckeyes still don't have any long snappers on scholarship, but walk-on Bradley Robinson returns for a third year as the starter and has been reliable in his first two seasons handling those duties.