Ohio State's recruiting class of 2022 appears to be complete.
Unlike last year, when Ohio State's recruiting efforts for the class of 2021 continued all the way until J.T. Tuimoloau finally announced his commitment to the Buckeyes in July, the Buckeyes wrapped up their 2022 class on Wednesday by signing Wisconsin offensive lineman Carson Hinzman and Texas defensive end Omari Abor. The Buckeyes were also hoping to land Georgia defensive tackle Christen Miller, but he chose to stay in his home state and sign with the Bulldogs instead.
Now that college football roster movement is more fluid than it's ever been before, there's always the possibility of an unexpected late addition to the class, like there was last year when Quinn Ewers reclassified from the class of 2022 into the class of 2021 and joined the Buckeyes in August. But considering Ohio State currently has 92 players on scholarship for the 2022 season – seven over the 85-man limit – it's unlikely the Buckeyes will bring anyone else into the class unless there is significant roster attrition between now and September.
That leaves Ohio State with 21 total signees in the 2022 class, which is ranked as the fourth-best class in the nation. Nineteen of those players already signed with Ohio State in December, and 11 of them are already on campus as early enrollees, while the other 10 will enroll in the summer.
Below, we take a look at Ohio State's full recruiting class of 2022, starting with the freshmen who have already started their Buckeye careers and concluding with those who are still in high school for another semester. Players are listed in order of their 247Sports composite rankings.
Early Enrollees (11)
Composite Rankings: No. 7 overall prospect, No. 1 linebacker
Also known as "Captain Buckeye," Hicks is the face of Ohio State's 2022 recruiting class, not only because he is its highest-ranked prospect but also because he led the peer recruiting efforts for other prospects to join him in the class. An excellent athlete who brings safety speed to linebacker and plays with great instincts, Hicks should compete for immediate playing time at a position where the Buckeyes need playmakers to emerge in 2022.
Composite Rankings: No. 42 overall, No. 6 quarterback
Despite only starting to recruit him after Ewers' reclassification, Ohio State successfully flipped Brown from USC to be its quarterback for the 2022 class, which just might be the Buckeyes' biggest win in the entire cycle. Ranked as the No. 1 overall prospect in the class by On3, Brown might not come in with quite as much hype as Ewers but has plenty of his own potential to be an elite quarterback, pairing an excellent arm and deep-ball throwing ability with good mobility and natural leadership personality.
Composite Rankings: No. 87 overall, No. 14 wide receiver
An unheralded three-star recruit when Ohio State initially offered him, Grayes has steadily climbed the 2022 class rankings to become a top-100 overall prospect in the class. A fluid athlete and a smooth route runner, Grayes has drawn comparisons to Chris Olave and has the skill set to potentially make a similar early impact.
Composite Rankings: No. 100 overall, No. 8 linebacker
A well-rounded outside linebacker who did a little bit of everything at nearby Marysville High School, Powers has the frame to potentially play the "Leo" hybrid defensive end position in new defensive coordinator Jim Knowles' scheme, though he told reporters on Wednesday that the coaches have primarily talked to him about playing Will linebacker. While he has the length and strength to play around the line of scrimmage, he is also a fluid athlete who can drop back into coverage and make plays in space.
Composite Rankings: No. 122 overall, No. 13 edge defender
A versatile lineman who lined up all over the defensive front while leading Center Grove High School to back-to-back Indiana state championships, Curry is expected to play on the edge at Ohio State, though he could also be dangerous as an interior pass-rusher. For an incoming freshman, Curry already does a great job using his hands to shed blocks while his quickness and power could make him a tough matchup for any blocker.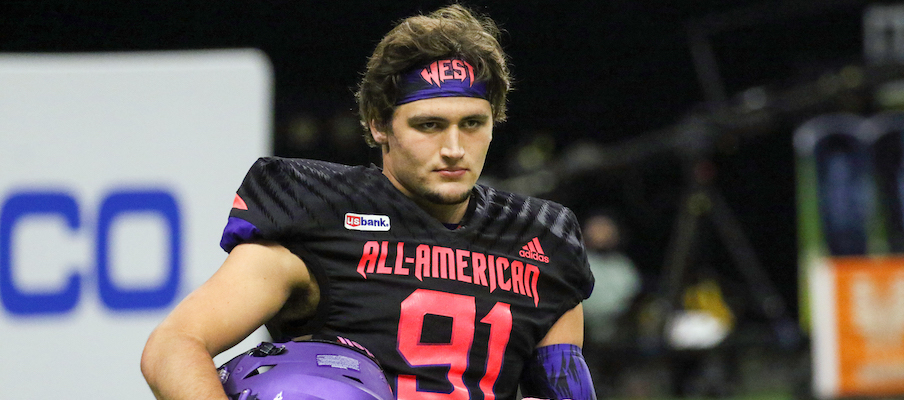 Composite Rankings: No. 131 overall, No. 21 wide receiver
Burton looks to follow in the footsteps of Garrett Wilson and Jaxon Smith-Njigba by becoming Ohio State's next star wide receiver out of Texas. While his recruiting ranking went the opposite direction as Grayes' over the past two years, he was once ranked as a five-star recruit for a reason; he has the speed, ball skills and run-after-catch ability to become a major weapon for the Buckeyes.
Composite Rankings: No. 200 overall, No. 24 cornerback
Ohio State's first commitment for the class of 2022, Brown was a New Orleans resident when he committed to the Buckeyes but finished his high school career at Lakota West High School in West Chester, Ohio. A quick, fluid athlete who isn't afraid to play with physicality and talk trash, Brown is a confident cornerback who hopes to follow in Denzel Burke's footsteps and compete for early playing time.
Composite Rankings: No. 259 overall, No. 19 offensive tackle
At 6-foot-6 and 285 pounds, Fitzpatrick has prototypical length and athleticism for an offensive tackle. He's a likely candidate to redshirt as a freshman, as he'll need to get stronger and hone his technique before he'll be ready for significant playing time, but has intriguing upside at a position where the depth chart could be wide open in 2023.
Composite Rankings: No. 347 overall, No. 36 cornerback
A cornerback who prides himself on his technique and physicality, Turner combines speed with man coverage skill and strong tackling ability in run support. Although he's one of the less heralded recruits in the class in terms of rankings, he offers a skill set that could make him a future starting cornerback for the Buckeyes.
Composite Rankings: No. 358 overall, No. 16 athlete
Another lower-ranked four-star defensive back from Florida, Stokes also possesses traits that could make him a hidden gem in the class. With experience playing both safety and cornerback, Stokes offers the versatility to line up at multiple spots in Ohio State's secondary, with great height at 6-foot-2 and 180 pounds and track speed. 
Composite Rankings: No. 413 overall, No. 20 tight end
Even though he's the lowest-ranked early enrollee, Christian could be one of the top candidates to compete for early playing time this spring. At 6-foot-6 and 240 pounds, Christian already has the size, strength and blocking ability to contribute at a position where the Buckeyes lack experience entering the 2022 season.
Summer Enrollees (10)
Composite Rankings: No. 12 overall, No. 1 safety
Originally targeted to be the centerpiece of Ohio State's 2023 class, Styles will now graduate from nearby Pickerington Central High School this summer and join the Buckeyes a year early. How ready he'll be to contribute this fall as a 17-year-old is uncertain, but it speaks to Styles' potential that he's still ranked as the No. 1 safety in his class even after reclassifying. At 6-foot-4 and 215 pounds, Styles has the size and athleticism to potentially play either safety or linebacker at Ohio State, but likely projects as a successor to Ronnie Hickman at the strong safety/bullet position.
Composite Rankings: No. 59 overall, No. 5 edge defender
A long, explosive defensive end who recorded 34 sacks in his high school career, Jackson has the potential to be a star pass-rusher of the future for Ohio State. While he'll need to bulk up and become a stouter run defender before he'll be ready to be an every-down defensive end, his ability to pressure quarterbacks off the edge could enable him to make an early impact as a situational pass-rusher.
Composite Rankings: No. 62 overall, No. 6 edge defender
Another high-upside pass-rusher who will be joining Ohio State in the summer, Abor also has the burst off the edge and block-shedding skill to be a future star defensive end for the Buckeyes. He'll likely need some time to hone his technique before he'll be ready to play a major role for the Buckeyes, but has the tools to become a star with Larry Johnson's tutelage.
Composite Rankings: No. 78 overall, No. 13 wide receiver
A 5-foot-11, 195-pound receiver who often played as a running back in high school, Brown would have been a natural fit to play the H-back position in Urban Meyer's Ohio State offenses. While the Buckeyes haven't dialed up as many receiver runs under Ryan Day, Brown has the skill set to potentially bring that element back to the offense while also offering a big-play receiving threat from the slot.
Composite Rankings: No. 103 overall, No. 10 offensive tackle
The first player from the state of Ohio to receive an Ohio State offer in the 2022 class, Tshabola is a massive offensive lineman at 6-foot-6 and 330 pounds who can maul opponents with power and is also unusually athletic for his size. Tshabola will likely need some time to develop his technique after overmatching his opponents physically in high school, but he could play either guard or tackle for the Buckeyes in the long run.
Composite Rankings: No. 128 overall, No. 18 defensive tackle
A native of Germany, Kanu has played American football for just two years yet already demonstrates the potential to be a dominant interior defensive lineman. He's still raw, but at 6-foot-5 and 293 pounds with exceptional quickness for his size, his upside is through the roof.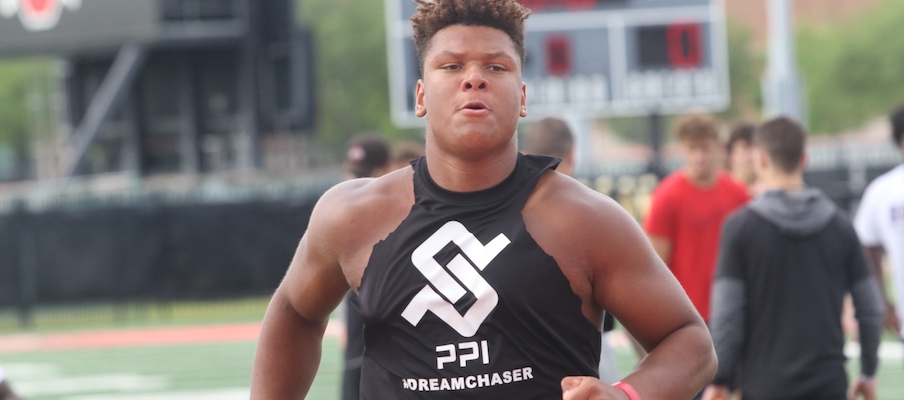 Composite Rankings: No. 147 overall, No. 25 wide receiver
Antwi will bring another promising weapon to Brian Hartline's room when he arrives at Ohio State this summer. A skilled route runner with the long speed to win vertically and the strength to finish plays through contact, Antwi could be a candidate to play either Z receiver or slot receiver in the Buckeyes' offense.
Composite Rankings: No. 172 overall, No. 9 interior offensive lineman
Just the third player from Wisconsin to ever sign with Ohio State, Hinzman took his decision between the Badgers and Buckeyes into January but ultimately chose to leave his home state for Columbus. Although he won't arrive until summer, Hinzman might be the most college-ready offensive lineman in Ohio State's 2022 class and could play either guard or center for the Buckeyes.
Composite Rankings: No. 295 overall, No. 26 running back
Even though Hayden wasn't as highly ranked as some of the other running backs offered by Ohio State in the 2022 class, he ultimately emerged as the Buckeyes' priority target, which indicates what Tony Alford believes Hayden can become. The son of former NFL running back Aaron Hayden, Dallan Hayden rushed for more than 2,000 yards in each of his final two high school seasons.
Composite Rankings: No. 1,246 overall, No. 120 offensive tackle
The lowest-ranked prospect in Ohio State's class of 2022, Henry has great size at 6-foot-6 and 305 pounds but is a project who will likely need multiple years to develop before he'll be ready to compete for substantial playing time. While Henry didn't have as many offers from major schools as Ohio State's other 20 signees, the Buckeyes decided he was worth betting on as an in-state prospect from St. Clairsville, Ohio, and he has physical traits that aren't often seen in players ranked outside the top 1,200 prospects in their recruiting class.