After a memorable five-year Ohio State career in which he was a four-year starter on the offensive line, a team captain and the second-ever recipient of the "Block 0" jersey, Thayer Munford is taking his talents to the next level.
With just over three months to go until the 2022 NFL draft, Munford's preparation to play in the league is already underway, as he's currently training alongside some of the other top offensive linemen in this year's draft class – like Alabama's Evan Neal, Mississippi State's Charles Cross and Kentucky's Darian Kinnard, to name a few – to hone his skills and prepare for March's NFL Scouting Combine.
As Munford goes through the NFL draft process over the next three months, he'll be checking in with Eleven Warriors to provide regular updates on how things are going, and we'll share those updates with you here in Thayer Munford's NFL Draft Diary.
---
After taking a couple weeks following the Rose Bowl to rest and recover from his fifth and final season at Ohio State, Munford headed south to Frisco, Texas, where he'll spend the next several weeks training with OL Masterminds, a training group led by offensive line developer Duke Manyweather. There, Munford is working on continuing to become a complete offensive lineman while also preparing for what he'll face in both on-field workouts and interview sessions at the combine.
"So basically, what I've been doing is getting myself acclimated to my facility's ways of doing workouts and stuff," Munford told Eleven Warriors. "I had to go through this whole process of doing testing, trying to figure out what areas do I need to work on. Work on my flexibility, working on certain areas of my body, so I can be the best offensive lineman that I can be. And training with Duke and training with all the guys that are one of the top guys in the nation for college level. And just getting to know them, getting to work out with them of course, and just taking everything in. This only comes but once in a lifetime, so I'm just taking it day by day, having a smile on my face every day, knowing that I can be somebody in the next couple years.
"There's so many other guys there just to train with Duke, trying to get some more O-line technique, work on the fundamentals of football. It's very O-line specific, and we're also trying to get ready for the combine as well, because most of us are going to the combine. They have a little system where every two days, we have to do interviews, practicing with somebody, getting to know how to speak with scouts. Getting to know how to write down plays properly and how they wanted it interpreted at that level. After that it's just with all the meetings and stuff that we always do, it's basically just being yourself and being confident on what plays you love and what's the personnel and what's the formations. All that type stuff that you love and how to run a play, it's just a lot of stuff that you take in and also be mentally ready for the whole thing."
Munford says that while some of the things he is doing now are different than what he did over the past five years at Ohio State, there are many similarities between what he is doing now and what he was taught by former Ohio State offensive line coach Greg Studrawa and by Mickey Marotti and Ohio State's strength and conditioning staff.
"It's a little bit different. It's not that much different. Getting to my point with offensive line placement, we always did that. Interlocking my elbows together and driving a guy, we always did that. Really, with everything that Coach Stud's taught us, he kind of got it from Duke a little bit and put in his own way. So it kind of helped me out in the long run. And with the strength training that we do here, it's not a Coach Mick workout of course, but it helps us actually test for the 225 test (bench press) and actually be strong with the weight that we throw up.
"We did a lot more power, a lot more explosive technique, like keeping our body type when we're driving the bar, making sure we drive with force. There's a lot of stuff that I did the last couple of years at Ohio State that has helped me out a lot to be ready for the combine."
Munford says he has spent some time reflecting on his Ohio State career over the last few weeks, and he's grateful for all the experiences he had as a Buckeye. He has no regrets about staying at Ohio State for a fifth season, as he believes he grew from the experience of being a team captain and from playing guard, even though he doesn't feel he played as well as a guard last season as he did as a left tackle in 2020.
"For the past couple weeks, I definitely reflected on my past career at Ohio State. I don't regret anything. The young mind in me, when I was like a junior and a senior, I wanted to leave because I thought I was ready, but I knew I needed a little bit more time deep down inside, and I'm glad I stayed at Ohio State for five years. I kind of shed a tear behind closed doors a little bit, but I don't regret anything about what I did. I wish things could have been different my last season, but at the same time, everything happens for a reason. Everything really happens for a reason, and God's got a plan for us. God's got a plan for everybody no matter who you are.
"I'm happy I played guard. It's not perfect like it almost was during 2020. But also at the same time, it kind of put me back to a point like 'All right, it's something to learn, it's something to learn, it's something that I can work at.' I didn't do as bad as I thought I did on my own standpoint, of course. But I know for sure that when I have a little bit more time, when I have this time to actually work on my craft on being at tackle and guard and being a versatile player, it helps out a lot. You're not just focusing on one position. If you're focused on one position, you're not going to go anywhere in the NFL. But also at the same time, it shows versatility that you can play both spots. Both tackles and both guards. So I'm happy that I came back and actually did that."
As he's reflected back on his Ohio State career, Munford believes the biggest thing he'll take away from his time as a Buckeye is the importance of staying patient and holding himself accountable.
"Really, it's just to stay patient. Because as a young guy, everything's coming at you so fast. When you come out of high school of course, you're the big guy on campus at your own high school. After that, when you come from your high school to college, it's like, 'Dang, I'm actually a freshman again,' so I actually gotta hold myself a little bit more, so I can actually learn how to do stuff correctly and actually take in information from the older guys and understand what they're talking about, understand how the culture is and just understand how everything is. Plus you also gotta find how things work for you as well. Like people can tell you if you're doing stuff wrong, but also at the same time, it's like in their minds, you're doing it wrong but in your mind, you feel like you're doing it right. But you also gotta take that time to critique your own self. And if you don't critique your own self, you don't get nowhere either."
Now that he's getting ready to start his NFL career, Munford says he feels like a freshman all over again – but he says that's an exciting feeling.
"I do. I really do. Because it's a whole 'nother level that's coming into this right now, and I'm ready for it. I'm ready for it. I can't wait to actually get with a team that will take me, give them my all and do what they need me to do. This is a blessing. I still can't believe that I'm in the position that I can be one of the good offensive linemen in the country that's actually playing on Sundays."
While Munford was invited to participate in next week's Senior Bowl, he opted to decline that opportunity. After playing five seasons of college football, he decided it would be in his best interest to focus on combine training and give his body more time to recover from the wear and tear of the season rather than going through another week of practices and playing in another game.
"I did not accept the Senior Bowl invite, only because I thought to myself, yeah, for me, I played five seasons, I started three years at left tackle and I started a year at guard and I got a lot of game film under my belt. And I feel like that was a good thing for me. It's not like I didn't want to compete in the Senior Bowl, of course. It's just more I felt like I did a lot. I feel like I have a lot of film that the scouts and GMs can look at and be like 'All right, this guy has improved along the years. He hasn't slacked at all.'
"I can go back to my freshman year, freshman year I was just a right tackle, just learning right tackle, how to get in a stance as a right tackle. Sophomore year, for me, I got in a stance at left tackle and actually was trying to learn how to stay calm throughout the whole year. Junior year, I was coming off of injury from my past season and had surgery on my back, and coming back from that and trying to do it for my teammates; I wasn't trying to do it for myself, I was doing it for my teammates. I didn't care what was going on, as long as I'm on that field, helping my teammates win games, that's all that matters. Senior year, I had one of the greatest years in my life. And this year, I transitioned to guard, because I really wanted to show teams that I'm not just a tackle, I'm also a guard too. So you can put me anywhere you want, and I'll just do that."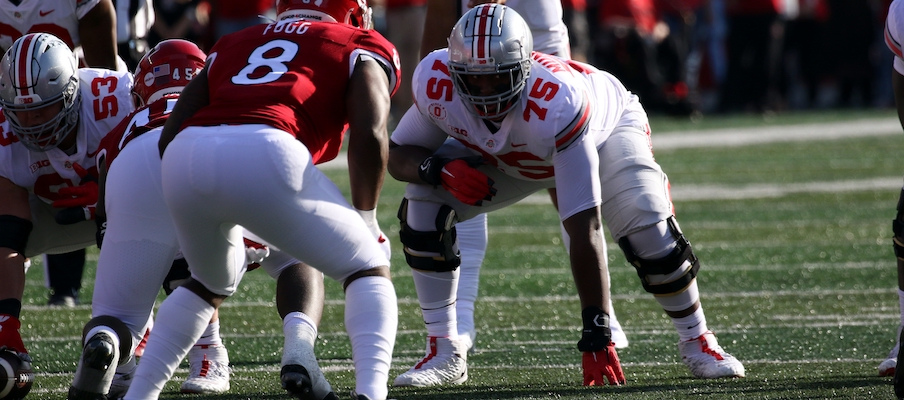 Munford will continue to train in Texas until he heads to Indianapolis for the combine, where offensive linemen are scheduled to work out on March 4. But although he's no longer at the Woody Hayes Athletic Center every day – which he acknowledges "is kind of weird" – he's still speaking regularly with several of Ohio State's current offensive linemen and is already looking forward to seeing them again when he returns to Columbus for Ohio State's pro day.
"I talked to Paris (Johnson Jr.) and gave him advice to keep his head on straight even though I'm not there. I'm having fun with him of course, while also at the same time, he's a grown man, he knows what to do. If he needs anything, he can just call me. If I don't pick up, I'm at practice and I'll get back with him. And I talked to Matt Jones, and he was asking me about certain situations that I'm learning as far as O-line technique, I tell him I'll just teach him when I get back up there for pro day."
Stay tuned with Eleven Warriors for more from Munford, as we'll check in with him again in February for another update on his combine preparation before he heads to Indianapolis.