Ohio State's starting nose tackle missed the final game of his career due to a positive COVID-19 test for the second year in a row.
Antwuan Jackson was supposed to conclude his six-year college football career by playing his last game as a Buckeye in the Rose Bowl on New Year's Day. Instead, Jackson was forced to watch the game from a hotel room, where he spent his entire week in Los Angeles after testing positive for COVID-19 following the team's arrival in Southern California.
"I got COVID as soon as I got there, so that was a sad situation," Jackson told Eleven Warriors. "That was the reason why I didn't play."
After testing positive, Jackson called his former teammate Tommy Togiai, who was also forced to watch what would have been the final game of his Ohio State career from afar after he tested positive for COVID-19 before the Buckeyes played in the national championship game against Alabama.
Togiai gave Jackson advice that Jackson has heeded in the weeks since.
"He was shocked, how I was," Jackson said. "He was just shocked that something would happen like this right before our big game. And he just told me to keep my head up and just deal with it after that."
While Jackson was disappointed that he didn't get a chance to play one more game as a Buckeye to wrap up his final year of eligibility, he says he hasn't dwelled on it.
"Everybody deals with adversity, so things happen for a reason. Of course I didn't want to go out that way, but it happened the year before with Tommy," Jackson said. "You feel bad about it, it was my last game, but I didn't cry or anything. That's life. That's how things is sometimes. Things get taken away from you sometimes. So I just dealt with it. I was right in front of the TV the whole time, cheering for my guys, but after that, I was happy that we won and it was time to move on after that."
With his Ohio State career now behind him, Jackson has turned his focus toward trying to earn an opportunity to play in the NFL. He hasn't received an invitation to the NFL Scouting Combine or any all-star games, but he is still in Columbus training with an eye toward Ohio State's pro day, where he hopes to impress scouts enough to be selected in this year's NFL draft.
Jackson never put up huge numbers in his Ohio State career. After a redshirt year at Auburn and one year at Blinn College, Jackson recorded 48 total tackles with nine tackles for loss and 3.5 sacks in his four years as a Buckeye. But he believes his best football remains in front of him.
In particular, Jackson believes he is capable of making a bigger impact as a pass-rusher than he did at Ohio State, in part because of the role he was asked to play for the Buckeyes. While he also spent some time playing the 3-technique position at Ohio State, he spent most of his time with the Buckeyes playing nose tackle, where his primary responsibility was to take on double-teams and hold gaps rather than penetrate into the backfield.
"One thing I can say, I am a run-stopper and I can really pass-rush," Jackson said. "So my pitch to (NFL teams) is I can play 1-technique, I can stop the run; I can play 3-technique, stop the run and pass-rush too. And I wish I could have showed that more."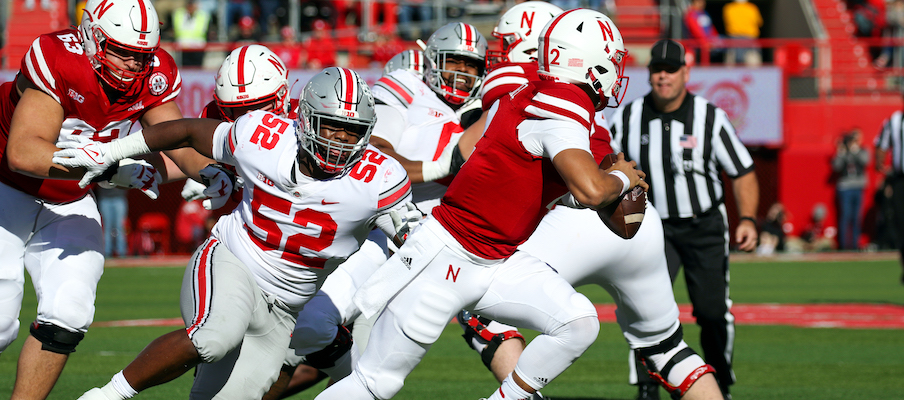 That said, Jackson is grateful for the opportunity he had to play for Ohio State, and he believes he did a good job of playing the role he was asked to play.
"Of course, as a football player, you always want to get plays back and wish you could do more," Jackson said. "But I feel like I did pretty good just holding my gaps and just playing hard. Just doing everything I can for my teammates. So I think it went pretty good."
He also thinks the versatility he's developed by playing both defensive tackle spots on Ohio State's defensive line can make him more valuable to an NFL defensive line.
"It just showed that I can play both and it just showed that I'm smart enough to switch and I can learn the playbook and learn all the positions they need me at," Jackson said. "So I think that'll help me a lot."
Jackson says he learned a lot about both football and life from Ohio State defensive line coach Larry Johnson, and he says the thing he is going to miss most about being a Buckeye is the camaraderie he shared with his teammates.
"You're mainly just going to miss the people you've been around, you be around them all day every day, so you're just going to miss the brotherhood and the relationships you built with teachers, coaches, players," said Jackson, who said his favorite memory from his Ohio State career was actually a play made by one of his teammates: Jerron Cage's fumble return touchdown against Penn State this past season.
Even though his college football career lasted longer and included more stops than the typical college football career, Jackson still feels like it went by quickly. So he says his advice to Ohio State's returning defensive linemen, who he's expecting big things from next year, is to do whatever they can to maximize the opportunity they have to play for the Buckeyes while they still have it.
"I just talked to them the other day," Jackson said Friday. "No matter what, if you don't know something, just ask an older guy, talk to Coach J. But I really just say the years go by really fast, and also just always stay in the film room, watching film on the other teams and just working on your technique, and just have fun."