Ohio State's efforts to turn around its defensive performance have continued by hiring an assistant coach away from a team that made the College Football Playoff this past season.
After two years helping coach stout Bearcat defenses under Luke Fickell, Cincinnati cornerbacks coach Perry Eliano is coming to Columbus as part of a defensive coaching staff overhaul at Ohio State, becoming the Buckeyes' new safeties coach.
While just one team in the country performed better against the pass than Cincinnati in 2021, Ohio State fell 94 spots lower at No. 96 in the country in pass defense with an average allowance of 245.8 yards per game through the air. That was a slight improvement upon the Buckeyes' 2020 campaign, in which the unit ranked 122nd best with an average of 304 yards per game, but Ryan Day and company are clearly looking to set a new standard on the back end moving forward.
Eliano will be a primary cog in that plan next season, and below we've broken down what you need to know in order to get acquainted with one of the latest additions to the Buckeyes' defensive coaching staff.
Bona fide talent developer
Two of Eliano's cornerbacks at Cincinnati in 2021, Sauce Gardner and Coby Bryant, were All-Americans this past season. The latter won the Jim Thorpe Award under Eliano's tutelage.
Both players ranked among the top nine cornerbacks in the country per Pro Football Focus' position grades this year. Bryant finished the season with 44 tackles, three picks, 11 pass breakups and two forced fumbles, while Gardner had three interceptions, three sacks, five tackles for loss and four pass breakups. Bryant and Gardner are both touted as potential early-round NFL draft picks come the end of April, and Gardner could be the top corner off the board.
Congrats again to Bearcats Coby Bryant on winning the Jim Thorpe Award for the best defensive back in college football pic.twitter.com/WXFt7NyPjd

— Bally Sports Cincinnati (@BallySportsCIN) December 12, 2021
But Eliano didn't just develop NFL talent at Cincinnati. As cornerbacks coach and special teams coordinator at New Mexico, both of Eliano's starting corners from the 2018 roster (Jalin Burrell and D'Angelo Ross) earned opportunities with NFL teams. Ross made his first career start for the New England Patriots this past Sunday.
At UTSA in 2014, Eliano helped Triston Wade become the program's first-ever Thorpe Award semifinalist, and Wade spent time with the Seattle Seahawks the following year.
Instrumental in nationally elite defenses
The success of Eliano's cornerback unit contributed to widespread triumphs for the Cincinnati defense over the past two seasons.
Upon joining the Bearcats in 2020, Cincinnati finished in the nation's top 15 in five different defensive categories, including the top three in both interceptions (16) and passing efficiency defense (101.26). The Bearcats also ranked fifth in opponent yards per attempt (6.0) in 2020, and Cincinnati's pass defense ranked No. 39 in the country two seasons ago – a mark it improved upon significantly the following year.
In 2021, Cincinnati finished second in the country in passing yards allowed, giving up just 169.2 yards per game. The Bearcats finished first in opponent passer rating (103.37), third in interceptions (19) and third in yards per attempt (5.7). Overall, Cincinnati's defense ranked fifth in the country in scoring defense (16.9 points per game) and 10th in the nation in total defense (318.4 yards per game) this past season.
NFL players are starting to take notice of @iamSauceGardner and @CBryant2_!#AmericanPow6r pic.twitter.com/nxCpiJYVmo

— American Football (@American_FB) December 13, 2021
He's entering his 20th year as a college coach
The upcoming season will be Eliano's 20th as a full-time college coach, although he also spent two years as a graduate assistant at his alma mater, Stephen F. Austin (where he played safety from 1996 to 1999), in 2001 and 2002.
The Killeen, Texas, native first coached running backs and wide receivers at Central Arkansas in 2003 before taking a job as secondary coach at Sam Houston in 2005. That stop proved to be just a one-year stint, though, as Eliano returned to Central Arkansas as the program's secondary coach for the next five years. Eliano was promoted to associate head coach in 2010.
Eliano then became the special teams coordinator and safeties coach for UTSA in 2011, a post he would hold until the end of 2015, at which point he became associate head coach and defensive coordinator at Bowling Green.
In 2018, Eliano joined the staff at New Mexico before coming on board at Cincinnati two years later.
Ohio ties
Coaching in Ohio is nothing new for Eliano. While 2022 will be Eliano's first year with the Buckeyes, it is his third coaching stop in the Buckeye State.
Eliano coached under former Buckeye defensive tackle and longtime Ohio State coach Luke Fickell for the past two seasons, while he also coached at Bowling Green for two seasons.
Not a native of Ohio, Eliano's four years of coaching experience in the state may aid him in the recruiting landscape and the transition to Ohio State in general.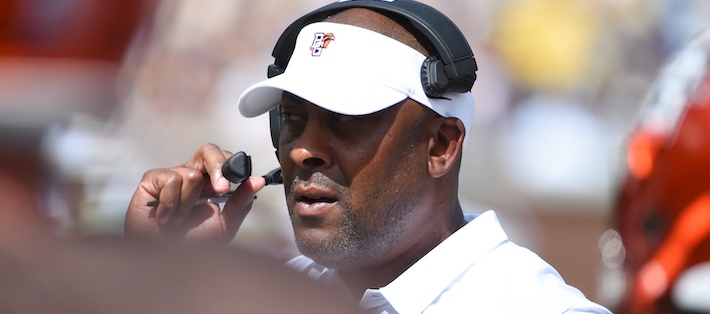 Experience as defensive and special teams coordinator
Not solely a position coach during his career, Eliano has held larger-scale jobs on staff at multiple programs before arriving at Ohio State.
Eliano has spent six years as a secondary coach, seven years as a special teams coordinator and two years as a defensive coordinator. Eliano has also carried the title of associate head coach in three seasons for two different teams, and was even named interim head coach at New Mexico in 2019.
A safety himself in college, Eliano is no stranger to coaching that position in particular, which is the role he will reprise with the Buckeyes. Along with being UTSA's special teams coordinator from 2011-15, Eliano was also the program's safeties coach in each of those seasons. During his penultimate campaign with UTSA, Eliano's defense finished in the top five in the Conference USA in five different statistical categories.