A couple of decades ago, it would have been unfathomable to question whether playing in the Rose Bowl mattered to Ohio State.
Before the Bowl Championship Series and now the College Football Playoff came into existence, playing in the Rose Bowl was the pinnacle of a season for Ohio State, a destination the Buckeyes always aspired to reach. In an era where there was no separate championship game or playoff, and the Rose Bowl was the most prestigious bowl game Ohio State could play in, a trip to Pasadena often meant playing for a national title – or at least having a chance to be voted the national champion in the end-of-season polls.

#11 UTAH UTES
10-3 (9-1 PAC-12)
ROSTER / SCHEDULE
---
5:10 P.M. – SATURDAY, JAN. 1
ROSE BOWL
PASADENA, CALIFORNIA
---
ESPN
WATCH ESPN
This season, however, the luster of playing in "The Granddaddy of Them All" has undeniably been dulled by the fact that it is not a College Football Playoff game this year and Ohio State was expected to be a national championship contender.
Still, Ohio State has plenty of reasons to be motivated for Saturday's final game of the 2021 season. After all, it is still the Rose Bowl, a game steeped in more than 100 years of tradition. More importantly for Ohio State's current players, it's a chance to finish the season on a high note after the Buckeyes lost their final game of the regular season against Michigan, which also kept them from playing for a Big Ten championship in addition to knocking them out of the CFP race.
"The Rose Bowl is a very tradition-rich bowl," Ohio State cornerback Cameron Brown said. "We didn't get the chance to play for a national championship, that's one of our biggest goals, but the Rose Bowl is not no regular bowl to just throw away. It's a really big bowl, really important."
The Buckeyes have won their last three Rose Bowl appearances, but they'll need to be at their best to keep that streak going on Saturday, as they'll be playing against a Utah team that brings no shortage of momentum and motivation to Pasadena, where the Utes will be playing in their first-ever Rose Bowl after winning their first-ever Pac-12 championship.
The Headlines
Buckeyes will be shorthanded
Even in an era where NFL draft prospects opting out of non-playoff bowl games has become commonplace, both the Rose Bowl and Ohio State have largely been above that trend, but that won't be the case this year. After previously losing just one player to a true bowl game opt-out (Denzel Ward in the Cotton Bowl to end the 2017 season), the Buckeyes have lost four this year, as wide receivers Chris Olave and Garrett Wilson, left tackle Nicholas Petit-Frere and defensive tackle Haskell Garrett all announced they will not play in the Rose Bowl.
And they won't be the only notable unavailable players for the Buckeyes. Four other Ohio State players who started at least six games on defense this season – defensive tackle Antwuan Jackson, linebacker Cody Simon, cornerback Sevyn Banks and safety Marcus Williamson – were all absent from practice on both Tuesday and Wednesday, making it appear unlikely that any of them will be available to play against Utah (although Banks, who was in Orlando earlier in the week, is now in Los Angeles with the team).
That will leave the Buckeyes with some big shoes to fill on Saturday, as they'll be without two of their top three receivers, an Outland Trophy semifinalist on the offensive line and five of their most experienced defenders, including the team sacks leader (Garrett) and their second-leading tackler (Simon).
Losing Wilson and Olave could be a big blow to Ohio State's offense, considering that the Buckeyes have scored only two touchdowns – fewer than any other game – in the two games they've played without either Olave (2020 Big Ten Championship Game against Northwestern) or Wilson (2021 regular season against Nebraska) in the past two seasons. The loss of key players on the defensive front doesn't help the Buckeyes' cause for getting their run defense back on track, while the absences of Banks and Williamson would leave them with a shortage of depth in the secondary.
Nevertheless, Ohio State has to focus on preparing the best possible game plan with the players it does have rather than worrying about who it won't have.
"The guys have had a good month of practice, and we'll move forward with the guys we have," Ryan Day said. "I know there's still a bunch of guys that want to play really well in this game."
The opt-outs and other absences will open the door for a bunch of less experienced players who could also play bigger roles in 2022 – such as Julian Fleming, Marvin Harrison Jr. and Emeka Egbuka at wide receiver and Tyleik Williams and Ty Hamilton at defensive tackle – and Ohio State will need those players to step up in Pasadena.
Utah presents a tough matchup
After losing two of its first three games to start the season, Utah has gotten better and better as the season has progressed. The Utes suffered one more loss in Pac-12 play, a 42-34 road loss at Oregon State, but have won six straight games since. Four of those wins by at least 20 points, including a pair of blowout wins – 38-7 in the regular season and 38-10 in the Pac-12 Championship Game – against Oregon, who beat Ohio State 35-28 in the second week of the season.
Making matters scarier for the Buckeyes, Utah's formula for winning football games is quite similar to Michigan, who beat Ohio State 42-27 in its most recent game. Like the Wolverines, Utah wins games by bullying opponents in the trenches and relying heavily on its running game. Utah ranks second in the Football Bowl Subdivision in rushing yards per attempt (5.62) and per game (216.5) on offense while its defense also ranks in the top 25 nationally in both points (20.6) and yards (318) allowed per game and ranks in the top 10 nationally in both sacks (42) and tackles for loss (97).
And no one is questioning how motivated the Utes are to play in the Rose Bowl, which is being considered one of the biggest games in Utah football history. They're expected to have a much more well-stocked roster in Pasadena, too, as zero Utah players have opted out of the game.
"We came here for a reason," said Utah linebacker Nephi Sewell. "Before the season even started, we already set out our goals to win the Pac-12 and win the Rose Bowl. So here we are with the opportunity."
Seniors want to finish strong
Considering that Garrett, Olave, Petit-Frere and Wilson are all out and Banks, Jackson and Williamson likely are too, there might not actually be that many outgoing Buckeyes on the field at the Rose Bowl. Numerous other seniors with additional years of eligibility and draft-eligible juniors who will be playing still have to make decisions after the game about whether they'll be back for another season.
There are some Ohio State seniors, though, who have both fully committed to playing in the Rose Bowl and already know they are playing their final game as Buckeyes on Saturday, including Thayer Munford (who will be playing left tackle in place of Petit-Frere), Jeremy Ruckert and Tyreke Smith, among others. And for those Buckeyes, it's really important to finish their careers with a win rather than going out with back-to-back losses.
"You want to leave a last good impression," Smith said. "I feel like the last impression is the best impression because that's what people will remember about you. I want to go out there and play the game like it's my last. I'll go 150 percent if I can."
For players like Zach Harrison and Dawand Jones who are still deciding whether or not they will return for their senior seasons or enter the 2022 NFL draft, the Rose Bowl will be an opportunity to either bolster their draft stocks or build momentum going into the offseason. And for all of Ohio State's returning players, especially those who might be playing increased roles than they did during the regular season, it will be a chance to show what they could be capable of in 2022.
"I certainly think that this game is important for our team," Day said. "I know that the guys who are playing in their last game want to finish with the lasting image of a victory in the Rose Bowl. And the younger guys, they want an opportunity to go get some momentum going into next year."
Keep An Eye on These Guys
Utah LB Devin Lloyd
Because Wilson and Olave won't be playing, there's only one sure-fire first-round pick in the 2022 NFL draft who will be playing in the Rose Bowl, and he'll be playing on Utah's defense. Lloyd has been projected to be selected as early as the top 10 picks of the draft after earning consensus All-American honors this season, in which he has recorded 106 total tackles, 22 tackles for loss, eight sacks, four interceptions (with two returned for touchdowns) and six pass breakups.
At 6-foot-3 and 235 pounds, Lloyd does a little bit of everything, lining up primarily as an inside linebacker but also sometimes operating as an edge rusher. He's a spectacular athlete who will make plays all over the field, and he's certainly captured Ohio State's attention.
In the words of Ohio State quarterback C.J. Stroud, Lloyd "blows everything up."
"He is an all-world player," Stroud said of Lloyd.
And even though his draft stock is already sky-high, Lloyd said he did not consider opting out.
"I really couldn't have not seen myself playing in this game," said Utah linebacker Devin Lloyd, a projected first-round pick in the 2022 NFL draft. "I want to compete with my boys for the last time, and I want another ring, and I want to go out the right way."
Utah DE Mika Tafua
While Ohio State's offensive line held up well in pass protection for most of the 2021 season, the Buckeyes struggled mightily to protect the edge against Michigan, when they allowed Aidan Hutchinson to make three sacks and 15 pressures. They'll have to play better to protect Stroud against Tafua – one of only two players in college football who has more total quarterback pressures (74) than Hutchinson this season, according to Pro Football Focus.
A 6-foot-3, 250-pound defensive end, Tafua has played some of his best football down the stretch of the season, recording at least seven pressures in each of Utah's last four games. The absence of Petit-Frere won't make the task of keeping Tafua at bay any easier.
Fortunately for the Buckeyes, Munford has three years of experience playing left tackle, and he's well-aware of the threat Tafua presents.
"He's a good pass-rusher," Munford said of Tafua. "They've got (Lloyd), of course. It's going to be very interesting, too, because (Tafua)'s got the most pressures on the team."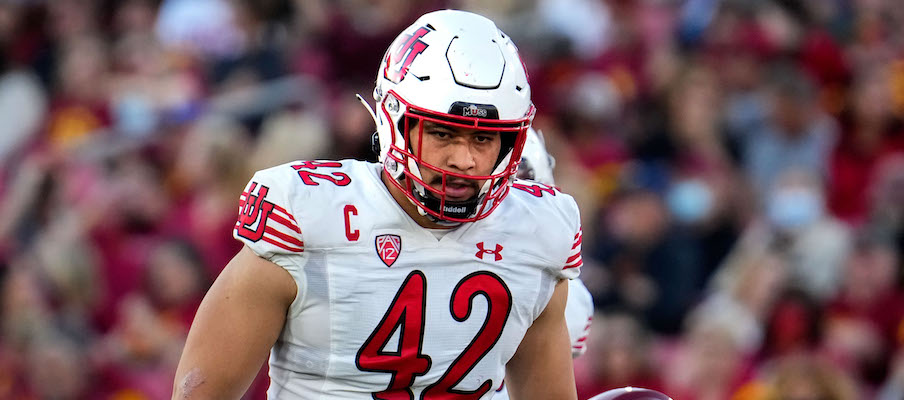 Utah WR Britain Covey
Utah's running game is more prolific than its passing game, so we could use this section to highlight the three-headed monster the Utes have at running back: Tavion Thomas, T.J. Pledger and Micah Bernard, who have combined for 2,216 rushing yards and 28 touchdowns this season, led by Thomas' 1,041 yards and 20 touchdowns. But the Buckeyes can't get so caught up in stopping Utah's running game that they ignore the threat of Covey, who will be a player to watch on both offense and special teams.
Covey's numbers on offense are modest, with just 480 receiving yards and two receiving touchdowns on 49 catches this season, but where he's really dangerous is as a punt returner, where he leads the entire country with 427 yards on 29 punt returns. Covey, who began his college career all the way back in 2015 before going on a Mormon mission, is a true big-play threat in the return game, with four punt returns of 30-plus yards this season including two punt return touchdowns, both tied for the most in the nation this year.
Ohio State has been strong in punt coverage all season, holding opponents to just seven total punt returns for 41 yards, but Covey might be the biggest threat the Buckeyes have faced in that phase of the game all season – and this game figures to be close enough that a big play on special teams could potentially swing the outcome in either direction.
Game Week Talk
"We've got to win this game, especially rolling into next year with Notre Dame game one. So it's a big game for us. It's a must-win for sure."– Ohio State wide receiver Jaxon Smith-Njigba on the importance of the Rose Bowl
While the outcome of Saturday's game won't have any direct effect on Ohio State's 2022 season, the Buckeyes would certainly rather enter the offseason with some momentum from a win instead of ending the year on a two-game losing streak.
"We truly respect them and respect everything they've done this year. They had a great season. We know when we're going to get into that game, it's going to be physical, it's going to be tough."– Jeremy Ruckert on Utah
Although Utah might not be viewed as a name-brand opponent, the Utes should provide very legitimate competition for Ohio State, and Ruckert says the Buckeyes are prepared for a battle in which they'll have to be able to run the ball effectively to win.
"I really wouldn't use the word concern, honestly. … As long as we stick to our plan and do what we were taught to do in practice, we'll be fine."– Ohio State safety Ronnie Hickman on if he's concerned about facing Utah's offense
Considering what happened to Ohio State's defense against Michigan and that Utah utilizes a similar plan of attack, there's genuine reason to be concerned about the Buckeyes' ability to stop the Utes' offense. Hickman is confident, though, they'll be more prepared to handle the Utes than they were the Wolverines.
Get Smart
Projected Starters
Ohio State
Pos
Utah
OFFENSE
C.J. STROUD
QB
CAMERON RISING
TREVEYON HENDERSON
RB
TAVION THOMAS
JULIAN FLEMING
WR
SOLOMON ENIS
MARVIN HARRISON JR.
WR
DEVAUGHN VELE
JAXON SMITH-NJIGBA
WR
BRITAIN COVEY
JEREMY RUCKERT
TE
BRANT KUITHE
THAYER MUNFORD
LT
BAMIDELE OLASINI
MATT JONES
LG
KEATON BILLS
LUKE WYPLER
C
NICK FORD
PARIS JOHNSON JR.
RG
SATAOA LAUMEA
DAWAND JONES
RT
BRAEDEN DANIELS
DEFENSE
ZACH HARRISON
DE
MIKA TAFUA
TYREKE SMITH
DE
VAN FILLINGER
TARON VINCENT
DT
JUNIOR TAFUNA
JERRON CAGE
NT
HAUATI PUTUTAU
STEELE CHAMBERS
WLB
NEPHI SEWELL
TOMMY EICHENBERG
MLB
DEVIN LLOYD
RONNIE HICKMAN
BLT/NB
MALONE MATAELE
DENZEL BURKE
CB
CLARK PHILLIPS III
CAMERON BROWN
CB
CAINE SAVAGE
BRYSON SHAW
S
VONTE DAVIS
LATHAN RANSOM
S
COLE BISHOP
Ohio State has an 8-7 all-time record in the Rose Bowl. The Buckeyes' most recent Rose Bowl appearance was three years ago, when they defeated Washington 28-23 in Urban Meyer's final game as Ohio State's coach. The Buckeyes are currently tied with Michigan, Stanford and Washington for the second-most Rose Bowl wins ever.
The Rose Bowl will be Ohio State's second-ever game against Utah. Ohio State won 64-6 in the only previous meeting on Sept. 27, 1986.
Utah has one player from Ohio: Starting running back Tavion Thomas, a Dayton native who began his collegiate career at Cincinnati before transferring to Utah. Ohio State does not currently have any players from Utah.
Both head coaches were previously assistants for Meyer before becoming the head coach at their respective schools. Ryan Day was Meyer's offensive coordinator at Ohio State in 2017 and 2018, while Whittingham was Meyer's defensive coordinator at Utah in 2003 and 2004.
Ohio State has won its last 11 consecutive games after a loss. The Buckeyes haven't lost back-to-back games since the end of the 2013 season, when they lost to Clemson in the Orange Bowl after losing to Michigan State in the Big Ten Championship Game.
Ohio State is 3-0 in non-playoff bowls during the College Football Playoff era.
Excluding the pandemic-shortened 2020 season, Ohio State has had eight straight 11-win seasons. The Buckeyes must beat Utah to reach that mark for a ninth straight full-length season – and to avoid their first 3-loss season since 2011.
How It Plays Out
Line: Ohio State -4, O/U 64
After being favored to win all of its regular-season games by at least 6.5 points, Ohio State is viewed as plenty beatable by Vegas entering this game. While the Buckeyes were a 6.5-point favorite to beat Utah as of Monday morning, the line has dropped by 2.5 points since it became clear the Buckeyes would be without a multitude of key players.
The Eleven Warriors staff is expecting a close game, too. In a survey of 14 staff members, 10 writers picked Ohio State to win and four picked Utah to win, but all but one expected the game to be decided by 11 points or fewer.
Even with the players who won't be available, Ohio State is the more talented team and should be capable of beating Utah. If the Buckeyes can hold Utah's running game in check, they should have a good chance, as the Utes have had fewer than 200 passing yards in five of their last six games. There's also uncertainty about who will line up opposite Clark Phillips III at cornerback in Utah's secondary, potentially leaving the back end of the Utes' defense susceptible to a big day from C.J. Stroud and Ohio State's passing offense.
Whether the Buckeyes will actually win the Rose Bowl, however, will likely depend on whether they can both run the ball and stop the run better than they did against Michigan – and Utah isn't likely to make it easy on Ohio State in either area. And while Ohio State players have said all the right things about their motivation going into the game, it's still fair to question whether the Buckeyes will play with the same intensity as the Utes, considering that a Rose Bowl win would be one of the biggest achievements in Utah's program history while it would be a mere consolation prize for this year's Buckeyes.
Eleven Warriors Staff Prediction
34
 
31