Ohio State is counting on a quartet of new assistant coaches to lead a defensive turnaround and improve its offensive line play this season, while it also has a bevy of new support staffers to help the Buckeyes perform at their best.
Coaching changes are part of the deal just about every offseason at Ohio State, but this year, it wasn't because the Buckeyes' previous assistants received bigger jobs. Instead, Ryan Day felt he had to revamp his staff, specifically on the defensive side of the ball, for Ohio State to return to contending for national championships.
"I certainly considered (just making small tweaks) and considered a lot of things and thought long and hard on it and it weighed heavy on me, but I felt like a fresh start was the right thing to do," Day said in January.
As a result, defensive line coach Larry Johnson is the only returning full-time defensive assistant coach from last season. One of the all-time great defensive line coaches in college football history, Johnson is now in his ninth season coaching the Buckeyes' defensive line, making him the longest-tenured member of Ohio State's on-field coaching staff. While there was speculation Johnson would retire this offseason, the 69-year-old defensive line guru says he still plans to be with the Buckeyes for years to come.
"My retirement plan is way away from here," Johnson said last week. "I get up every morning dying to get into this building and coach those guys."
The second-longest-tenured coach on Ohio State's on-field staff is running backs coach Tony Alford, who turned down an overture from Notre Dame to return to the Buckeyes for his eighth season. Fifth-year wide receivers coach Brian Hartline, who has quickly established himself as one of the best position coaches and perhaps the best recruiter among all college football assistant coaches, also declined an offer from the Fighting Irish to stay at his alma mater. As a reward for their loyalty, Hartline was promoted to passing game coordinator while Alford was promoted to run game coordinator.
Kevin Wilson also remains on staff for his sixth season as Ohio State's offensive coordinator and tight ends coach, a role in which he's worked alongside Day for his entire tenure with the Buckeyes, as Day initially joined Ohio State's staff as co-offensive coordinator in 2017 before succeeding Urban Meyer as head coach after the 2018 season.
Corey Dennis is back for his third year as Ohio State's quarterbacks coach (and eighth year with the program overall), and Parker Fleming returns for his second year (and seventh with the program overall) as the Buckeyes' special teams coordinator.
While all of those names will be familiar to those who have followed Ohio State closely for at least the past five years, the brightest spotlight entering the 2022 season is undoubtedly on the new defensive coaches, mainly new defensive coordinator Jim Knowles. Hired in December 2021 to be the Buckeyes' new defensive coordinator and linebackers coach, Knowles is bringing a new defensive scheme to Ohio State from Oklahoma State, where he led a defense that ranked fourth in the nation – 55 spots higher than Ohio State – in yards allowed per game in 2021.
Although Ohio State's defense will maintain the 4-2-5 base defensive structure it had last season, Knowles' scheme is expected to incorporate a much wider variety of defensive alignment, personnel packages and blitzes. He's been described by Ohio State's defensive players as a "genius" and a "mad scientist," and his goal is to create confusion for opponents – and even for the fans watching in the stands or at home.
"I don't want the fans to know what defense we're in before the snap," Knowles said during a recent interview on Big Ten Network. "So that would be a good way to describe it is we want to be simple but multiple … I think as a defense, you need to have great disguise, be able to attack from all angles. And you really need to be able to do it at a fast pace. So if I'm a fan looking at it, I want to see people in the right position, but not exactly knowing what's going to happen at the snap of the ball."
That said, Knowles also recognizes that his defensive scheme at Ohio State might not need to be as complex as it was at Oklahoma State because of all the talent he has at his disposal in Columbus – and the importance of ensuring those players can play at full speed.
"As you get down to the game, you want to make sure that you're utilizing that talent and not relying too much on scheme," Knowles said. "Everywhere else I've been, you want to make sure the players have enough to win the ballgame. Here, you want to make sure that they just know what to do and they can play fast."
In addition to running the entire defense, Knowles is tasked with getting the most out of a linebacker unit widely viewed as Ohio State's weakest position group last season. Meanwhile, new cornerbacks coach Tim Walton and safeties Perry Eliano are charged with getting elite play out of the secondary, which has also underperformed over the past two years since Jeff Hafley's departure to become the head coach at Boston College.
Walton brings an NFL pedigree to Ohio State with more than a decade of experience coaching defensive backs at the highest level. In contrast, Eliano coached both the Jim Thorpe Award winner (Coby Bryant) and a top-five NFL draft pick (Sauce Gardner) at Cincinnati last season. Their influence on Ohio State's secondary has already been apparent in the spring game and practices, as defensive backs – much to the delight of many Buckeye fans – have been seen turning their heads to make more plays on the ball.
"I've been very impressed with the corners and safeties showing up and getting their hands on balls and being aggressive," Day said at the end of spring practice. "They really grabbed on to what coach Walton and coach Eliano have been doing with them. They're playing with confidence. They're aggressive."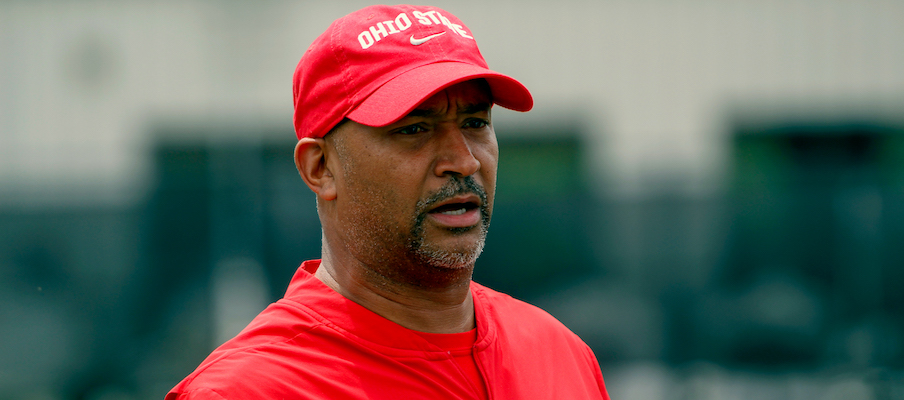 Altogether, Day has been very pleased with what he's seen from his new defensive coaches going into their first season.
"I like the scheme. I like what Jim's doing. I like what our defensive staff is doing," Day said. "I think Tim and Perry and Larry do a great job. They teach effort. They teach fundamentals. I like what's going on."
Even though Ohio State led the nation in both points and yards per game last season, Day also made a coaching change on the offensive side of the ball, replacing former offensive line coach Greg Studrawa with Justin Frye, who also holds the title of associate head coach for offense. After coordinating UCLA's offense for the past three years, Frye is expected to help the Buckeyes introduce some new concepts in the running game, where Ohio State had some struggles against better defenses last season. 
"He brings a really unique blend of the East Coast style that he learned when he was coaching at Boston College and running the ball. The two tight ends, a little fullback, ground and pound. And then when he went out to the west coast with Chip Kelly, learning all the keys and traits of pass protection running that spread offense and West Coast offense out there," Ohio State center Luke Wypler said this summer. "So right now, I mean, I think he is the best of both worlds. And it's really unique to learn from someone that has seen both sides of it. How to really teach the running game and how to teach pass protection."
With Frye joining the staff and Alford and Hartline's promotions, Ohio State now has an offensive coordinator, run game coordinator, passing game coordinator and associate head coach for offense – and none of them will be the primary play caller, as Ryan Day will retain that duty. However, all those established minds in the brain trust will lead to plenty of collaboration in offensive game planning.
"We've always worked together. It's not been about your play, my play. It's what do we do, how do we do it, how do we work together and our group right now is doing that as good as we've done," Wilson said this spring. "We have a bunch of titles and all those things, I guess, but at the end of the day, we've got good coaches and our job is to collectively work together to put a great product that our players and, most importantly, our fans deserve, and that's what we're doing."
Of course, everything is tied together by Day, who will look to continue establishing himself as one of college football's elite head coaches in his fourth season leading the Buckeyes. While he hasn't won a national championship as quickly as his predecessors Urban Meyer and Jim Tressel, there remains reason to believe he's more capable of winning it all, considering he's won 34 of his first 38 games as a head coach.
A Larger Staff Than Ever Before
While NCAA rules still limit college football teams to only 10 full-time assistant coaches who can go out on the road and recruit, Ohio State also has 15 other coaches on staff who will assist the full-time coaches and Buckeye players in a variety of capacities.
Chief among those support staffers is Keenan Bailey, who would likely be first in line for a promotion if the NCAA ultimately moves to remove the limit on countable coaches. Now holding the title of senior advisor to the head coach, Bailey has served the Buckeyes in various capacities since 2016 and is highly regarded throughout the Woody Hayes Athletic Center as someone who makes a significant impact behind the scenes as both a coach and recruiter.
"Keenan's probably the best-held secret in this whole entire place," Ohio State tight end Cade Stover said last week. "I love talking to that dude, he helps me so much and he's just a very, very smart mind."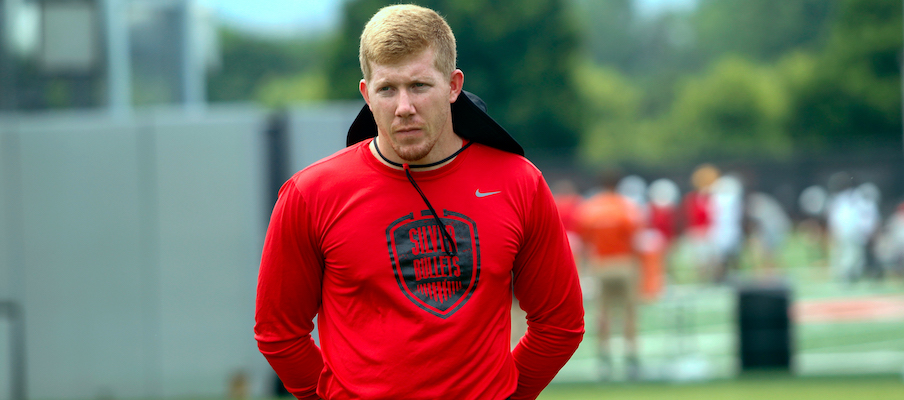 Bailey is one of four returning support staffers from last season listed on Ohio State's coaching roster, along with Todd Fitch, who returns for his second year as an offensive analyst; Reilly Jeffers, who works with the Buckeyes' running backs as an offensive program assistant; and Joe Lyberger, who works with the Buckeyes' linebackers as a defensive program assistant.
This season, new additions to Ohio State's support staff are headlined by Matt Guerrieri, who was hired as a senior advisor and defensive analyst. Guerrieri joined the Buckeyes in January after 10 years at Duke, where he worked with Knowles from 2012-17 and was the Blue Devils' co-defensive coordinator from 2018-21.
Guerrieri is one of four new support staffers who previously worked with Knowles and is now helping him implement his scheme in Columbus. Defensive graduate assistant Koy McFarland and quality control coach Brent Zdebski previously worked with Knowles at Oklahoma State, while program assistant Sam McGrath worked alongside Knowles and Guerrieri at Duke.
Other new additions to Ohio State's support staff this offseason include:
Wide receivers graduate assistant Keegan O'Hara, who was previously on Western Michigan's staff for four seasons
Offensive line graduate assistant Mike Sollenne, who finished the 2021 season as Florida's interim offensive line coach
Defensive line graduate assistant Cam Spence, a former Maryland defensive tackle who has also independently trained NFL and college defensive linemen
Special teams quality control coach Rob Keys, who was previously the head coach at the University of Findlay
Defensive quality control coach Miguel Patrick, who was previously the head coach at multiple Georgia high schools
Offensive program assistant Devin Jordan, who played wide receiver at Ohio State from 2003-05
Special teams program assistant Owen Fankhauser, who was a walk-on safety for the Buckeyes from 2018-20
Ohio State also made multiple new hires to its player personnel staff this season, hiring former Western Kentucky director of player personnel Zach Grant to the same role, former Charlotte director of player personnel Nick Murphy as director of recruiting strategy and former NFL scout Billy Homer as college scouting coordinator. Former Stephen F. Austin offensive assistant Cass Simmons joins returning staffer Zach Woodke as recruiting assistants. At the same time, Mark Pantoni continues to oversee Ohio State's player personnel efforts after being promoted to general manager.
Ohio State's 2022 Coaching Staff
Coach
Position
Year Coaching at Ohio State
FULL-TIME COACHES
 
Ryan Day
Head Coach
6th (4th as head coach)
Kevin Wilson
Offensive Coordinator/Tight Ends Coach
6th
Jim Knowles
Defensive Coordinator/Linebackers Coach
1st
Larry Johnson
Associate Head Coach/Defensive Line Coach
9th
Justin Frye
Associate Head Coach for Offense/Offensive Line Coach
1st
Tony Alford
Assistant Head Coach for Offense/Run Game Coordinator/Running Backs Coach
8th
Brian Hartline
Passing Game Coordinator/Wide Receivers Coach
6th (5th as WR coach)
Tim Walton
Secondary Coach/Cornerbacks Coach
1st
Perry Eliano
Safeties Coach
1st
Corey Dennis
Quarterbacks Coach
8th (3rd as QB coach)
Parker Fleming
Special Teams Coordinator
7th (2nd as ST coordinator)
SUPPORT STAFF
 
Keenan Bailey
Senior Advisor to the Head Coach
7th
Matt Guerrieri
Senior Advisor/Defensive Analyst
1st
Todd Fitch
Offensive Analyst
2nd
Brent Zdebski
Quality Control (Defense)
1st
Miguel Patrick
Quality Control (Defense)
1st
Rob Keys
Quality Control (Special Teams)
1st
Keegan O'Hara
Graduate Assistant (Offense)
1st
Koy McFarland
Graduate Assistant (Defense)
1st
Mike Sollenne
Graduate Assistant (Offense)
1st
Cam Spence
Graduate Assistant (Defense)
1st
Devin Jordan
Program Assistant (Offense)
1st
Reilly Jeffers
Program Assistant (Offense)
2nd
Sam McGrath
Program Assistant (Defense)
1st
Joe Lyberger
Program Assistant (Defense)
2nd
Owen Fankhauser
Program Assistant (Special Teams)
1st